With a drop in temperatures signalling the onset of autumn, it's time to reassess your sartorial staples. Arguably the best season for pulling off a quality 'fit', autumn style strikes the ideal balance between style and comfort. Strategic layering is a key, allowing you to create a multitude of sharp sartorial statements with a few well-crafted pieces. Fortunately, global destination 24S is home to a plethora of luxury and designers such as Fendi, Louis Vuitton, Balengica and Marni that simplify the process of refreshing your look. With an emphasis on function and form, these pieces form the basis of your autumn outfit, carrying you through to winter.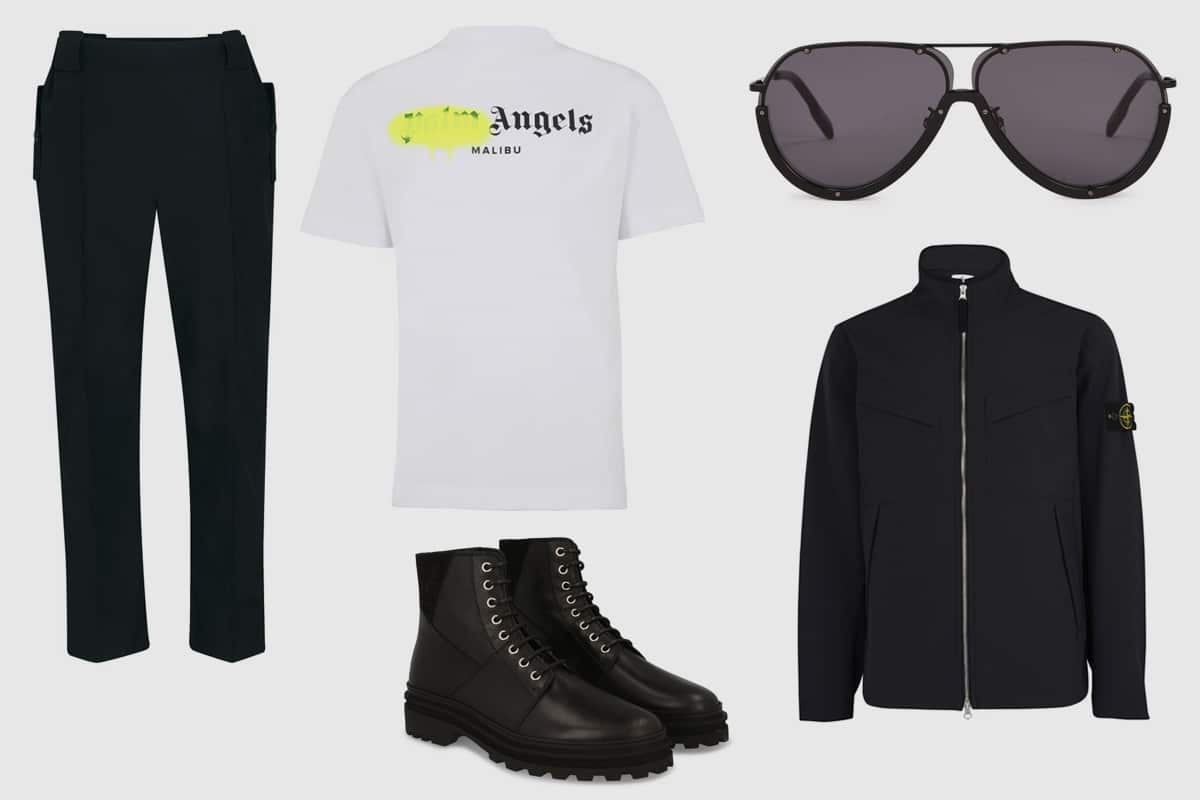 Refined Casual
An elevated take on casual attire can be achieved by swapping out your chinos or jeans for a pair of tailored trousers. The Boramy Viguier army pants combine classic menswear tailoring with sportswear details and chunky external pockets, for a piece that makes a statement but doesn't take itself too seriously. A light jacket is typically all you need for autumn in Australia, like this sleek high-necked shell iteration from Stone Island. Worn over a graphic Palm Angels Malibu sprayed t-shirt, it makes for the ideal trans-seasonal layering piece. Round out the look with a pair of lace-up boots, which never fail to toe the line between casual and elegant. Celine, Moncler, and Kenzo all make great options, however, it's the visible stitching and use of multiple leather textures on the APC Marcel boots that caught our eye.
Pants Boramy Viguier: Buy it here
T-Shirt Palm Angels: Buy it here
JacketStone Island: Buy it here
Boots APC: Buy it here 
Sunglasses Kenzo: Buy it here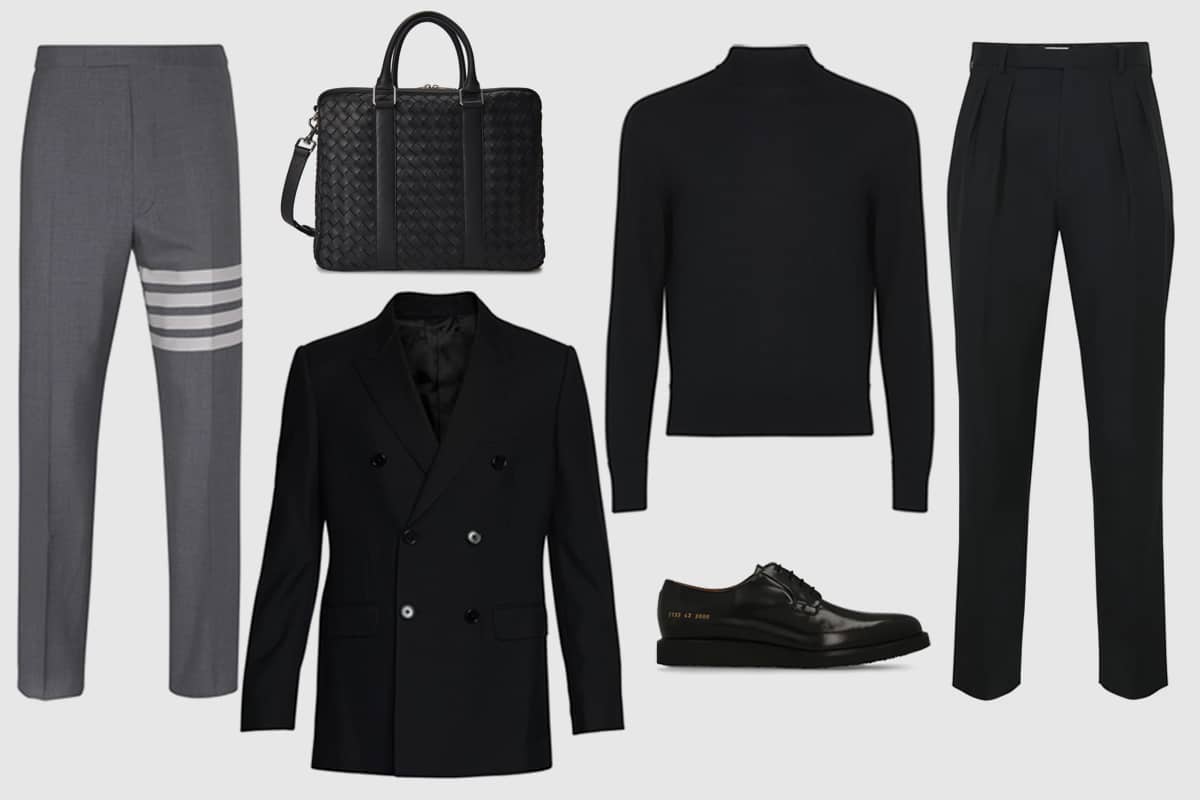 A New Occasion for Sophisticated Workwear
Gone are the days of bland office attire. Switch it up by trading your staid button-down shirt for a turtleneck worn under a blazer. Look for turtlenecks in comfortable, thin knits like cashmere or merino wool; our favourite is a slim-cut black woollen iteration from Tom Ford that exudes understated elegance. A double-breasted jacket like the Celine classic blazer never fails to make a sharp sartorial statement.
Patterned pants in a neutral colour add a hint of interest while still keeping it work appropriate. Try the Thom Browne 4-Bar woollen trousers for something different, or play it safe with the Celine New Wave wool pants. Pull-on a pair of smart derby shoes and you're good to go. The Common Projects derby shoes are classic with a twist, with the brand's signature gold detailing emblazoned across the side.
Turtleneck Knitwear Tom Ford: Buy it here
Double-breasted blazer Celine: Buy it here
Pants Grey Thom Browne: Buy it here
Pants Black Celine: Buy it here
Shoes Common Projects: Buy it here
Briefcase: Bottega Veneta: Buy it here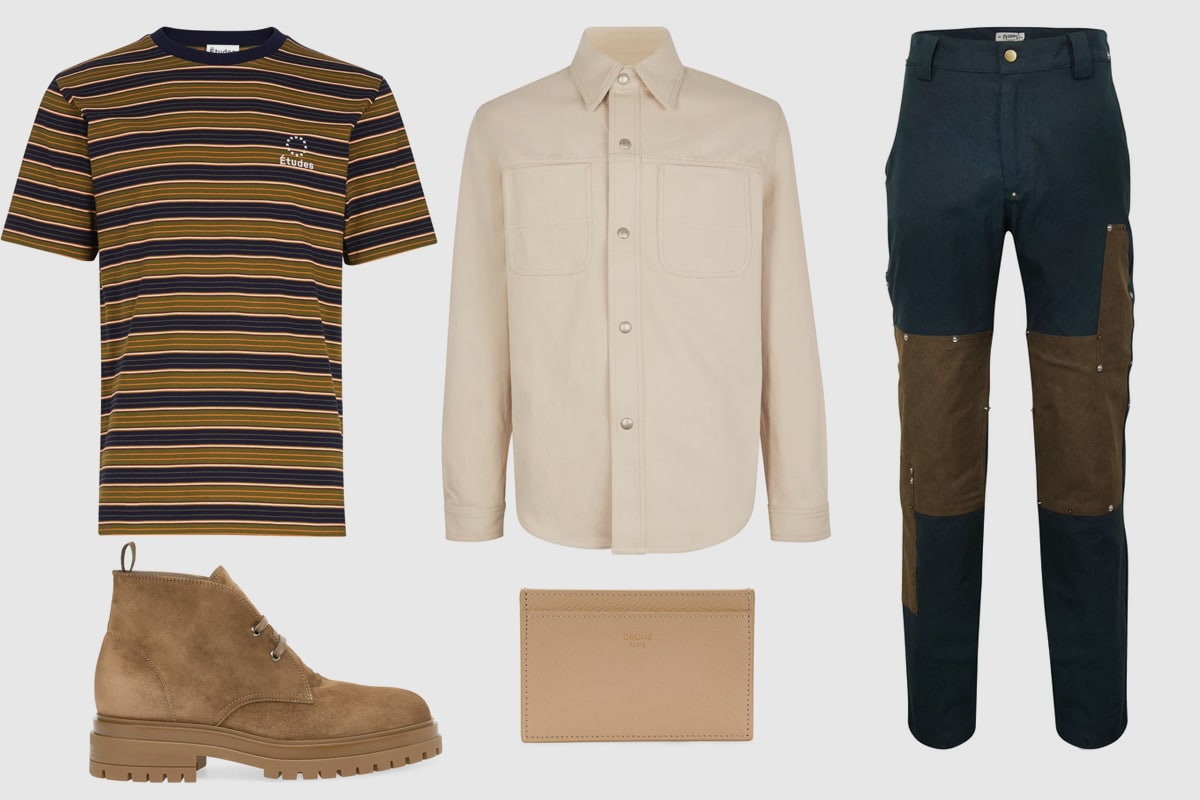 Rugged Getaway
For those days when an escape from the city is in order. Fall back on a failsafe combination of trousers and a t-shirt, but put a fresh spin on it with everyone's favourite utilitarian layering staple; the shirt jacket. Be prepared for anything with a pair of hardwearing trousers like the Phipps workwear pants. Crafted from sturdy cotton, they can take a beating. Pare it back with a striped Etudes Wonder logo t-shirt and throw on a timeless shirt jacket like the AMI Paris denim overshirt. Top it off with a pair of sturdy shoes such as the Gianvito Rossi Humphrey boots.
Pants Phipps: Buy it here
T-shirt Etudes: Buy it here
Demin Overshirt Ami Paris: Buy it here
Shoes Gianvito Rossi: Buy it here
Wallet Celine: Buy it here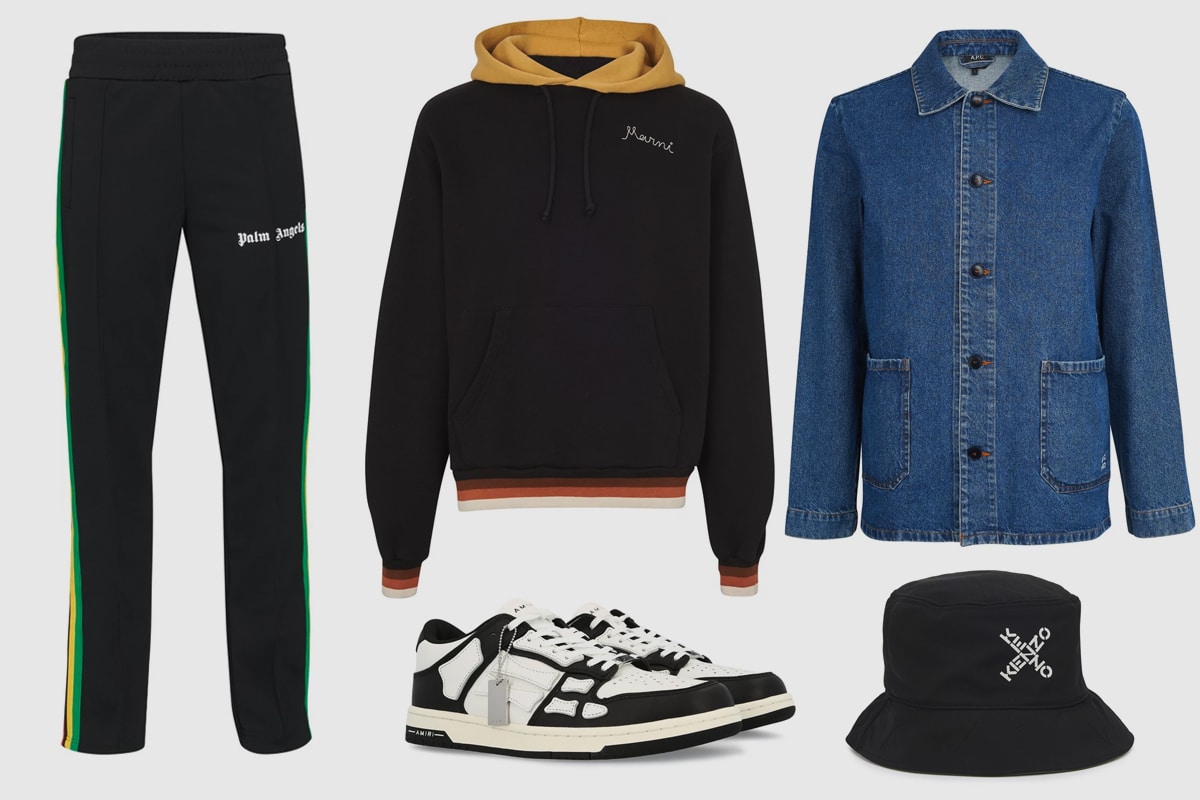 Weekend Warrior
Comfort is the name of the game for a relaxed weekend. If the WFH setups from last year didn't already have you turning towards a pair of track pants, now is the time to embrace them. These aren't your father's track pants; gone are the days of daggy sweatpants. In their wake is a new breed of polished iterations that are accepted past the boundaries of your front door; the Palm Angels Exodus Classic track pants make use of technical fabric to create a streamlined option that almost resembles tailoring. Team it with a Marini sweatshirt which sports an unexpected pop of colour in the form of a mustard hood and layer a classic APC denim jacket over it as the temperatures fall. Sneakers are a no brainer in every guy's comfy weekend uniform; the black and white Amiri Skel top sneakers are a dynamic yet versatile addition to your footwear arsenal.
Trackpants Palm Angels: Buy it here
Hoodie Marni: Buy it here 
Jacket APC: Buy it here
Shoes Amiri: Buy it here
Bucket Hat Kenzo: Buy it here