Hentley is the Ultimate Minimal Australian Leather Wallet
Quality is self-evident over at Hentley, an EDC brand that crafts minimalistic timeless designs out of vegetable tanned Italian leather. As you might be aware, vegetable tanning allows the leather to age naturally and develop a distinct patina over time, leading to darker hues and richer texture. Most importantly, the process doesn't require the use of chromium, a toxic mineral that ends up in waterways. The resulting wallets and accessories will boost your profile and have you feeling great on multiple levels. That is, after all, the power of well-made EDC.
Bolstered by its commitment to craftsmanship and customer service, Hentley continues to expand at a breakneck pace. Indeed, what started as a relatively modest inventory has since grown into a full range of everyday essentials, including iPhone cases, folio covers, belts, luggage tags, and Bluetooth trackers. Distinguishing the majority of these products from the competition is the brilliant use of vegetable-tanned leather, a material that's resilient enough to last a literal lifetime. All the while, the brand seeks customer feedback on both existing releases and new ideas, thereby evolving with precision and purpose. Satisfaction is the name of the game here, folks, with over 700 verified 5-star reviews to show for it.
Ultimately, Hentley offers all that one could ask for in leather goods and modern EDC. Everything from its minimalist cardholders to bi-fold wallets packs copious functionality and durability into a lightweight body. Sealing the deal are completely approachable price points, since maintaining an online-only operation means lower overhead costs. Throw in downright expedient customer service and a free monogramming program and it's safe to say this brand leaves nothing to be desired.
Hentley's Best Sellers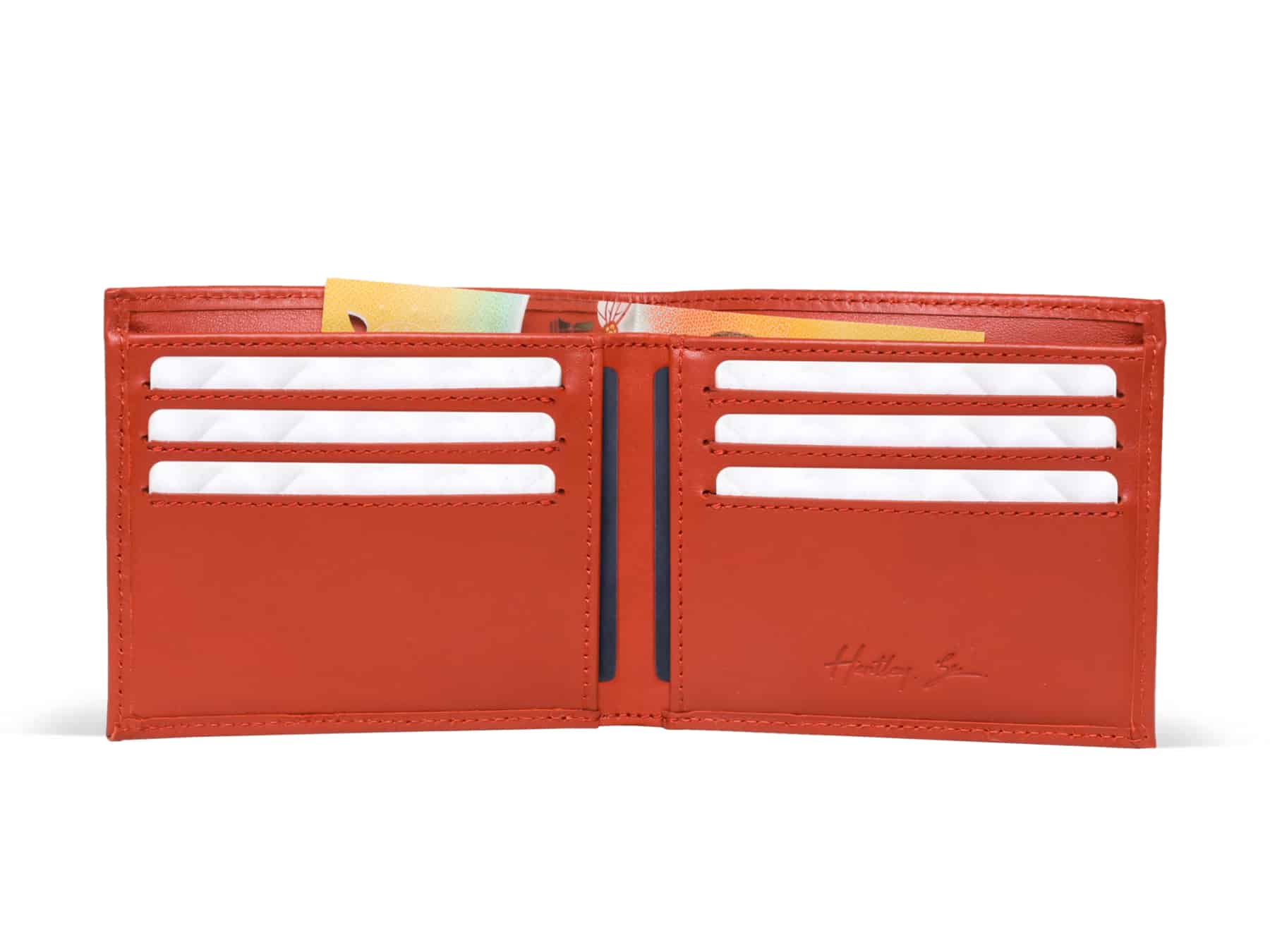 Lahore Wallet
One of the latest products to result from the feedback loop between Hentley and its customer base is the Lahore, also known as the brand's biggest wallet to date. Offered in either Whisky or Charcoal, this handmade vegetable tanned Italian calf leather wallet emanates with ample spaciousness and clean sophistication. It holds up to 14 cards total, with six hidden slots and two internal note compartments. Anywhere from one to four monogrammed letters are available upon request. Buy with extreme confidence, as this elegant stunner comes backed by a three-year warranty.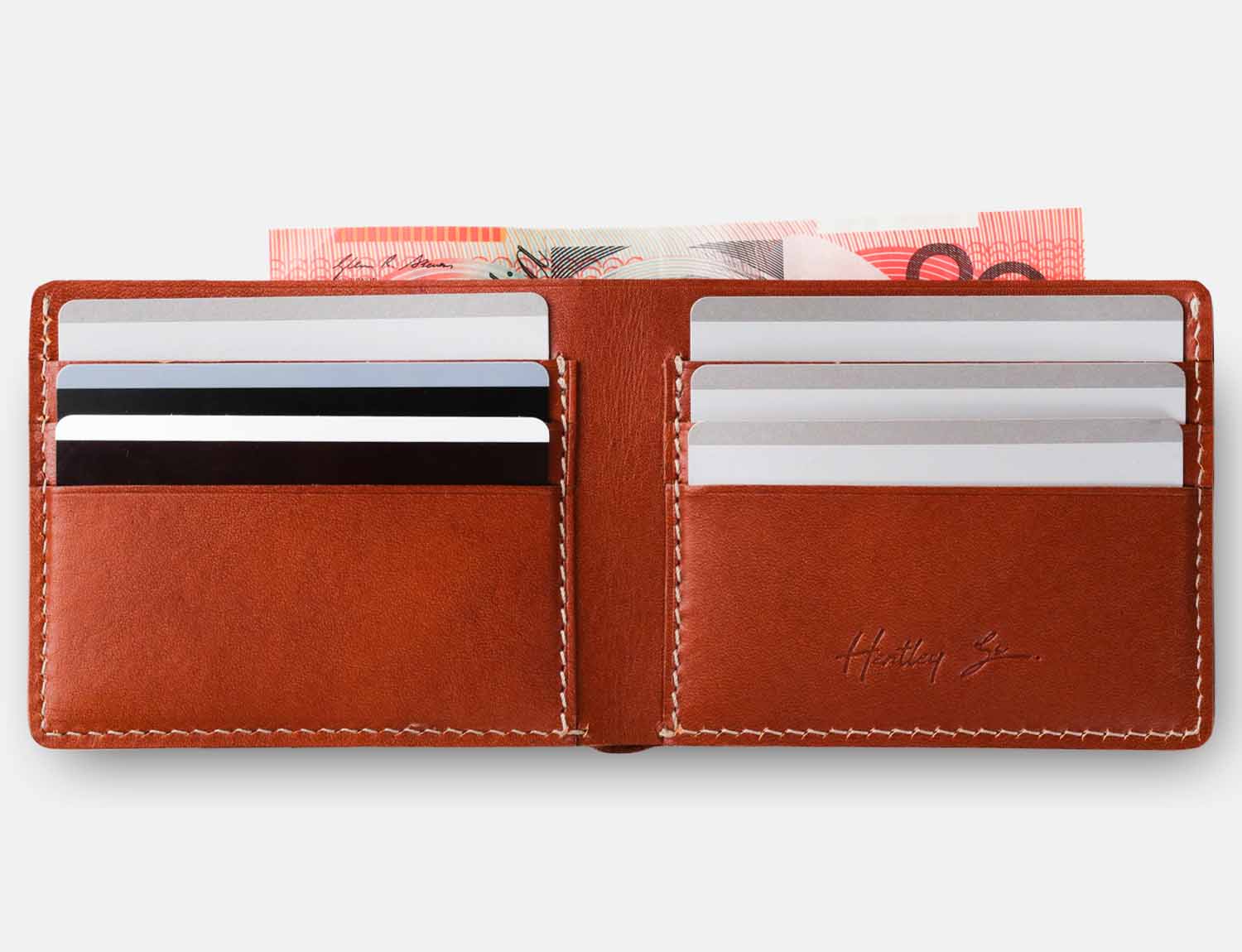 Manhattan Classic Wallet
Slim and durable, the Manhattan Classic Wallet is an instant classic, indeed. Striking the perfect balance between storage capacity and minimalist aesthetic, it generates an immediate sense of timeless allure. Like so many of Hentley's best products, this one is handmade using 100% vegetable tanned Italian leather, which lasts a lifetime and develops more character with age. Features include six card slots, a large note sleeve, and light contrast stitching. All those five-star reviews can't be wrong. To put it simply: this is everything a great wallet should be. And yes, it too comes backed by a three-year warranty.
Inferior execution has nowhere to hide when it comes to EDC. That's why it's important to roll with a wallet or accessory that covers every qualitative base. With each Hentley product, you get durable construction, minimalist design, lightweight feel, and premium vegetable tanned leather in one compact place. All it takes is a mere look at any given example to see that this brand has craftsmanship on lock. Scope its ever-expanding range of leather goods to see what speaks to you, and trust us when we say that something most definitely will.