Man Meets Nature: an Interview with Master Parfumier Alberto Morillas and Canadian Actor Nick Bateman
Alberto Morillas is an icon of the haute fashion scene who seldom needs much introduction. Responsible for some of the most beloved fragrances of all time, his abilities as a master parfumier have been celebrated by many a maison in the past and every new release gets a little more attention than others, thanks to his ability to  change tack, and release something completely unexpected.
We've met at the Bulgari Hotel in London, where we're also joined by Canadian actor and model Nick Bateman, who is here in his capacity as the face of the campaign. Sitting in the lobby, a gaggle of fashion writers are keen to swamp the affable parfumier with a maelstrom of questions all at once. Man of Many was lucky enough to secure some face time with the industry legend, to find out more about his design philosophy, Bulgari Man Wood Essence, and what exactly it is that makes a men's perfume great.
"Men's fragrance is very simple to understand", he confidently opines in a thick Spanish accent.
"The man, he wants something fresh, powerful that stays in the skin. Very simple, because he wants to spray the perfume to smell good (laughter)! Woman are much more complicated. They want romantic, but also sexy, floral — but not too floral — spicy, but not too spicy. The man is, for me, much easier to create perfume for than the woman. It's more direct."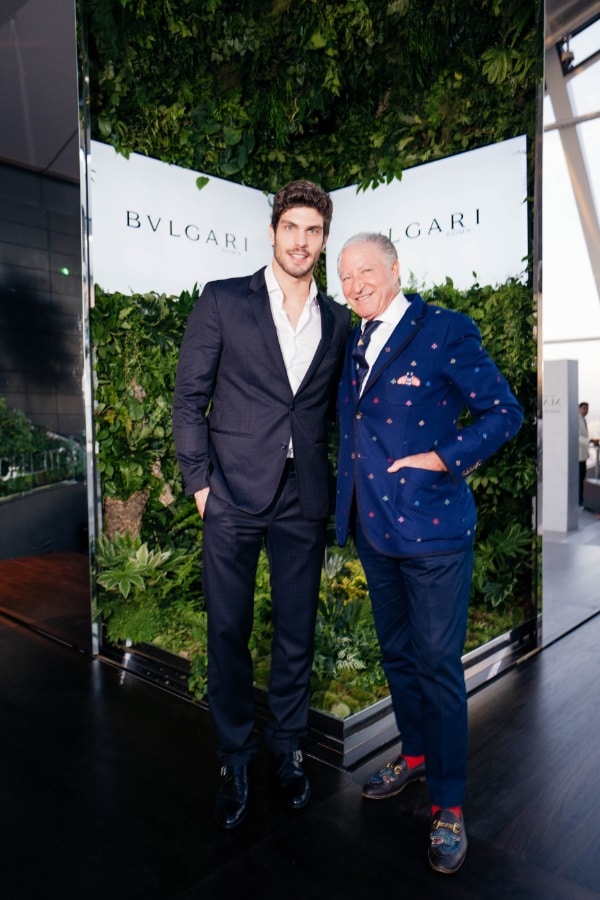 Dressed head to toe in Gucci's latest, it is evident that high fashion is more than just a passion for the 67 year old; it's his entire world. Having been responsible for some of the most popular, famous and commercially successful perfumes of all time, his resume boasts more hits than Max Martin, and in much the same time frame. And on the topic of just how he found himself one of the most in-demand curators for nice-smelling sprays the world over, Alberto knows the answer intimately.
"A good perfumer, you need to have emotion. You can think every day, "I've had the same job for almost 50 years", but if you don't have the emotion, you can't make it in this job."
Nick Bateman was an easy choice to fill the role as face of the campaign. Unbeknownst to him, his rugged looks were actually used as inspiration by Morillas during the perfume's creation.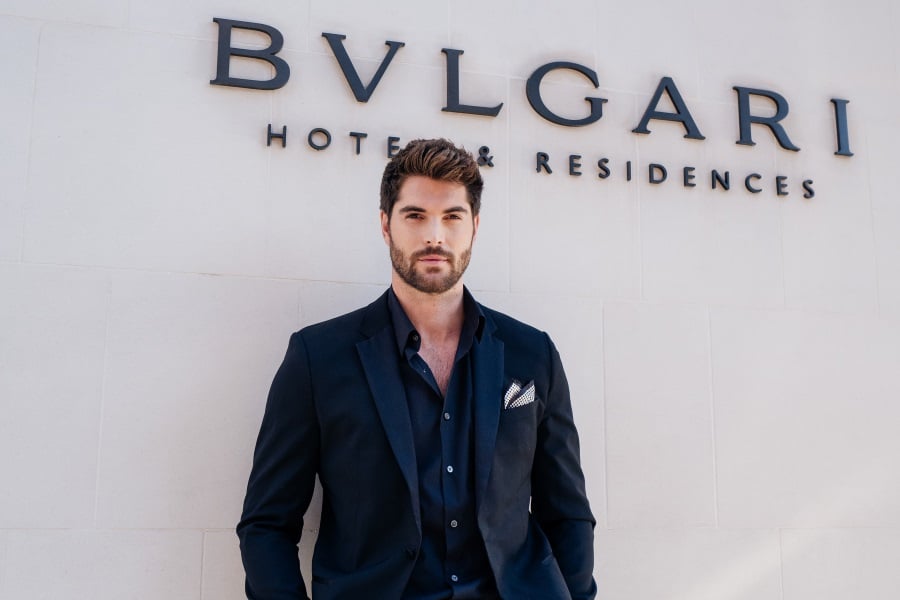 "Bulgari actually knew who I was and they picked me specifically for this fragrance", the ex-martial artist-turned-actor excitedly states.
"I actually found out yesterday that when they sent the inspiration to make the fragrance, they sent him pictures of me to include, before they'd even booked me. So it's really an honour that they … even in the making of the fragrance, had me in mind for what it would smell like … I think that's so cool."
Bulgari's desire to work with Nick goes a lot deeper than his looks.
"They really wanted to have someone who had a connection with nature and a connection with the city. That's what the fragrance embodies and my entire life I've had a great connection with nature. I grew up in the suburbs, I'm Canadian, I have an awesome connection with animals and lived next to an animal hospital while I was growing up, so I've raised the most random animals you can think of.
"Squirrels, raccoons, dogs, cats … And then also I've lived in a lot of the major cities around the world: Miami, New York, Milan, I live in Los Angeles now, so I've been able to have a connection with the city and have a connection with nature, and I feel that they thought that really embodied the essence of what the fragrance is about."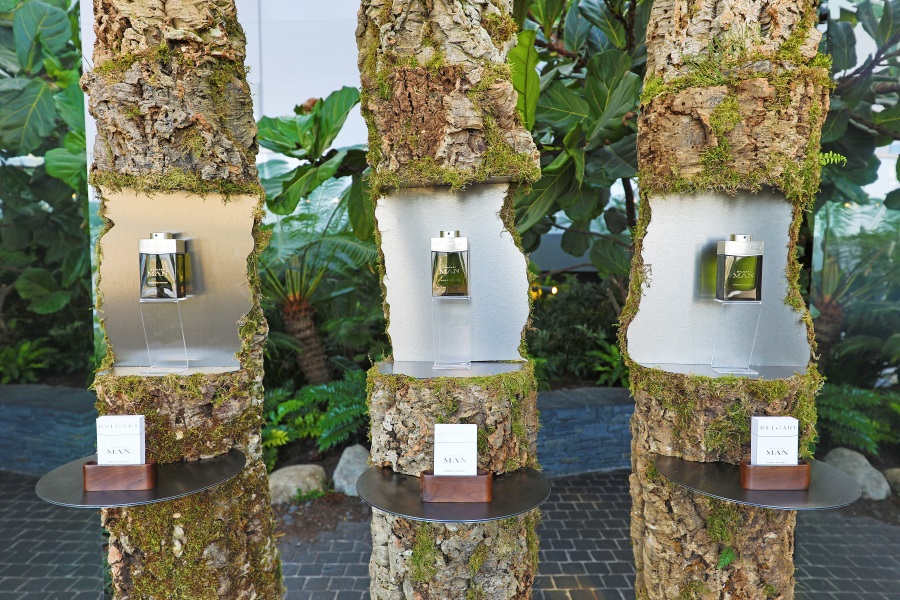 Man Wood Essence follows from a series of perfumes from Bulgari which aims to cater to a modern, demanding marketplace, which is currently burgeoning. While women are still the biggest consumers, men are much more likely to stick to a single scent once they find one they like, making the scramble to get as many men on board with a brand as quickly as possible a real goal for luxury fashion houses like Bulgari. This is the 22nd perfume made for the label by Morillas.
When discussing the specifics of this latest release, Alberto is quick to remind that simplicity is at the heart of his creation.
"I love the simplicity; the wood. You have two things inside, you have the simplicity of cedar wood, which everybody understands, but you have also the technique, very high tech for the new woods. (Talking about extracting scent from other woods) It's very strong, it stays on your skin and the body, this is very important.
"The new technique, with the tradition, you need to have both because Bulgari is this. You have the tradition for many, many years family, but you have the modernity when we create something new."
Bateman, who looks as though he'd be equally comfortable on the fore-deck of a 110-foot superyacht as he would in the wilderness with nought more than a knife and a swag, chimes in to explain his view on Man Wood Essence, and the nature of versatility when making a men's fragrance.
"Some fragrances you feel like you want to wear it in the city, some are more woody, some are daytime. I think they made a perfect balance of all of these.
"If you want to wear it in the city, it's not smelling like you're an outdoorsy man, but if you want to wear it in nature, you're not smelling like you're in a suit and you're clean cut. I feel like this hits on the perfect middle ground for the fragrance where if a man were to wear this, it's so versatile that you could literally wear it with anything.
"I think that's a successful thing to have because I have fragrances that I'll wear daytime, that I wouldn't wear at night and I have ones that I wear at night that I wouldn't wear for the day, but I could wear this one day, night, whenever."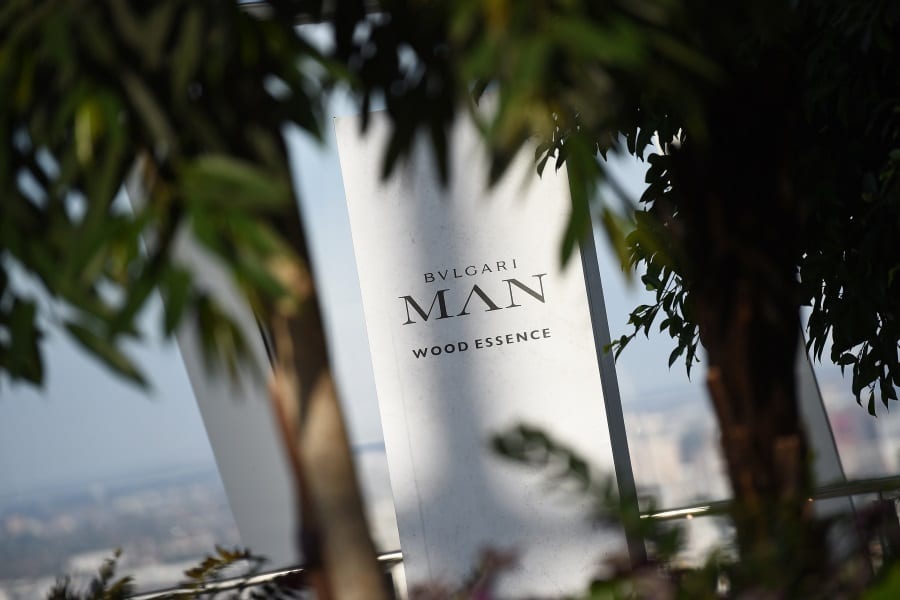 If Nick's glowing endorsement is anything to go by, the notion that Bulgari Man Wood Essence allows man to meet nature, in any context, is a fair assessment. But it's Alberto's stamp that makes this release such a safe bet. The perfume itself ticks every box (and given the name, does what it says on the label), and this is unsurprising, given the stablemates it shares with Alberto's previous creations, all of which have been successful, some of which have become icons; legends of their time; olfactorial zeitgeist in an atomiser.
"To create an emotion is the most important; to create something you are happy when you smell. After that is a different story (laughter).
"It's a scent of passion. You can't know when you create something if it will be good for, say, 10 years, or more. You create something for the moment.
"For perfume to sell, you create something for the moment."
And just what is that emotion for Alberto? What did he want to bottle in Bulgari Man Wood Essence? His answer is as charming as it is fitting to the brief.
"The treehouse", he confesses, with a child-like glint in his piercing blue eyes.
"Treehouse. This is the first emotion I have, you know.
"This is very important. And when you are young, you smell the tree, you have this emotion. It's simplicity, for me. We need to not have the artificial.
"You need to create with your heart to understand what it is you smell, immediately."