Trussardi Parfums' Le Vie di Milano Collection Celebrates the Scent of the City
It's no big surprise that Milan holds a special place in the hearts of luxury fashion lovers. The Italian city has dominated the world of high-fashion for years, thanks to its unique approach to artisan goods and craftsmanship, but a new fragrance is promising to deliver a true scent of the city. The new Le Vie di Milano range from Trussardi Parfums brings six extraordinary unisex fragrances together in an innovative approach to modern Milan.
You'll also like:
Feel the Freedom of the Road with the New Coach Blue Fragrance
Tom Ford Beau de Jour is Smoky and Minty
10 Best Luxury Colognes & Fragrances for Men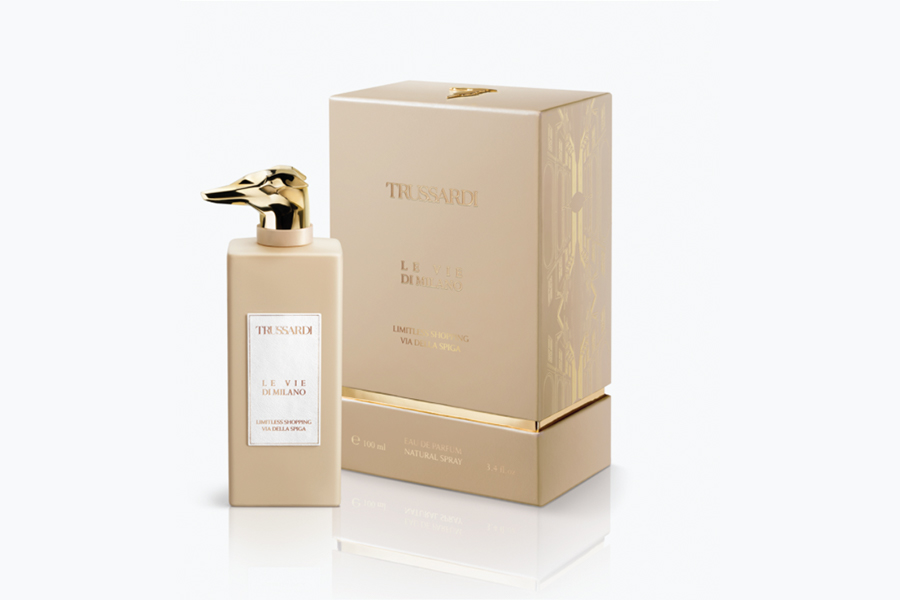 Tying together the smells, style, emotion and habits typical of Milan, the new Le Vie di Milano range is an interesting sensory exploration. Starting first with the Limitless Shopping Via Della Spiga, the sophisticated fragrances has an inviting scent of honey, referencing Milan's infamous Cova and Marchesi pastry shops. The notes of rose, jasmine, mahonia and heliotropin add a subtle touch of luxury to complete the fragrance. The Passeggiata in Galleria Vittorio Emanuele II fragrance evoked the sublime elegance of the Galleria that connects the Gothic solemnity of the Duomo with the neoclassical style of Piermarini.  "I wanted to translate this atmosphere into a luxurious fragrance. Precious ingredients naturally came to my mind: Coffee for the Italian touch, the floral opulence of Tuberose typically from Tuscany and the sensuality of conscious Vanilla," perfumer Julie Masse said.
Beyond the two standouts sit the Behind The Curtain Piazza Alla Scala – a saffron-heavy fragrance inspired by the Teatro Alla Scala, the Aperitivo Milanese Porta Nuova – a cirtus-laden release that reference the modernity of Porta Nuova, I Vicoli Via Fiori Chiari – an ode to rebellion that contrasts warmth and fog and, Music Noir Perfume Enhancer – a dual-use fragrance that offers a contrasts between Iris and Musk.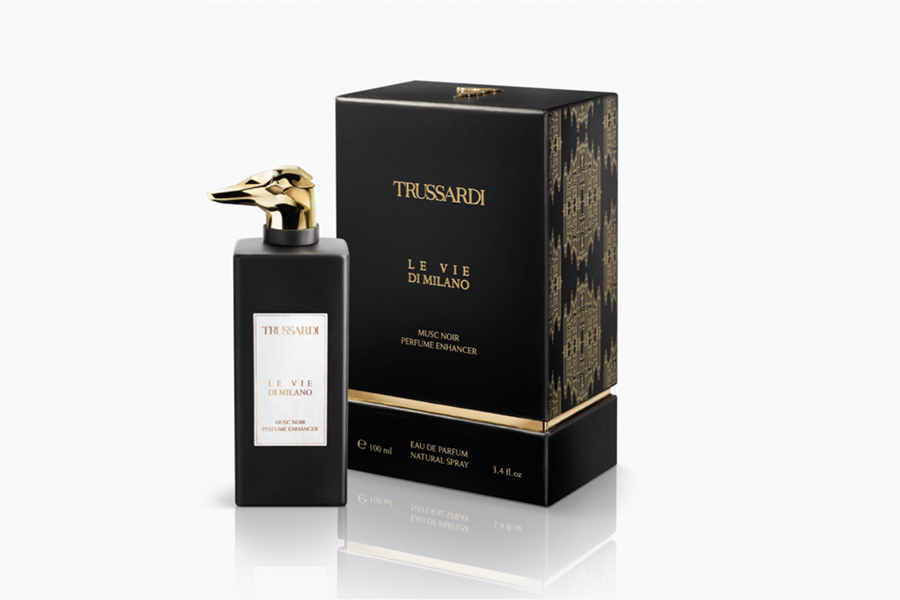 The true Milanese style flows through every facet of the new collection, right down to the bottling and packaging. The six opaque glass bottles are topped with a gold-tone sculpture cap that reproduces the head of the Italian greyhound. Around its neck sits a tiny leather colour, crafted in the same colour as the bottle itself. On each box, an ornamental motif in gold evokes the places and emotions expressed by the perfume, from the palazzos of Via della Spiga in perspective to the Porta Nuova arch. Truly, Trussardi's new Le Vie di Milano collection is a visceral experience of Milan, reimagined for an era without travel.
The six new fragrances are available exclusively at David Jones and are priced at AUD$270 each.