Nike Recruits Shiba Inu the Menswear Dog for a New Style
Bodhi, the Japanese hound that has become known as the Menswear Dog, is getting a Nike endorsement with a two tee-shirt deal. The first tee features an orange Nike logo with a matching swoosh serving to brand the shirt with an all-over pattern on the front and back showing the Menswear Dog in aviator sunglasses.
The second shirt is white based and shows Shiba in a streetwear look with a Nike top under a floral button-down shirt—of course the shades come back as a part of the outfit. Both shirts are made of cotton and have a crewneck. The all-over print retails for USD$22, while the graphic tee sells for USD$35.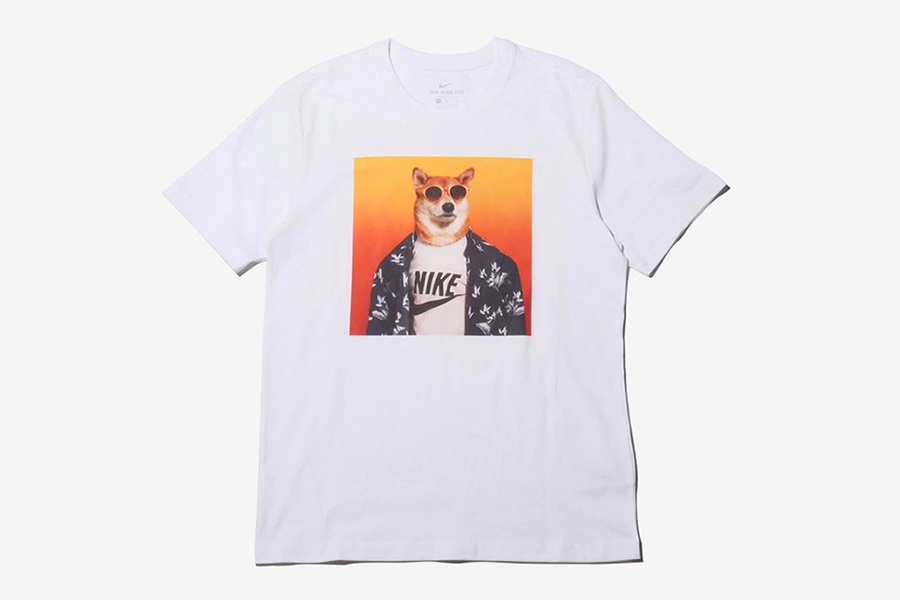 This may be a highpoint for Bodhi. Two years ago, the dapper canine was discovered on Instagram and was quickly dubbed the Internet's best-dressed canine. Now he's modelling men's clothing and getting paid for it—to the tune of more than USD$15,000 a month.
And Nike isn't the only one to cash in on the dog's popularity. Shiba has also modelled for ASOS, Barney's, Polyvore, Saks, Ted Baker, Victorinox, Bloomingdale's, and Salvatore Ferragamo. This also isn't the first time Nike has used man's best friend to market their products. Last month they released the SB Dunk High "Dog Walker" high tops.