7 Heartfelt Christmas Gifts to Show Her You Care
In Partnership with Pandora
The holiday season is a time for togetherness, in all its forms. From decorating the tree to the Christmas Eve roast, the festive period is best enjoyed with company, and for the first time in months, those magic moments are actually within reach. But this year, it comes with an added weight.
According to research conducted by Opinium, 84 per cent of people around the world missed festive moments last year. That means no special memories, no prawns on the barbie and no chance to catch up with loved ones in person. Suffice to say, the pressure is on to get it right, but after 18 months at home, how do you find the right way to tell someone how much they mean to you? Forget the chocolates and flowers, this Christmas, it's time to celebrate the lasting moments and perennial holiday favourite Pandora has you covered.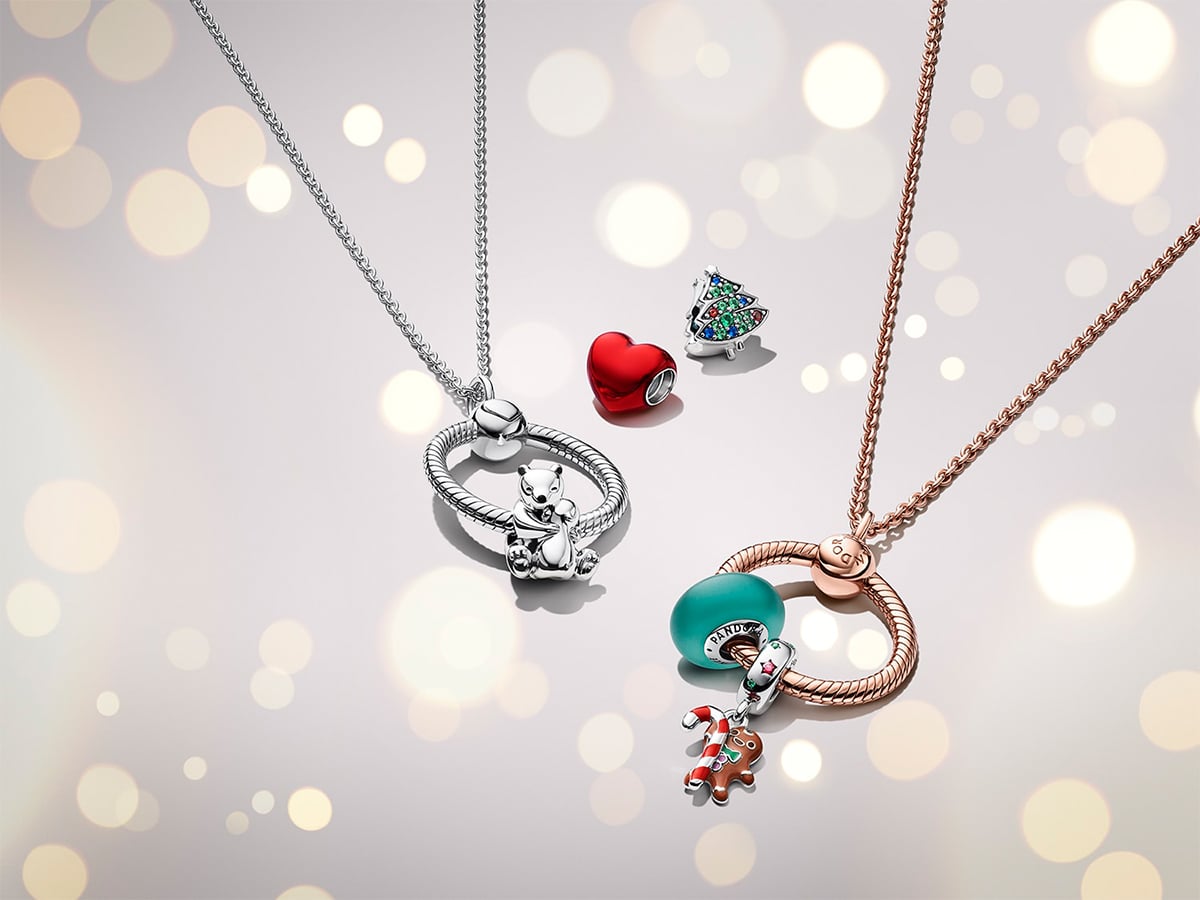 Celebrating the Little Moments
Renowned for heartfelt gifts that mean the world, iconic jewellery brand Pandora has just unveiled the new star-inspired Moments Collection. Championing the unique, yet universal, events worth cherishing, each hand-finished piece captures the bond you share with your loved ones.
"The festive season is all about investing your time and effort into selecting the perfect gifts for the people you love," Filipo Ficarelli and Francesco Terzo, creative directors of Pandora said. "Connecting is more essential than ever this year, so we focused on the importance of bringing people closer together. The new pieces reflect the magic of special reunions with friends and family."
Deeply sentimental and stunningly crafted, the new Pandora Moments collection features hand-applied enamel for that extra touch of love. Best of all, the new collection takes the guesswork out of holiday shopping, but it's not the only solution Pandora has on hand. The jewellery brand's iconic Timeless Collection offers classic styles with an elegant twist, designed with deconstructed details, hand-finished, innovative cuts and vibrant blue, green and pink stones, the collection is uniquely versatile. Whether it's a mother, sister, partner or friend, celebrate the people most important in your life with these beautiful pieces.
For Mum
Pandora Asymmetric Star Clasp Snake Chain Bracelet
Bring a certain celestial sparkle to your mum's look with the Pandora Moments Asymmetric Star Clasp Snake Chain Bracelet. This stunning bracelet is hand-finished in sterling silver, with the star-shaped clasp covered by sparkling clear cubic zirconia pavé on both sides.
Pandora Three Stone Vintage Ring
They say a classic never dies and this elegant three stone ring is living proof. Pulled from the Pandora Timeless collection, this piece's stones feature an unmistakable green hue, reminiscent of the art deco period. Playing on a familiar motif, albeit with a fresh new feel, the unique ring is plated in rose-gold plate for a high-class finish.
For Your Partner
Pandora Blue Night Sky Crescent Moon and Stars Dangle Charm
For a love that is out of this world, treat your partner to the Blue Night Sky Crescent Moon and Stars Dangle Charm. Hand-finished in sterling silver, the front disc features an open circle decorated with stars that overlap the frame, while the back disc includes a raised blue half-moon-shaped stone. A brand-new addition to Pandora jewellery, the half-moon is surrounded by clear stones.
Pandora Logo Pavé Circle Collier Necklace
For centuries, circles have remained a symbol of unending love, after all, it's where the engagement ring comes from. A statement of infinite love, this smooth, stone-studded circle signature pendant necklace creates an elegant statement of forever. Detailed with the Pandora logo and cut-out hearts, the reversible style is a timeless addition to any jewellery box. For a love with no beginning or end.
Pandora Long Pronged Sparkling Clip Charm
If your partner is in the mood for something that dazzles, maybe it's worth looking for something Timeless. Hand-finished in Pandora's 14k rose gold-plated unique metal blend, the Long Pronged Sparkling Clip Charm features a line of cubic zirconia stones set with visible prongs that highlight the stones' sparkle. Forming an intricate design on the charm's sides, the charm is best clipped to a snake chain charm holder.
For Your Sister
Pandora Galaxy Blue & Star Murano Charm
World-famous for its unparalleled quality, exquisite range of colours and unsurpassed craftsmanship, Murano glass is a symbol of stature. This year, celebrate the one closest to you with this galaxy-inspired charm surrounded by asymmetric cut-out silver stars. Stay connected to the power of the galaxy no matter the distance between you and your sibling.
Pandora Double Dangle Tree & Galaxy Moon Charm
Representing the natural and celestial worlds, this statement charm is the perfect symbol of the sibling relationship. The two halves of one whole are created through a mix of cut-out and raised star-shaped leaves adorning the front disc, and raised stars and planets depicting a galaxy on the back disc.
The Gift of Timeless Moments
With Pandora's Moments and Timeless Collections, you can toast to the occasion in style. This Holiday season, celebrate every story and make memories that will leave a lasting impression. Shop the full collection at Pandora.net