Rock Me Pitti – by Philippe Perzi Vienna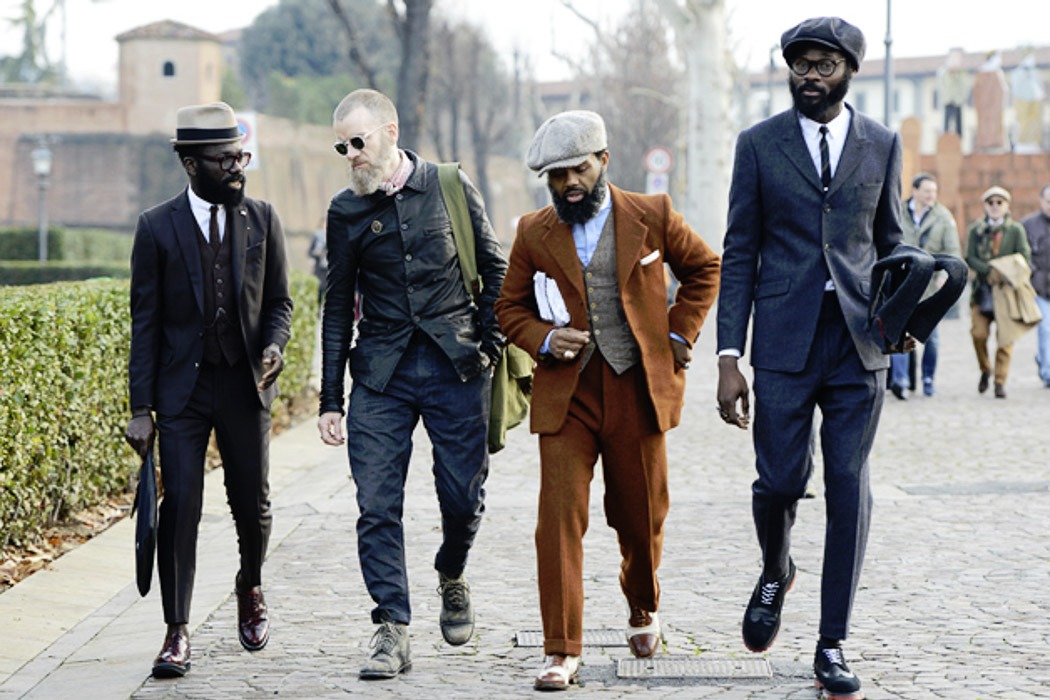 This is a Guest Post from Philippe Perzi Vienna.
Rock Me Pitti! That was the theme of the 85th Pitti Uomo Fair held this week in Florence and boy, did they Rock it. Once again, the peacocks of the fashion world were out in force, showing the rest of us how to make and break the fashion rules. The biannual Pitti Uomo trade fair has become tantamount to a giant catwalk where modish men stand around chatting, smoking and posing within the large confines of the impressive Fortezza da Basso. But it's not all preening and posing; These flocks of well-dressed men are actually there to attend the Pitti Uomo trade show which has become one of the premier men's fashion events on the calendar, sitting comfortably alongside the fashion weeks of London, Milan and New York in terms of influence and popularity. Not only is the Pitti Uomo Fair the best place to observe the most dapper dudes about town, it gives us a realistic idea of what men will likely be wearing come next season. So, what exactly are the sartorial standards set by these dapper dudes and what can we expect to be wearing next Autumn/Winter:
Showing your clan colours
Tartan, plaid and checks are the starting point for the contemporary gent next Autumn/Winter. The traditional plaid weave has been emboldened with bright blue, red, orange and purple hues. Exactly how far you take this look is up to you.
Colour – a refreshing winter warmer
It was refreshing to see so many men wearing colour at the Pitti Uomo Fair, in the midst of winter. Whether it was a statement coat, the merest hint of colour on the cuff, or the imagination of a tie, colour was a key theme at the Pitti Uomo Fair and is sure to feature heavily in the Autumn/Winter wardrobes of stylish men. The palette was wide ranging, from yellow ocher, plum, bright red and electric blue.
Look at these peacoats, tell me they're broke?
Classics are classics for a reason and sometimes a piece of clothing is so expertly conceived from the beginning, there's little point in meddling with the design as time goes on. The peacoat is one such example. Continuing the nautical trend from this past season, this sailor-inspired coat has rarely strayed far from its original template and remains stylish, sophisticated and warm. Men at the Pitti Uomo Fair were seen wearing peacoats made from wool and cashmere in traditional navy, plum and brown and also in neutral tones such as cream, fawn, light blue and mustard.
Man bags at dawn
Forget your discreet messenger bag. Men at the Pitti Uomo Fair were displaying statement bags in bold colours and designs and in a size more akin to cabin baggage. We suspect that many had indeed arrived bright and early on Day 1 of the Pitti Uomo Fair, straight off the plane or train, but we think the intention was as deliberately stylish as it was practical…now for the million dollar question… what were they carrying in there?
Hats, hats everywhere at Pitti Uomo Fair
The practical need for a hat has long since passed, but who needs practical when you're at the Pitti Uomo Fair. Many men were wearing hats in a variety of designs; From flat tweed and bakerboy caps echoing traditional British country pursuits to the 'Borsalino' worn by men who are 'Made in Italy' through and through. We think the hats added a certain style and distinction, often rounding out a 10/10 outfit.
Well heeled
As George Frazier, Esquire magazine's legendary fashion columnist of the 1960s once mused; "Wanna know if a guy is well dressed? Look down." In fact, it could be said that any man who respects quality footwear is likely to achieve success, as he understands the value of working his way up from the bottom. If that theory is true, then Pitti Uomo men are treading on fertile terrain. Given the winter weather in Florence, men were seen wearing socks, often in hues or patterns that echoed at floor level a colour or pattern found near the face. The monk-strap shoe is still as popular as ever; Devotees were seen wearing them all over the Pitti Uomo Fair and we must say, we can understand why, given the shoe's superbly proportioned elegance and offbeat panache. Loafers and slippers were also a popular choice for men of the Pitti Uomo Fair, their designs only limited by one's imagination.
The Pitti Uomo Fair is one of the highlights on the calendar. Although there are many tradeshows and fashion fairs held throughout the year, the sheer scale, size and exposure to new and upcoming labels sets the Pitti Uomo Fair apart from the rest.
The Philippe Perzi Vienna collection promises timeless quality, individuality and vibrant colours and styles rarely seen in today's mass market. The origins of the label are firmly rooted in European tailoring which gives their collection that enduring sense of sophistication demanded by todays modern gentlemen.