Between their innovative achievements and classic output, Swiss-based Longines is already quite synonymous with the pioneer spirit. However, their latest collection brings the concept into literal terrain. Dubbed Longines Spirit, it honours timepieces once used by world-famous aviators and explorers like Amelia Earhart, Elinor Smith, Paul-Emile Victor, and Howard Hughes. Each of these fearless seekers put their faith in the iconic winged hourglass and now you can do the same. And thus the pioneer spirit lives on.
Accuracy. Durability. Reliability. Technology. These words pop up time and again when you pore through the history of Longines. As early as the mid-1800s, the watchmaker distinguished itself by way of numerous innovations and strategies. For example, they were the only brand (at the time) to focus exclusively on crown-wound pocket watches in lieu of key-wound counterparts. By 1878, they were developing their own in-house chronograph movement.
The pioneer spirit would continue to define Longines well into the 20th century. Always hip to the latest advancements in production and technology, the brand was known as an absolute master of precision. In 1927, they co-developed a revolutionary rotating disc watch and it became an essential tool amongst navigators. Just a few years later, they incorporated navigational instruments designed by aviator Charles Lindbergh himself. The list of achievements goes on and on.
Breathing new life into a robust legacy, the Longines Spirit Collection reworks and updates a number of heritage classics. Each piece pays tribute to legendary aviators and explorers, who once defied fear itself (and even logic) as they embarked on perilous, groundbreaking adventures. In every instance, the brand played an important role and quite often a pivotal one.
When Amelia Earhart flew non-stop across the Atlantic in just under 15 hours, she wore a Longines chronograph. When Howard Hughes journeyed around the world in record time, his flight was timed by Longines (he was also partial to the brand's patented Siderograph, an on-board device used for navigational purposes). Then we have explorer Paul-Emile Victor, who once credited sturdy Longines chronometers with making the difference "between success and failure" during his polar expeditions. Last but not least is Elinor Smith, the world's youngest licensed pilot who broke flight records for speed, endurance, and altitude. Guess what she wore?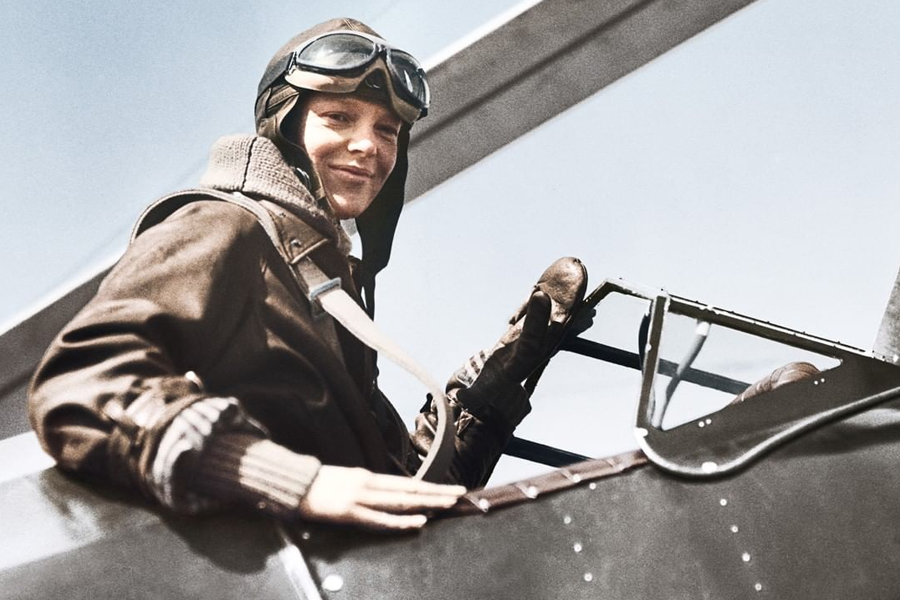 With the new Longines Spirit Collection, these groundbreaking journeys come full circle. We were able to try some of the new watches on for size and they're absolute pleasures to wear and behold. The fusion of vintage aesthetic and contemporary flourish puts everything we love about automatic timepieces in one place. That's not to mention the bold layouts and signature details, all of which drive home the pioneering theme. To sweeten the deal, every watch in the Spirit collection comes with a 5-year warranty. If you're likewise inspired, these instant classics are guaranteed to bolster your watch collection and your wardrobe alike. Here are 5 personal favourites:
Longines Spirit L3.820.4.93.6
Measuring in at 42mm, this COSC-certified chronometer presents silver sandblasted hands, applied Arabic numerals, and three subdials against a backdrop of pure sunray blue. Packed with detail but not overstuffed, the dial face emanates with the essence of adventure.
There's plenty of bite behind that proverbial bark, such as domed sapphire glass with multiple layers of anti-reflective coating on both sides of the watch. Similarly robust is an L688.4 calibre, which has been fitted with a silicon hairspring for guaranteed accuracy. One look at this glorious timepiece and we were tempted to book a flight to literally anywhere.
Dimension: 42 mm
Movement Type: Automatic
Material: Stainless Steel
Dial Colour: Sunray Blue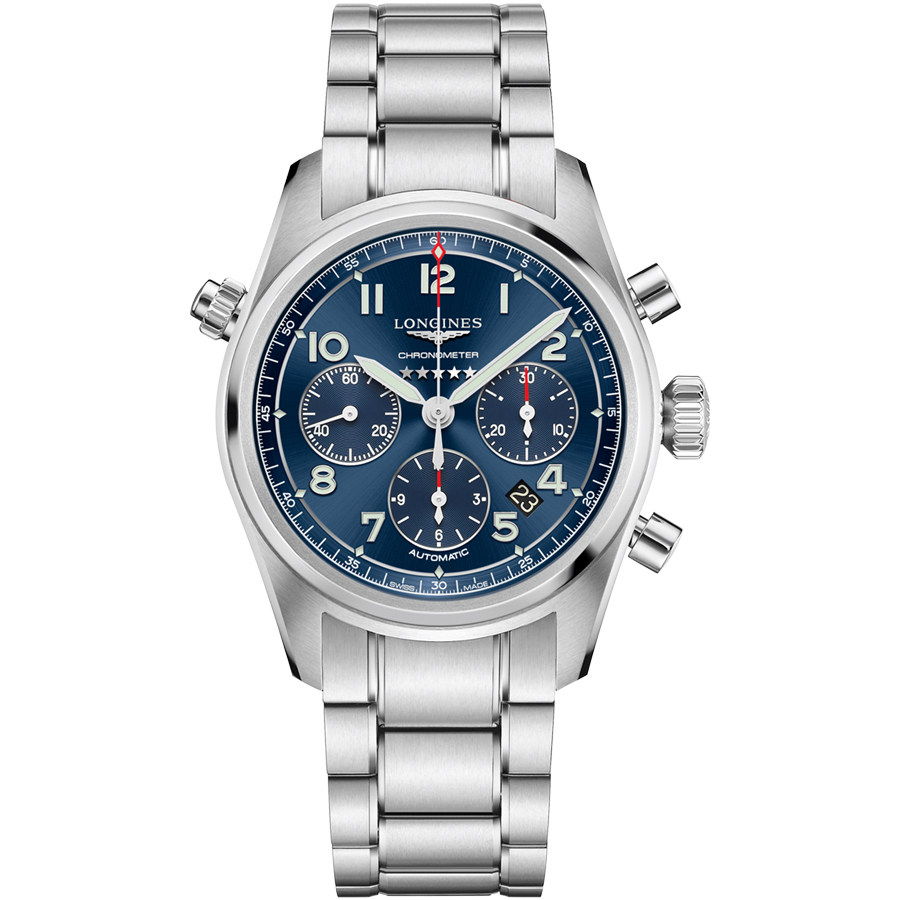 Longines Spirit L3.810.4.53.6
Taking a more understated approach, this 40mm model eschews subdials on the black matte display. Dressed in sapphire crystal and stainless steel, it features a COSC-certified L888.4 calibre with 64-hour power reserve.
The oversized crown and luminous baton-style hands take direct cues from vintage pilot's watches, blending beautifully within a contemporary framework. Display details like the winged hourglass logo and five applied stars inject the perfect touch of pioneering spirit.
Dimension: 40 mm
Movement Type: Automatic
Material: Stainless Steel
Dial Colour: Black Matt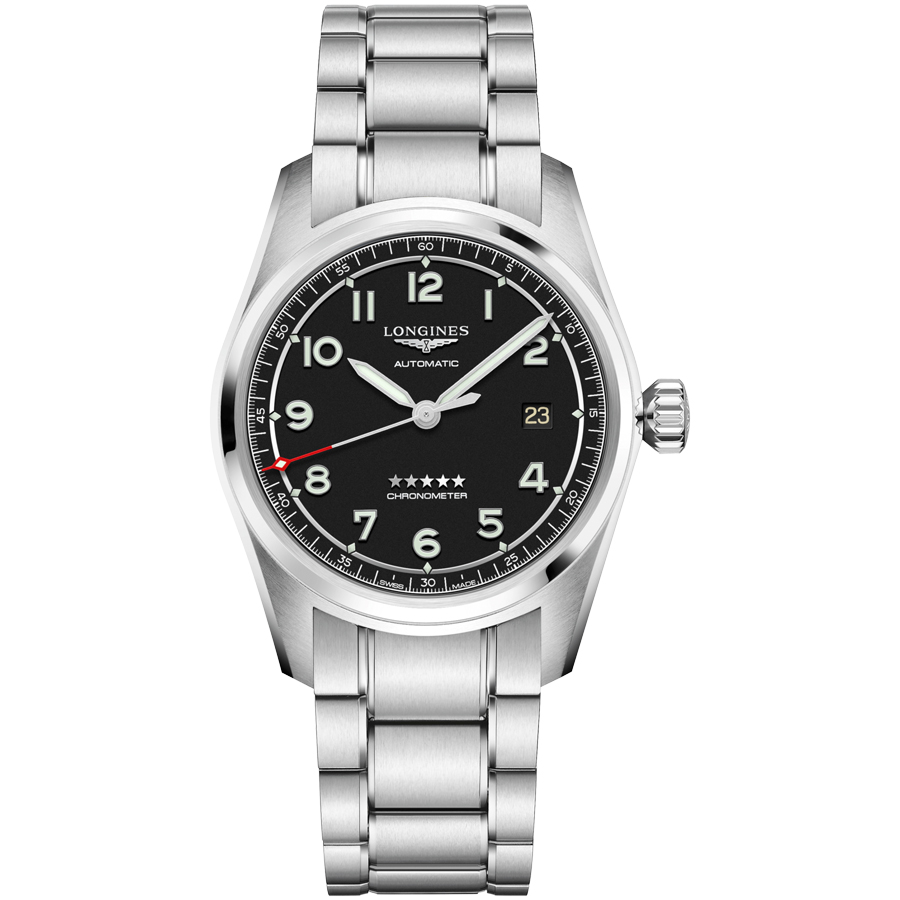 Longines Spirit Prestige Edition L3.810.4.93.9
Synergising elements of both aforementioned models, this three-hand calendar watch is truly worthy of the five stars gracing its dial face (signifying maximum quality and reliability). Like the other 40mm iterations, it runs on L888.4 self-winding mechanical movement.
Providing the extra touch of prestige is an interchangeable strap system, allowing you to swap between stainless steel, NATO in brown leather, or traditional leather.
Dimension: 40 mm
Movement Type: Automatic
Material: Stainless Steel
Dial Colour: Sunray Blue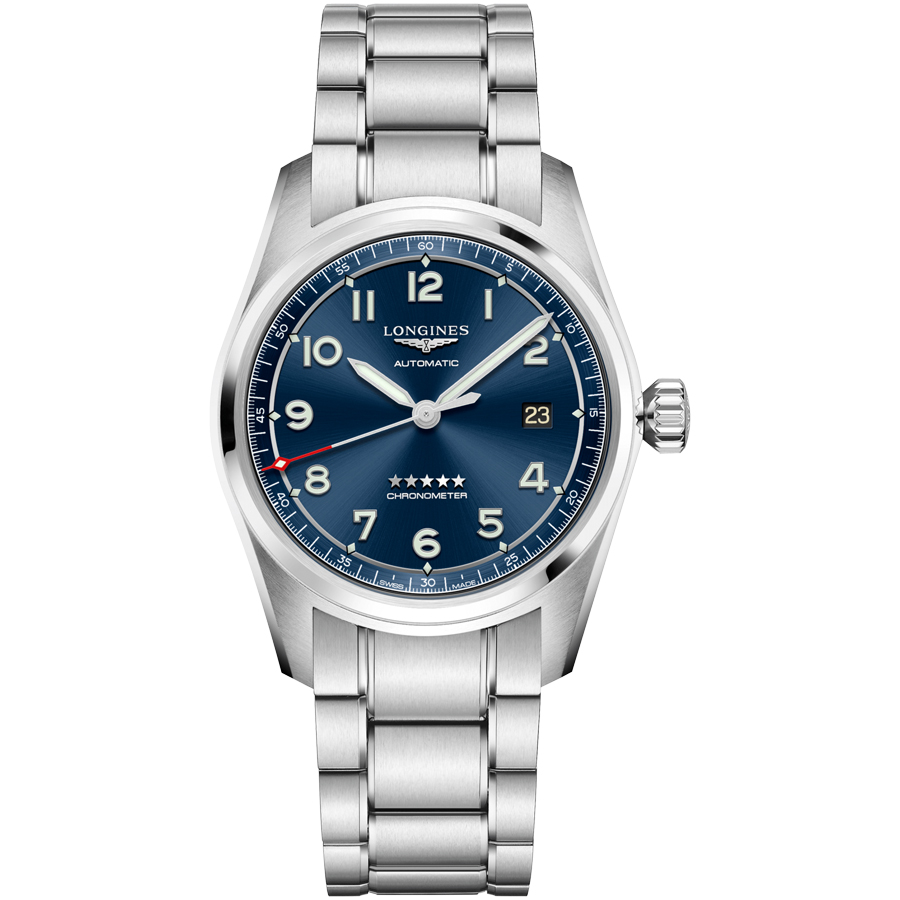 Longines Spirit L3.810.4.73.6
A dial colour of grained silver infuses a clean aesthetic and enhanced texture, blending elegance and fortitude to wondrous effect. Speaking of deft balancing acts, this sleek watch generates masterful interplay between retro accents and modern design language.
Swiss Super-LumiNova brings the legible markers to life under dark conditions. As enticing all these elements appear on-screen, they truly resonate in person. Impressions will be rendered.
Dimension: 40 mm
Movement Type: Automatic
Material: Stainless Steel
Dial Colour: Silver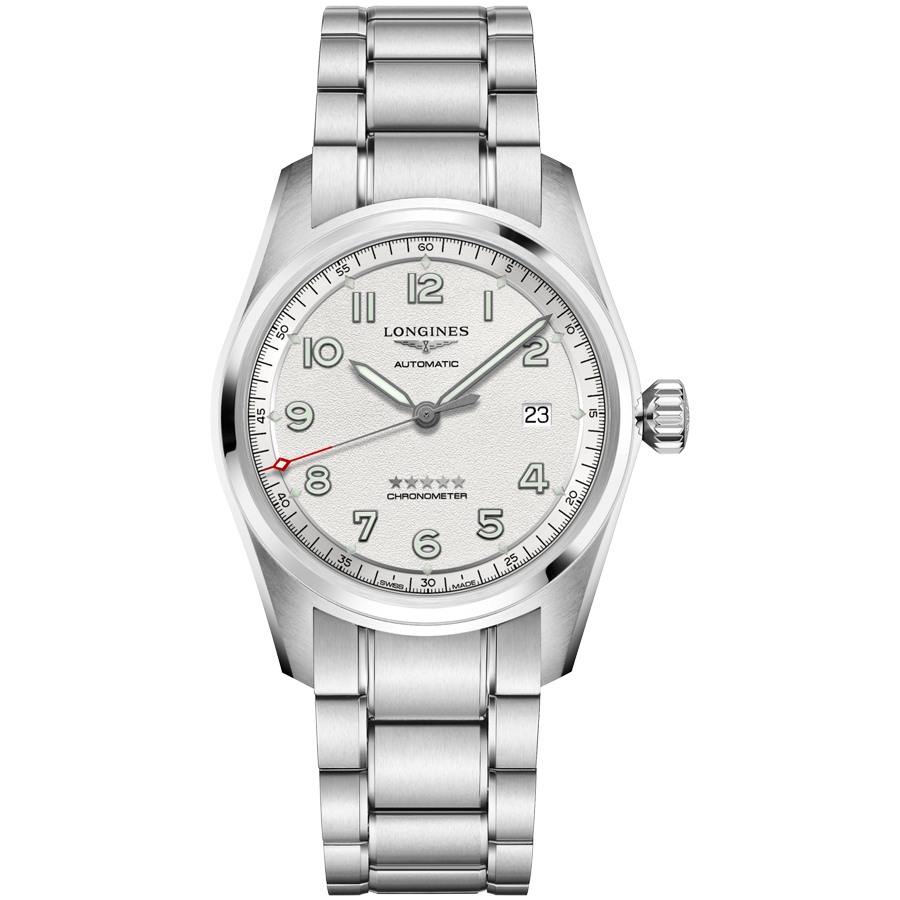 Longines Spirit L3.810.4.53.0
The combination of a black matte dial face and brown leather strap gives this 40mm model a versatile edge. While still bursting with the pioneer spirit, it doubles as a brilliant dress watch.
We can picture Howard Hughes himself taking this one up for a flight and then wearing it to a dinner party later that night (during his more extroverted years, naturally). May it serve you just as well.
Dimension: 40 mm
Movement Type: Automatic
Material: Stainless Steel, Leather Strap
Dial Colour: Black Matt