Top 10 Designer Pocket Square Brands
In the world of menswear, pocket squares are the easiest form of taking an outfit to the next level. So we decided to provide you with a sartorial "cheat sheet" into the world of pocket squares. Here are our top ten designers that offer high-quality materials and impeccable designs that can ultimately make your outfit one of a kind.
---
You'll also like:
How to Colour Coordinate an Outfit
Devil May Care Pocket Squares
Role Models – Van Heusen Mentor Sessions
---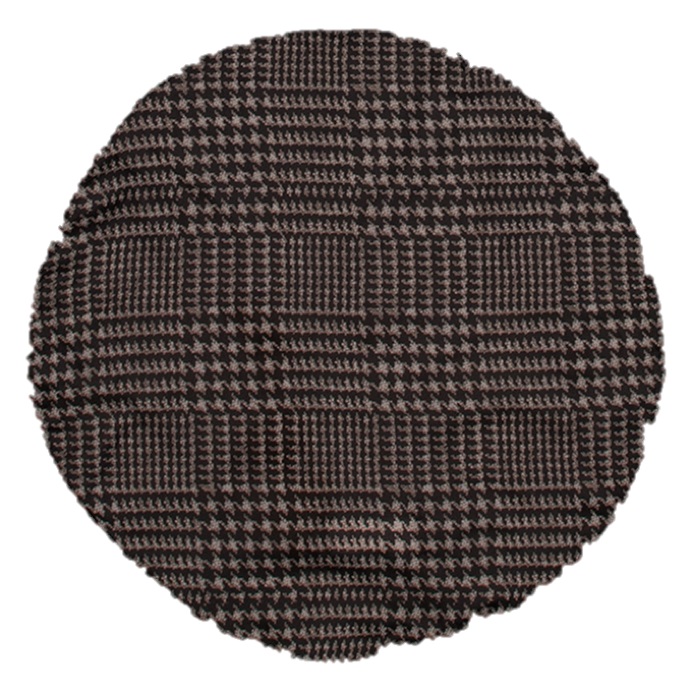 Alexander Olch
Filmmaker and designer Alexander Olch started his line of men's neckwear and pocket square accessories in 2009. Balancing old-world craftsmanship with the freshness and style of modern-day New York City. Creating a cult following with his circular-style cut of pocket 'squares', Olch creates refined pieces with an unexpected assortment of fabrics. Each piece is made in New York City by hand.
Printed Nylon Glen Plaid Pocket Round In Brown Grey Multi $60 AUD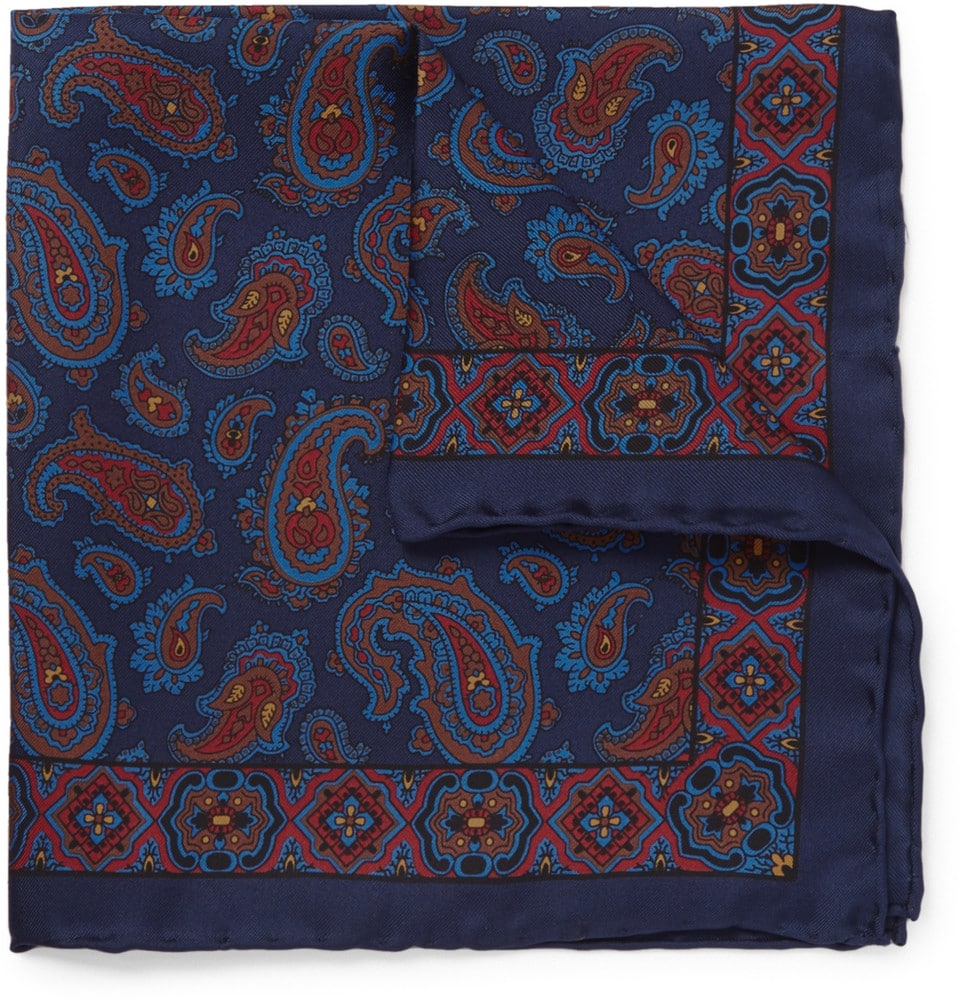 Drake's
Founded in 1977 by Michael Drakes, the quality of Drake's is legendary. The brand's style, beginning with a refined English discrimination, has evolved with a touch of consummate French chic and a nod to the Italians for their abundant sense of style and colour. This aesthetic represents a vision of how English style is perceived to be, rather than the reality which today is all too often less inspiring. Designed in Haberdasher Street and manufactured in the UK & Italy, Drakes' pocket square accessories are synonymous with style and quality leading the way in the world of menswear.
Paisley Silk Pocket Square $108 AUD
Buy It Here: MR PORTER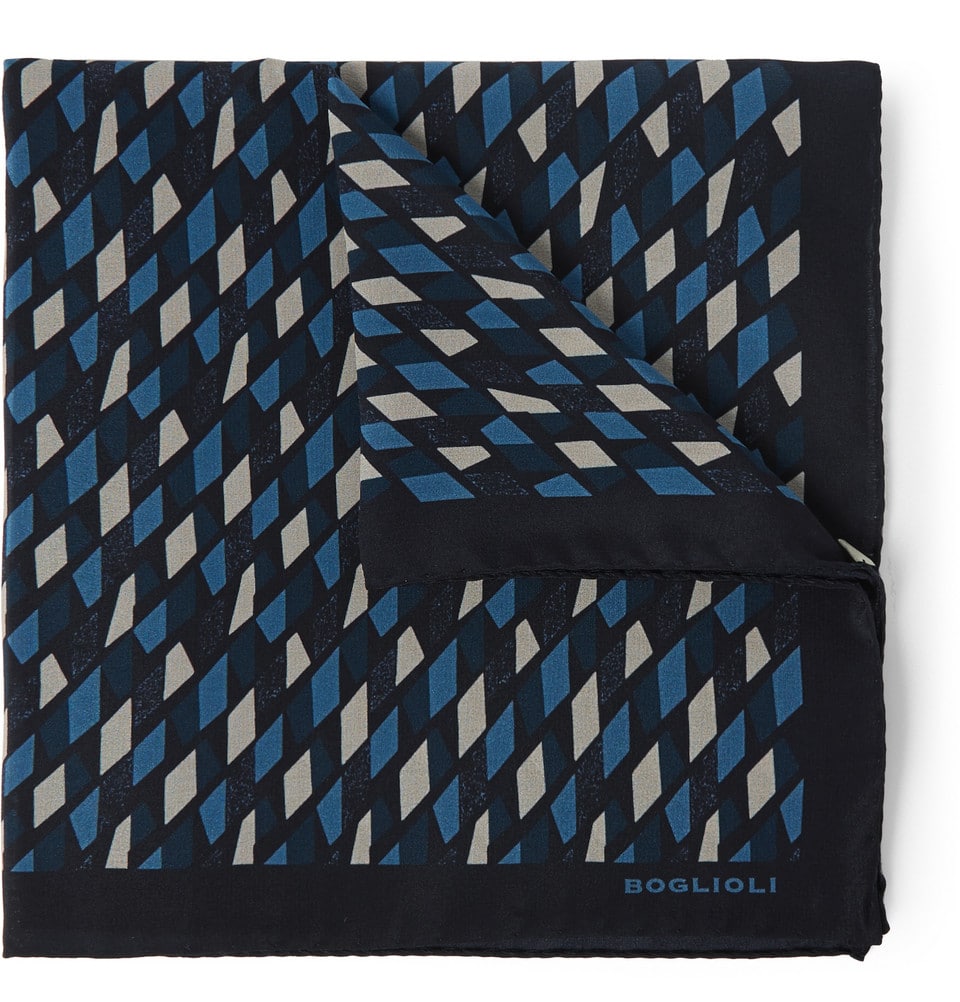 Boglioli
Not just one of Italy's leading men's tailors, Boglioli also likes to be characterised as a family, indicating the traditional approach and rigorous standards maintained by the company. Based in the Brescia province of Italy. Crafted from soft, fine silk, this Boglioli pocket square makes an instant impression. The graphic design and clean colour palette ensure an Italian-made piece that looks incredibly stylish whichever way you fold it.
Printed Silk Pocket Square $117 AUD
Buy It Here: MR PORTER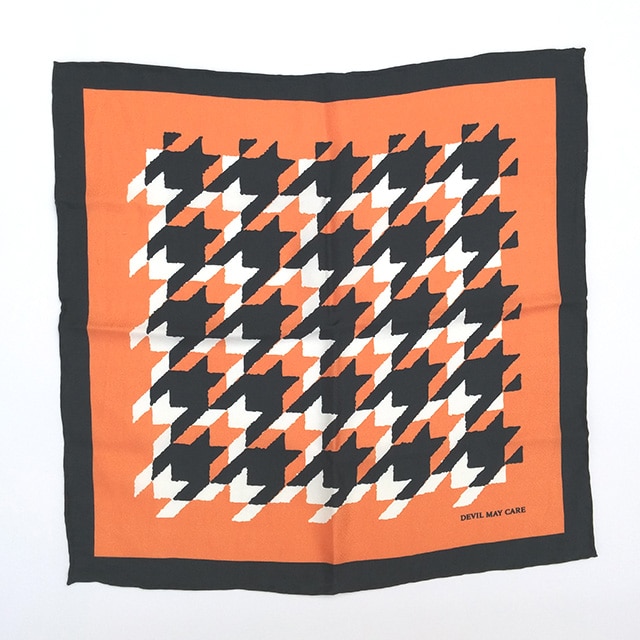 Devil May Care
Creative Director and pocket square aficionado Masato Sano launched his first collection of pocket squares in 2015. Every Devil May Care pocket square is made for the rakish modern gentleman. Meticulously designed by balancing classic motifs with contemporary themes, crafted from traditional heavyweight silk twill, then cut to a full forty by forty centimetre square and finally, hand rolled at the edges.
Big Houndstooth Orange And Black $59 AUD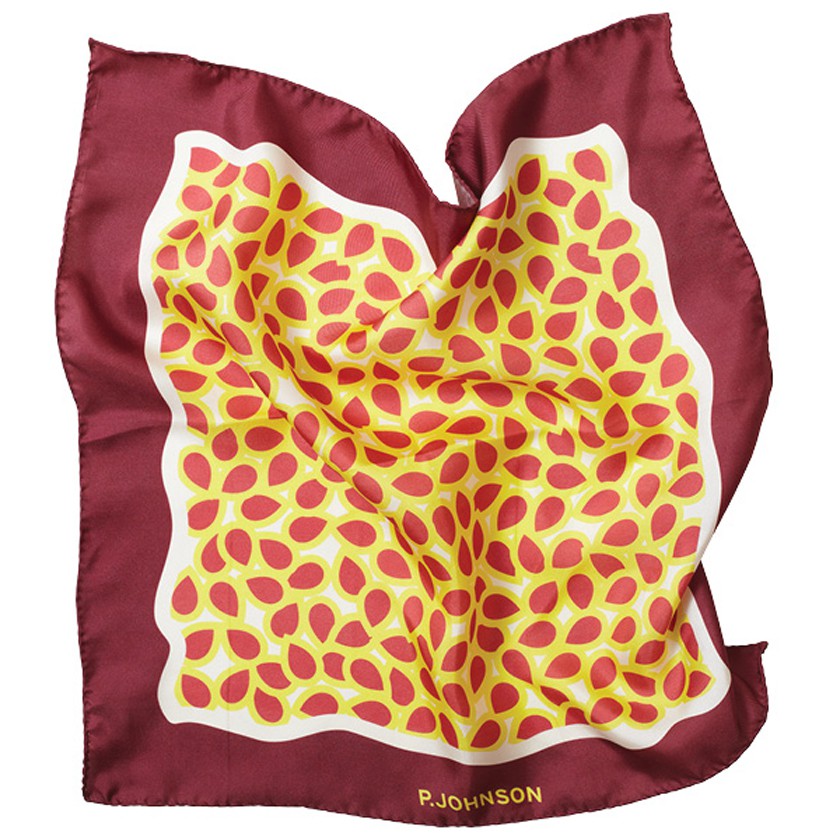 Patrick Johnson Tailors
Australian born, English educated, Italian influenced, P. Johnson makes way for the local man. Surfacing in Sydney in 2008, with an impeccable social media presence and winner of the 2015 Woolmark Prize, P. Johnson Tailors are as much of a menswear creator as it is a lifestyle brand. The brainchild of Patrick "PJ" Johnson and his creative partner Tom Riley, the result has become an offering of bespoke suits and shirts individually crafted for each client. With an emphasising notion of being in the position as a luxury lightweight specialist for the Australian climate, P. Johnson has built an identity out of it.
Owing to such, it's bright pocket square range of motifs and geometric shapes is designed to complement not only its own garments but the broader wardrobe of the modern gentleman.
Assorted Pochette Squares $40 AUD
Buy It Here: PJT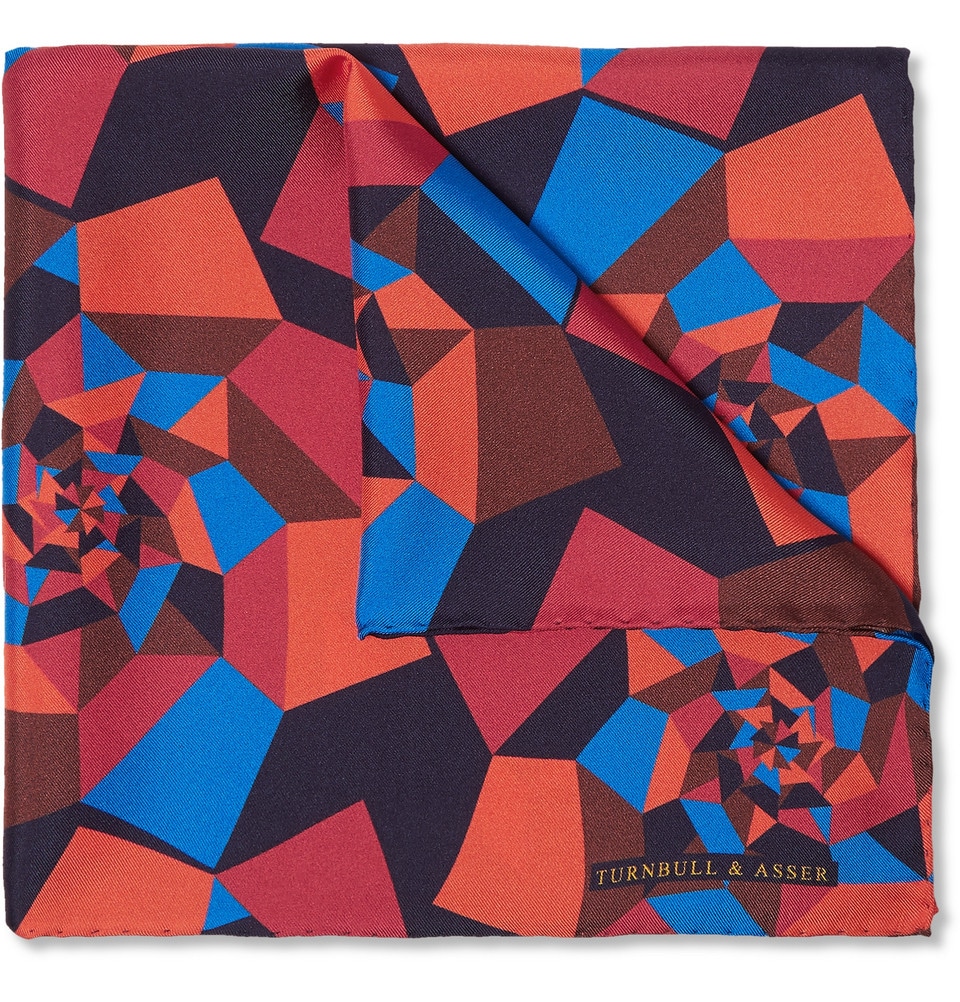 Turnbull And Asser
Founded in 1885 by Reginald Turnbull and Ernest Asser, they made a name for themselves as bespoke shirtmakers. In keeping with tradition, all Turnbull and Asser shirts are still made in the United Kingdom. With flagship stores on Jermyn Street in London and in New York City, Turnbull and Asser are regarded as not only one of the best shirtmakers in the world but in creating truly unique accessories to accompany their shirting.
This Turnbull & Asser pocket square is patterned with a kaleidoscopic geometric print, picked out in earthy shades of red, terracotta and brown. Pops of cobalt-blue further the eye-catching effect.
Geometric-Print Silk-Twill Pocket Square $99 AUD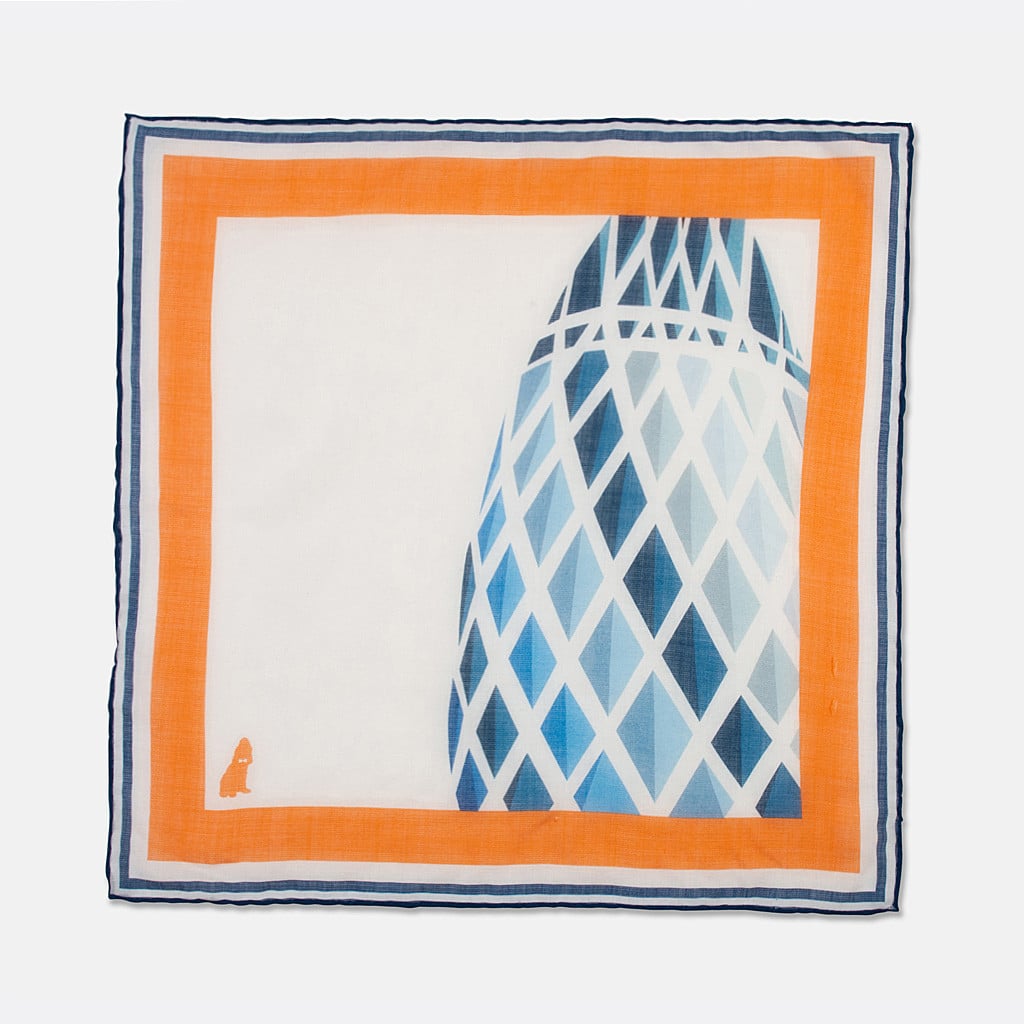 Christian Kimber
British born, Melbourne based design God.
Christian Kimber's selection of pocket squares has a heavy influence on the scenes that surround the man himself. Whether he is directly printing an actual sketch of iconic building from major cities or infusing the colour palette from different emotions felt in particular regions. Christian Kimber has a place in the hearts of The Gallant Army. We look forward to seeing more exciting design by one of our favourite local icons!
London Pocket Square $85 AUD
Buy It Here: Chrisitan Kimber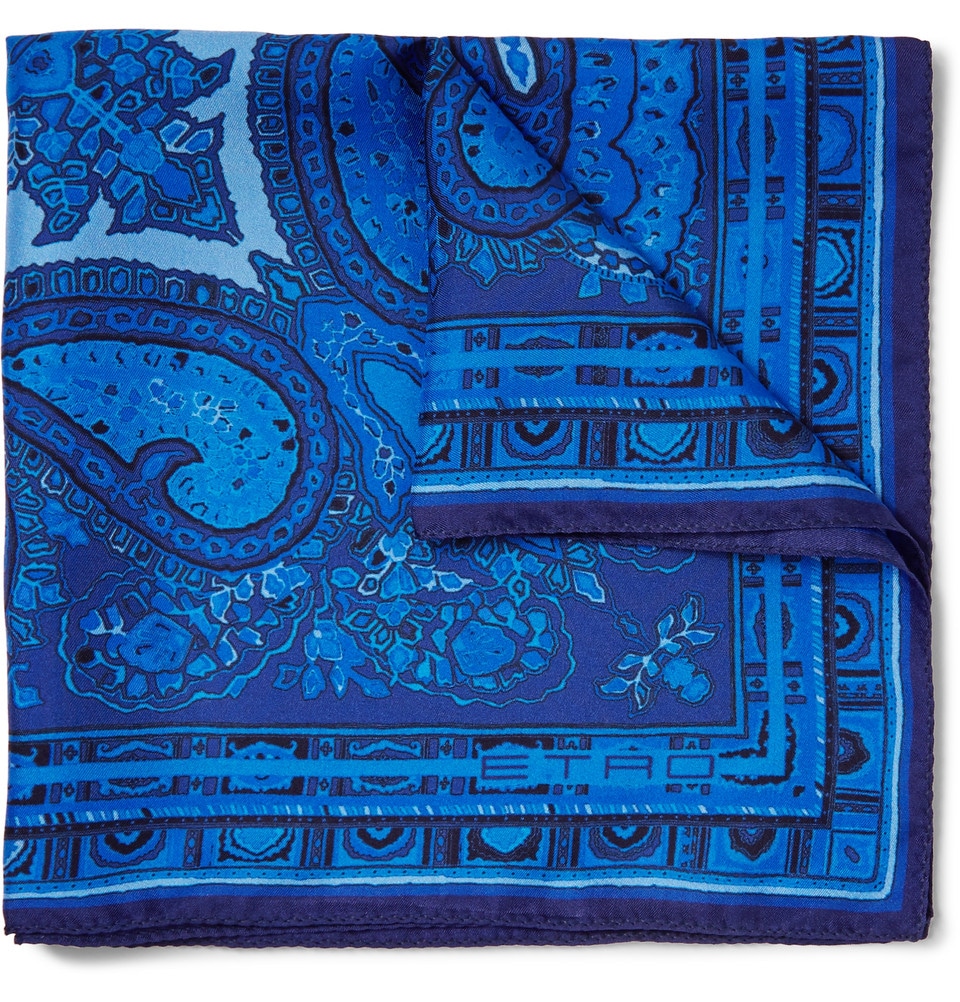 ETRO
Founded in 1968 by Gimmo Etro, his namesake has been delivering luxury ready to wear shoes, jewellery, leather goods, home decor, perfumes and accessories for almost four decades. Most notably is its pocket square, season adept and artfully designed. The Etro pocket square provides the perfect balance between sophisticated elegance and rakish charm. Pending on your outfit of course. Their designs come inexpertly dyed silks and cotton, mainly encompassing paisleys, jacquards and playful checking.
On a more exciting note, Etro is one of the few family-run design houses in Italy. Whether this pays testament to their design achievements or not hardly matters to us. Instead, we feel a sense of hope for up and coming design houses staying in the family.
Paisley-Print Pocket Square $135 AUD
Buy It Here: MR PORTER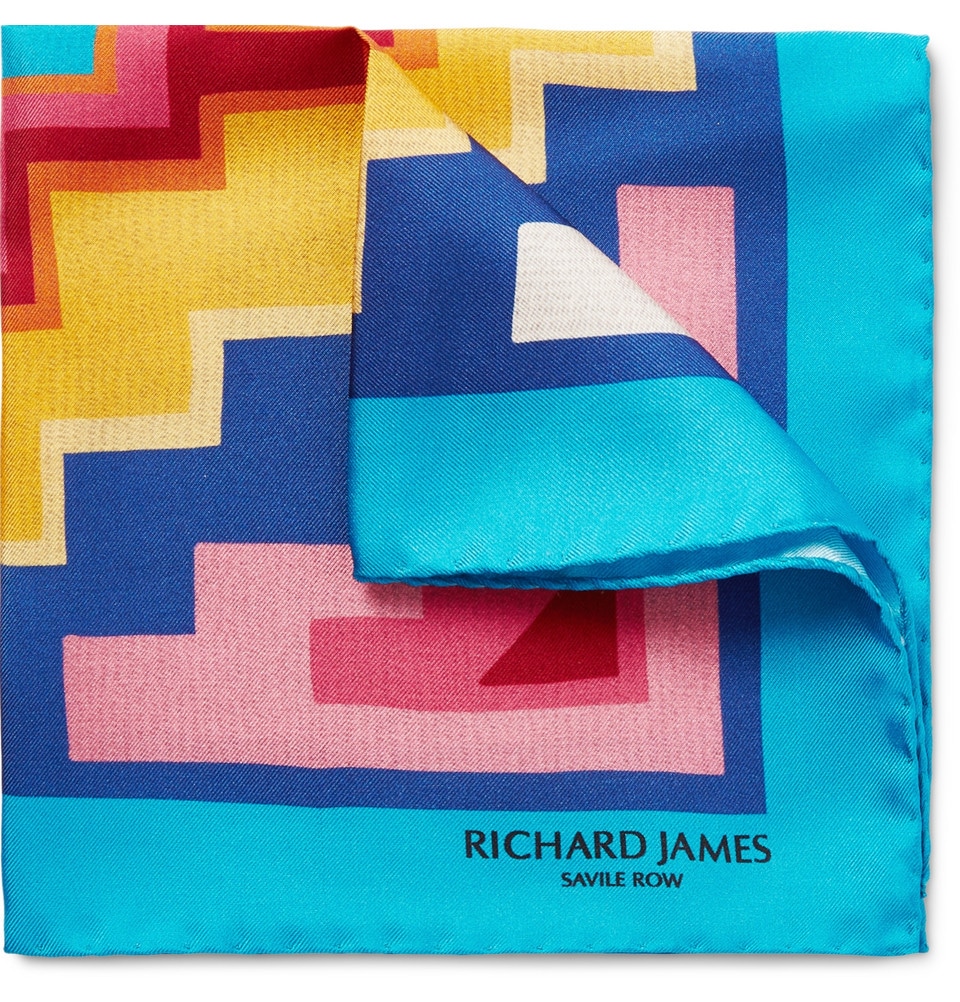 Richard James
One of Savile Row's greatest and arguably also one of its saviours.
Richard James sits as one of the traditionalist rogues along "The Row". He has gone against traditional Savile Row standards and brought it into the 21st century by offering an array of ready to wear garments spanning suiting, neckwear and even the cherry on the sartorial cake, the pocket square.
Richard James' pocket squares blend traditional British tailoring influence with a direct injection of Italian flair. Whether it's through his brighter summer selection or his more winter-oriented balance of function and form. Richard James delivers time and time again with his playful designs.
Printed Silk-Twill Pocket Square $90 AUD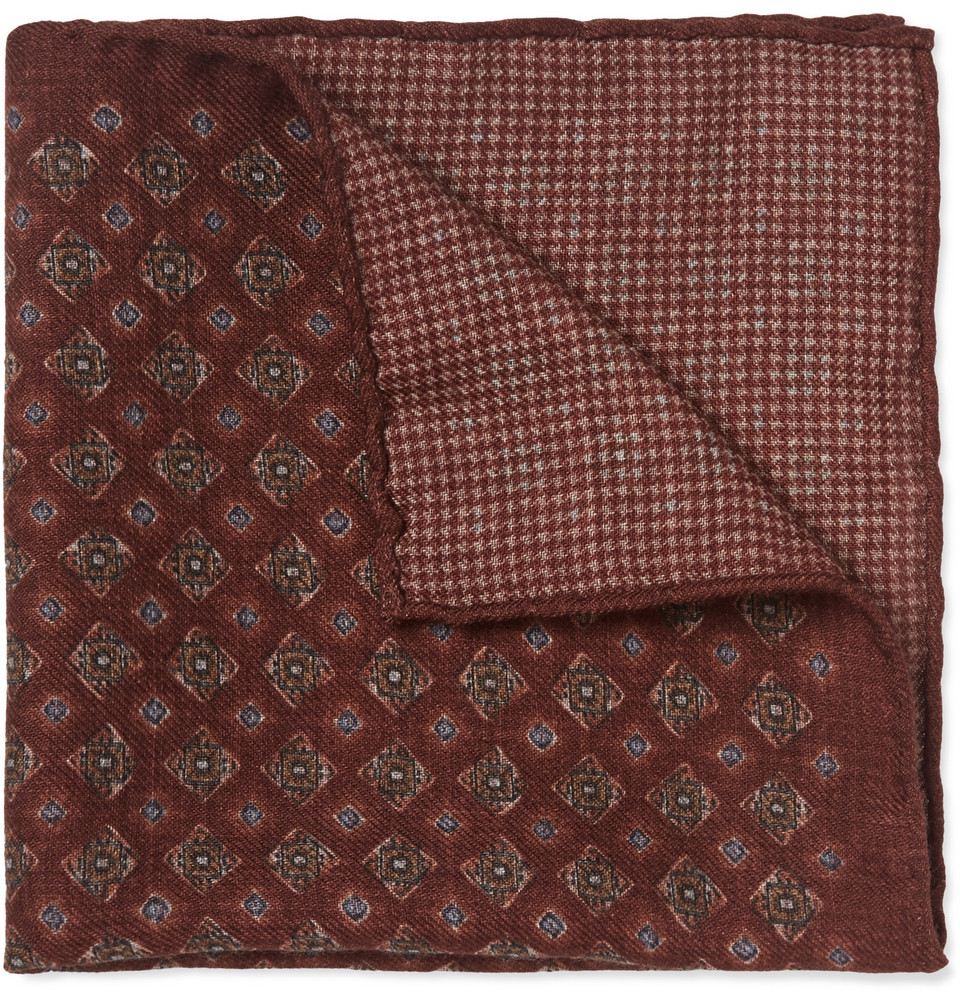 Brunello Cucinelli
Mr Brunello Cucinelli or better known as "The king of cashmere" has an innovative vision, inspiring the designers of today. The company is headquartered in a 14th-century castle on the top of a hill in the middle of Umbria, Italy. Mr Cucinelli himself is a man of great stature, a true man of impeccable ethics, donating 20% of his worldwide profits to charity and treating his employees like family. Although Cuccinelli represents some of the highest quality in menswear, it comes at a cost, almost alienating the majority of the market, leaving only the wealthiest elite can truly experience his creations. Today the company represents the pinnacle of Italian luxury.
Double-Faced Patterned Wool Pocket Square $220 AUD
---
You'll also like:
How to Colour Coordinate an Outfit
Devil May Care Pocket Squares
Role Models – Van Heusen Mentor Sessions
---