The Two Faces of January – Movie Thrills, 1960's Fashion & Interview With The Costume Designer
Adapted from a Patricia Highsmith novel, The Two Faces of January is a film set in 1960s Greece, where American couple Chester and Colette MacFarland (Viggo Mortensen and Kirsten Dunst) have a chance encounter with tour guide, Rydal (Oscar Isaac) in Athens. The innocence of their acquaintance wears away and the plot quickly changes, as all three characters find themselves knee-deep in violence, drama and deceit – all while looking glamorous and dapper with help from costume designer, Steven Noble.
Interview With Costume Designer Steven Noble
Steven Noble, costume designer for the Two Faces of January, has some other impressive credits to his name including Never Let Me Go, Wuthering Heights, and Trainspotting. Man of Many had a chat with Steven and here's what he had to say:
MM: The Two Faces of January is film set in the 1960's and the costumes were quite true to the trends during that particular time period. How did you go about picking a wardrobe that wasn't too costumey?
SN: There was some very in depth prep of the period. I started off by watching films from the period, fashion journals, internet research of people's original photographs and cinefilms that are amazingly available nowadays, absolutley absorbing yourself in that late 50's early 60's period, then you start coming up with mood boards for each character, speaking to the actors and asking them how they feel about the characters as well. Especially with Vigo's suits, we went through a lot of suit changes, because I originally took inspiration inspiration from characters from The Great Gatsby. I definitely wanted him to be in linen because due to the holiday it was perfect for the time and it felt right. Especially with the colour as well, with the theme of summer vacation. I did back date one of  my original designs in that  linen suit.  I went for that iconic early 60's silhouette with the slimmer pants and the smaller lapels.
As an accomplished wardrobe designer, what is it that you love about wardrobe styling?
It's hard to say really. It's just a passion I suppose. It's an exciting field to work within. It's also challenging, each person that you're dressing has its own set of problems which is great to overcome. It's a passion that's in your blood and I try to get a team of people around me that feel the same. I like to have my team involved in everything and I like to hear their opinions. Some assistants don't say anything and it's such a pity. I like my whole team to be involved in the concept of what we're doing at the time.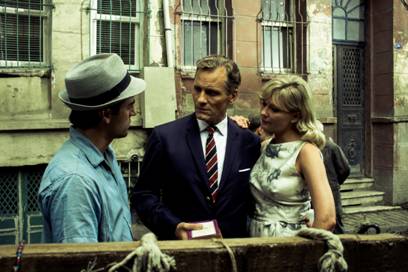 If  you had to pick one accessory from the 1960's to incorporate into the modern man's wardrobe, what would it be? 
Oh gosh, that's very difficult. If I could say several I think a slimmer early 60's tie and also cufflinks as well I think are very understated at the moment. The last thing would be a hat.
Do you prefer styling for period pieces or contemporary films?
I enjoy both but I think if I really did have to choose I would say period. You have more freedom and more leeway. What I like to do is to mix up decades and create something new, which I especially did on Never Let me Go. There's more patterns in the period pieces I would affect, but again I do enjoy contemporary and I suppose some of the challenge is that it does tend to get a bit monotonous when you're just trailing the streets trying to find contemporary clothing. It is more exciting to just delve back into the past and try and come up with sort of iconic ideas that still feel fresh and exciting in front of a modern audience.
If  there was one film in history you wish you could have been on the wardrobe team, what would it be?
It's hard to say really, there's probably several for different reasons. Probably Hitchcock's and Presberger's.
How would you describe your own personal style?
I would say quite relaxed, you very rarely see me in suits day-to-day, except for special occasions. Slightly eclectic mix of  period and modern pieces. Always have a pair of good fitting jeans and then maybe a trick of brogues or a set of trainers and quite often a white t-shirt and maybe a blazer. Simple.
What's your favourite piece  you have in your wardrobe right now?
I would say the classic navy blue blazer I bought quite a while ago by Paul Smith and it's just a classic piece you can wear up or down and it's just timeless… Or, I was in Madrid filming and I picked up a couple of very beautiful scarves, quite colourful and go with just about anything to give everything that slightly contemporary feel.
If you could  style any person dead or alive, who would it be?
Oh I need some time to think about this one. I might get beheaded for saying this, but I think the two princes William and Harry. I feel sorry for them, it all looks so staged and dated and  I don't think you ever get to see their personalities through what they're wearing. I think it's convention that makes them wear what they wear. So probably those two.
Chester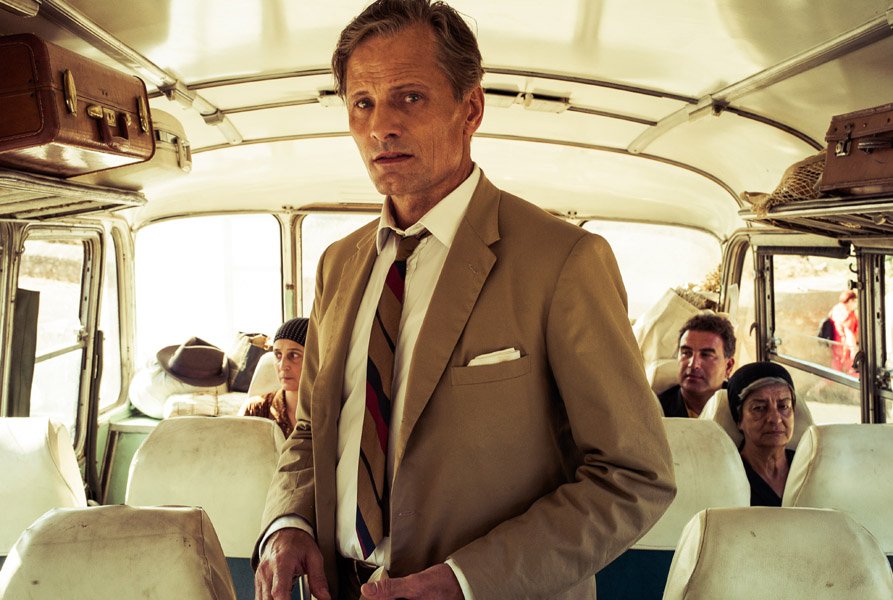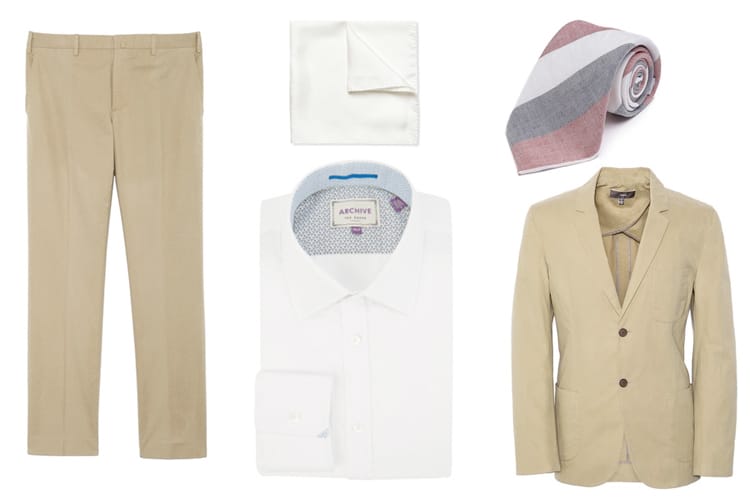 Vince Blazer in camel $255
Vince Trousers in camel $195
Ted Baker Shirt £59
Pocket Square $68
Richard James Cotton Tie $87.50
Rydal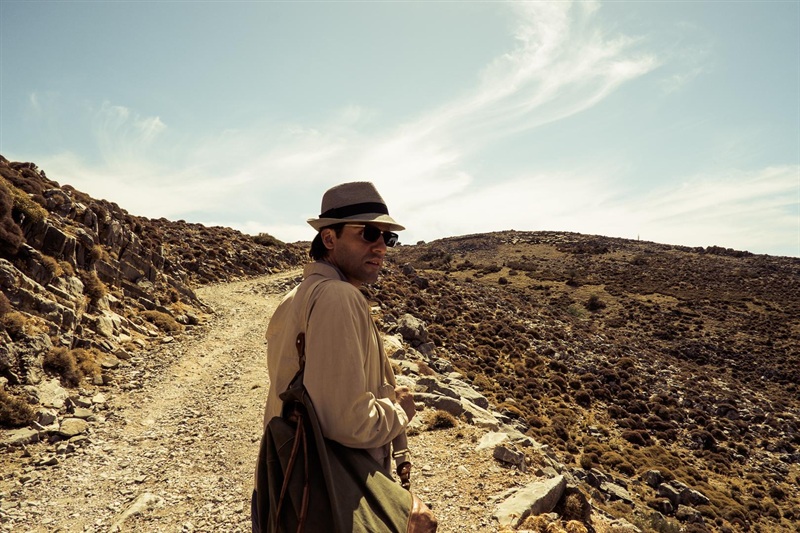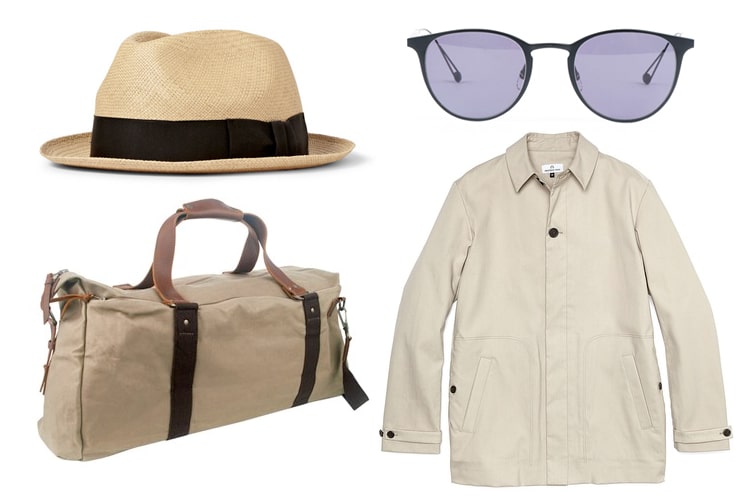 Paul Smith Woven Straw Trilby $286
Garrett Leight Oxford Sun Sunglasses $455
Mt Drew Duffel Bag $188
Hentsch Man Coat $353.50