$560,000 Jacob & Co. Bugatti Tourbillon Features a Replica Chrion Engine
Jacob & Co. and Bugatti have been partnering for a handful of years, and that partnership seemingly has been building to this. The new Jacob & Co. x Bugatti Chiron Tourbillon Baguette Black and Orange Watch represents the two luxury brands perfectly, uniting the automotive and horological worlds in a stunning work of art.
You'll also like:
The TUDOR Black Bay Ceramic Features Certified Technical Expertise
TAG Heuer Monaco Titan Limited Edition Brings an Icon Home
Patek Philippe Nautilus Green Revamps a Dying Breed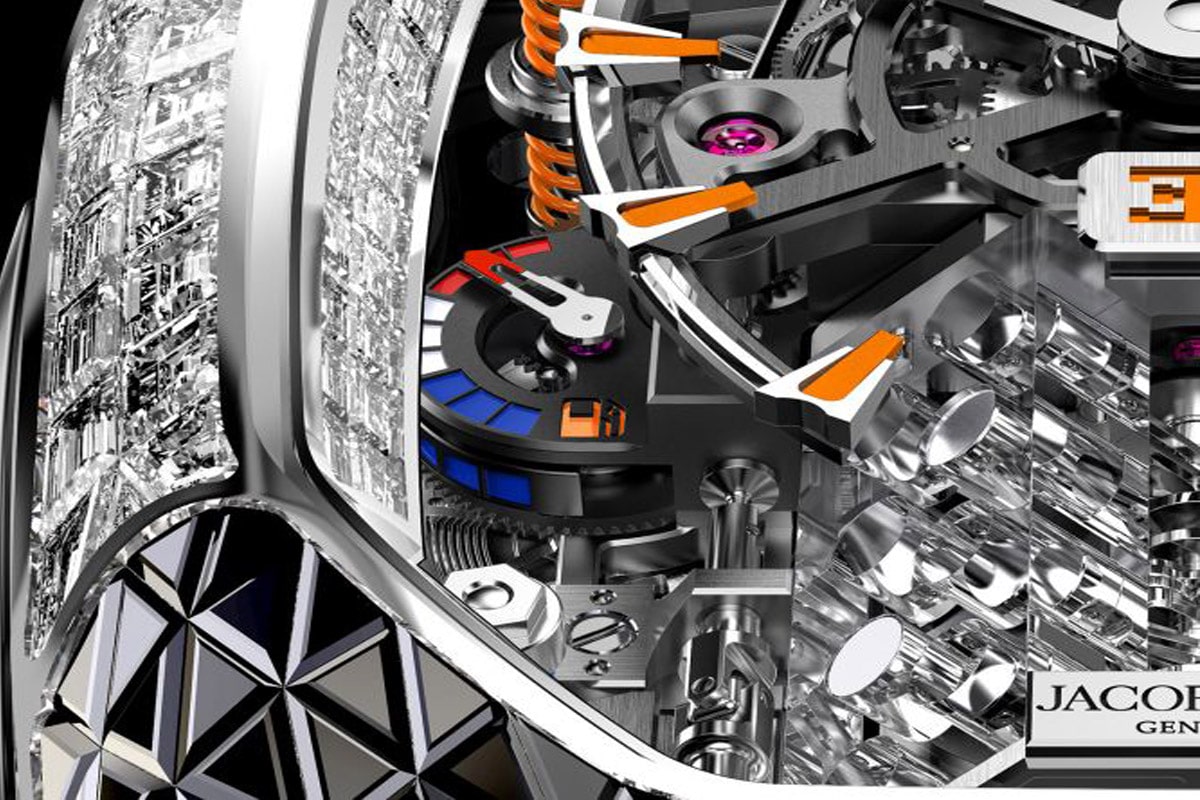 Like previous watches from the partnership, the new iteration is built around a functional miniature reproduction of the W16 engine found in the Chiron. If that's not impressive enough, the miniature also features 190 baguette white diamonds, 109 baguette black sapphires, and 42 baguette orange sapphires. All that bling is housed in an 18K white gold tonneau case. That's a lot to fit into a case that measures 55mm by 44mm. The case also duplicates the lines of the Chiron and has been festooned with Bugatti logos.
Not only does the miniature engine look like it came from a Chiron, it actually works like one. The movement has 16 pistons, each with tiny solid steel crankshafts that move up and down. There are also two "turbochargers" that spin in tandem. For the horological functions, Jacob & Co. equipped the watch with their JCAM37 manual winding movement. Just like the engine, this movement is a feat of engineering, with 578 components making it up. The movement is kept in place with tiny shocks like those found on the Chiron. It comes with a 60-hour power reserve that is measured by the universal gas pump symbol at 9 o'clock.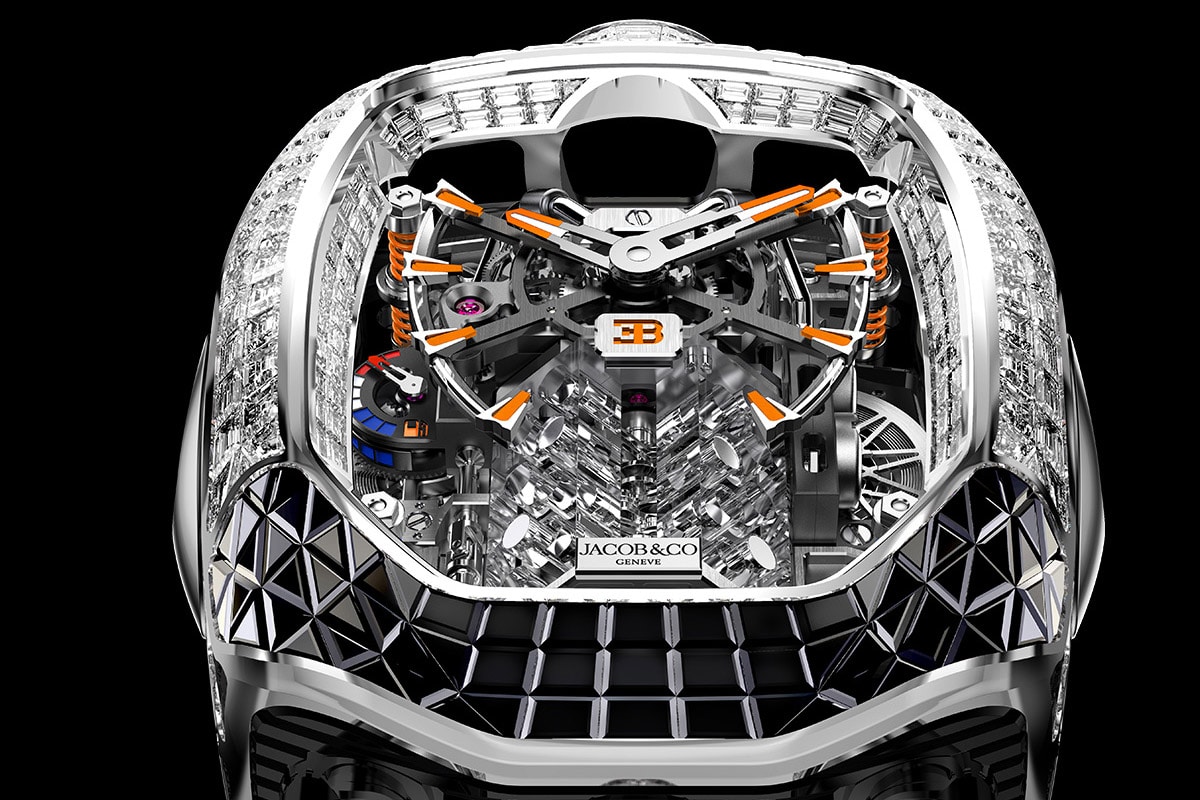 A Bugatti Chiron will run you $3 million dollars to purchase it. The watch doesn't carry that hefty of a price tag, but you will have to pay out quite a bit to get one. In fact, you'll have to pay twice what you would have paid for last year's model. The Bugatti Chiron Tourbillon is priced at $560,000.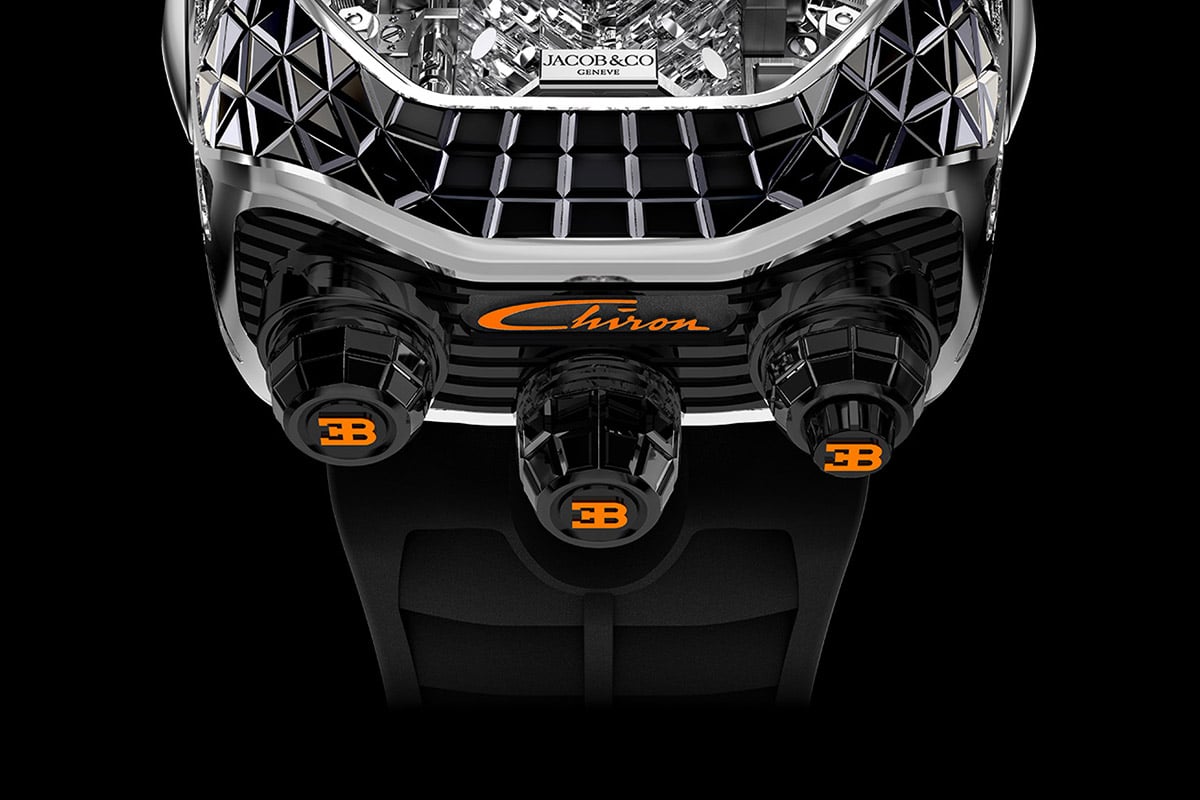 You'll also like:
The TUDOR Black Bay Ceramic Features Certified Technical Expertise
TAG Heuer Monaco Titan Limited Edition Brings an Icon Home
Patek Philippe Nautilus Green Revamps a Dying Breed