777's Rolex Pepsi GMT Master II Ice Cold is a Master Flex
It's hard to deny that a Pepsi isn't better when served cold over ice. London-based jeweller 777 agrees if its recent customised Rolex Ice Cold Pepsi GMT Master II Watch is any indication. The one-of-a-kind timepiece is covered in 20 carats of brilliant-cut pave diamonds—and "covered" means literally covered. Everything from the bezel to the band has a layer of ice on it.
You'll also like:
$560,000 Jacob & Co. Bugatti Tourbillon Features a Replica Chrion Engine
100 Years On, the Vacheron Constantin American 1921 is as Timeless as Ever
The TUDOR Black Bay Ceramic Features Certified Technical Expertise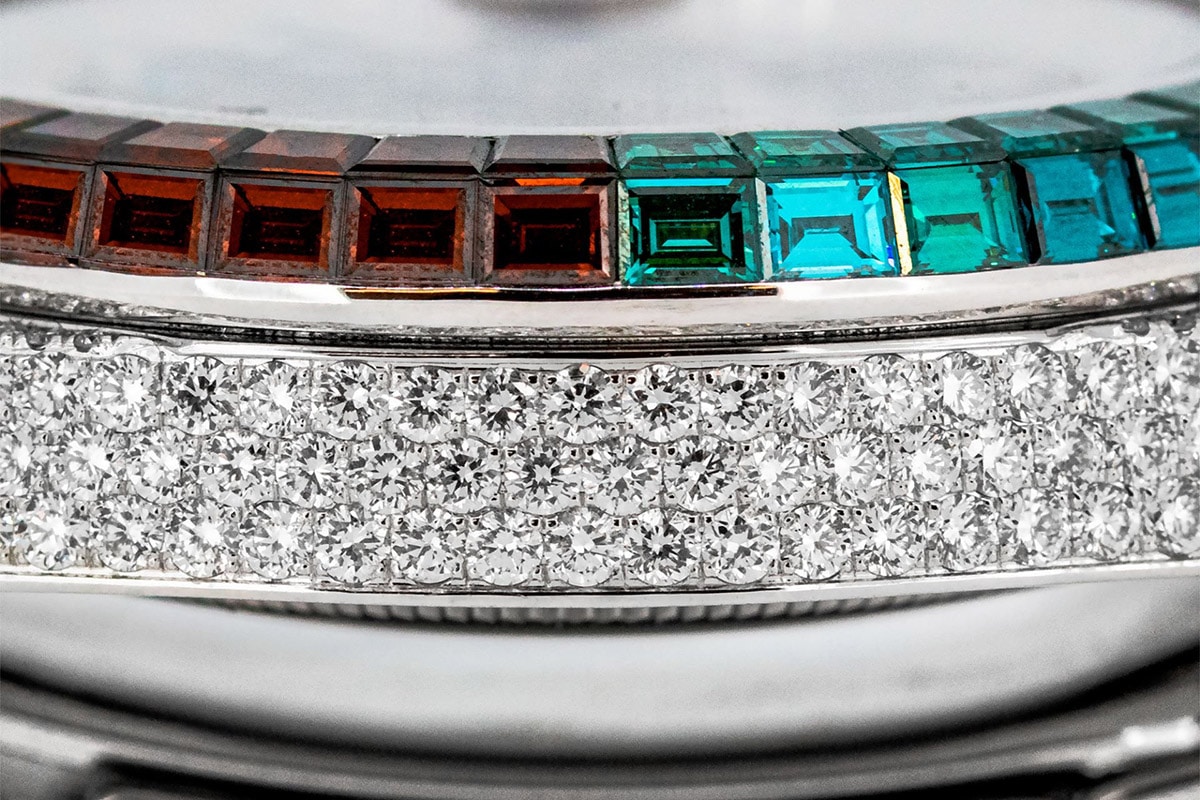 The diamonds are perhaps most noticeable on the watch's 40mm case, which ties in nicely with its Oyster bracelet. Even the clasp has diamonds on it. The bezel is decked out in orange and bluish-green fancy-cut stones for a total of 13 carats in place of the traditional ceramic. Each hour marker has been swapped out for a diamond as well, with the exception of 3 o'clock, which still features Rolex's signature date window. The diamonds are set in the watch's stainless steel case. The dial is black, which makes the ice pop even more.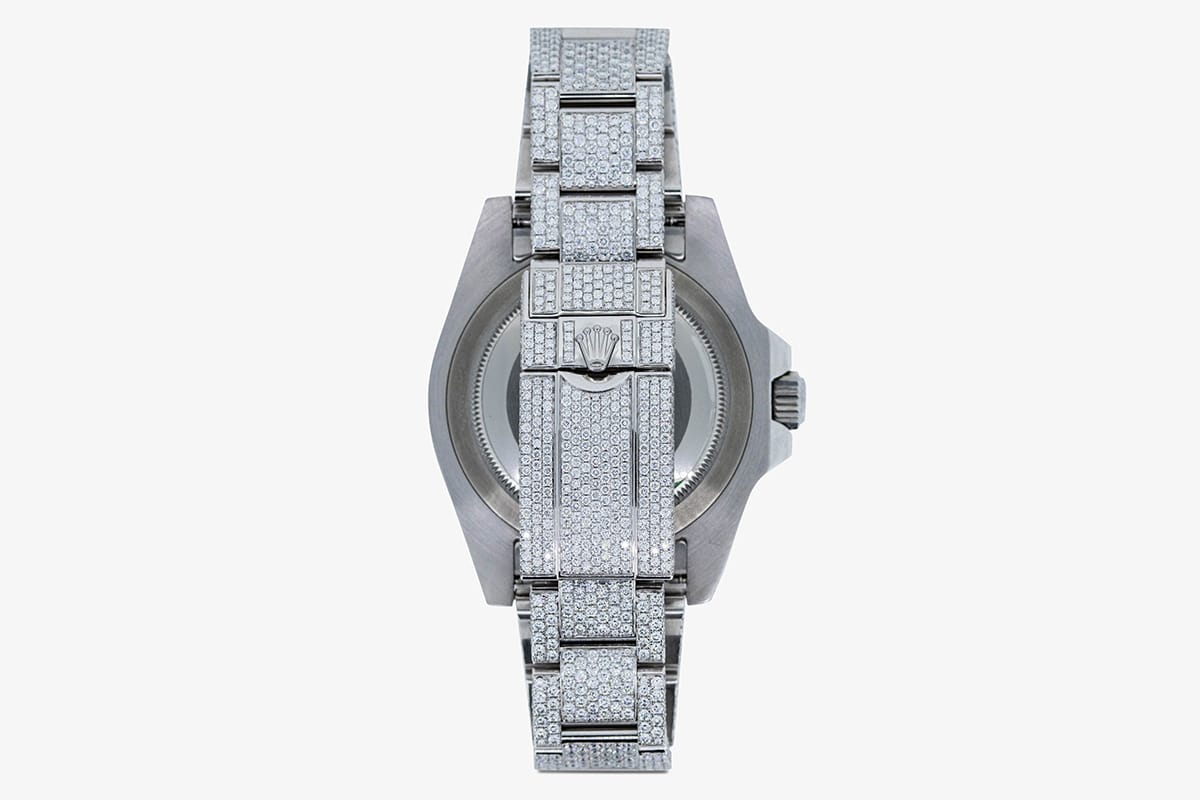 Even with all that diamond ice decorating the watch, it still stays true to its GMT roots. The watch features Rolex's calibre 3285 movement. The crown adjusts both the 12 and 24-hour hands. As with other GMT watches, you can adjust the 12 hour hand to local time without affecting the 24 hour hand.
Of course, this isn't 777's first customizing rodeo. Since their founding in 2010, 777 also went all out on an Audemars Piguet Royal Oak Skeleton in 18 karat gold as well as a Rolex Oyster Perpetual Date, among others. If you're looking to purchase an Ice Cold Pepsi, you can either head to a vending machine, or get over to Browns. If the ice cold Pepsi you're thinking of is the Rolex GMT Master II Watch customized by 777, you can expect to turn over USD$153,002.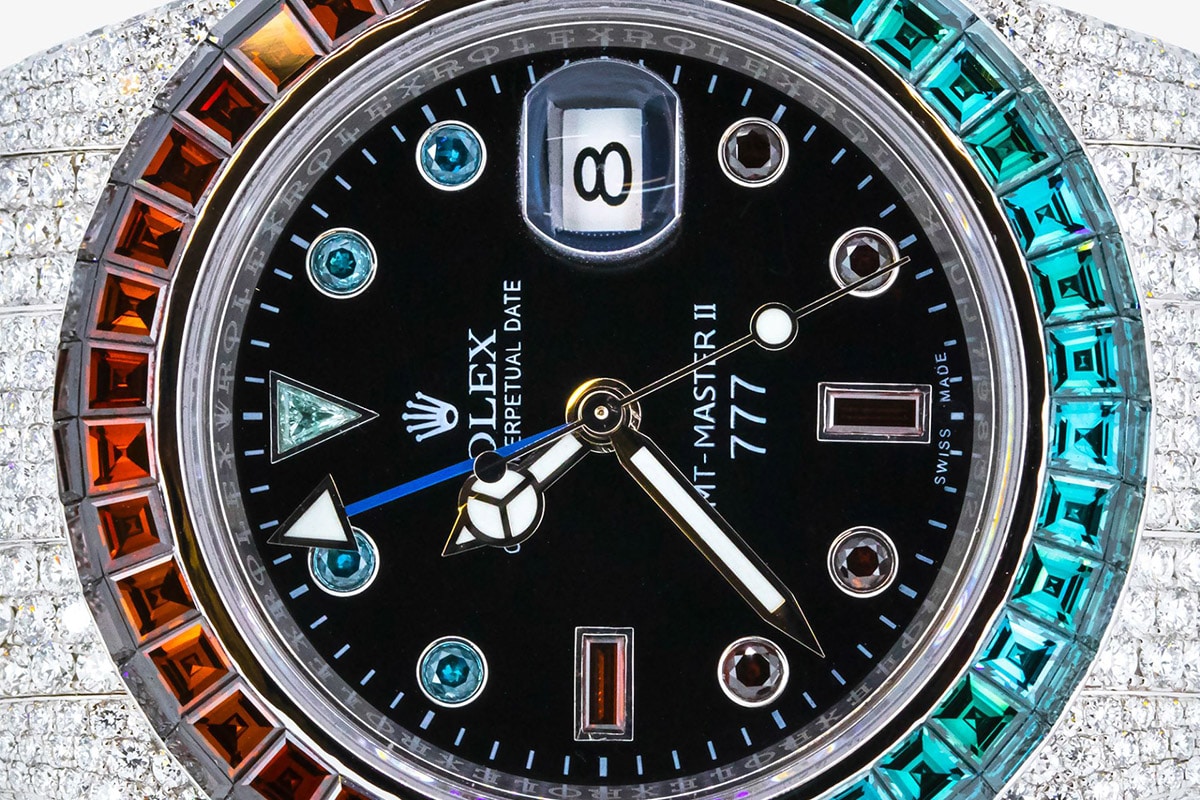 You'll also like:
$560,000 Jacob & Co. Bugatti Tourbillon Features a Replica Chrion Engine
100 Years On, the Vacheron Constantin American 1921 is as Timeless as Ever
The TUDOR Black Bay Ceramic Features Certified Technical Expertise