Astronic's Premium Watches are Inspired by Air Fighters
In Partnership with Astronic Watches
Whether you have a passion for stealth aviation or just love yourself a high-quality watch, Astronic has the Kickstarter campaign of your wildest dreams. Dubbed The Gravity Defying Timepiece Collection, it consists of two signature models: The Nighthawk and The Apache Skeleton. True to form, both watches take direct inspiration from the NightHawk F-117 Stealth Fighter and the Apache-64 Attack Helicopter, respectively. Not only that, but they each employ the kind of premium features that you'd expect to find on watches that cost thousands of dollars more.
Astronic comes to us from Swiss industry veteran Kristopher, who recently broke out on his own. Backed by two decades of experience, he's offering in-house movements and ultra-premium designs directly to consumers. By cutting out the middle man, this nascent brand is able to deliver a luxury watch without the luxury mark-up. And if The Gravity Defying Timepiece Collection is any indication, they're off to a supremely promising start.
The Astronic Nighthawk
Visually stunning at first glance, The Nighthawk is no less impressive under the skin. Exclusively designed in-house, its 3D co-axial tourbillon features over 76 intricate pieces (by comparison, many high-end tourbillons have about 40). This tourbillon mechanism defies gravity to the tune of 21,600 vph and displays its 42-hour power reserve on a 240° power-reserve gauge.
Here are some other key features:
Unmistakable design – The tourbillon dial takes direct cues from the F-117 Nighthawk's dashboard, exhaust system, and iconic wings.
Military-grade protection – With its sapphire crystal lens and water resistance to 10 ATM, this watch is ready for any environment or adventure.
Interchangeable straps – Choose between leather and stainless steel.
The Astronic Apache Skeleton
Missing the tourbillon perhaps, but this ridiculously affordable watch is as bold and striking as its counterpart nevertheless. The skeletonised dial culls inspiration from the Apache 64 helicopter and its bulletproof T700 turboshaft, hence the rotor-like design, robust colour, hyper accuracy, and aggressive veneer.
Key features include the following:
Automatic movement – CNC-machined, gloriously finished, and visible through the dial face, the movement features an extra-large mainspring and delivers a whopping 80-hour power reserve.
Curved skeleton dial – Behold the symphony of moving parts as they hover just beneath the open-worked dial window.
Tritec Swiss Luminour hands – Night vision doesn't get any better than this.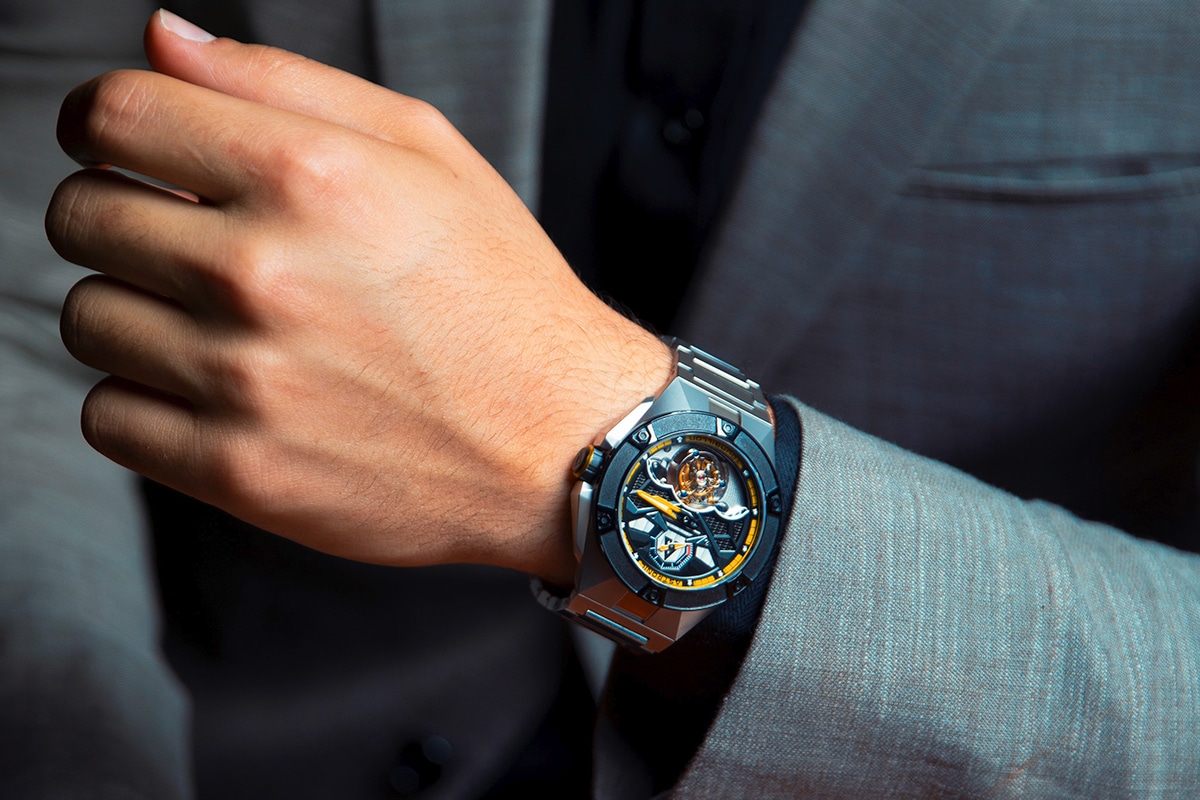 Like The Nighthawk, The Apache Skeleton is impressively durable and offered with interchangeable straps. Both pieces are absolute juggernauts that punch well above their current price tags. The action is underway on Kickstarter and the early birds score the best deals so make like a stealth aircraft and get moving!