When it comes to absolute distinction, there's no one on the planet quite like Aventi. Operating without offices, storefronts, or workshops, the brand selects top talent from around the world to take on the major players, one stunning release at a time. Each piece is individually allocated based on strict criteria and their ridiculously attentive concierge service remains second to none. Then there are the watches themselves, which are cutting edge on every conceivable front. Are you passionate enough to own one? It's for the brand to decide, hence their ongoing aura of unparalleled exclusivity.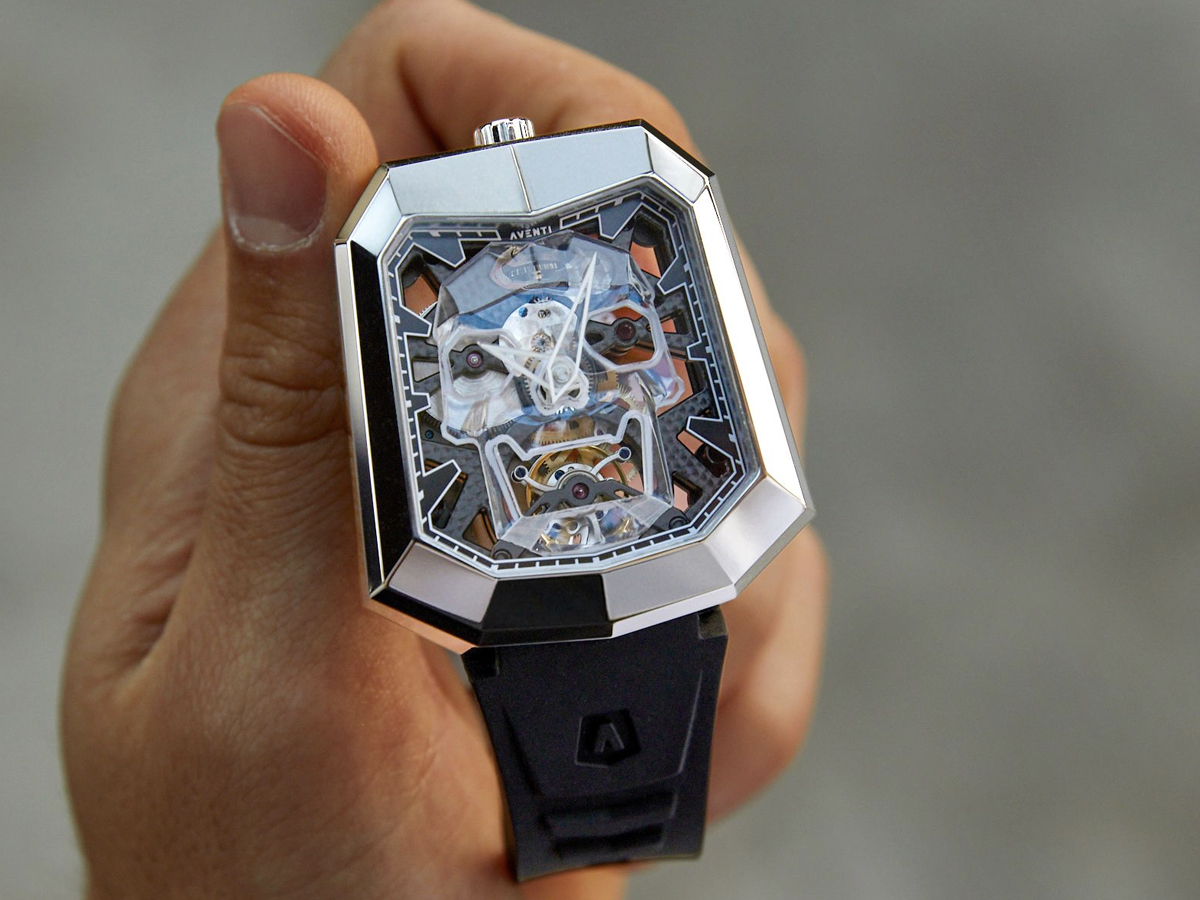 To be clear, Aventi isn't some elitist operation that judges potential buyers on the merits of class or reputation. On the contrary, these folks simply want to make sure that their limited edition watches end up in the hands of passionate collectors as opposed to resellers or status seekers. Their clients are more than mere customers, but true friends of the brand who respect the overall vision. It's part of a thriving feedback loop, whereby excitement drives innovation drives excitement drives innovation. The end result are some of the most complex watches in horological history, with the singular aesthetics to match.
That brings us to Aventi's latest mega-rare release. Dubbed the A13, it features one of the most complex single pieces of Sapphire in the industry. Taking the form of a Sapphire skull, this unique creation includes 160 facets and 200 edges whilst measuring just 2.3mm thick. When all is said and done, the piece employs 14 individual layers of anti-reflective coating. Handset into each of the skull's eyes is an IGI-certified pigeon blood ruby, which sits under custom Sapphire crystal hands within a case of Grade 5 titanium. By reflecting the movement jewel of the barrel, the ruby eyes take on a signature glow.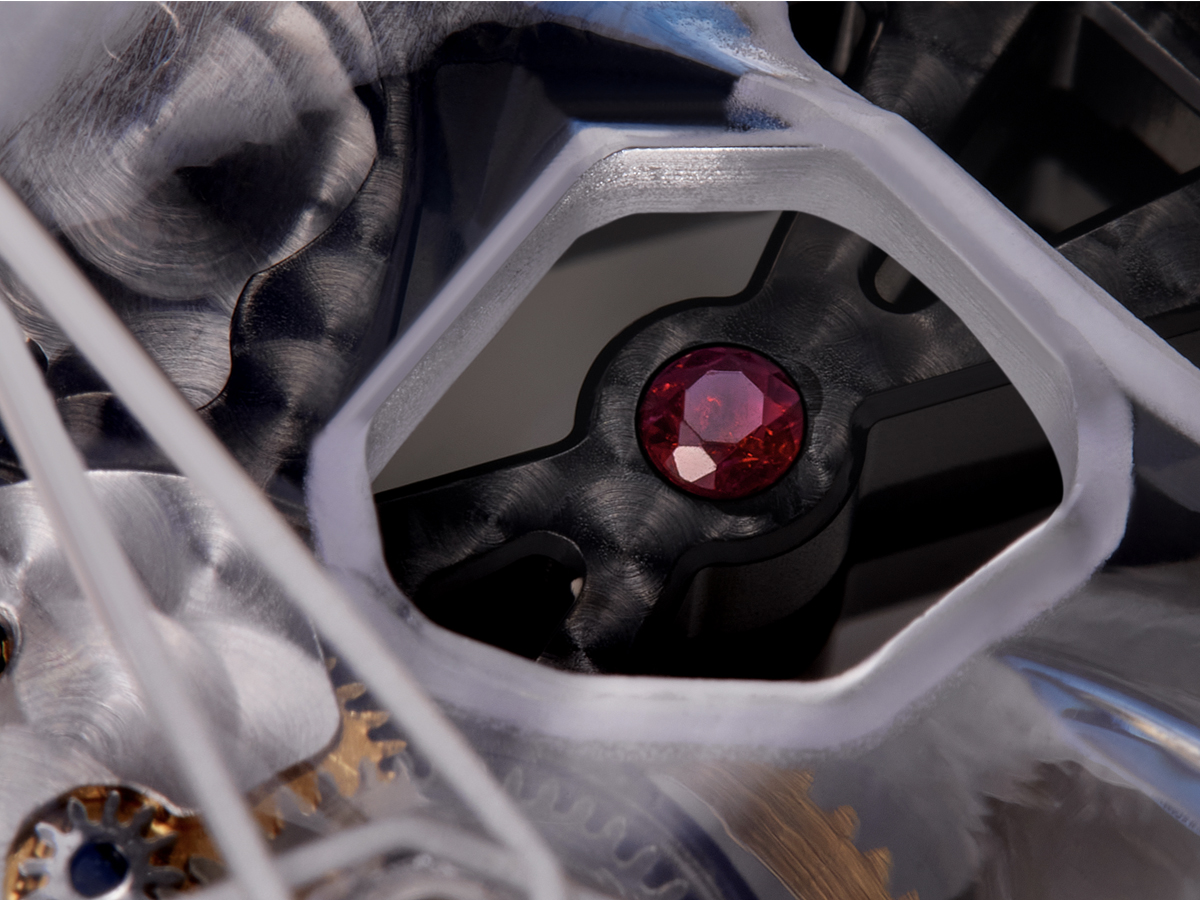 In addition to its glorious design, the A13 delivers no shortage of technical surprises. That includes a brand new Swiss-made tourbillon—aka the GT-01S—crafted in partnership with watchmaker Olivier Mory. A true master, Mory began his career by working on the RM001 Tourbillon for Swiss luxury brand Richard Mille. With the new GT-01S, he achieves awe-inspiring levels of complexity. Between this brilliant mechanism and its adjoining movement, the watch delivers accuracy of +/- 4 seconds per day along with a 105 hours power reserve. It's also 5000 G shock-resistant, 2000 Gauss magnetic resistant, and finished with Swiss Made BGW9 Super-LumiNova.
The crown, meanwhile, is a miniature work of art unto itself. Crafted from solid Grade 5 titanium and polished by hand, it features a 0.2mm deep recessed channel with two layers of BGW9 Super-LumiNova inside it. All 47 of the crown's facets were machined and its 1.2mm stem is inserted into the bottom and fitted with a 0.4mm O-ring for water resistance of 50 meters. Feel the click with every rotation as you crank 4 days of power into the barrel.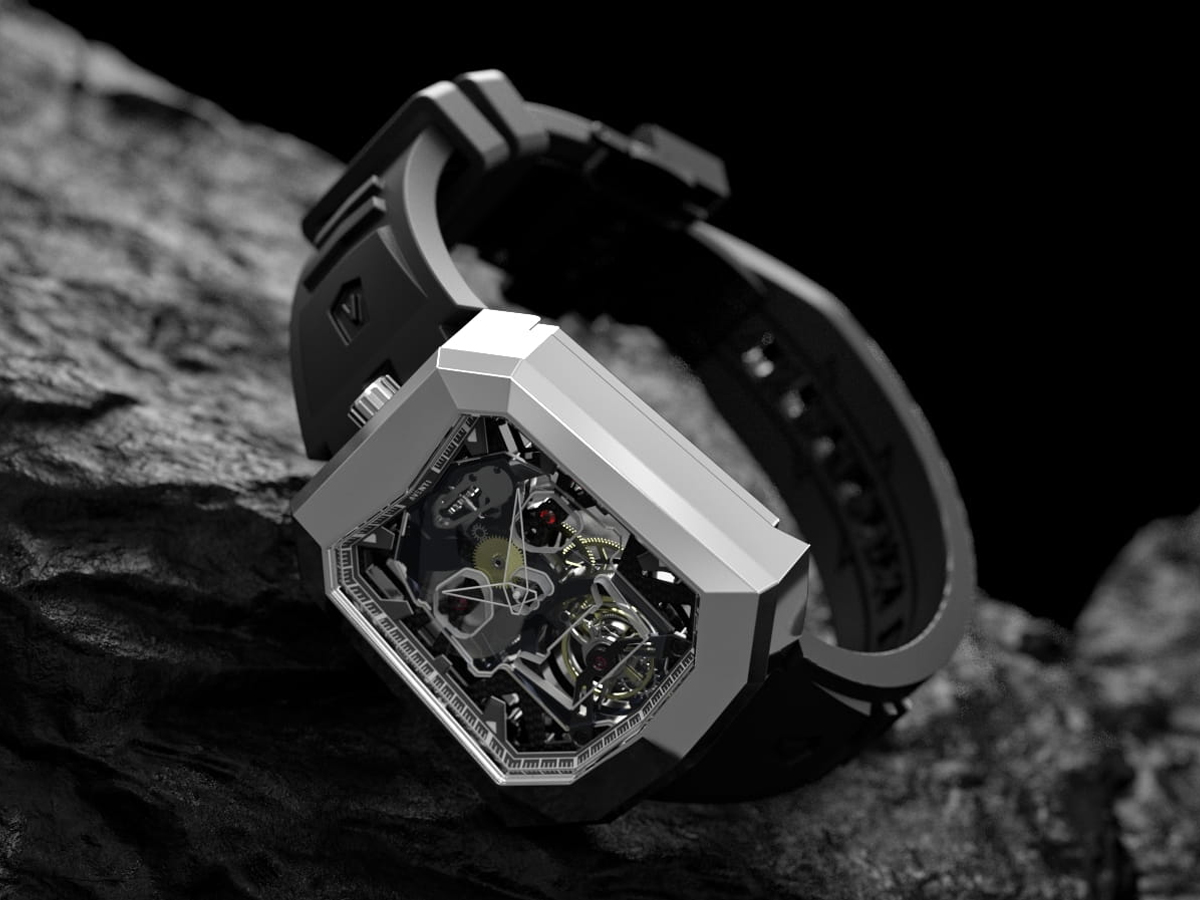 Sealing the deal is Aventi's strongest yet softest strap to date. It comes forged from injection-moulded FKM Rubber, a fluorocarbon-based, fluoroelastomer synthetic material that can withstand the harshest of environments whilst remaining soft to the touch. This particular type of advanced rubber is used in both the aerospace and automotive industry and it's been chosen for its high resistance to chemicals and heat alike.  Twice as dense as natural rubber, it's capable of lifting 15kg.
Whilst not the world's first skull-themed watch, the A13 takes this striking concept into novel terrain. Unlike others of its kind, the piece is built entirely around its single-piece skull to create a seamless symphony of mechanics and material. The skull is therefore both a visual and technical anchor, which unifies various components whilst simultaneously showcasing the pure Sapphire construction. That's not to mention its symbolic underpinnings, whereby death gives way to transformation and growth. Or as Aventi likes to put it: "This is our reincarnation." If you're passionate enough, it can be your reincarnation, too.