Bold innovation is the name of the game over at Aventi, a luxury watchmaker that operates without factories, offices, retailers, or borders. Instead, it culls from a carefully curated team of global talent, to produce some of the most radical designs you've ever seen. That theme certainly continues with the new Wraith A15-01 Saphite Paraiba, which takes both clarity and durability to new extremes by way of patented Saphite. Move over regular crystal sapphire because this groundbreaking material has you beat!
Proper timekeeping is all about precision and performance and so is Aventi's latest stunner. Its use of patented Saphite comes as a result of tireless research and a commitment to exact details. Essentially, the brand asked itself: why settle for standard crystal sapphire when we can make something even better? That question brought about the innovative new material, which suspends a crystalline structure within a tapestry of prime glass and delivers improved scratch resistance, durability, and transparency.
Aventi also paid close attention to the numbers when creating Saphite. Take the material's refractive index of 1.65, for example, which offers decreased resistance to light and thereby reduces distortion, cultivating a clear and natural view. By comparison, the refractive index of sapphire glass is 1.76. And unlike sapphire glass, Saphite can be coloured in thousands of different hues. The brand wasted no time in exploring this particular feature, hence the watch's striking shade of gentle Paraiba blue. Given Aventi's history of making bold visual statements, one can safely deduce that this is the start of something beautiful…literally.
Of course, Saphite is but one amongst a slew of reasons to salivate over the new Wraith A15-01 Saphite Paraiba. Here's another: the watch's signature case of 124 vertices and 92 faces, all individually cut. Already gem-like in its appearance, the case hovers over a similarly refined calibre with a brilliant tourbillon mechanism. Optimised for maximum precision, the tourbillon consists of just 18 elements instead of the traditional 40 used by other manufacturers. It fortifies the watch's GT-01S manufacture calibre in Grade 5 black titanium, which was created and assembled in the heart of La-Chaux-de-Fonds, Switzerland.
Looking for more numbers? Aventi is happy to provide them. How about lucky seven, as in the watch's 7+7 layers of anti-reflective treatment? Specifically, there are seven layers on the outer surface of the protective Saphite, along with an additional seven layers on the inner surface. As a result, the Wraith A15-01 Saphite Paraiba generates a clear, sharp, and reflection-free view of the skeleton dial face and the graceful movement therein. Look once and then look again because odds are you missed something the first time, such as the guilloche hobnail decoration on the dial surface or the movement's delicate finishes.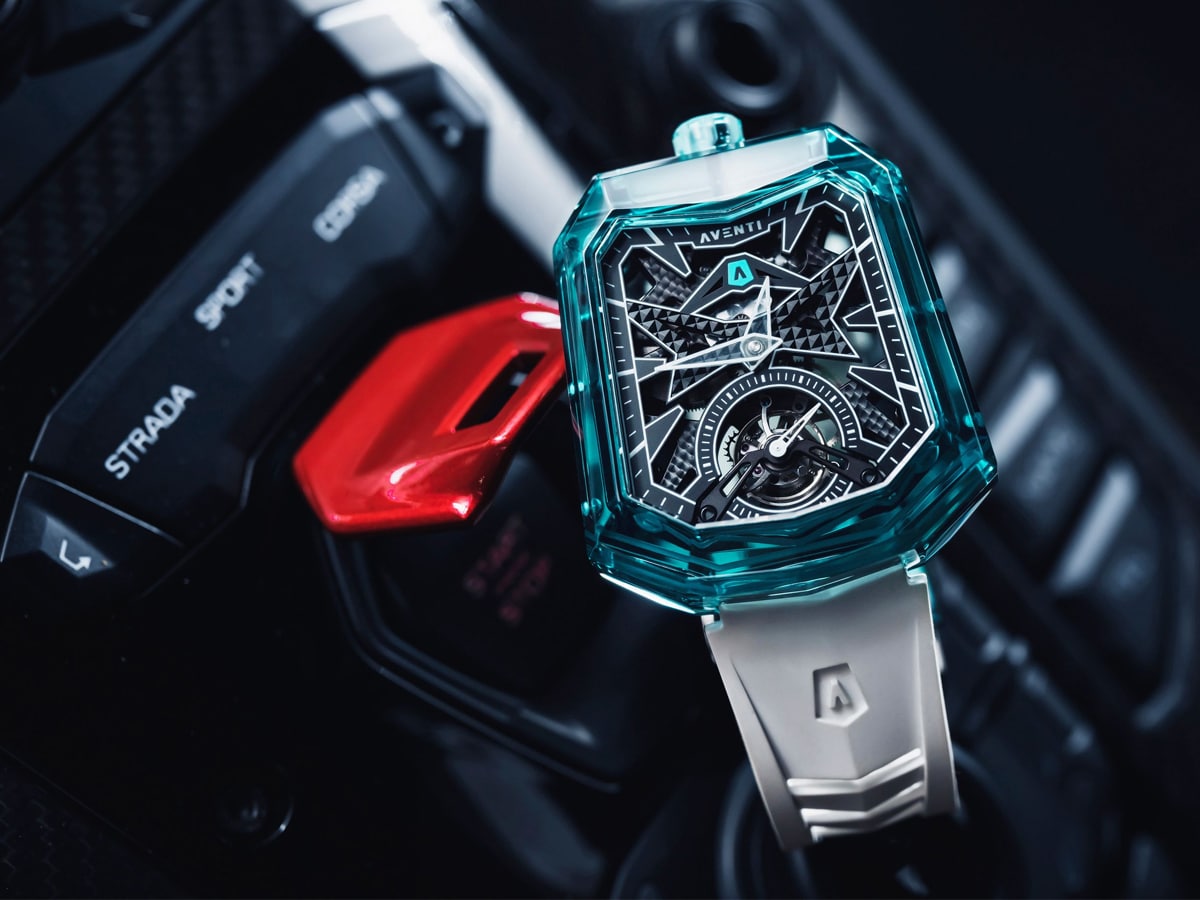 Injecting all the more performance and innovation is the watch's robust rubber strap. It comes forged from the world's most high-tech rubber and touts a density of 1800 kg/m3, making it 80 per cent denser than its standard counterparts. Conspicuously strong perhaps, but the strap nevertheless fits comfortably and naturally on the wrist. A steel and titanium buckle drives home the wearable vibe and offers a subtle touch of visual distinction.
The new Wraith A15-01 Saphite Paraiba pushes sapphire crystal past its very limits, advancing new possibilities of colour, durability, and clarity alike. This is the fulfilment of everything Aventi holds dear and it delivers even more details than the ones we've mentioned above. The brand is so proud of this achievement (and others) that it only offers it to select buyers. Should you hold a similar passion for boldness, autonomy, and freedom, hit it up for a chance to score the latest masterpiece and share in its unique vision.