Swiss luxury watchmaker Blancpain are absolute masters when it comes to blending vintage styles with modern performance specs. Their latest range of stunning timepieces puts that particular talent on bold display. Dubbed Air Command, it reboots an ultra-rare 1950s predecessor that was initially developed for the US Air Force. We went hands-on with this striking chronograph with the hi-res photos to prove it. Let's take a closer look.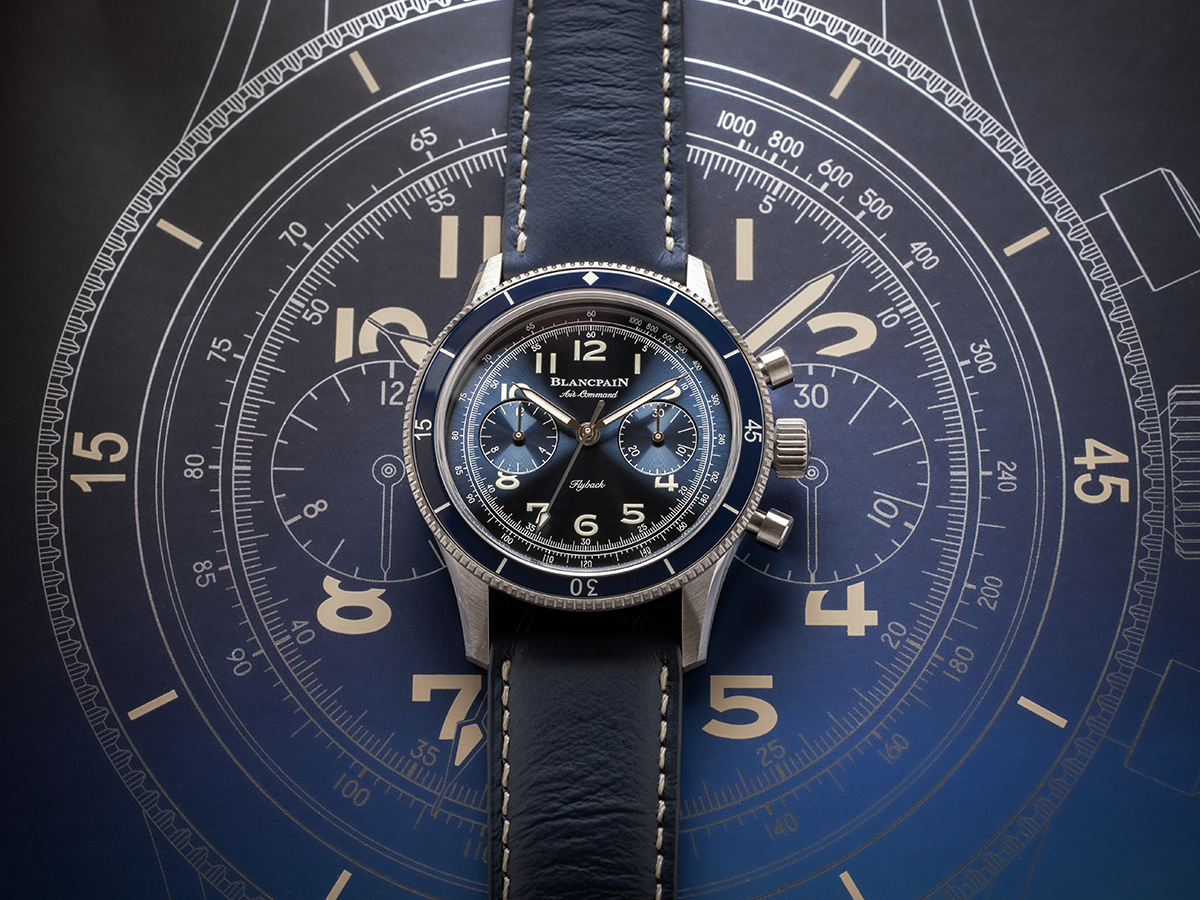 History of the Blancpain Air Command
Whilst best-known for minimalist dress watches and sturdy dive watches, Blancpain are no stranger to the skies. They proved as much with the introduction of a limited-edition Air Command back in 2019, which came dressed in steel with a palpable retro design language. The latest iterations swap in grade 23 titanium (or 18k red gold) and inject the vintage underpinnings with a boldly modern sheen.
Technical touch-ups notwithstanding, Blancpain's new Air Command retains much of the design language of its distinguished predecessor. According to legend, the 1950s Air Command chronographs were developed as an Air Force-friendly counterpart to the iconic Fifty Fathoms (utilised by the US Navy). Production was quite limited, making it the rarest Blancpain timepiece of its respective era.
Between the scarcity of living examples and lack of documentation, the going hypothesis is that the original Air Command never got off the ground (pun intended). It nevertheless bore the hallmarks of a classic pilot chronograph, suggesting that neither performance nor appearance was to blame. These days, it ranks amongst the most coveted 1950s military watches. Supply and demand has something to do with it, but so too does the chronograph's sophisticated design.
But who needs a vintage original when they can score the latest version instead, complete with technical flourishes? Available in three models (including a limited-edition variant that has already sold out), Blancpain's new Air Command boldly combines retro style with the Maison's latest advances. As a direct callback to the 1950s predecessor, each model features a flyback chronograph function and a countdown bezel, amongst other things.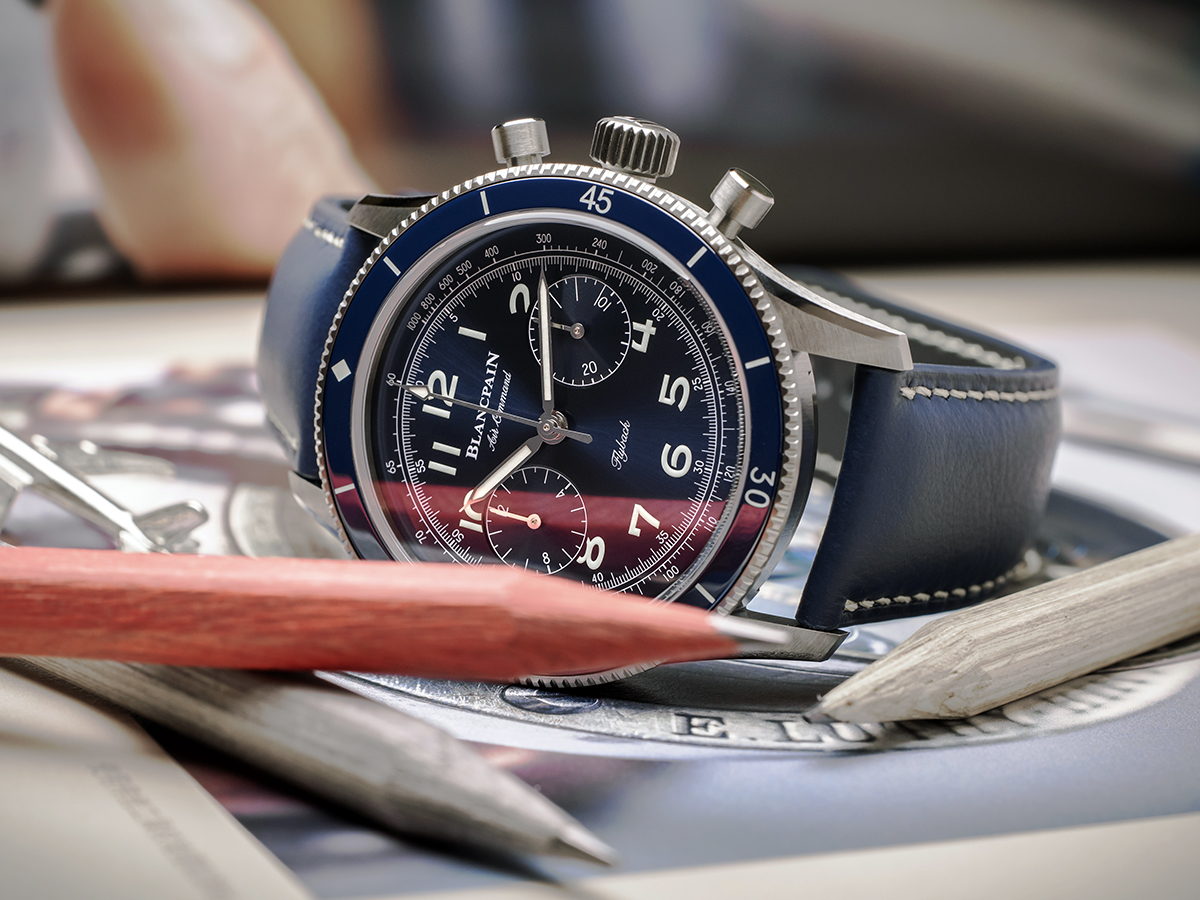 Hands-On With the Blancpain Air Command
It was an absolute honour to get up close with the new Blancpain Air Command for a brief test drive and adjoining photoshoot (All photos of the AC02 12B40 63B model were shot by Man of Many). In our opinion, the piece does exactly what it set out to do, striking a masterful balance between two unique temperaments. Whilst the size, design language, and flyback complication remain quite faithful to the 1950s original, there's no mistaking the era in which this chronograph was conceived.
Measuring 42.5mm, the Air Command sits firmly and comfortably on the wrist. Aesthetically, it makes expert use of colour and symmetry, reaping genuine style out of technical detail. Two oversized sub-dials, Super-LumiNova markers, and the tachymeter scale harmonise upon the clean display. Taking the piece into purely modern terrain is in-house Caliber F388B—touted as one of Blancpain's most advanced movements—which appears through sapphire on the exhibition caseback.
The Air Command range consists of the following three models: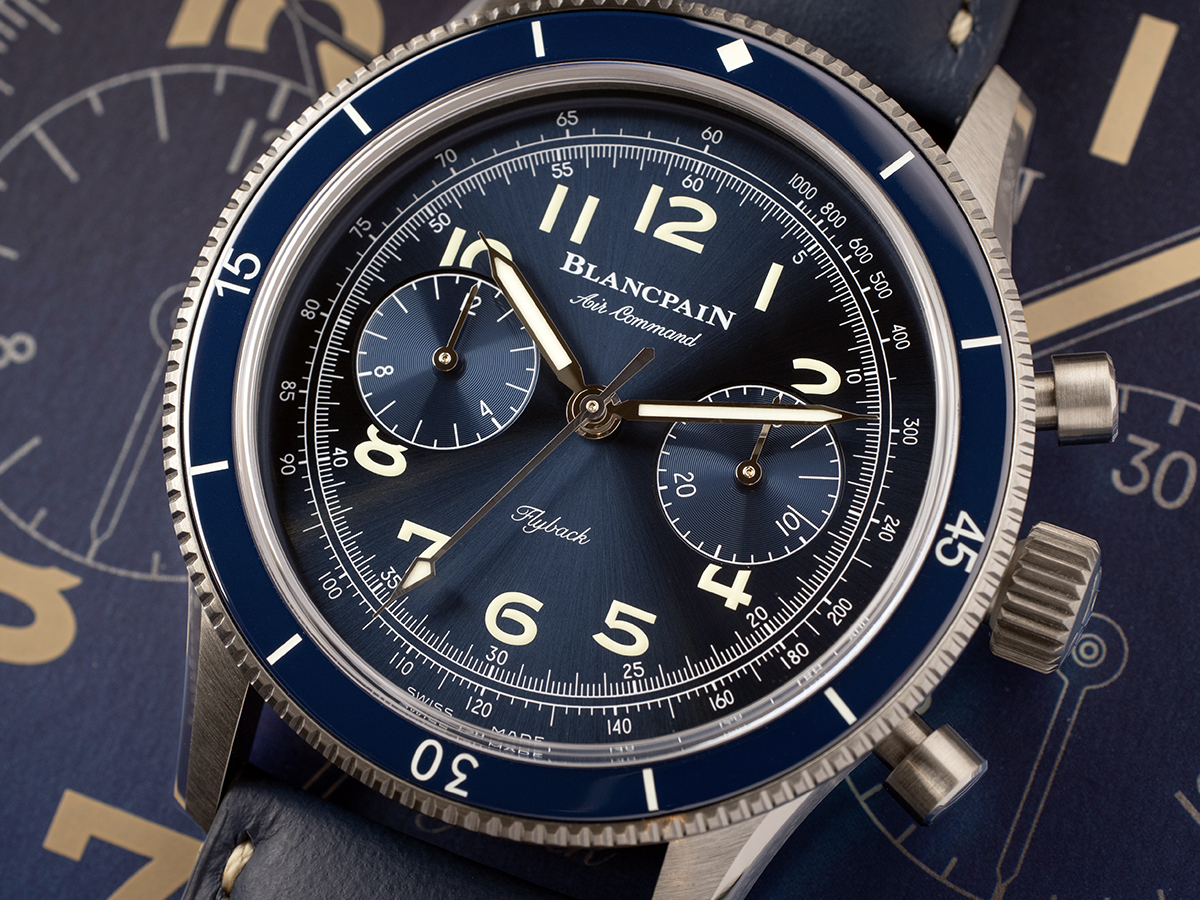 Air Command AC02 12B40 63B
A deep blue colour adorns the dial, two-way bezel, and calfskin leather strap of this brilliant chronograph, lending it a sleek and uniform vibe. Super-Lume accents deliver the perfect touch of contrast to an otherwise all-blue interface.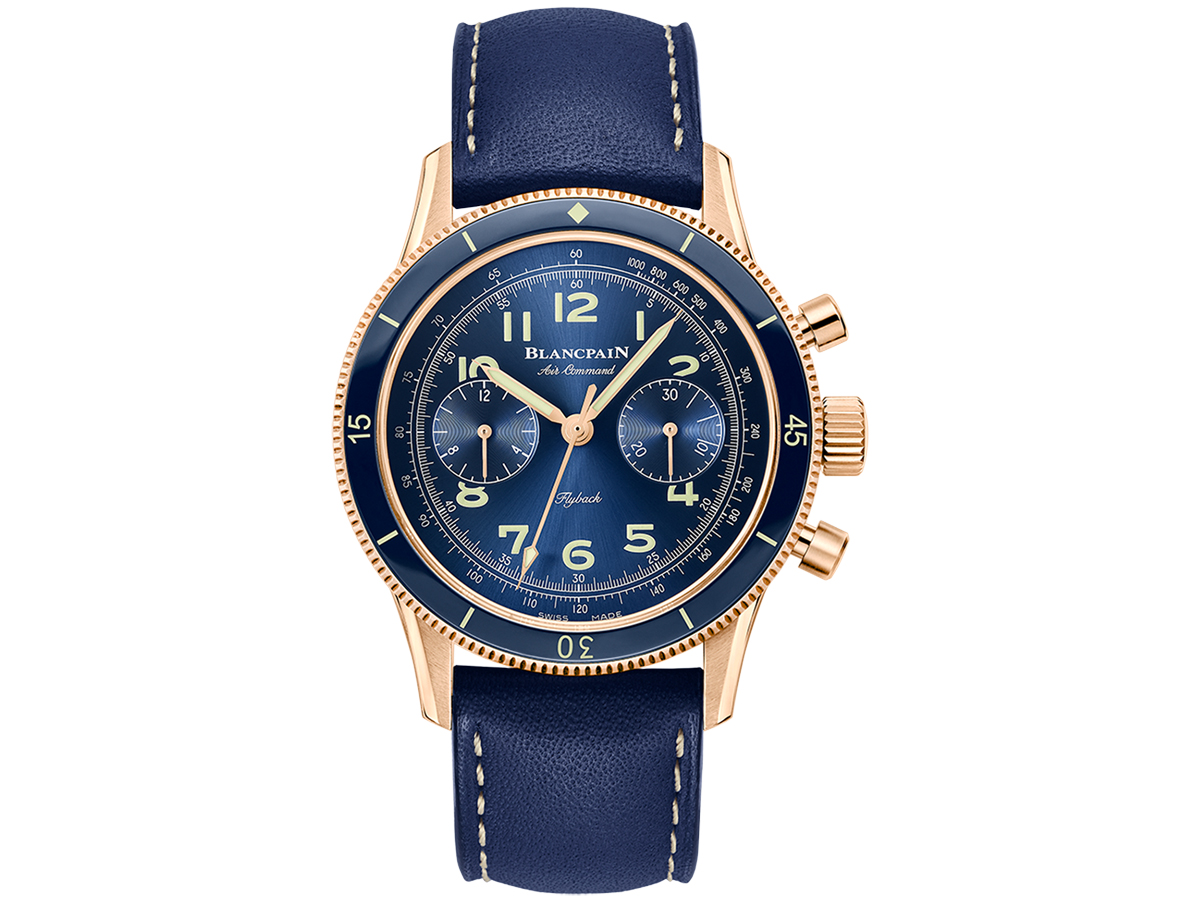 Air Command AC02 36B40 63B
Whilst similar to its blue-faced brethren, this distinguished piece employs 18k red gold on the case, bezel, and rotor (visible through the caseback). The contrast of red gold on blue is simply stunning.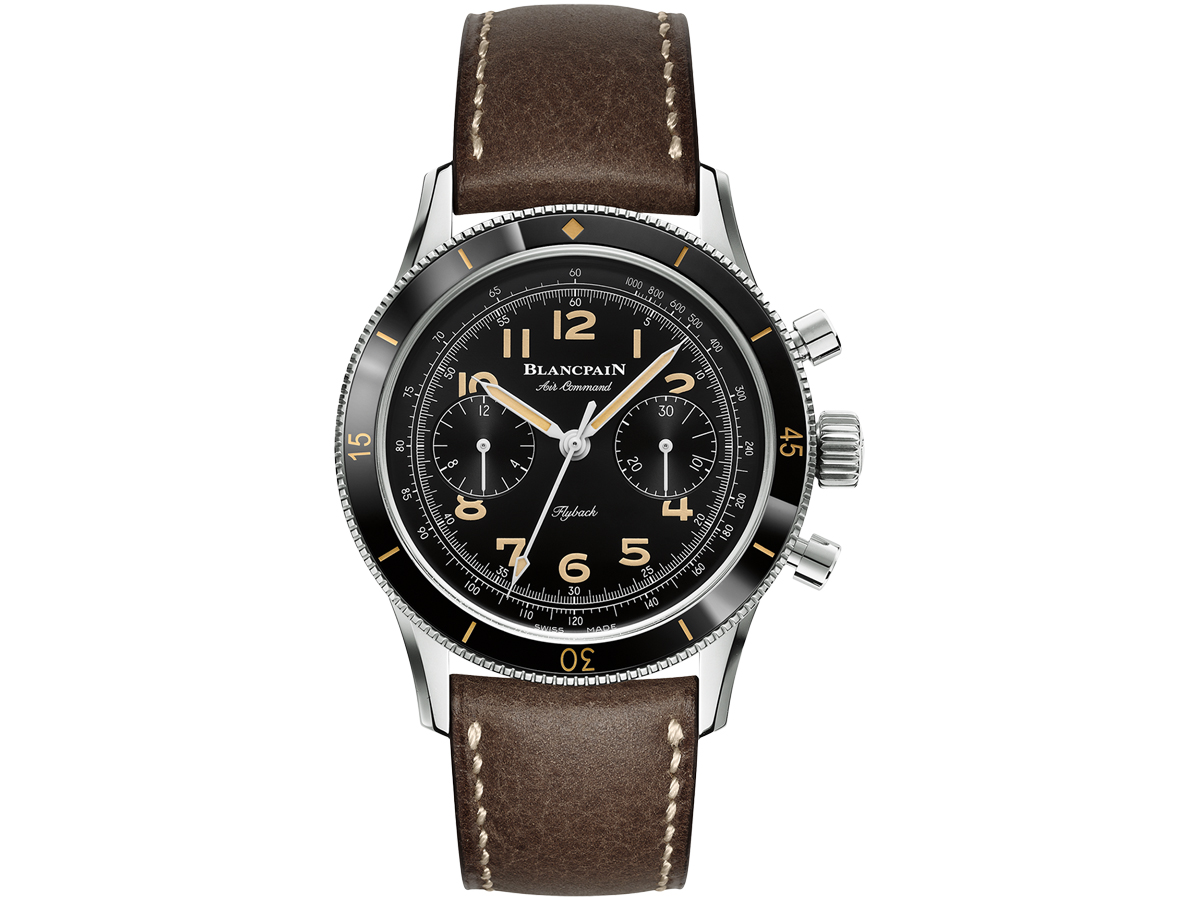 Limited Edition
This limited edition variant eschews deep blue in favour of black, with Super-Lume markers and a brown calfskin leather strap providing handsome contrast. It's water-resistant to 3 bar and limited to just 500 pieces, which sadly, have already sold out.

With an Air Command in our possession, we photographed the piece from every angle and against a host of different backdrops. Hopefully, you can get a solid impression of what this technical powerhouse has in store. Personally, we feel that Blancpain did a tremendous job at updating the past without compromising the essence of the 1950s original. The new Air Command Collection is now available for purchase and we're giving it some serious thought!