Can a Smartwatch Enhance Your Day?
As a busy entrepreneur on-the-go, staying connected to my electronics is crucial to my career. However, I often find that technology can be overbearing and as distracting as it is useful. What I end up looking for are products that provide me with technological accessibility without that in-your-face intrusiveness. These are the products that don't make me feel like the things I own have begun to own me (that's a Fight Club reference for your movie buffs out there).
The smartwatch is perhaps the latest innovation that effectively straddles the line between technology and functionality. After all, what has the potential to combine the old with the new more precisely than the watch, a mainstay of the business world for over two centuries? I was initially resistant to smartwatches because they made me feel like I was adding yet one more screen to the onslaught of computers big and small that governed my day. Then I was introduced to the Titan JUXT, Engineered by HP.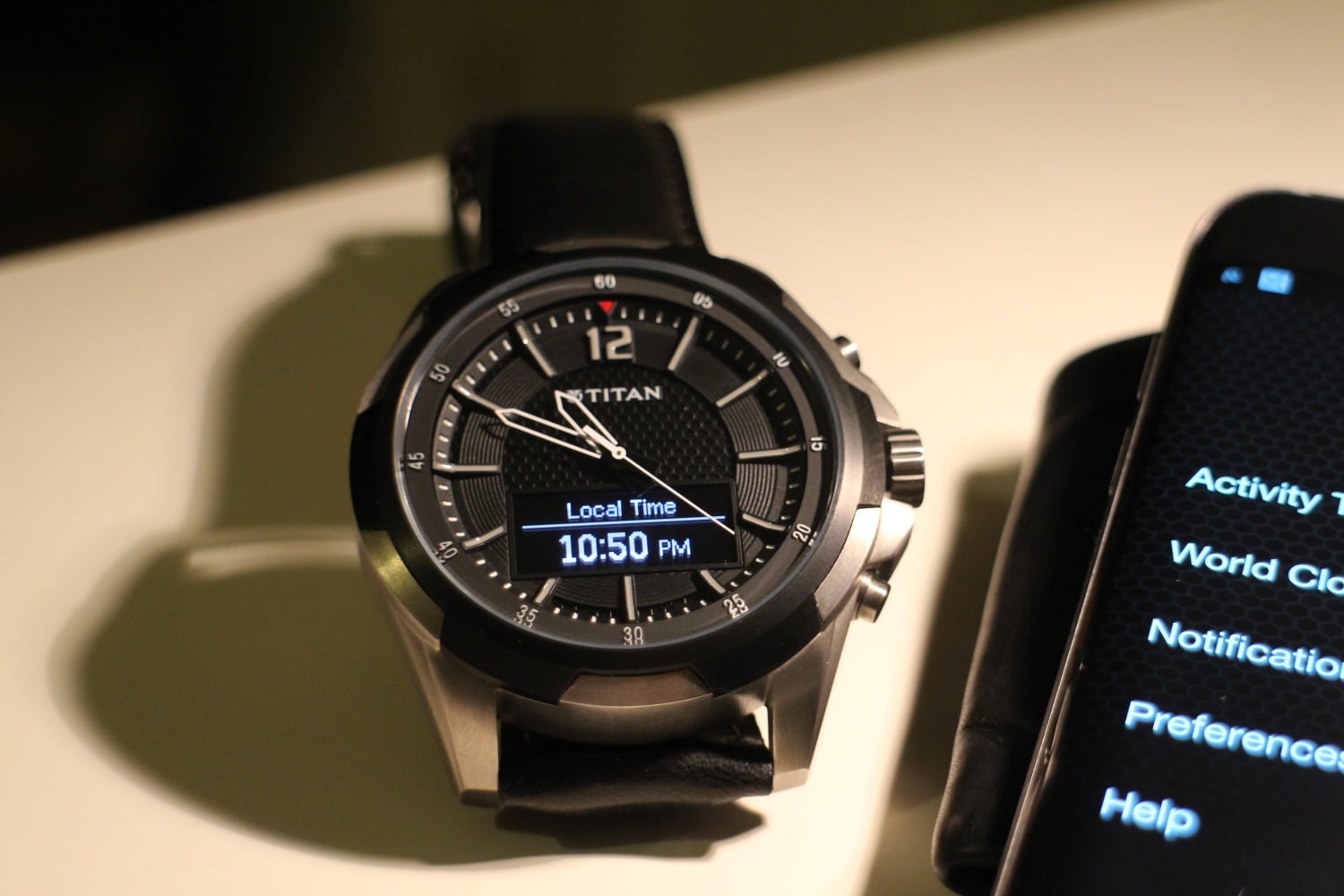 The Titan JUXT represents that true moment of Zen that I look for when the newest products hit the market. It's possibly the perfect balance of analog and digital. Titan is, after all, a master-class company. They've been in the business for over 25 years to become one of the premiere watchmakers in the world. Their sense of craftsmanship and design has earned them a reputation as both dependable and cutting edge, and their popularity is only growing with each passing day.
And because they are awesome, Titan sent us here at Man of Many a complimentary Titan JUXT, Smartwatch to test out. I gave it a spin and needless to say I'm in love. Here is the breakdown after a few days of use: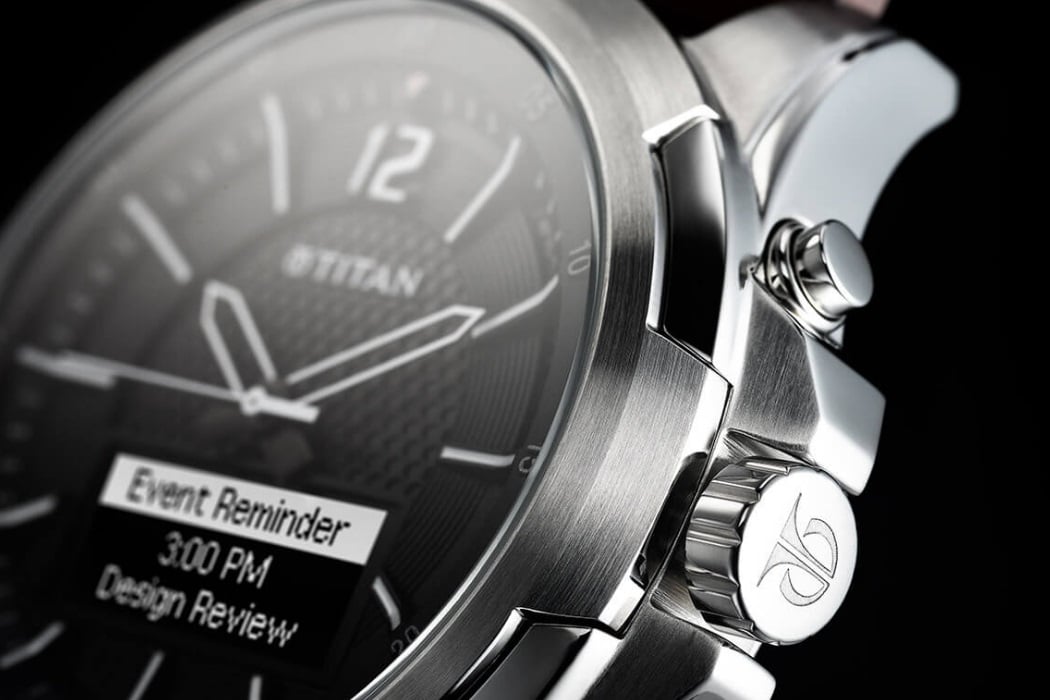 Design
I kneel at the altar of craftsmanship, and when excellent craftsmanship is paired with total functionality it takes me to a realm that hinders on orgasmic. The Titan JUXT Smartwatch appeases me in all the right places. Everything from the natural leather strap to the sleek dial with subtle honeycomb patterns and 3-D indices, to the refined, lume-filled skeletal hands to the hypoallergenic back cover emanates that true analog sense of pure commitment to design and usability. Not once does the watch make the user feel like they've strapped a tiny tablet to their wrist. As a result the watch is aesthetically pleasing and perennially comfortable. The Titan JUXT represents a true meeting ground between design and innovation. Oh, and did I mention it was water resistant up to 5 ATM? Yeah, that too.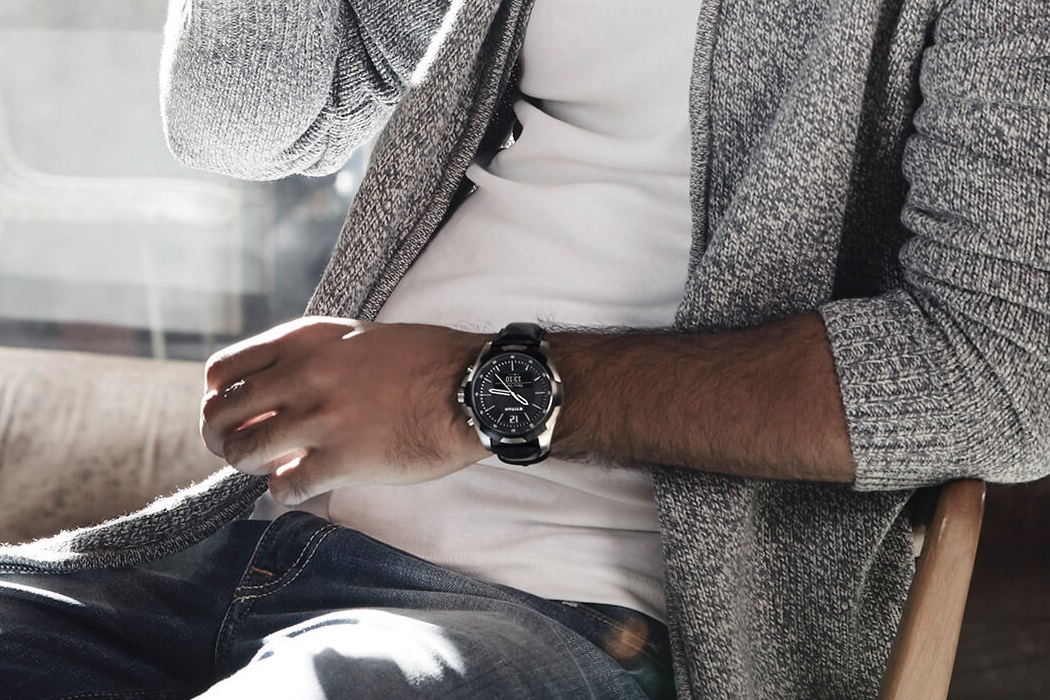 Morning
Eager to engage with my newest toy, I woke on Monday and strapped on the watch. I scrolled through texts and missed calls on the OLED display, as well as notifications in regards to upcoming appointments and meetings. But before my workday began, there was my health to think about. As per my settings, the watch reminded me that my goal for the day was to run three miles before work and then walk an additional 10,000 steps throughout the day.
During my jog the watch was everything from my planner to my fitness tracker. It precisely measured every step to a fault. While I ran the watch additionally alerted me to important notifications: news alerts, scheduling changes, and texts from friends and associates. But the best part was that the watch never felt imposing. By the time my run was over, I was fully refreshed and the watch's mineral glass exterior was unblemished.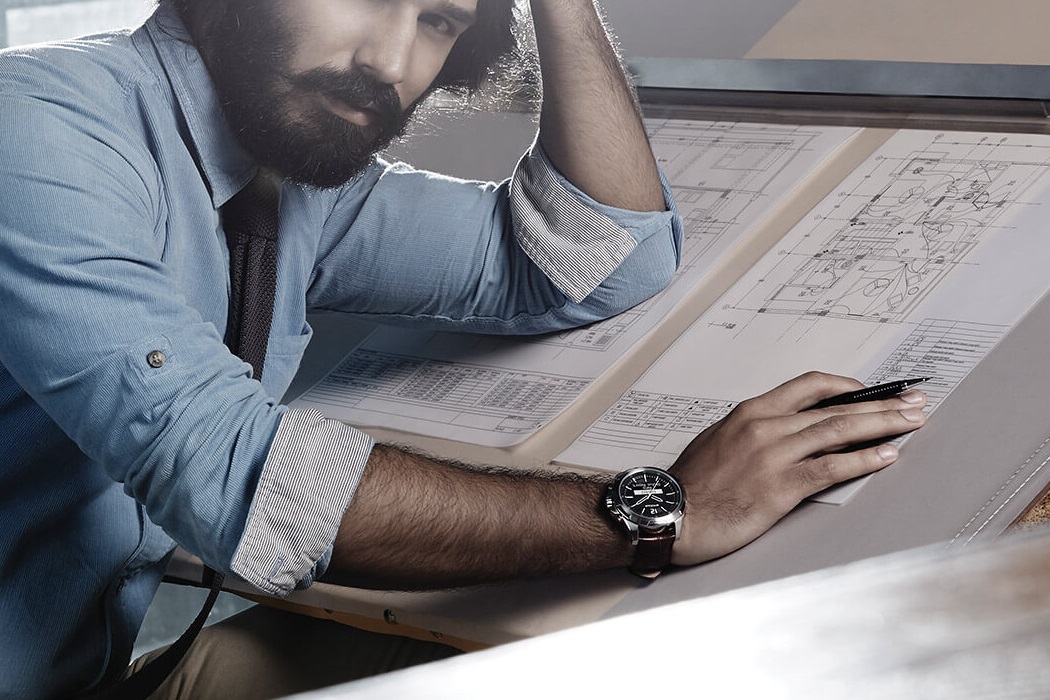 At Work
One thing I hate is how perpetually distracted I get by my phone. It's literally always bursting with annoying activity. The Titan JUXT was an insane breath of fresh air by comparison. Thanks to its subtlety I was able to check notifications on my wrist without feeling overburdened. While the watch is compatible with social media apps, I began to realize how trivial so many things that distract me are when they're presented in the form of a simple, elegant alert. I was suddenly far less inclined to follow the latest "click-bait" link or check my Facebook page for the tenth time in as many minutes. My life was surprisingly more manageable because I was able to separate important tasks from mere distractions.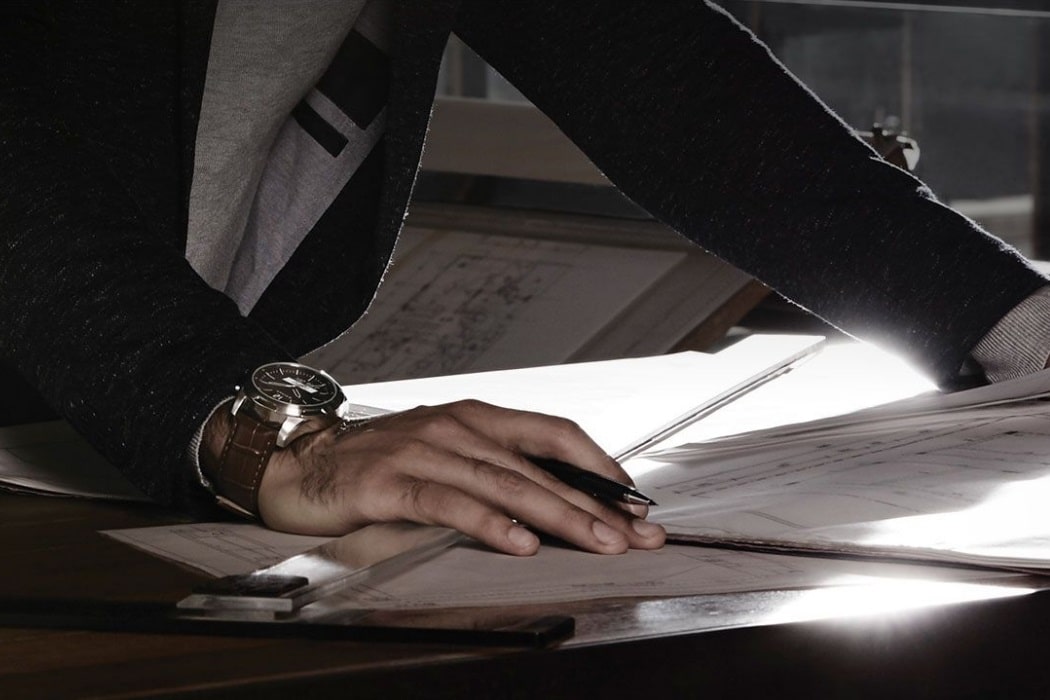 What I also loved was that the watch didn't compromise my own personal brand of appearance as a businessman. I take a certain pride in being a professional and looking the part, and I always considered having a small computer on my wrist to look…well…kind of tacky and unprofessional. Because the Titan JUXT has all the looks and feels of a refined, analog watch, I never once experienced that sort of low-level shame that goes hand in hand with wearing what basically looks like a nifty toy as opposed to a tasteful and functional accoutrement. Furthermore, the Titan JUXT was handy and presentable on the most basic of levels. I could do things like check the time without having to foolishly tap away at a tiny screen.
As new appointments or texts or scheduling issues emerged throughout my day, the watch would duly vibrate with a notification that didn't distract or impose. Because the emphasis is on retaining a classic design, I felt less burdened by any given notification whereas it didn't emerge on a big screen as if to yell at me. The utter simplicity was a relief and better yet still didn't come at the expense of anything important–I was completely up to speed on my itinerary. Again, I think what I'm driving at is that the subtlety of the device allowed me to differentiate between important tasks and mere distractions.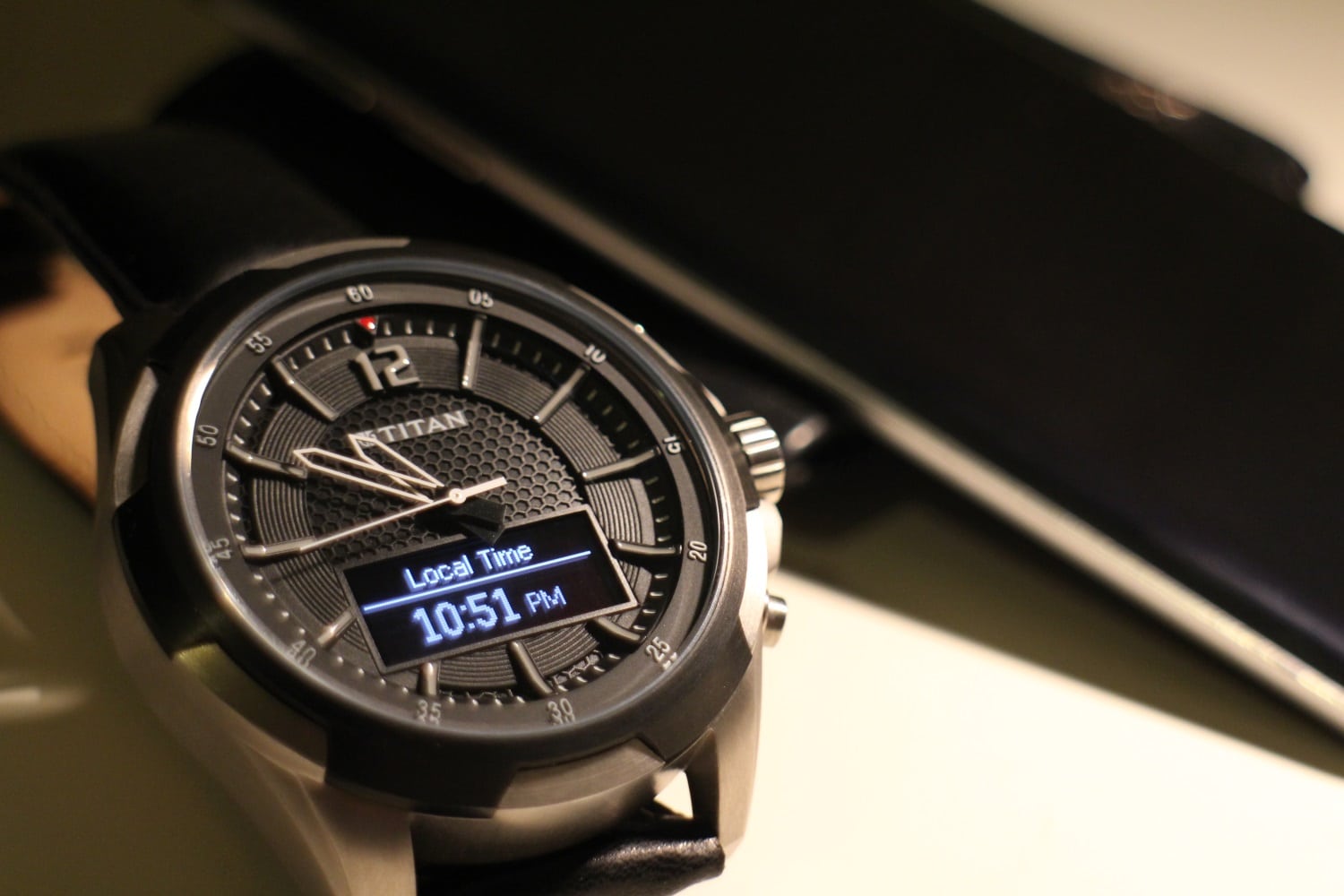 At Home
My days are long so I didn't get home until around 7PM. I checked the watch to discover that I'd in fact met my goal of 10,000 steps and then some. Before eating dinner, I casually scrolled through the watch to confirm that I hadn't missed anything throughout the day. Indeed, all my important tasks were completed and I would say I was on my phone about half as much as usual thanks to the watch's ability to keep me updated.
Before going to sleep that night I charged the watch so it would be ready to go the next day. I set the watch next to my bed in case I wanted to check it for alerts and notifications before falling asleep, or even important texts. As the watch re-charged next to my alarm clock, I kept juxtaposing the two products and thinking that the watch basically rendered the alarm clock unnecessary in a way that my phone never did. In essence, the Titan JUXT Smartwatch suddenly made it seem that I could easily un-clutter my life without missing a beat.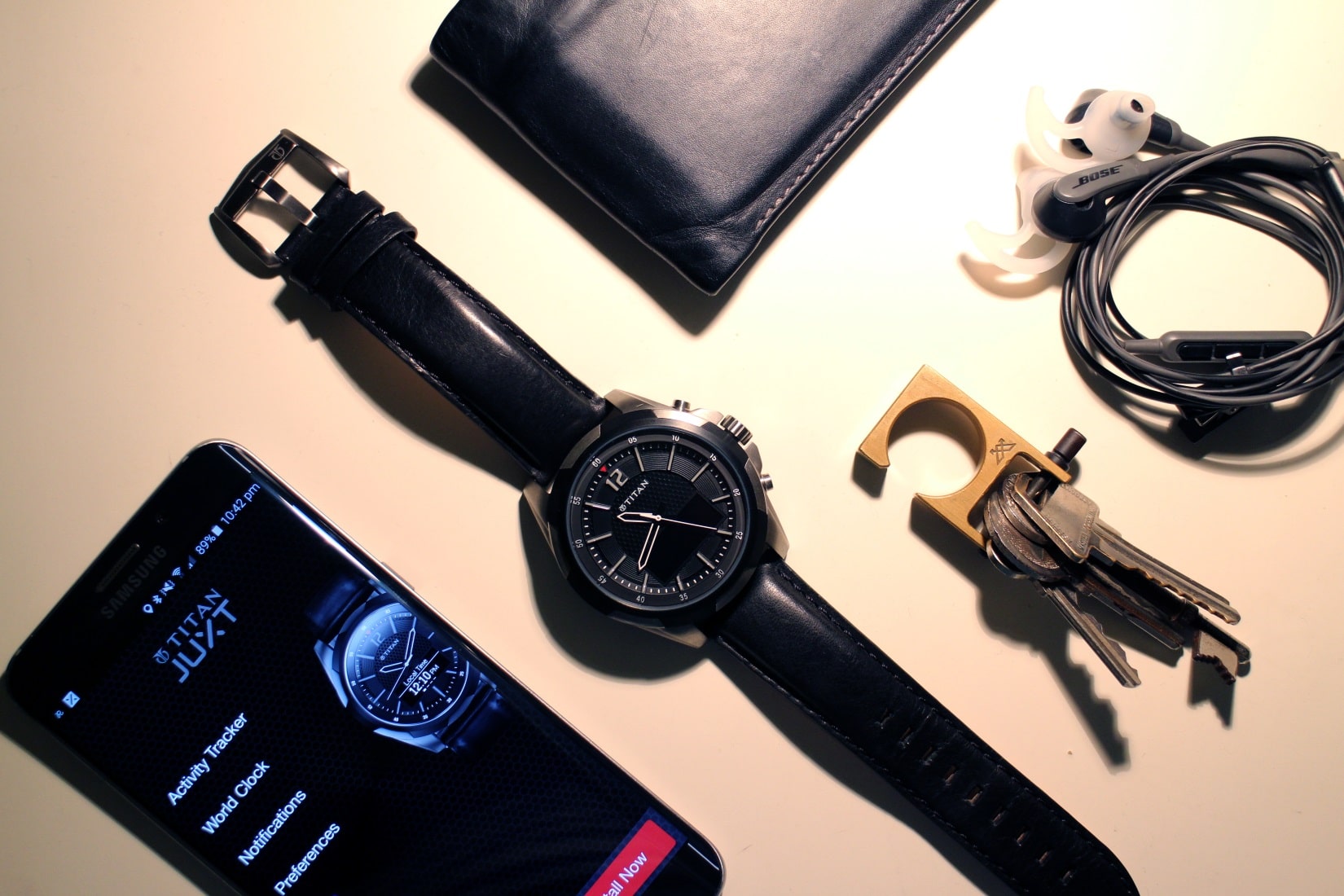 Conclusion
In summary, I'm a huge fan of the Titan JUXT, Engineered by HP. It helped relieve me of some of the burden that comes with too much technology or simply too much stuff and made me look damn good while doing it. It was like I went classic without actually discarding any of the convenience or information that the modern world offers. As the Titan JUXT Smartwatch launches in the States this month, I highly advise those of you who value elegance, craftsmanship and convenience all in one to grab it right away.
This article was sponsored by Titan. All opinions are our own.