Wakka-Wakka! Casio A100WEPC Takes It Back to the Heyday of PAC-MAN
Back in the '80s, kids had two things – Casio watches and an unrelenting desire to hit the arcade. Forty years on and the digital watch icon is bringing a sense of nostalgia back to horology. Casio America, Inc. has announced the release of the A100WEPC, a collaboration model featuring the iconic ghost-eating 'wakka-wakka' spurting circle himself, PAC-MAN.
You'll also like:
G-SHOCK's Iconic 'CasiOak' Cops a Stainless Steel Refresh
Casio G-Shock NASA Limited Edition Launches
Bill Gates $48 Casio Watch is Perfectly Simple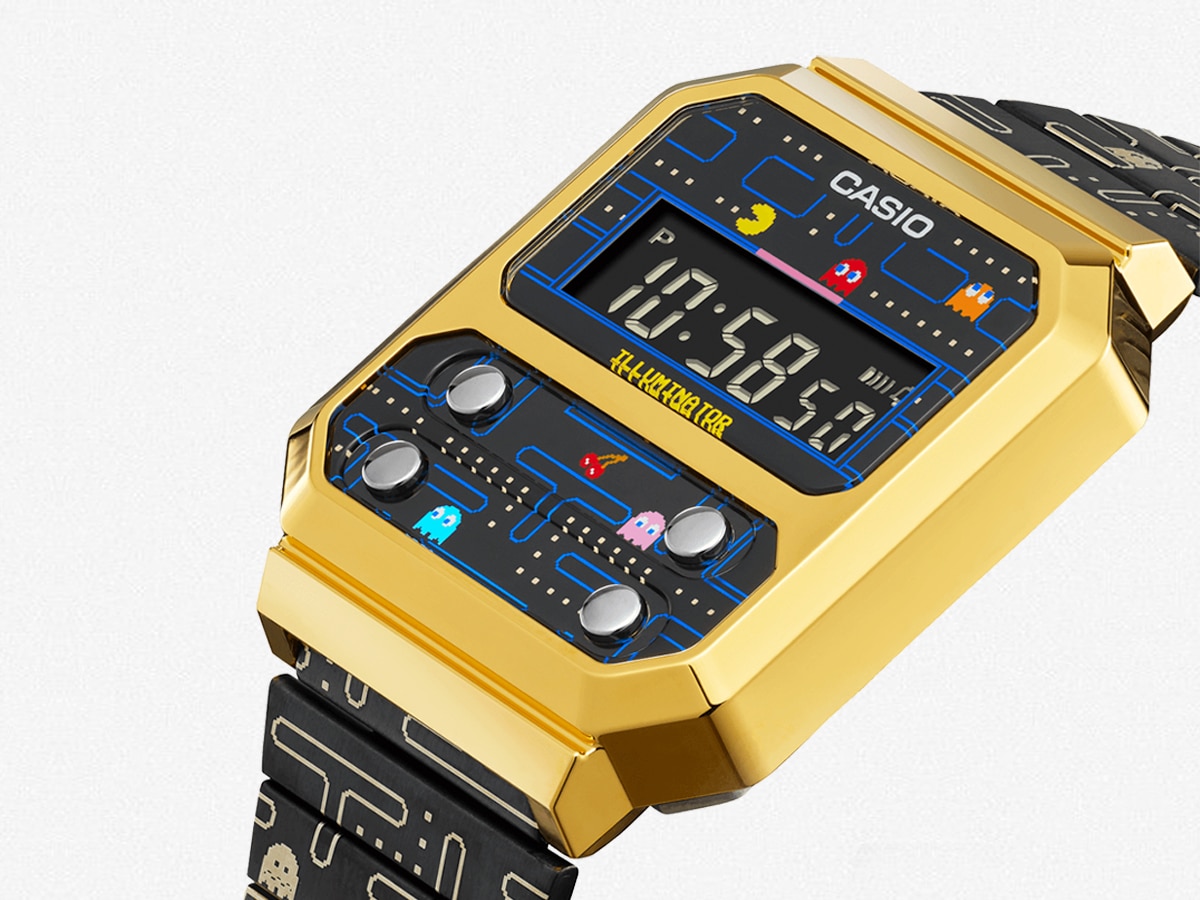 Based on the recent reissue of the F-100 digital watch, which was originally released in 1978, the new Casio A100WEPC is a colourful exploration of a bygone era. The F-100 was the first Casio quartz watch in a resin case, delivering advanced functionality with a stopwatch and calendar function. The recently released A100 watch, which reprises the design of the original F-100, featured the unique four-button front layout. This time around, Casio is playing with the aesthetic, evoking the effortless '80s look of the PAC-MAN game.
The watch face features colourful pixelated PAC-MAN and ghost characters, with the centre ILLUMINATOR logo rendered using the PAC font. Best of all, the new Casio design is like an arcade machine on your wrist, complete with all the bells and whistles you'd expect from the ghost-hungry hunter. The face design faithfully replicates the PAC-MAN game screen, right down to details like the pink line marking the exit of the ghost nest from which the ghosts emerge.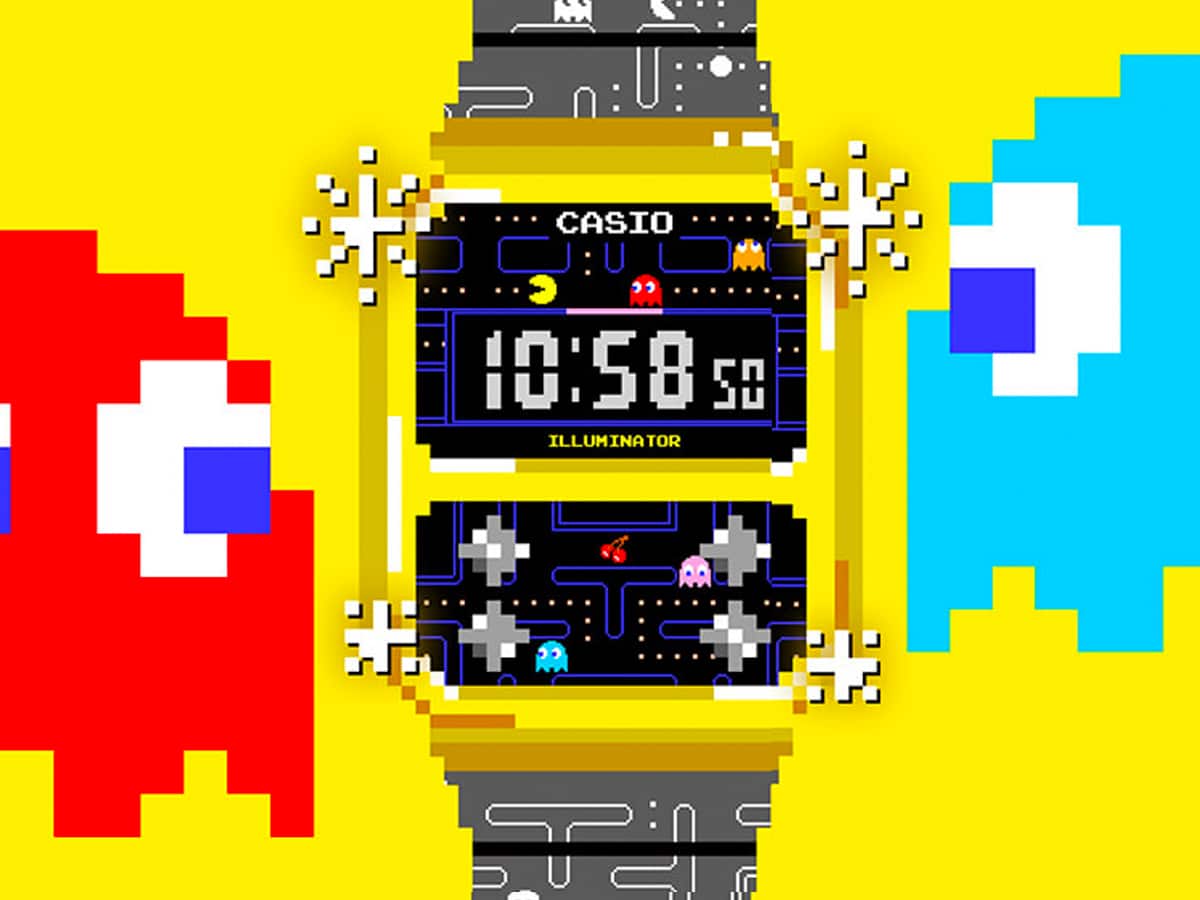 The Casio A100WEPC is housed in a gold-plated watchcase inspired by the colour of the PAC-MAN arcade game cabinet. Peer a little closer and you'll note that the top watch band is laser etched with a rendering of PAC-MAN being chased by ghosts, and the reverse scene with PAC-MAN chasing ghosts is rendered on the bottom band. The case back also features the PAC-MAN logo and icons.
When it comes to '80s icons, it's hard to find two more etched in the cultural zeitgeist than Casio and PAC-MAN. In fact, it seems almost insane that the two haven't come together before. First released in 1980 by BANDAI NAMCO Entertainment Inc. (then Namco), the original PAC-MAN arcade game has gone on to be one of the best-loved video games of all time. Casio's lineup of re-issues and reimaginings appears to be heavily leaning into the nostalgia aspect and with the A100WEPC coming with special packaging imprinted with PAC-MAN character icons and the game score screen, it's paid off. Anybody got a quarter?
---
Featured Video from Man of Many
---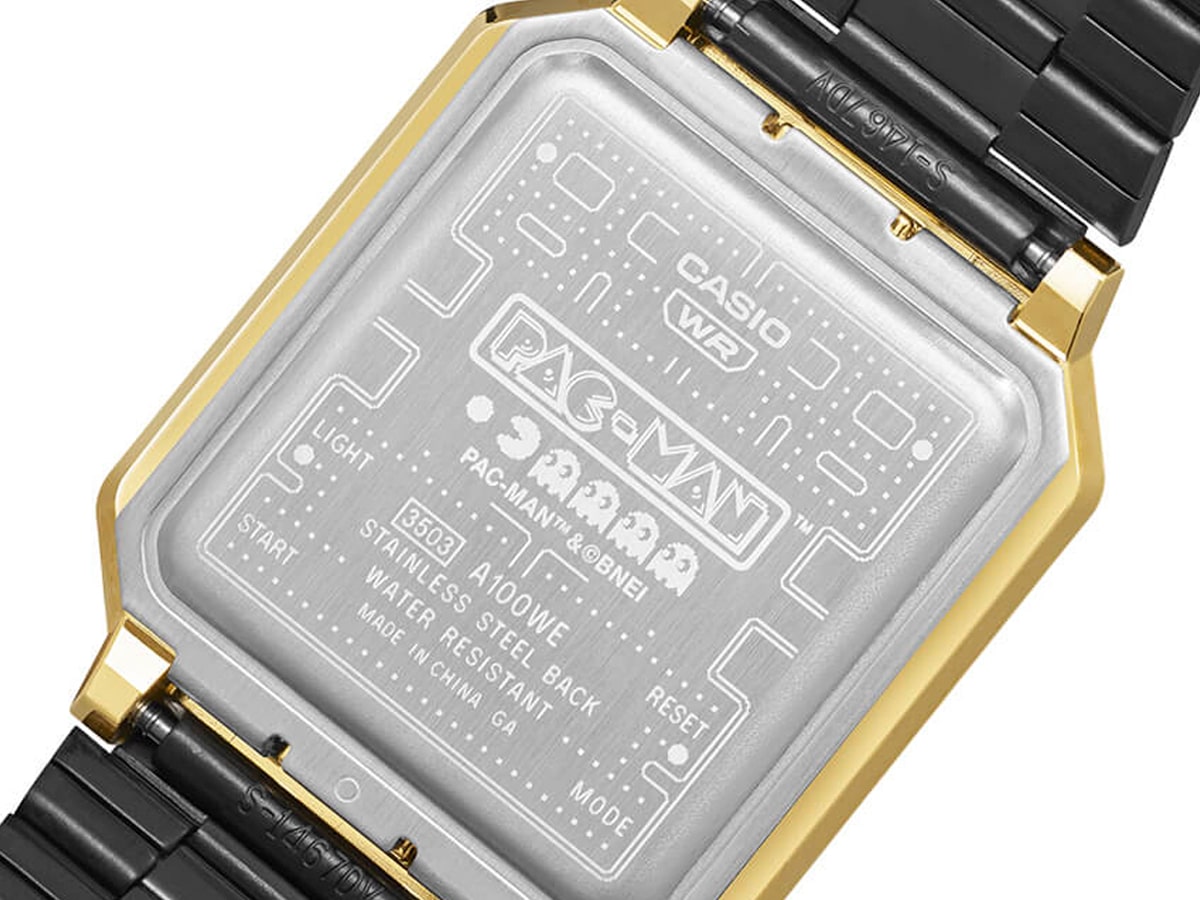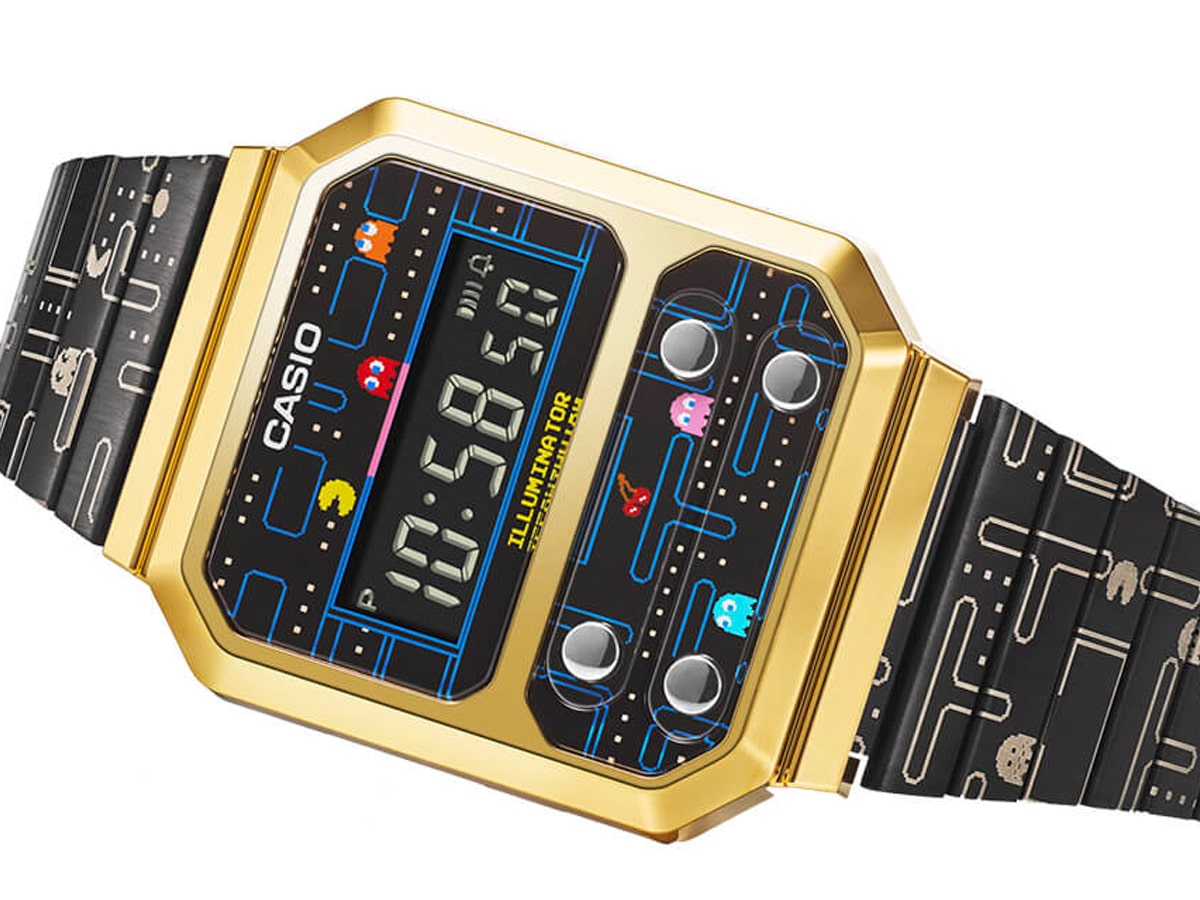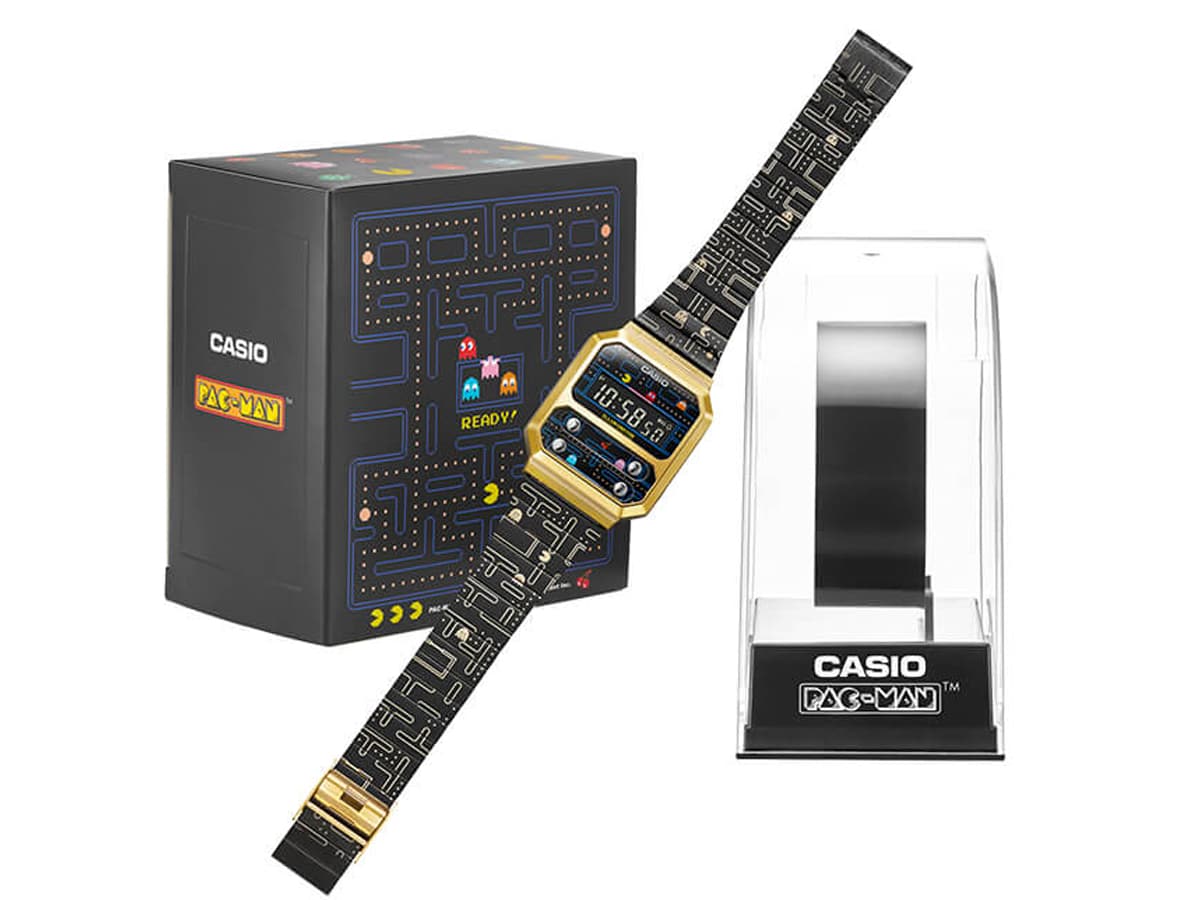 You'll also like:
G-SHOCK's Iconic 'CasiOak' Cops a Stainless Steel Refresh
Casio G-Shock NASA Limited Edition Launches
Bill Gates $48 Casio Watch is Perfectly Simple
---
Featured Video from Man of Many