Our Favourite Watches From SIHH 2018 – Part 3
With respectful homages to fallen legends, technological feats seldom achieved before and a total redefinition of what a classic timepiece should be, here is part 3 of our highlights from our trip to Geneva, Switzerland for SIHH 2018.
---
You'll also like:
Our Favourite Watches From SIHH 2018 – Part 1
Our Favourite Watches From SIHH 2018 – Part 2
32 Top Luxury Watch Brands
---
Audemars Piguet
It's a big year for Audemars Piguet, as they're celebrating their 25th anniversary of their iconic Royal Oak Offshore collection. In honour of that, they've given us some innovative additions to the collection that seamlessly combine the past, the present and the future.
Audemars Piguet Royal Oak Offshore Selfwinding Chronograph
Spearheading their anniversary collection is this beauty, the Royal Oak Offshore Selfwinding Chronograph. Revamping the iconic watch that was released in 1993 and colloquially known as "The Beast", it's a faithful tribute to the original with some subtle reinvigoration.
With a solid case back engraved with the Royal Oak Offshore Logo, the 42mm steel case holds the instantly recognisable blue 'Petite Tapisserie' dial. Operating on an in-house calibre 3126 movement, this watch features date and chronograph complications as well as a sturdy 50-hour power reserve.
Audemars Piguet Royal Oak Offshore Grande Complication
Out of everything that Audemars Piguet displayed at SIHH, the Royal Oak Offshore Grande Complication is by far the most eye catching. With a minute repeater, perpetual calendar and split seconds chronograph, this watch hasn't let complications hold weight over style.
Coming in black and white, these 44mm watches are both ceramic with differences in how they were finished depending on colour. The black ceramic is reinforced with yttrium oxide – making it seven times stronger than steel – and the white ceramic is reinforced with aluminium oxide making it nine times stronger than steel. Backed with an in-house calibre 2885 movement, watches don't get as tough as this.
Audemars Piguet Royal Oak RD#2
A true groundbreaker in the watchmaking world, the Royal Oak RD#2, this bad boy is the thinnest automatic perpetual calendar in the world. Featuring an all-new in-house calibre 5133 movement that is a diminutive 2.89mm in thickness, the platinum-cased watch comes in at 6.3mm in thickness overall.
What's more impressive is how many complications this near thin timepiece is sporting – hours, minutes, perpetual calendar with indication of month, day, date, day/night, moonphase and leap year. Combine all those with a 40 hour power reserve and their iconic blue 'Petite Tapisserie' dial and we, quite simply, have a new standard of watches to look to.
Baume & Mercier
Operating with new movements that elevate their watches above the rest, Baume & Mercier are looking to make their 2018 as revolutionary as possible. Forward thinking construction with a particular focus on reliability and sturdiness, while also paying homage to motorcycles, is the ethos they've adopted, and it's paid off.
Baume & Mercier Clifton Baumatic
Besides being the most technologically advanced Baume & Mercier watch available to date, the Clifton Baumatic is putting precision and minimalism to the forefront. Operating this stunner is an in-house, self-winding calibre BM12-1975A movement. What makes the Clifton Baumatic so forward thinking, however, is its Twinspir balance spring and silicon escape wheel & lever.
The latter even has optimised geometry for a stronger transfer of energy from the escape wheel to the balance, via the lever. The movement maintains chronometer-grade accuracy over the course of its 5-day power reserve, and is highly protected against magnetism – 20x more than the current norm to be exact.
Baume & Mercier Clifton Club Indian
A watch that relies heavily on its referential design, this Indian Motorcycles-dedicated timepiece (note the giant yet seamless logo on the case back) is perfect for anyone stepping into the fast lane. The opaline dial, hitting 44mm in diameter, is encased by stainless steel making for a clean, sturdy finish. Date and tachymeter chronograph indications lay on the dial, and an automatic Valjoux 7750 movement with a 48-hour power reserve operates the entire thing.
Hermes
Hermés are a fashion brand well known all across the globe, but this actually marks their first ever showcase at SIHH. Needless to say, the pressure was on but it turns out that it was no bother for the French giant – their debut was as stunning and impactful as one could hope.
Hermès Carré H
If you're going to make your company's debut at a SIHH conference, this is how you do it. Hermès enters the game with the Carré H and it's a thing of understated beauty.  With an immediately attention-grabbing square case shape and aesthetically pleasing contemporary lines spread across the dial, this watch is both classic and modern.
Available with either a dark grey or black opaline guilloche dial and with Super-Luminova plated hands and numerals, this watch is powered by an in-house, self-winding calibre H1912 movement with a 50-hour power reserve. Pretty good for a newcomer, eh?
A.Lange & Söhne
Sadly, during last year's SIHH, A.Lange & Sohne lost an important figure in their brand – Walter Lange, the company's honorary chairman. So, naturally, part of their SIHH 2018 showcase is dedicated to him but also dedicated to his legacy – innovation, intuitiveness and an undeniable respect for their roots.
A.Lange & Söhne 1815 "Homage To Walter Lange"
A classy and timeless dedication to an important figure in A.Lange & Sohne's legacy, the 1815 "Homage To Walter Lange" is an innovative revamp of the 1815 we all know and love. With a solid silver dial and a small second register at the 6 o'clock mark, the most interesting part of this watch is the independent seconds hand in the centre.
A key feature of this piece is one of great significance to Walter and the Lange family, is the stoppable jumping seconds, which is a complication that was first implemented by Walter's Grandfather Emil Lange in 1877. Powering this is the in-house calibre 1924, a new movement with a 60-hour power reserve, which was named in honour of Walter Lange who was born in 1924.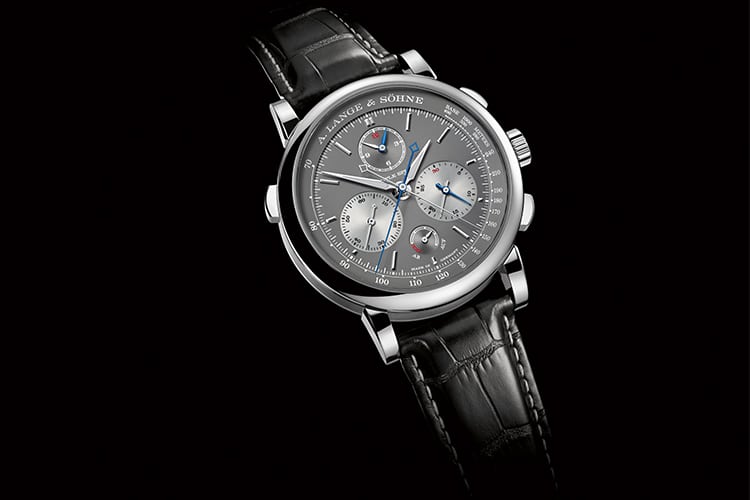 A.Lange & Söhne Triple Split
In direct contrast to the minimalist and refined 1815 "Homage to Walter Lange", the Triple Split is, quite simply, one of the most complicated chronographs ever created. The case measures 43.2mm in diameter and 15.7mm in thickness, which is the exact same measurements as its predecessor, the Double Split.
With split seconds, split minutes and split hours, the Triple Split can record simultaneously elapsed times of up to 12 hours. With a power reserve indicator at 6 o'clock, it balances out the visuals of the dial and avoids looking too top-heavy. It also has a flyback function, which means the chronograph can be instantly reset and restarted with just one button. Powering it all is the hand-wound calibre L132.1 and is made up of a mind-blowing 567 parts and a 55 hour power reserve.
A.Lange & Söhne Saxonia Outsize Date
Rounding out the best of A.Lange & Sohne's SIHH display is the Saxonia Outsize Date, which is all about the brand's impressive history. The original Saxonia was released in 1994 and the differences between that model and now are few and far between.
The 38.5mm case, coming in white or pink gold, contrasts beautifully with the stark black dial. At 6 o'clock, you'll find the seconds indication and at 12 o'clock you'll find the big date indicator. Powered by the in-house calibre L086.8, a brand new movement, this watch also has a 72 hour power reserve, a winding rotor with an outer platinum mass and a whiplash spring for precise adjustments.
Parmigiani
Parmigiani clearly entered SIHH 2018 with one clear goal – to blow everyone else out of the water. With one watch in particular, they've cemented their status as one of the greats of the industry as they've achieved a feat that's so difficult, few before them have managed to do so.
Parmigiani Kalpa Chronor
This watch has been under development for six years, and once you lay eyes on it it's not hard to see why. Featuring an in-house, high beat, self-winding chronograph, this is a feat watchmakers have seldom achieved. With a square case in rose gold withholding an 18k gold base/opaline black dial, its advanced technological features don't compromise its appeal.
The movement is an in-house PF365 and powers the hours, minutes, seconds, date and chronograph (with vertical clutch and column wheel) functions. Finally, the unorthodox construction of rose-gold plates and bridges means that there are a total of 84 individually hand-finished internal angles.
---
You'll also like:
Our Favourite Watches From SIHH 2018 – Part 1
Our Favourite Watches From SIHH 2018 – Part 2
32 Top Luxury Watch Brands
---