G-SHOCK GA710B-1A2 Watch Delivers Style and Durability in Our Hands-On Review
Since 1983, G-SHOCK has remained synonymous with the utmost tier in durability and functionality alike. Naturally, the new G-SHOCK GA710B-1A2 marks a continuation of the brand's commitment to absolute toughness. Indeed, the watch is–if nothing else–a downright indestructible gadget. However, it's also a stylish accessory in its own right, namely thanks to a black matte profile. After all, no one argues with black. The result is a watch that looks good, feels good, and never breaks down, no matter how much activity you throw its way.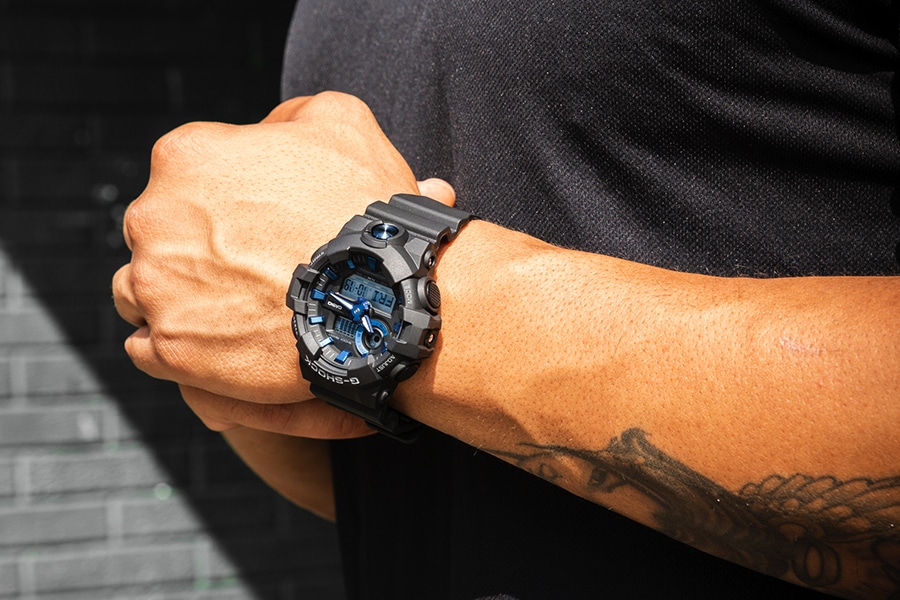 Design
The G-SHOCK GA710B-1A2 comes in thick, though not to the point of being cumbersome. Specifically, the watch case delivers about .7″ of thickness. Were this anything but a G-SHOCK, that might be considered large, but here it's pretty much par for the course. Meanwhile, thanks to the robust build, this accessory makes good on its promise of indestructibility right out of the box. To take things a step further, the watch isn't just built to last, it might literally never break. That the piece is also supremely shock resistant is more or less a given.
Featured on the dial window are both analog and digital functions, though the GA710B-1A2 is quite clearly a digital watch (complete with three display screens of variable sizes). That said, the analog blue markers bordering the interior definitely inject a notable degree of visual heft, heightening the watch's overall sleekness. We should note that other colour options are also available.
Located on the case just below the display is an iconic front button, which activates the super illuminator light. That light might be LED (according to G-SHOCK), but it does stop short of being "super" in our opinion, basking the interface in a dim glow while doing little to enhance legibility. Nitpicking aside, the GA710B-1A2 design leaves virtually nothing to be desired in terms of its rugged build, flexibility, and overall aesthetic.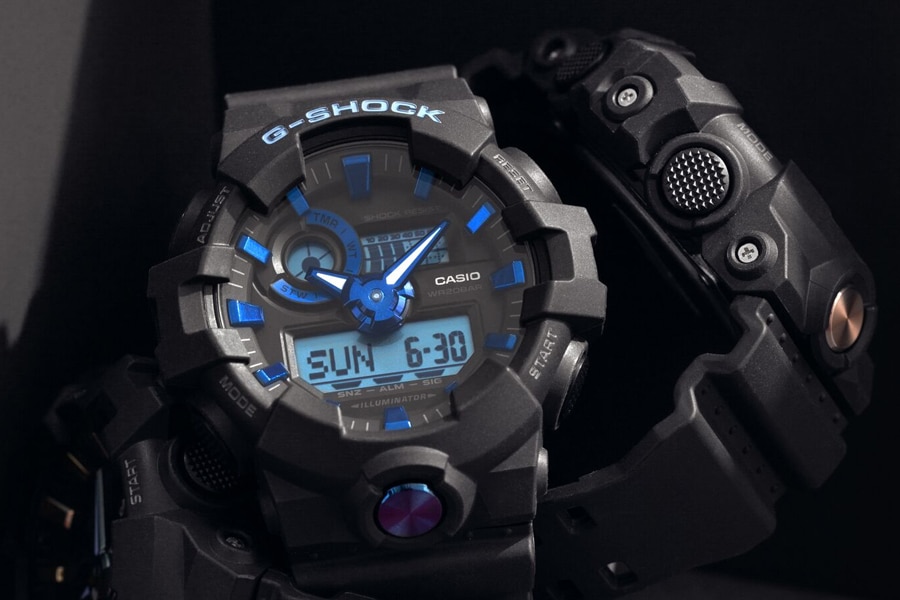 Performance
Like so many G-SHOCK models before it, the GA710B-1A2 is certainly no slouch in the respective departments of performance and functionality. For starters, the watch is thoroughly shock resistant, as well as water resistant to 200M. We said it before and we'll say it again: this thing might very well be indestructible. To branch out from there is to enter a seemingly endless world of specs. It's then no wonder that the adjoining manual is longer than some novels.
To give potential owners a mere glimpse of what lies in store, the G-SHOCK GA710B-1A2 covers 31 different time zones and offers you the ability to swap between two cities at the touch of a button. Other features include a 1/100-second stopwatch, a countdown timer, five daily alarms, 12/24-hour format, full auto-calendar, and various measuring modes. The watch also hosts a hand shift function, where the analog hands move out of the way to provide a clear view of the digital displays. Under the skin is a battery that can go for approximately five years before needing to be replaced.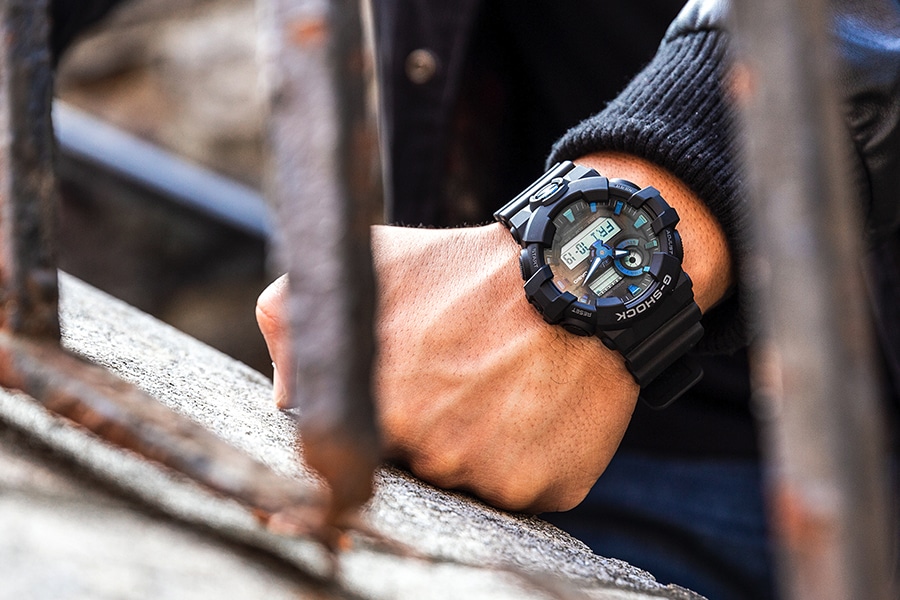 Wearability
Whether you're heading to the nearest gym or the nearest bar, the G-SHOCK GA710B-1A2 will serve you well. Equipped with 15 slots, it slips on and stays secure with supreme ease. Because it flaunts a somewhat hefty build, you can feel the watch on your wrist, but not to the point of distraction. Meanwhile, its black matte case and sleek blue markers lend it an extra tier of visual allure. As such, the unit is as versatile in style as it is in utility. Of course, we're not suggesting you rock it to the next black-tie affair, but on the other hand, it is deft enough to blend with a range of fashionable get-ups.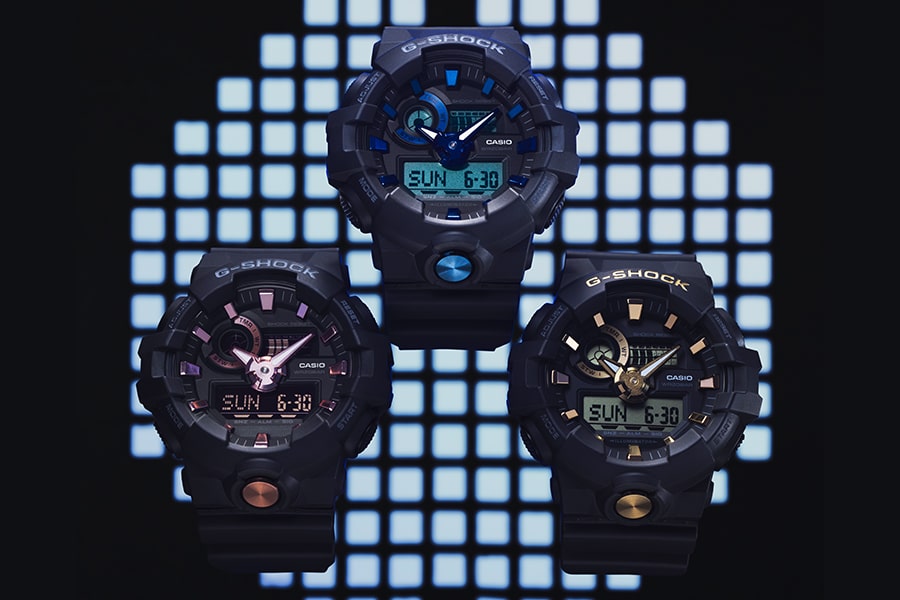 Conclusion
Over 30 years ago, Casio engineers dreamed of "creating a watch that hardly ever breaks." With the G-SHOCK GA710B-1A2, that dream lives on. Similar to its predecessors, the watch resists heavy impacts and high water pressure alike. What's more, it's a stylish piece that comes bolstered by a matte black profile and chromatic blue accents. Put simply, it's a savvy and sturdy stunner that could last forever (permitting battery replacements) and gets the job done. Which job? Any job.