Swiss luxury brand Longines breathed new life into their renowned Master Collection when they introduced a moon phase complication just over two years ago. With the addition of this unique aperture came a new tier of visual dimension, vicariously enhancing the flagship line's established sense of refinement, purity, and character. Originally confined to the men's models alone, this signature detail now extends across the entire range. For him and her alike, the Longines Master Collection Moonphase Watches are quite masterful indeed.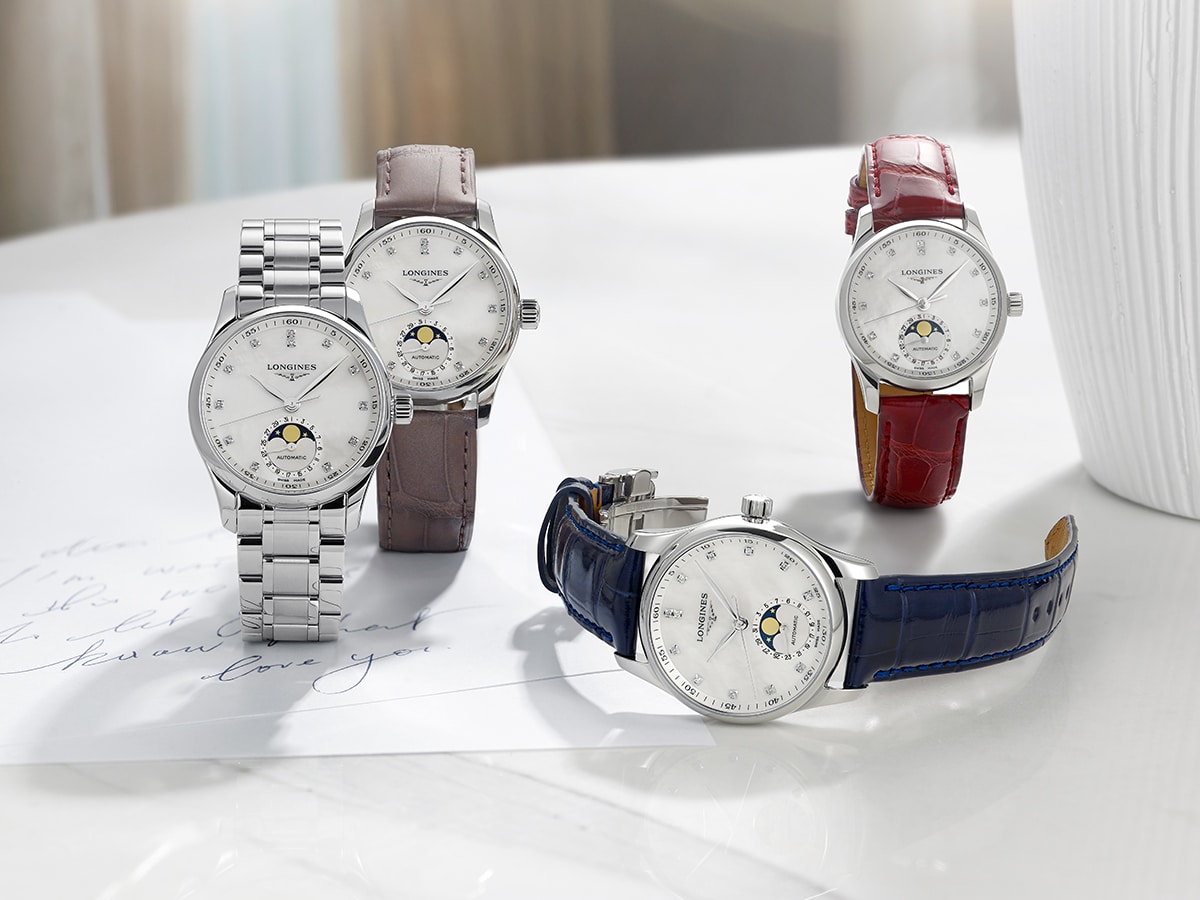 Master Collection Moonphase Watches
Since it first debuted in 2005, Longines' Master Collection has represented the pinnacle of their enduring expertise. Powered by mechanical movements, this acclaimed line continues to exhibit the best qualities of pure craftsmanship. New variations and features have been carefully added over time, slowly building upon the range's core pillars of excellence and elegance.
With the introduction of a moon phase complication two years ago came a new chapter in this brilliant range. When paired with the precise layout of each model, it created yet another striking example of sleek harmony. Thus the superb balance between technical prowess and elegant design remains as pure now as ever before. What's even better is that each watch is backed by a 5-year warranty.
Most recently, the brand unveiled new moon phase watches for both him and her. It helps yield the growing demand amongst women for premium mechanical performance, but not at the expense of overt elegance. The tradition of excellence continues into 2021 and brings everyone into the fold.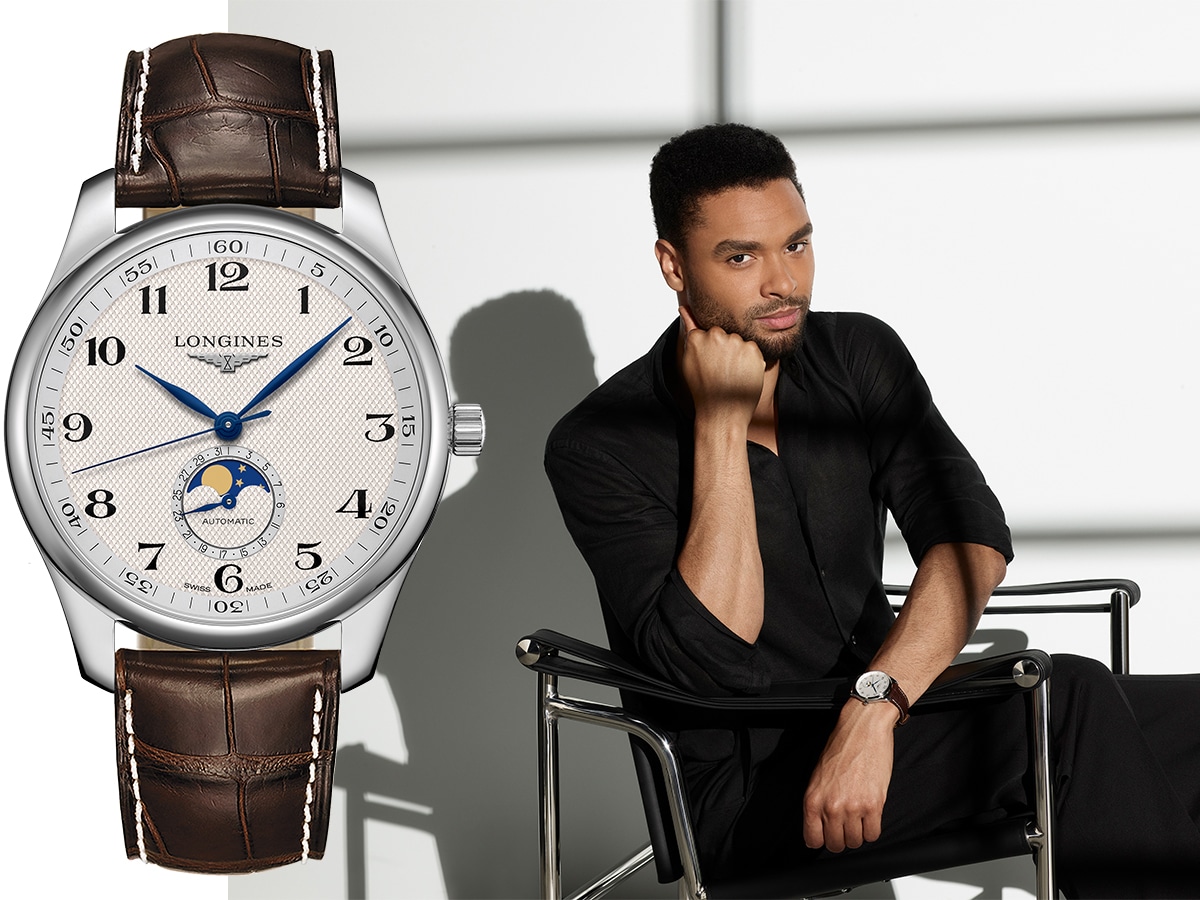 Men's Watches
Available in either 40mm or 42mm versions, the new Longines Master Collection for Men surrounds each moon phase indicator with an Arabic numeral date ring, upon which a solitary hand points to the current day. The aperture blends beautifully with the clean backdrop and minimalist template of the overall dial display, striking a balance between sleek modernity and timeless design. Under the skin is L899 calibre, a new movement developed exclusively for the brand.
As with every watch in the Master Collection, these ones exude immediate sophistication. Equal parts classic and contemporary, they make calculating use of every spare detail. Whilst the moon phase complication cranks up the eye-catching dynamics, it doesn't overwhelm the senses or compromise the clean aesthetic. This is conversation-starting wristwear that quite simply begs to be worn across a host of environments.
Modern watch lovers can choose between at least three different but similarly elegant dials: black barleycorn with painted Roman numerals, silvered barleycorn with painted Arabic numerals, or blue sunray with applied indexes. The 40mm version also come in a unique luxury model with diamond indexes. Each watch is available with either a stainless steel bracelet or a black, brown, or blue strap (crafted to match the various dial colours).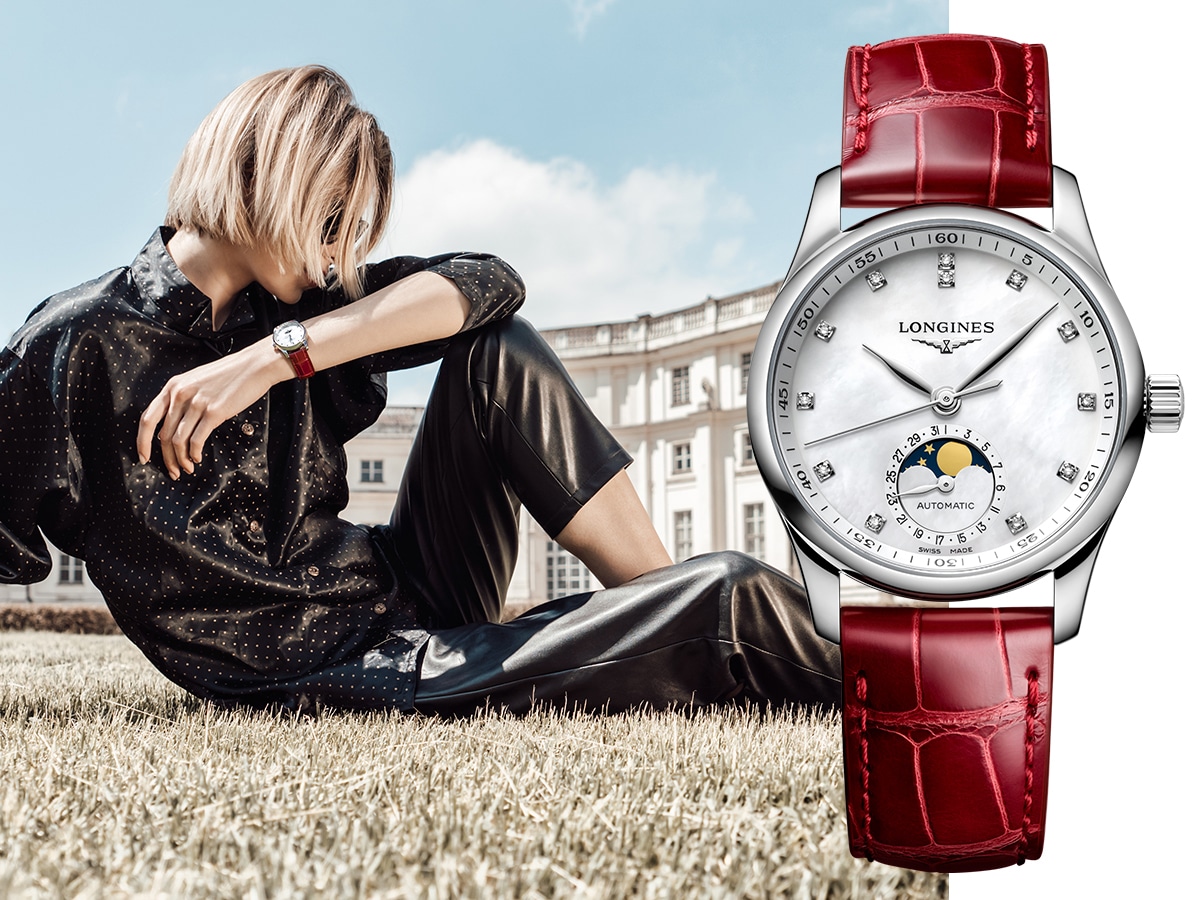 Women's Watches
More and more women are seeking genuine complexity and visual detail in their timepieces, which brings us to the latest release from Longines. It was no easy feat squeezing a moon phase complication into the watch's 34mm case and the results are nothing short of spectacular. Despite all its mechanical brilliance, however, the new Master Collection for Women never loses its feminine allure.
Within the minimalist framework of its clean dial display, each watch exhibits an illustrative moon phase aperture with an adjoining date hand at six o'clock. Meticulous in its creation, this unmistakable detail cultivates breathtaking harmony when glimpsed in tandem with the case proportions and peripheral dial elements. No less refined is the exclusive L899.5 automatic calibre, visible through a sapphire glass window on the case back.
The new Master Collection for Women comes available in two models, which combine diamond hour markers with either a mother-of-pearl dial or a sunray blue dial. Also featured is a silver "barleycorn" pattern, calling upon the range's signature benchmarks and lasting heritage. This is where style and performance collide and it's crafted in the spirit of the best watchmaking traditions. For him and her, Longines knocked their latest line out of the park.