Nordgreen Watches are Back on Kickstarter with a New Campaign
Hailing from Copenhagen, Nordgreen Watches has modern minimalism on lock. As we've attested in previous write-ups, the brand delivers classic Scandinavian designs and premium mechanics at outrageously affordable prices. Behind the scenes is Danish designer Jakob Wagner, who takes a philosophical approach toward form and function alike. For proof, look no further than bestselling models like The Philosopher, The Native, and The Infinity, all of which employ subtle details like dial curvature to conjure a range of cosmic themes.
Last year, Nordgreen launched a legendary Kickstarter campaign, which soared past its funding goal in the first two hours and ultimately became one of the platform's biggest success stories. Now, the brand is heading back to Kickstarter with two new collections, thereby continuing its trend of quality, innovation, and affordability.
One way that modern start-ups are able to keep prices down is by marketing and selling their products directly to consumers, which is exactly what Nordgreen is doing with its latest launch. In fact, you could even say that the collections themselves arose from an ongoing feedback loop between the brand and its loyal fanbase. For Jakob Wagner, that meant listening to over 10,000 customers and responding accordingly. Each release consequently emanates with the personal touch, as if every single customer had a hand in the development process.
The Nordgreen Kickstarter Campaign Watches
The Pioneer
As for the watches themselves, they're nothing short of extraordinary. First up is the Pioneer, a new 42mm chronograph model inspired by the notion of 'Science for Humanity,' a Danish value intended to spark the innovation that drives humanity forward. Like its distinguished predecessors, this one employs subtle flourishes to profound effect. For example, the red tip on the third hand is taken from wind turbines, making the space within the dial a metaphor for the clean living that Nordgreen aims to promote through its focus on sustainability. Take advantage of the current V.I.P backer package to get this US$339 watch for just US$150, representing a 56% discount.
Buy the Pioneer on Kickstarter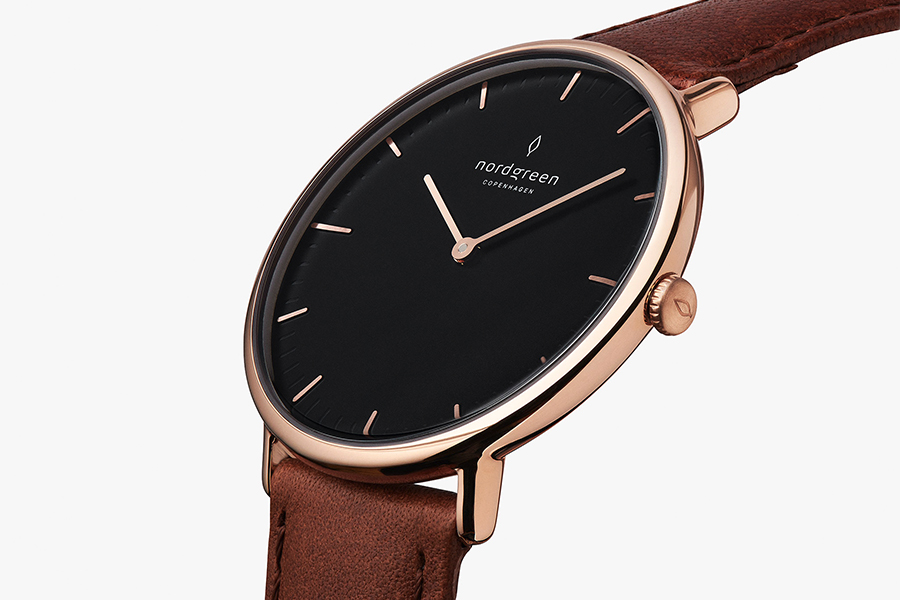 The Native Re-Modeled
Next up is the Native Re-Modeled, which represents the second generation of Nordgreen's best-selling watch (The Native). Upon listening to customer feedback, Wagner infused the collection with more identity, more combinations, and more finishes. Available in both 36mm and 40mm cases, the Native Re-Modeled breathes new life into a classic design. Features include new domed glass and transparent minute marks, the latter of which signifies the idea that we don't count the minutes, but rather live in the moment. The brand is further planning to introduce the Native Lille, which is simply a 32mm version designed for women. With the current V.I.P backer package, you can get this watch and an extra strap for just US$95, down from $259.
Buy the Native Re-Modeled on Kickstarter
As if exceptional watches at unbeatable prices weren't enough, Nordgreen has also partnered with NGOs to participate in a stellar Giving Back Program. That means every time you shop with the brand, you're supporting one of three worthy causes. Specifically, you can help provide two months of schooling for a child in India, or help give two months of clean water to a person in the Central African Republic, or help save 200 sq. ft of rainforest in Latin America. Value, meet values.
Put simply, Nordgreen Watches is everything one should hope for in a modern brand. The designs brim with the kind of choice details and philosophical underpinnings that only a Danish mastermind like Jakob Wagner can deliver. Powering each piece is trusty Japanese Quartz movement, which remains synonymous with durability and precision. Because there's a direct relationship between the consumer and the brand, Nordgreen is able to keep the prices down and the ideas flowing. Last but not least, a percentage of every sale goes toward a great cause. Bringing all these elements together is the new Kickstarter campaign. Get in on the action now and prepare to feel as good as you'll look.