Nordgreen Watches Deliver Quintessential Minimalism
15% off the entire range with code: MANOFMANY
One look at the Nordgreen watch collection is all it takes to be swept away by the brand's deft take on modern minimalism. However, this Scandinavian watchmaker goes well beyond design when it comes to capturing the Danish spirit. Behind the entire operation lies a bold philosophical outlook, in which quality supersedes quantity at every turn. Putting the "mission" in its mission statement, Nordgreen is also hugely committed to maintaining a compassionate Corporate Social Responsibility (CSR) program and contributing to various causes around the world. Rarely does less equal more as much as it does here.
Picture stark white dials, elegant markers, steadfast mechanics, premium materials, and quietly profound details, and you're getting an idea of what makes each Nordgreen watch so special and unique. That's largely thanks to award-winning chief designer Jakob Wagner, who balances simplicity and sophistication to stunning effect.
Having previously worked for companies like Bang & Olufsen, Hay, Muuto, and B&B Italia, Wagner's honed his skills to develop what might be called a quintessential Scandinavian aesthetic. Further distinguishing his approach is the ability to infuse top-tier functionality into his minimalist designs. As such, every single detail emanates with a sense of purposefulness, thereby fortifying the connection between object and owner.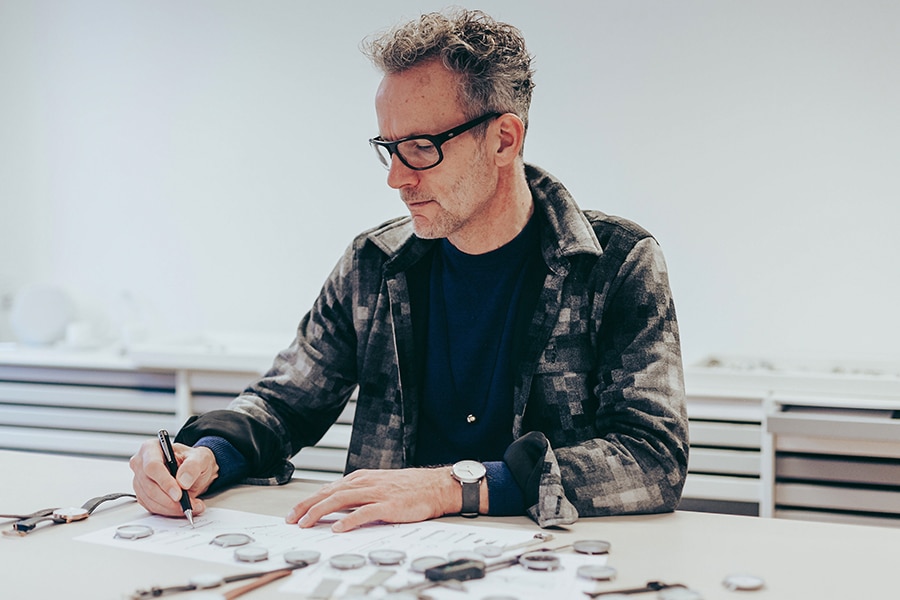 Before we dive into choice examples of Nordgreen watches, allow us to elucidate on the brand's extraordinary CSR program. As you're probably aware, there is no shortage of environmental and humanitarian crises being enacted on a daily basis around the world. Every day, for instance, rainforests are mowed down in the name of corporate interest. In the Central African Republic, 20% of children born won't make it to their fifth birthday. In India, 70% of children drop out of school before the age of ten.
To tackle these problems and others like them, Nordgreen has partnered with three NGOs to make a Giving Back Program part of its infrastructure. In the vein of companies like Tom's Shoes and Warby Parker, the brand puts a percentage of every purchase to work around the world. Consequently, you get a watch that makes you feel as good as you look, as you and Nordgreen work together toward a more sustainable and ethical future.
Value is the operative word here, and the brand delivers it in spades. Of course, that starts with the affordable watches themselves. Currently, Nordgreen offers three horological stunners: The Philosopher, The Native, and The Infinity. Each model comes to us from the visionary mind of Jakob Wagner, who took direct inspiration from both his Danish surroundings and his personal beliefs.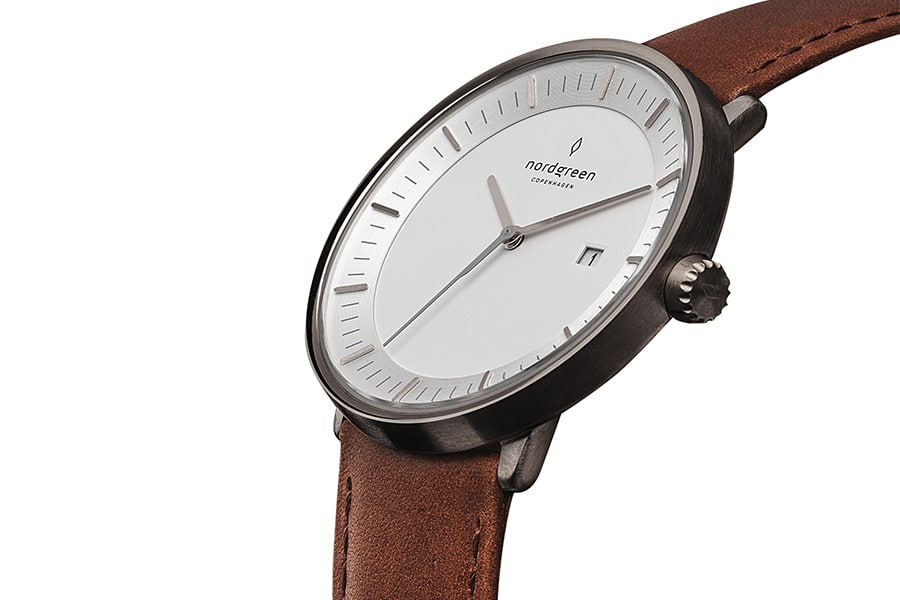 The Philospher
Let's start with The Philosopher, whose name should surprise exactly no one by this point. Available in a variety of case colours, the watch combines pure minimalism with subtle symbolic gestures. Sweeping the dial is an asymmetric second hand, which appears to consistently slice through time, thereby providing a poignant reminder about the nature of watches and the nature of the universe alike. Also featured is a conical-shaped case with a base that's wider than the face. As a result, your attention is drawn to the center of the dial, emphasising the importance of the now. At every turn, the watch drives home the following message: learn from the past, act now, and create a better future.
Case diameter: 36mm / 40mm
Case material: 316L Stainless Steel
Movement: Japanese Quartz
Water resistance: 3 ATM
Color options: Silver / Rose Gold / Gun Metal / Gold
Price: $219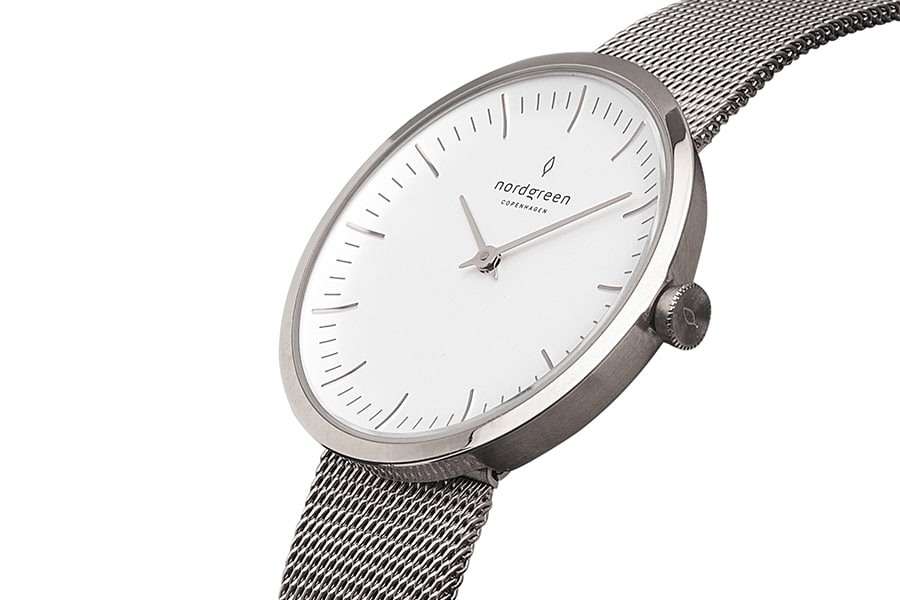 The Infinity
Along similar lines, The Infinity superbly infuses stark design elements with tons of underlying meaning. Musing upon the mysteries of nature, Wagner wondered what a watch "crafted by evolution" would look like. His response was to eradicate virtually all complexity, reducing the model to the purest form of simplicity. Emphasising the nature of space/time, meanwhile, is the deep curvature of the dial. It all harmonises to create an extraordinary timepiece, the kind of type that can suck you into its elegant vortex at first glance.
Case diameter: 32mm / 36mm / 40mm
Case material: 316L Stainless Steel
Movement: Japanese Quartz
Water resistance: 3 ATM
Color options: Dial – black / navy / white; Strap – mesh / vegan leather / black leather / brown leather
Price: from $184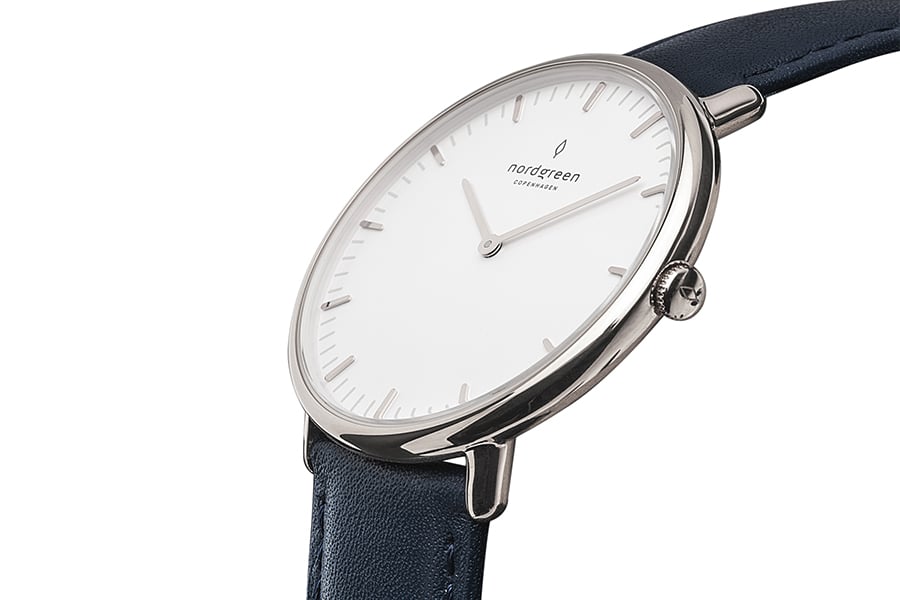 The Native
Rounding out Nordgreen's current lineup is The Native. Similar to its handsome brethren, this one features Japanese Quartz movement, interchangeable straps, and a case of 316L Stainless Steel. From there, it forges its own path, emphasising a sense of balance and aligning itself in both name and spirit with the city of Copenhagen (which routinely ranks among the happiest places in the world). The Native also represents a symphony of classic details, such as a rounded case, clean dial, light grey minute markers, and rounded lugs. Timeless.
Case diameter: 32mm / 40mm
Case material: 316L Stainless Steel
Movement: Japanese Quartz
Water resistance: 3 ATM
Color options: Mesh – Silver / Rose Gold / Gold; Leather – Brown / Black
Price: from $199
As if the ethical mission statements and exquisite minimalist designs weren't enough, Nordgreen watches are outrageously affordable. In fact, you won't find anything over US$220 in the entire men's range. To summarise, the brand delivers quintessential Scandi aesthetics, profound philosophy, a proactive CSR Program, and unbeatable prices. Less is more, indeed.
If you love the Nordgreen brand and what they stand for, stay tuned, as their latest product release is right around the corner.
15% off the entire range with code: MANOFMANY