Shinola's Ice Monster Dive Watch is a Stone Cold Classic
Detroit-based Shinola has always bridged the gap between boutique craftsmanship and large-scale production. Synonymous with high-quality leather goods, bikes, and quartz watches, the brand produced its first mechanical dive watch back in 2017. Dubbed the Lake Erie Monster, it kicked off a celebrated series, with each model paying tribute to North America's Great Lakes.
You'll also like:
MAD Paris Drops Custom Rolex GMT Master II Pair
The Grand Seiko Mechanical Calibre Movement 60 Years in the Making
IWC Top Gun "SFTI" Chronograph Can be Your Wingman Any Time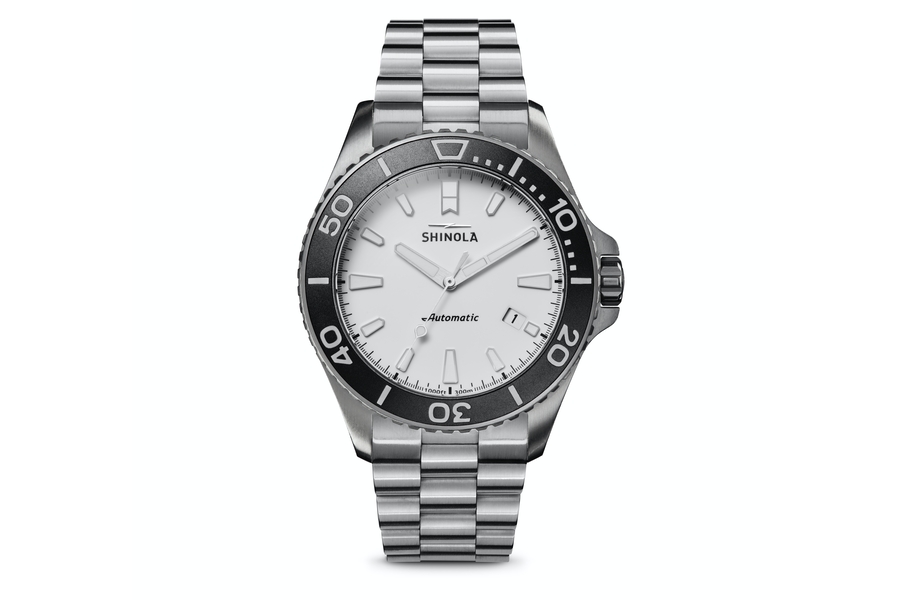 The latest entry in the range goes by the name of Ice Monster and it's the first to employ lightweight titanium. Uniform in its steely vibe (despite the absence of steel), the automatic timepiece relays a thematic essence without ever resorting to cheap gimmickry. Pair that with the hallmarks of a classic dive watch and there's a lot to love about this signature wristwear.
When crafting the Ice Monster, Shinola once again sought inspiration from the Great Lakes. This time around, the brand went digging deep into the past…as far back as ten millennia, in fact. The era was known as the Michigan Ice Age and it was accordingly characterised by epic glaciers. Like the very sheets of ice that once buried the brand's home state, its new watch is equal parts strong and lightweight.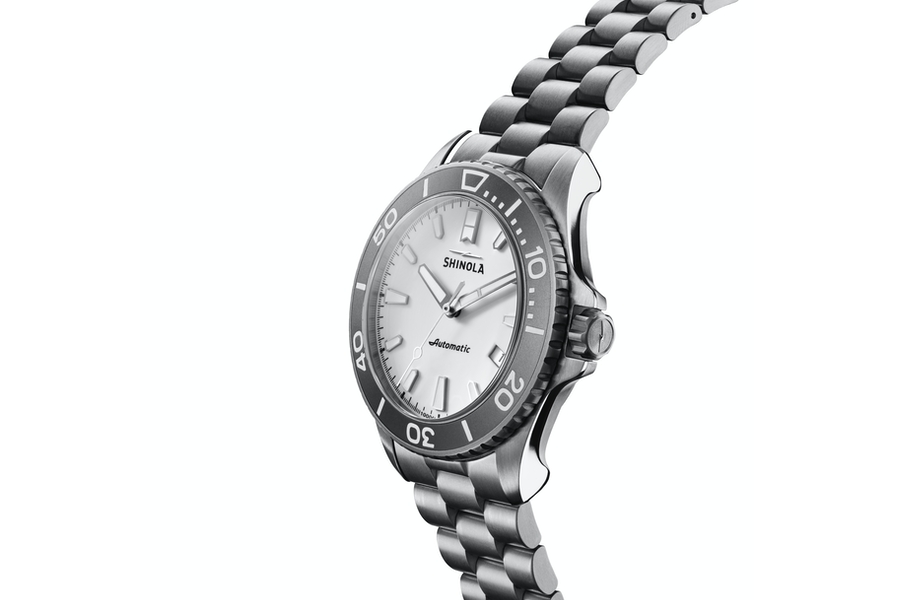 Measuring 43mm in diameter, the Ice Monster imparts chilly vibes by way of its white-on-white enamel dial, silver accents, and titanium make-up. A unidirectional bezel follows suit, displaying white indicators against a backdrop of gunmetal aluminium. On the caseback is a signature black plate with a laser-etched serial number, amongst other details. The piece runs on Swiss-made SW200-1 automatic movement, which Shinola claims is an equal but more affordable alternative to ETA.
Despite the overarching theme, Shinola doesn't overplay their hand on the Ice Monster. A subtle emblem respectively graces the pearly white dial face, screw-down crown, and bracelet clasp. Veer back to the enamel dial and you'll notice choice details like the concise angle of the date aperture, or that the 12 o'clock marker is a diver-down flag. It all makes for a brilliant example of understated precision, where "iciness" is relayed on a deeper and more emotive level. Kitsch this is not.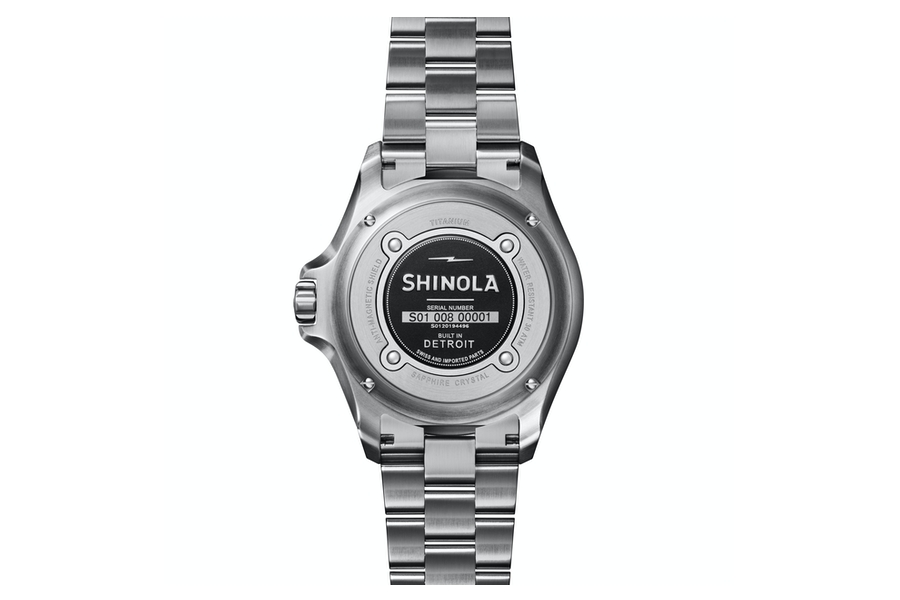 Then we have the watch's sheer fortitude, thanks in part to its lightweight titanium construction with a brushed finish. Corrosion-resistant to both seawater and chlorine, the material is as strong as steel but nearly half the weight. It's also quite smooth to the touch, offering the kind of texture that simply glides across your fingertips. All this said, the piece still brings forth a palpable tier of heft, just not a burdensome one.
Designed to meet ISO 6425 Dive watch specifications, the Ice Monster is rated at 30 ATM. With its twenty-six jewelled bearings, 38-hour power reserve, Super-LumiNova indices, and turning dive bezel, the watch will accurately stay the course through any number of underwater adventures. Cool as ice, it doubles as a stylish accessory on land. A monster perhaps, but a classically understated one at that.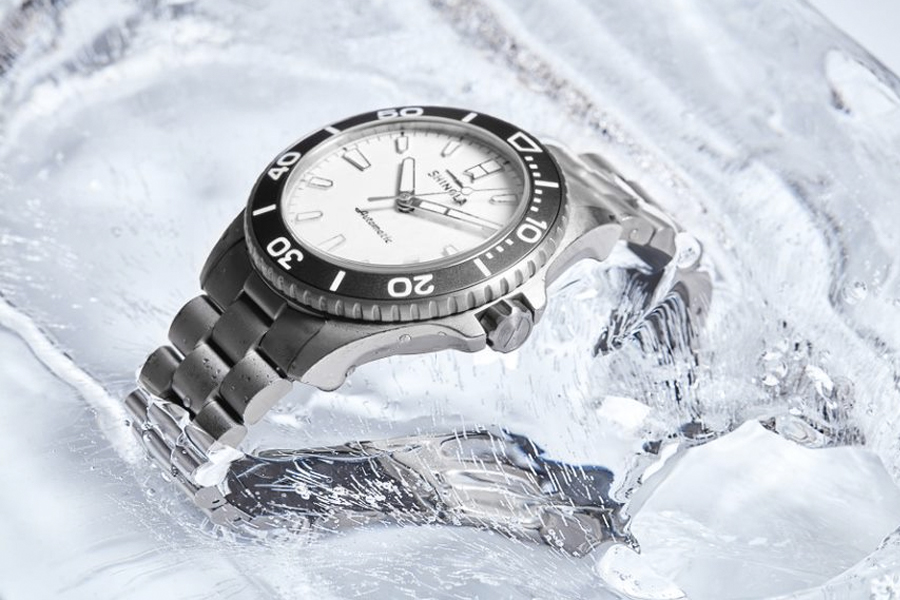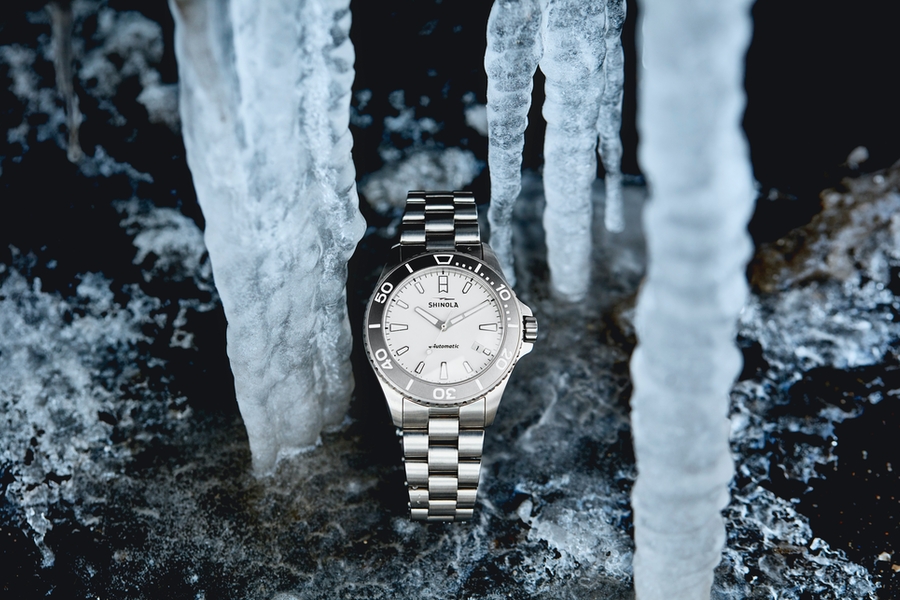 You'll also like:
MAD Paris Drops Custom Rolex GMT Master II Pair
The Grand Seiko Mechanical Calibre Movement 60 Years in the Making
IWC Top Gun "SFTI" Chronograph Can be Your Wingman Any Time