Culling from its own epic history, TAG Heuer recently launched the new Autavia Collection. It represents a definitive new chapter for the distinguished model, which now features three-hands on the dial face, an Isograph mechanism, and no chronograph complication. Nevertheless, a classic aesthetic persists. Walking the line between ruggedness and prestige, each Autavia duly captures the thrill of travel and adventure. Available in a variety of iterations, the watch builds upon its own heritage to extraordinary effect. All that's left for you to do is strap one up and go. Go where, you ask? Anywhere.
The Autavia story goes all the way back to 1933, when the watch was first used as a dashboard timer in racing cars and aircraft. In fact, the name "Autavia" represents a combination of the words "automobile" and "aviation." Production ceased in 1957, but CEO Jack Heuer still had this sporty instrument on his mind. In 1962, he and TAG Heuer re-introduced the Autavia as a chronograph wristwatch of considerable distinction. It ran until 1985 and then appeared in the form of various one-offs over the subsequent years. This is the first time in three-plus decades that it returns as a full-blown collection.
And what a collection it is. While the three-hand design might take some getting used to among traditional Autavia loyalists, each piece is indisputably versatile and durable. Like the iconic Carrera or Monaco, TAG Heuer's latest pairs sportiness and sophistication to sheer perfection.
It comes bolstered by carbon-composite hairspring technology, a blue ceramic bidirectional rotating bezel, and a streamlined aesthetic. The result is a classic man's watch and one that will suit a swath of adventures or environments (especially once you throw in those interchangeable straps). Wear it to your next hike or to your next wedding or anywhere in between.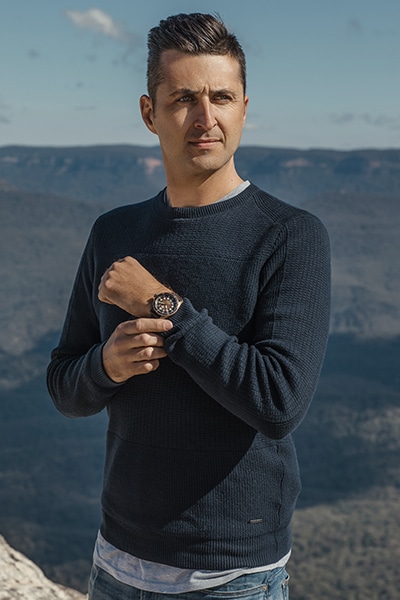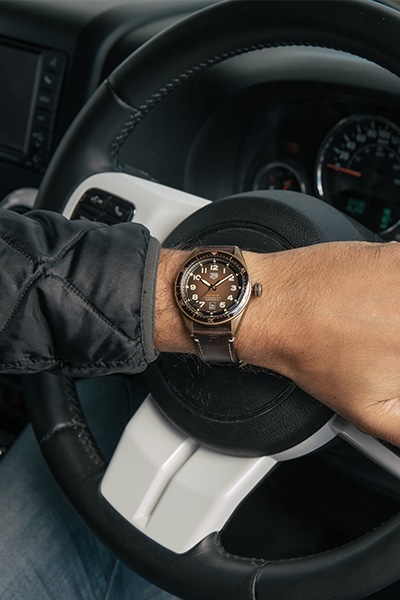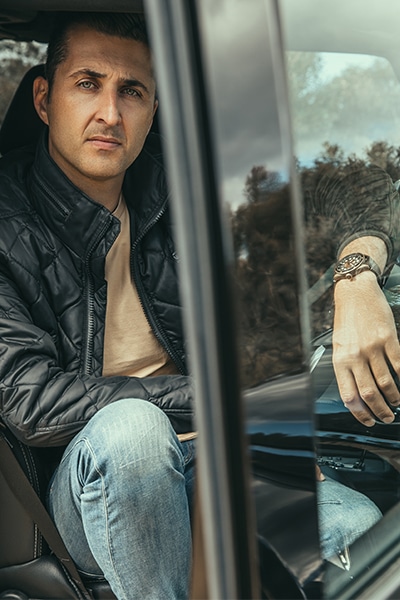 Taking direct cues from its origins as a dashboard instrument in aeroplane cockpits, the Autavia hosts an impeccably luminous dial face. Thanks to a SuperLuminova index, the watch's three hands are legible under any conceivable condition. Hovering over the dial is a dome of sapphire crystal with anti-reflective treatment on both sides. Pair that with the unfettered visuals, water resistance to 100m, and a 42mm case, and you can already see how each watch strikes a truly satisfying accord. 
In addition to the luminous dial face, the Autavia furthermore features subtle nods to its legendary past. Look to the side of each case to find a unique crown, which pays homage to the first Autavia dashboard instruments by way of its retro design and seamless usability. Flip the watch over to discover some decisively less-subtle symbolic gestures. Specifically, the robust case-back splays a tyre and propellor engraving over highly-resistant layers of pure steel. Heritage, indeed.
Under the skin of each Autavia is TAG Heuer Automatic Calibre 5 movement, a veritable powerhouse with no shortage of history behind it. This time around, however, it's been refitted with groundbreaking technology, also known as the Isograph. Developed by TAG Heuer, the revolutionary oscillator includes a carbon-composite hairspring and custom balance wheel, amounting to the utmost accuracy and precision.
Every Isograph watch is chronometer-certified and this one is certainly no exception. As such, the Autavia will duly hold its own against a swath of external disturbances, including shocks, temperature fluctuations, and magnetic fields. The Swiss-made chronometer movement also delivers a date complication with fast date correction, a stop-second complication, a 38-hour power reserve, and a balance frequency of 4Hz.
No two adventures are alike and that's why the Autavia offers a strap for every occasion. Not only that, but you can swap out at the touch of a push-button, which is fitted inside of each strap. Choose between brown calfskin leather and steel, depending on where the day or night takes you. Naturally, the quality of each strap is top of the line. This is TAG Heuer, after all.
Bold. Modern. Stylish. Rugged. Handsome. Sturdy. Classic. Innovative. These are just a few ways to describe TAG Heuer's new Autavia Collection. Its legendary predecessor bridged the gap between motorsport and aviation and that alone gives you something to celebrate. That said, these are so much more than heritage watches. In fact, the average observer might not realise the near-century of history preceding each model. What they'll see instead is the perfect outdoor watch, which simultaneously delivers no shortage of elegant appeal. This one is ready for anything.