The Seiko Prospex "Arnie" is Back
In the epitome of badassery, the Seiko Prospex was granted the nickname "The Arnie" after its appearance on Arnold Schwarzenegger's wrist in several of his films, including Predator and Commando. Not that the Seiko Prospex Solar Diver needed any help being tougher than it already is.
And now it's back for 2019 with a new SNJ028 model.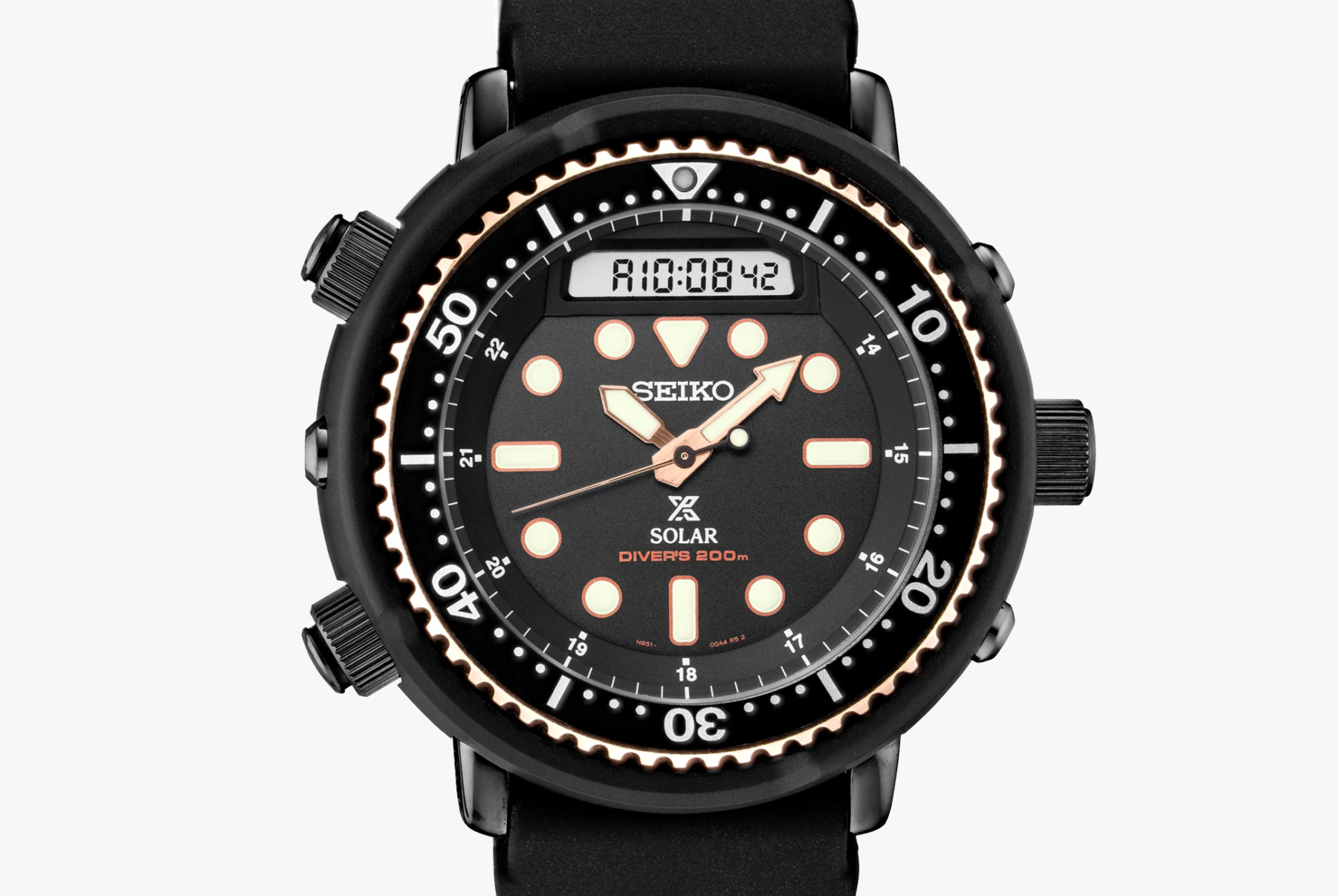 The watch measures an impressive 47.8mm wide—even bigger than the one wrapped around Arnold's wrist in the '80s. The SNJ028 features solar charging to keep it running. It holds a six-month charge and, as a new feature, shows power levels of that charge. The SNJ028 uses Seiko's H851 quartz movement to time out your mission with exact precision.
It comes with a matte black case and a black dial. The bezel and the highlights on the dial are accented in rose gold. The SNJ08 has a 200m water-resistance, making it suitable for diving or swimming into the beach to storm the enemy stronghold. It also has the protective outer shroud that many of Seiko's dive watches feature—a must when firing bazookas. A one-way rotating elapsed time bezel finishes off the look of this watch.
The digital display at 12:00 can be used for a variety of functions, liking timing when an explosive will go off. The display is controlled by the multiple crowns and pushers on the watch, and can be used as a stopwatch, for monitoring dual time zones, alarms, and for calendar data. This is the watch that is primarily responsible for popularising the ana-digi style of watch.
The SNJ028 comes with a silicone strap. It's only available online through Seiko USA and retails for a price of USD$550. With one of these strapped to your wrist, you'll know exactly when you'll be back.