The Swatch 007 Collection Adds the Q Watch
Swatch has already announced their 007 collection, which features watches inspired by six of the key movies in the Bond franchise—Dr. No (1962), On Her Majesty's Secret Service (1969), Moonraker, (1979), Licence to Kill (1989), The World Is Not Enough (1999), and Casino Royale (2006). While it's typically Bond receiving special tools from Q, this time around, it's Q who is receiving the special attention. For the last watch of the collection, Swatch has created the Swatch Q, model number SS07Z100.
You'll also like:
The Wind Up – Watch News #140
16 Best Mid-Range Watch Brands
The Wind Up – Watch News #158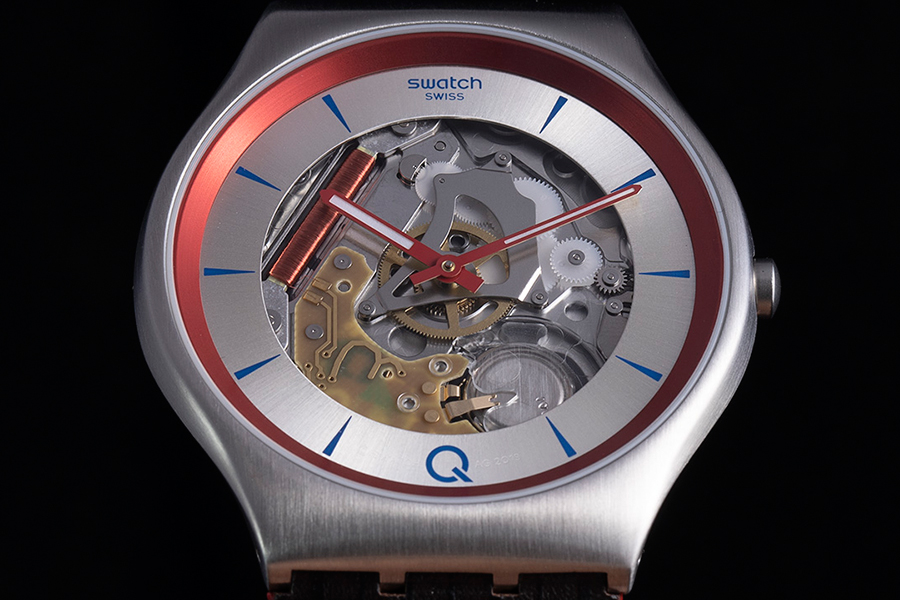 The Swatch Q will be limited to just 7007 copies worldwide. Designed by the costume designer for No Time to Die, Suttirat Anne Larlarb, the watch features a "Q" logo at 6:00—that matters because this small detail varies from the Swatch that Q will be wearing in the film. That being said, everything else is a match. At 12:00 you'll find the Swatch logo. The Swatch Q is based on Swatch's 2018 Skin Irony collection. It has a stainless steel case and a brown leather strap. A red ring surrounds the dial, which sits in a 42mm case.
The hands are also done in red with a white line down the middle. The case and dial both feature brushed metal. The face of the watch also exposes the inner workings of the watch. The Swatch Q comes in a case that folds open, much like Q's laptop. In fact, the interior of the box is designed to reflect a laptop, complete with keyboard and screen.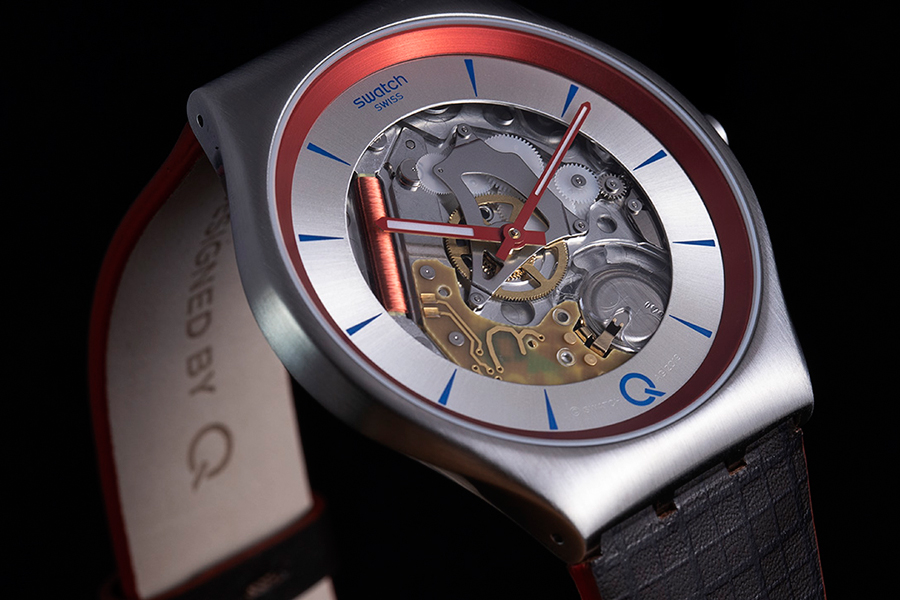 You can find the watch already, with the price set at AUD$340, on Swatch's website. If you want to complete your Q costume, you'll also need to pick up a Marni pink and navy striped sweater, but that's up to you. The new piece will launch in October 2020, ahead of the global release of No Time To Die in November 2020.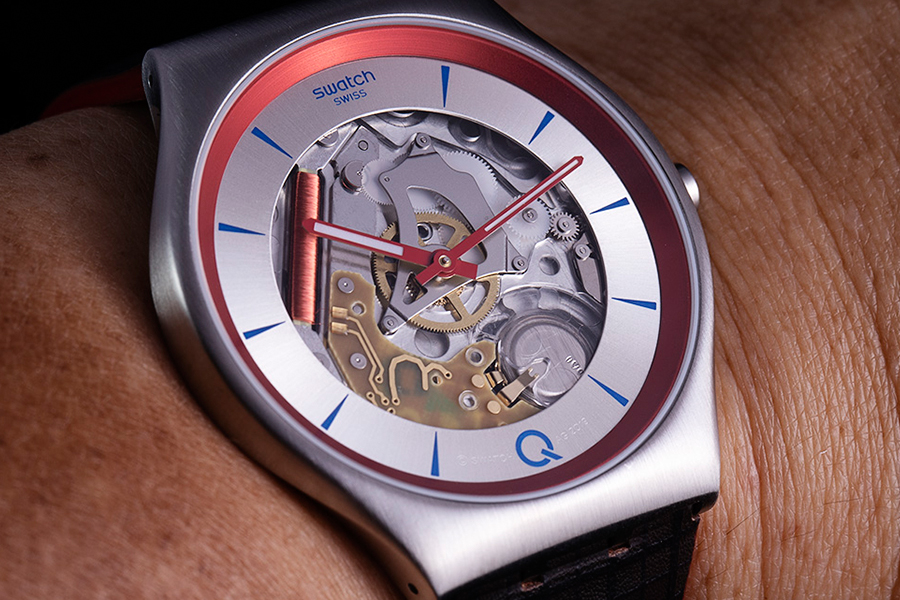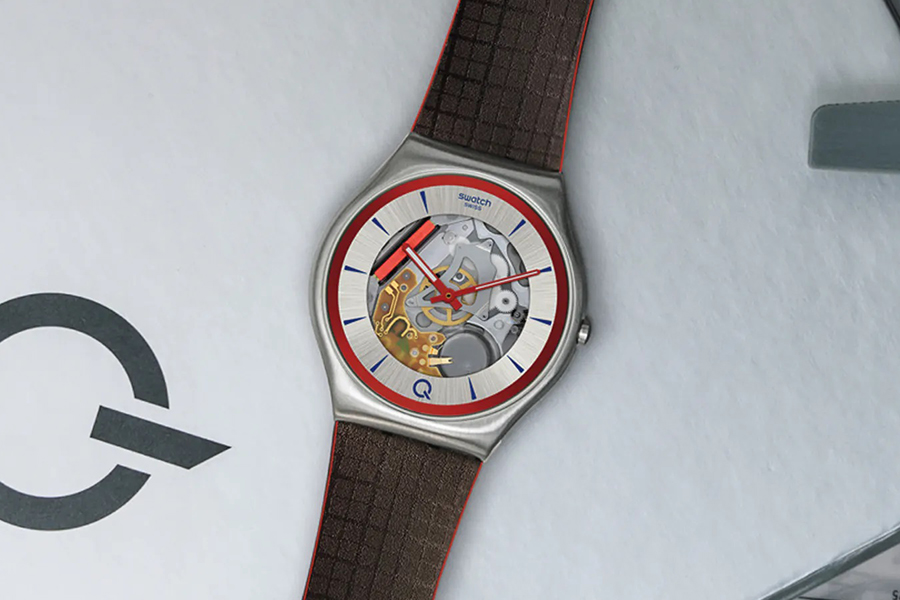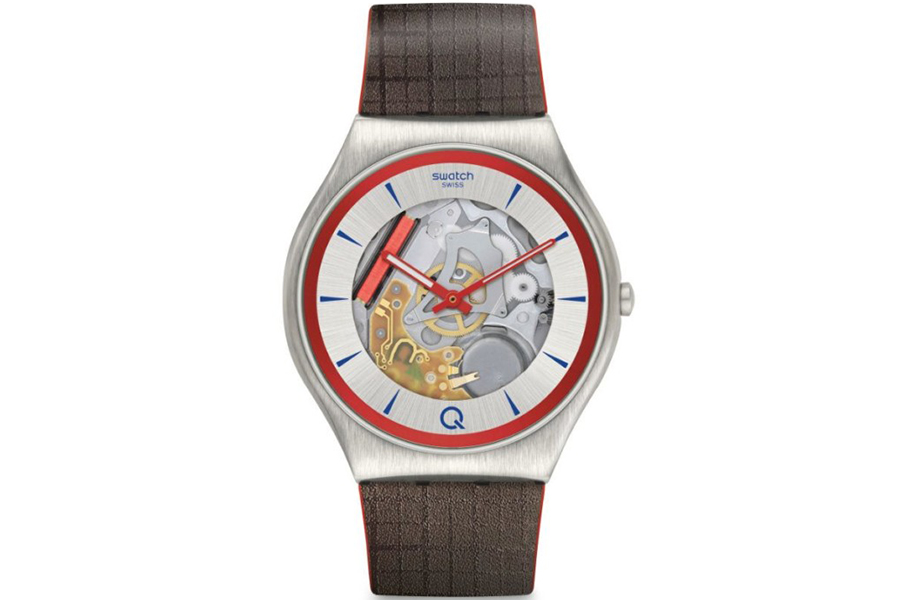 You'll also like:
The Wind Up – Watch News #140
16 Best Mid-Range Watch Brands
The Wind Up – Watch News #32