The Unbreakable G-SHOCK Watch: How Casio Created an Icon
When Casio set out to create a range of unique and unbreakable watches in 1981, they set the bar pretty darn high for themselves. By this time, quartz movements were already a norm in the industry, and some degree of water resistance was a given in most new timepieces. The horology industry needed a new frontier, and Casio took it upon themselves to set the newest challenge: to create a watch that was truly unbreakable. They started "Project Team Tough" to head up the development of this new frontier in wristwatch design and construction.
This took two years, and over two-hundred prototypes, to perfect, before an unbreakable body had been finally achieved to house a watch. By 1983, Casio was ready to launch their first incarnation of the now-legendary G-SHOCK.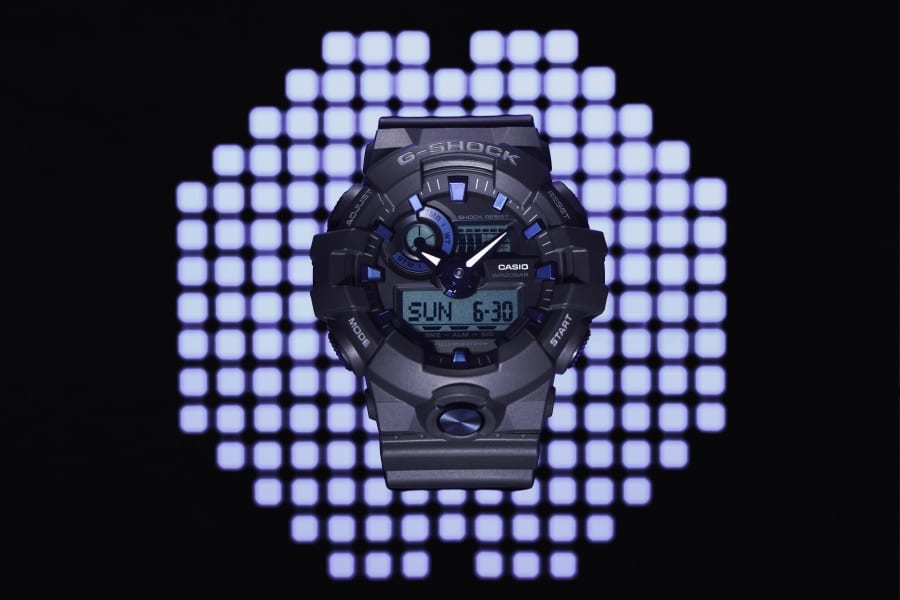 Five years later, in 1989, the line included its first analog dial. The brand has not stopped tirelessly innovating, improving and strengthening their offering ever since.
Though hardly requiring an introduction, G-SHOCK timepieces are more than just somewhat robust. To call a watch "unbreakable" was, and still is, a bold statement, and one which needs some clarification. What G-SHOCK set out to do was look at every way in which a wristwatch might cop some grief during the course of its daily usage, then make it exponentially tougher than it needed to be.
Just in case.
Dropping on a hard surface? It's not ideal. But some of these watches go under hammers, centrifugal force testing, and repetitive use tests for components like buttons, to prove that they have the fortitude to handle whatever you can throw at them (and in turn making a little bump on the bathroom tiles childsplay).
Through myriad design changes, updates, enhancements, new editions and limited editions, the design team at G-SHOCK have maintained this one principle of Shock Resistant structure, to create a watch that is as enduring in its place as a piece of horological history as the timepieces themselves.
So just how do they do it?
In short: some of the most rigorous and scientific testing you'll ever find in a watch development facility. G-SHOCK watches are put through their paces in a streamlined and formulaic set of durability tests which are designed to ensure that the final products which head to market are more than capable of handling some of the most extreme conditions.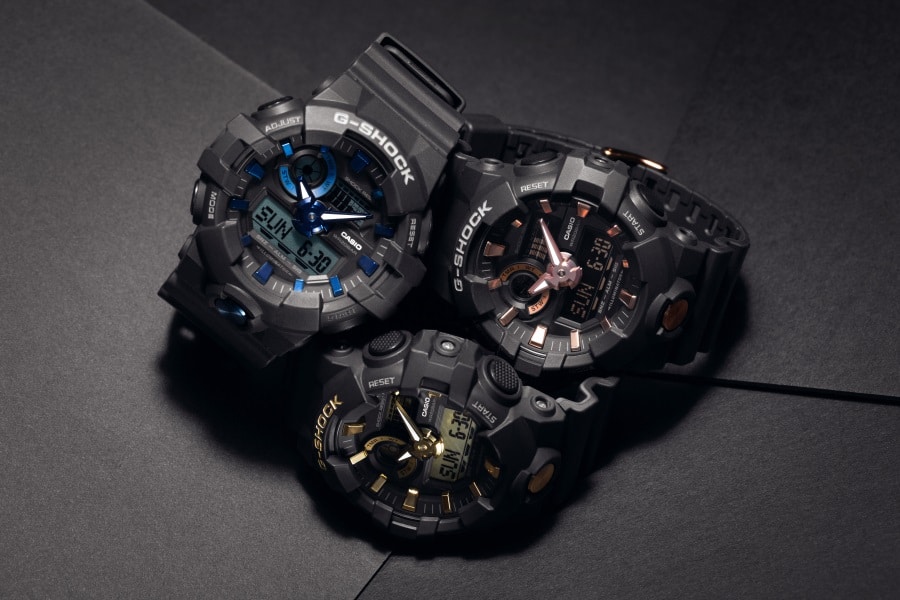 From a machine which repeatedly presses each button on the timepieces, literally tens of thousands of times, to the giant, swinging hammer which propels the watch through a glass panel, each test has been meticulously designed to do as much damage as possible, all to prove that they, in fact, cannot break a G-SHOCK.
One test even sees the higher-end G-SHOCKs spun to incredible G-forces, before being flung into a metal plate.
Yet somehow, they still tick.
One point that makes this so remarkable is what G-SHOCK has evolved to today. Take their GA710B series, for example. This is a series of watches which embody everything the company has worked toward. An amalgamation of digital and analog displays, and water resistant to 200 metres, there is a lot to unpack from any of these examples.
So let's take a look at just one of them.
The GA710B-1A2 (pictured) is the perfect embodiment of Casio's G-SHOCK brand. Apart from the aforementioned traits, the GA710B-1A2 is shock resistant, made with mineral glass and resin case/band. The LED light super illuminator is customizable to 1.5 or 3 seconds afterglow, and it also has functions for world time over 31 time zones, a stopwatch, alarm, countdown timer and full calendar to 2099.
Then there are the clever features, like the hand-shift feature, which sweeps the hands away on command to show the full digital display. And the battery life, which gives the watch approximately 5 years worth of juice (handy for when you're on those long spy missions).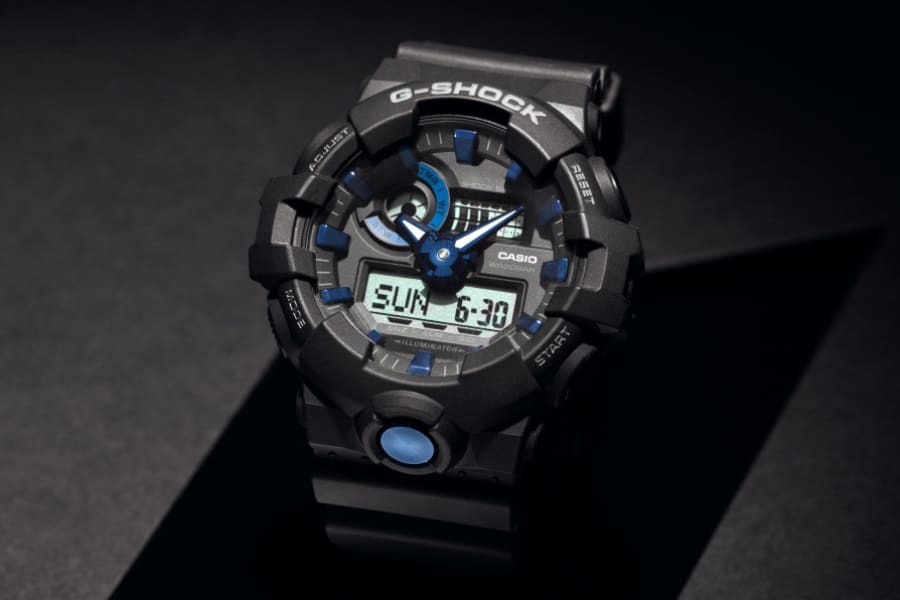 Yet despite packing all of this into one wearable unit, this is still a watch which has never lost its DNA; that originality and chutzpah of the original 1983 examples which broke the mould (and probably any surface onto which they were dropped). When G-SHOCK set out to make an unbreakable watch, they might not have foreseen models such as the GA710B-1A2 up ahead on the horizon.
But they never stepped away from this simple yet fervently chased goal of building something indestructible, and through every development they have made, it's been a constant which has defined an iconic three decades of watchmaking.
And whichever features they'll pack into the future generations, you can rest assured of one thing: G-SHOCK will always remain indestructible.