UNDONE x Simple Union's Perfectly 'Imperfect' Timepieces
In Partnership with UNDONE
UNDONE continues to turn classic horology into an individualised art form. Since 2014, the brand has used traditional techniques, curated components, and in-house designs to bring a number of unique collections to life. Every watch is tailormade, tested, and true to the brand's core philosophy: that individuality always matters most.
No stranger to collaborations, UNDONE previously partnered with Katazome fabric craft house Simple Union for two limited-edition releases. Both were inspired by Japanese history and the aesthetic tradition of wabi-sabi, resulting in some true one-of-a-kind designs. The two brands have joined forces once again and it's given way to another collection of custom watches, one of which is quite limited in supply. Blink and you might miss it!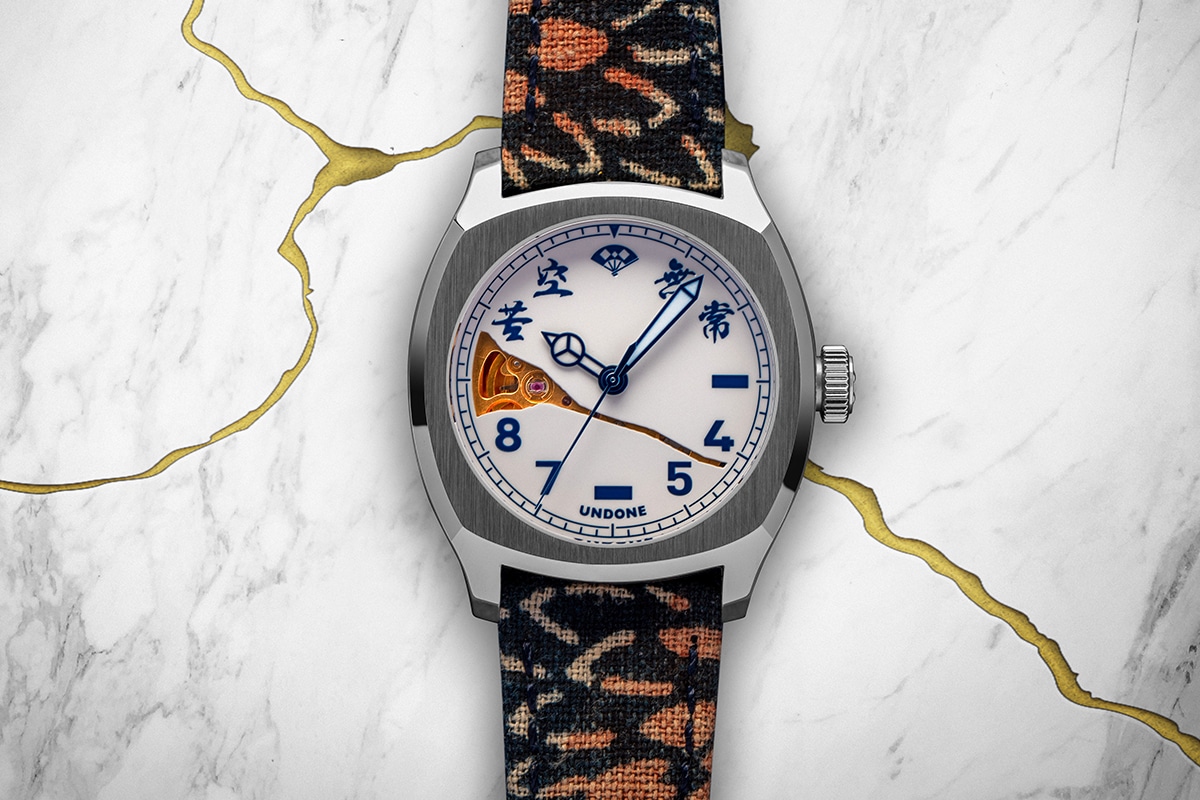 The partnership between UNDONE and Simple Union kicked off in 2019 and remains unified by a shared appreciation for wabi-sabi. Drawing inspiration from nature itself, this Japanese idealogy seeks beauty through impermanence, incompleteness, and imperfection. As a foundational impetus, it has spawned UNDONE watches of spectacular quality and value. That includes a 300-piece limited edition release from last year, which sold out in less than 48 hours flat.
With the reunification of UNDONE and Simple Union comes a further exploration of the wabi-sabi aesthetic. Specifically, it's led to the creation of two signature timepieces: UNDONE x Simple Union: Sometsuke and UNDONE Urushi. Both models feature a distinguished Kyoto dial, which reinterprets the classic California dial by way of an Eastern influence. Replacing the top-half Roman numeral layout are four delicate grains of Kanji, teaching the three marks of existence: impermanence, suffering, and absence of self-nature.
Newly developed Kyoto dials are but one amongst a number of reasons to pick up what UNDONE is throwing down. Here's a closer look at both timepieces: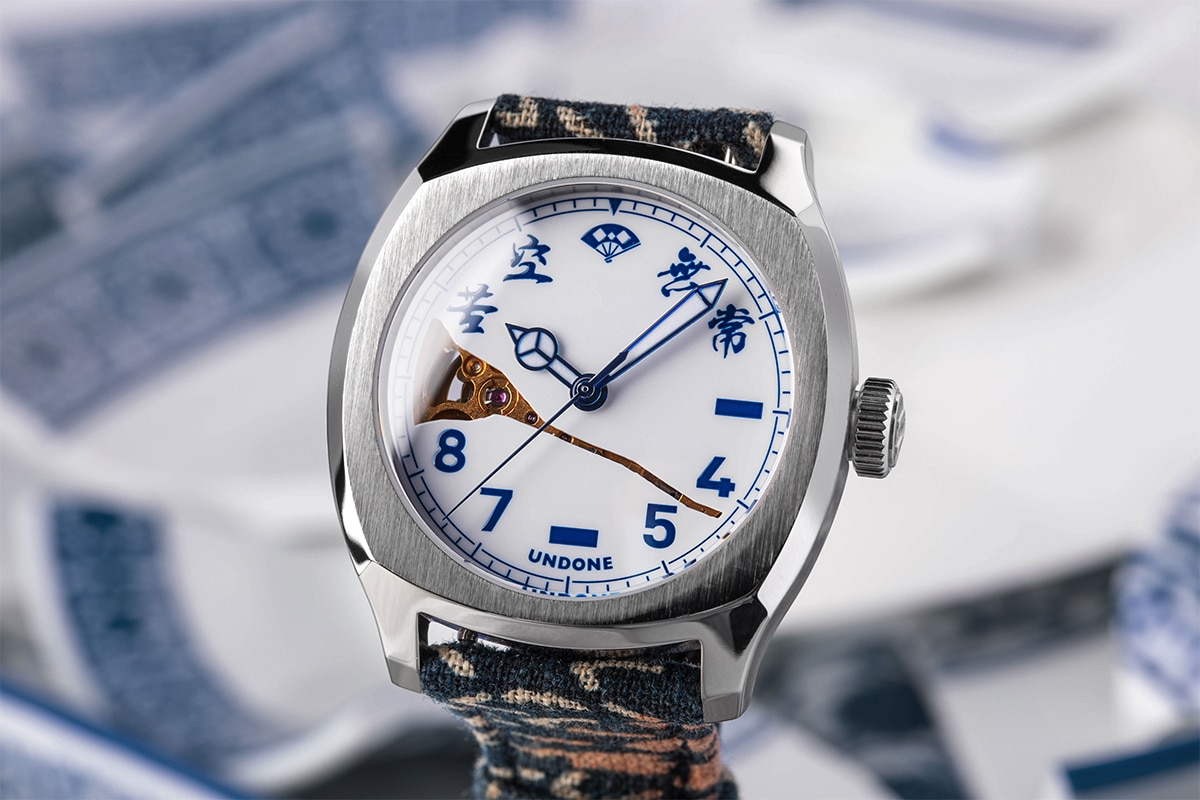 UNDONE x Simple Union: Sometsuke
A first for UNDONE, the limited edition Sometsuke features an exclusive white porcelain-looking dial with unique finishing touches on the blue minute track and numerals. Simple Union's logo appears at the top of the dial display in lieu of a 12 o'clock marker, driving home the specialness of this collaboration.
Peer between the Kintsugi crack to spot a gold-coloured skeleton movement, representing the type of feature you'd find on a luxury watch. The combination of these two details conjures the beauty of mending broken porcelain with gold, which is something you might see in Japanese pottery. Putting forward the idea that scars of trial and hardship render life more precious, it also reinforces the watch's wabi-sabi underpinnings.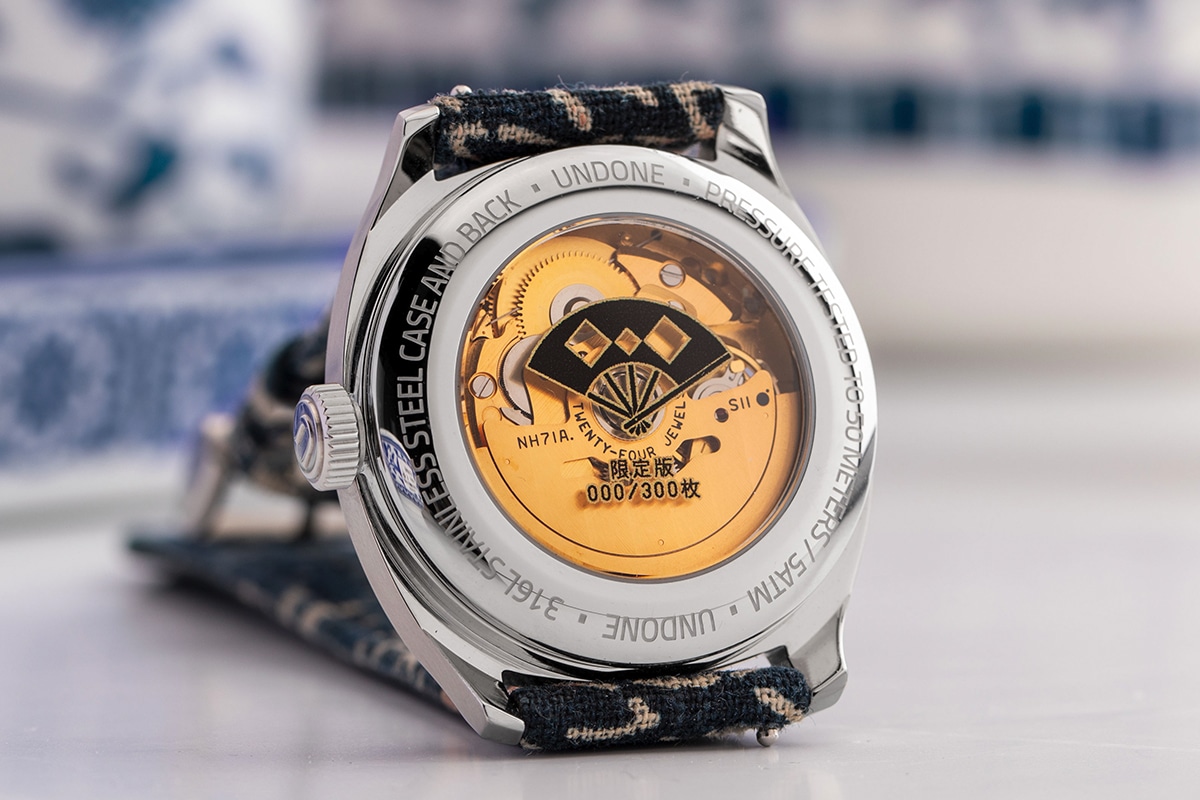 Keeping history close to its heart, each Sometsuke watch strap is handmade from Katazome fabric that's over 150 years old. These fabric pieces are rare examples of surviving antique Katazome work and no two are exactly the same (or even all that similar). It signifies yet another stunning touch of wabi-sabi-inspired distinction for this brilliant release.
UNDONE x Simple Union: Sometsuke is limited to 300 enamel painted dials, complemented by UNDONE's first-ever golden colour skeleton movement, and equipped with handmade Katazome straps by Simple Union. Each piece is serialised on the caseback.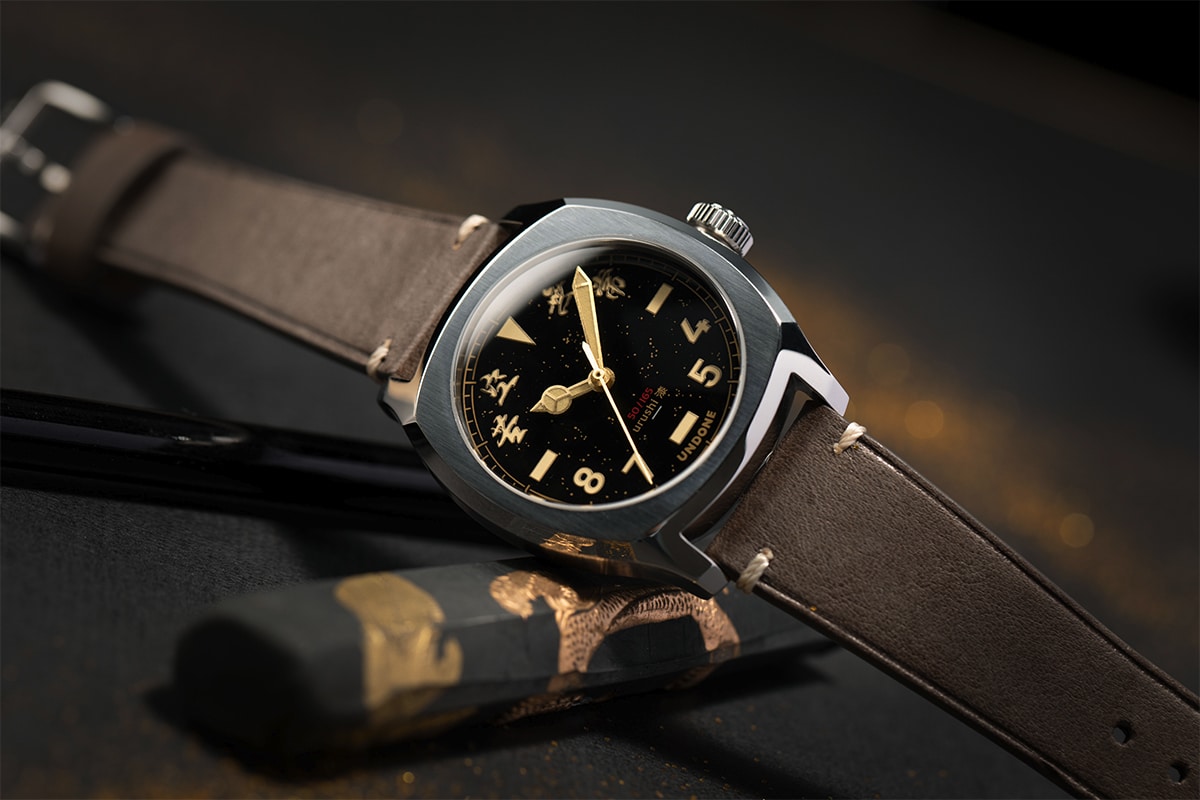 UNDONE Urushi
Urushi is the traditional art of Japanese lacquerware and it comes backed by an incredible history. According to legend, Japanese monks would make tea from parts of the Urushi tree, which was as toxic as poison ivy. Here, the art form has inspired a bold and handsome watch with sleek overtones.
UNDONE explores the philosophy of Urushi through the black porcelain-looking dial, the enamel paint is polished into a glossy finish reflecting upon the dark secrets of preservation and immortality. The watch draws further inspiration from the art of Maki-e, a centuries-old Japanese lacquer decoration technique that involves the sprinkling of precious metals onto the surface of lacquerware.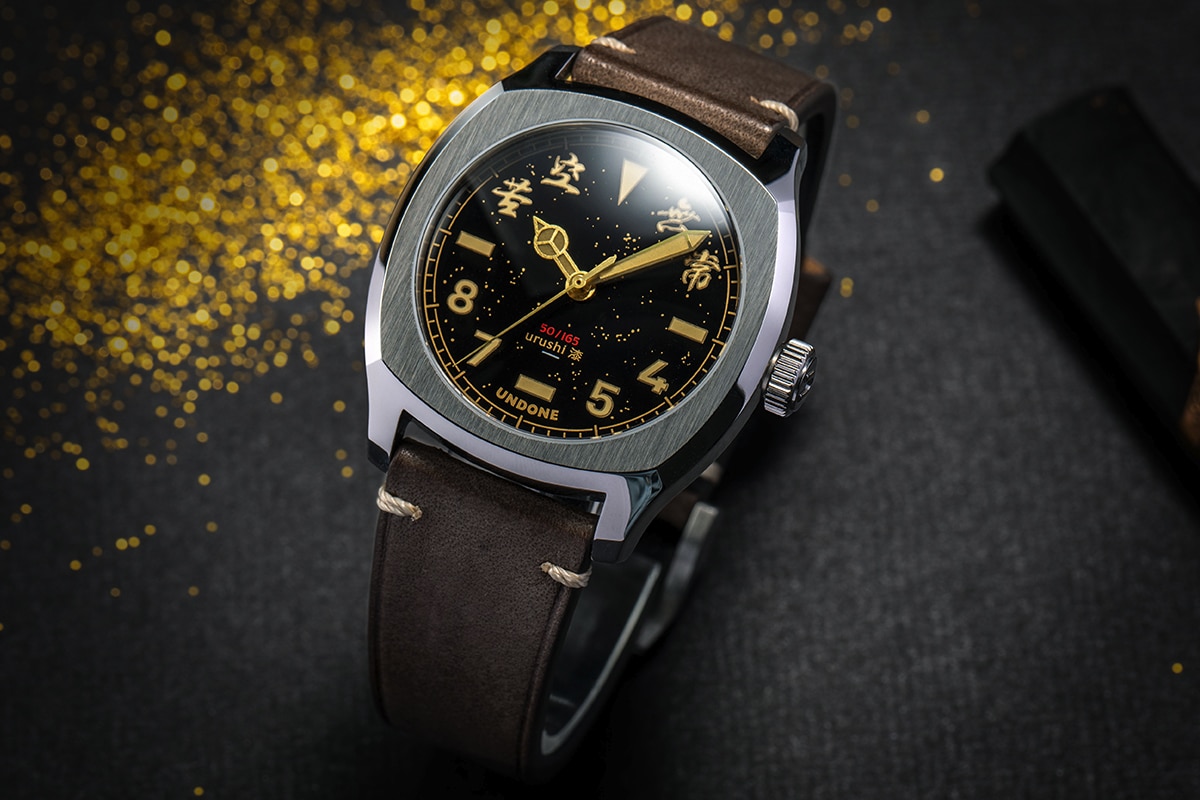 Combine these ancient influences with premium mechanics and the brand's own design philosophy and you end up with something quite special. The piece functions on multiple levels and stands out from the proverbial pack, exhibiting careful attention to detail in its quest for absolute distinction. In other words, it's a new UNDONE watch!