Vincero's Best-Selling Chrono S Delivers High Quality at an Unbeatable Price
In Partnership with Vincero
Vincero launched in 2014 with the admirable goal of selling handcrafted luxury watches at a fraction of the normal price. To summarise their proceeding journey in two words: mission accomplished. Indeed, this brilliant brand continues to distinguish itself by way of some truly exceptional timepieces, all of which emanate with pure craftsmanship. In turn, you get a watch that looks, functions and feels like US$1000 for under US$200. This is the kind of value that no modern enthusiast can argue with.
Proving no exception to the brand's extraordinary standards is one of their boldest and best-selling models, The Chrono S. Available in two sizes (40mm or 43mm), the chronograph blends a stunning blue sunray dial and brown Italian leather strap to sheer perfection, giving off all sorts of elegant vibes in the process. Purposefully designed to forge immediate impressions, it's more or less guaranteed to draw eyeballs from across the room. That leather strap, by the way, is interchangeable, though the supple brown variant is tough to beat.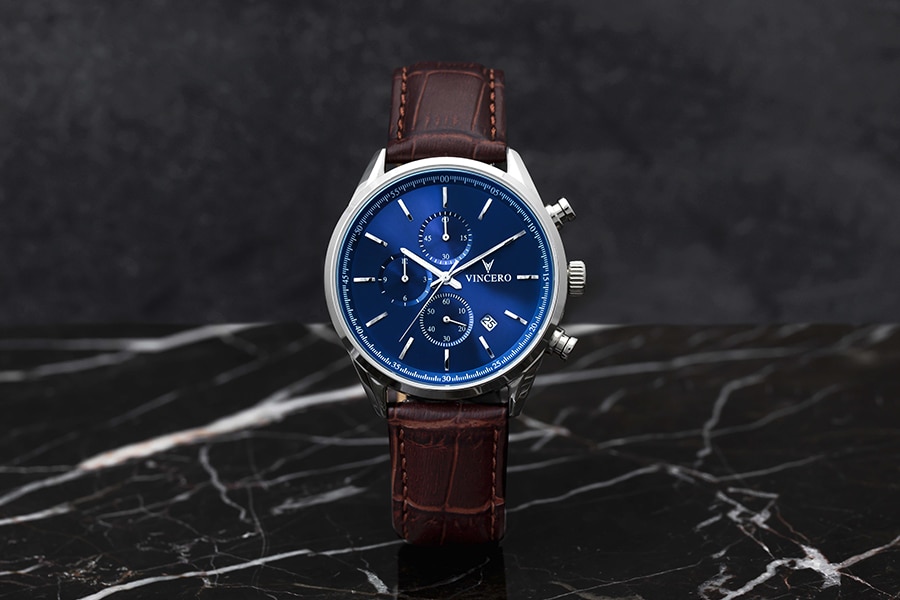 In essence, the Chrono S bears all the hallmarks of a luxury timepiece. Powered by Citizen Miyota Quartz movement, it displays three subdials and an angular date window beneath a dome of crystal sapphire glass. Also featured on the eye-catching blue sunray dial face are classical markers and a 60-second counter, representing a deft blend of form and function. Flip the piece over to find the brand's signature Italian marble showcase, along with the following words: "Veni. Vidi. Vici." Translation: "I came. I saw. I conquered." At just $169, and free worldwide shipping, the Chrono S is an absolute steal. (They also offer custom engraving making this a wonderful gift idea)
Meanwhile, don't mistake Vincero's low price tags for a drop in quality. On the contrary, the brand prides itself on paying attention to every detail, and over-delivering on promises. It all results in a palpable tier of craftsmanship and luxury, the kind of which you would expect to find on watches that are literally eight times the price. To put it in the simplest terms, Vincero takes no shortcuts and settles for nothing short of greatness.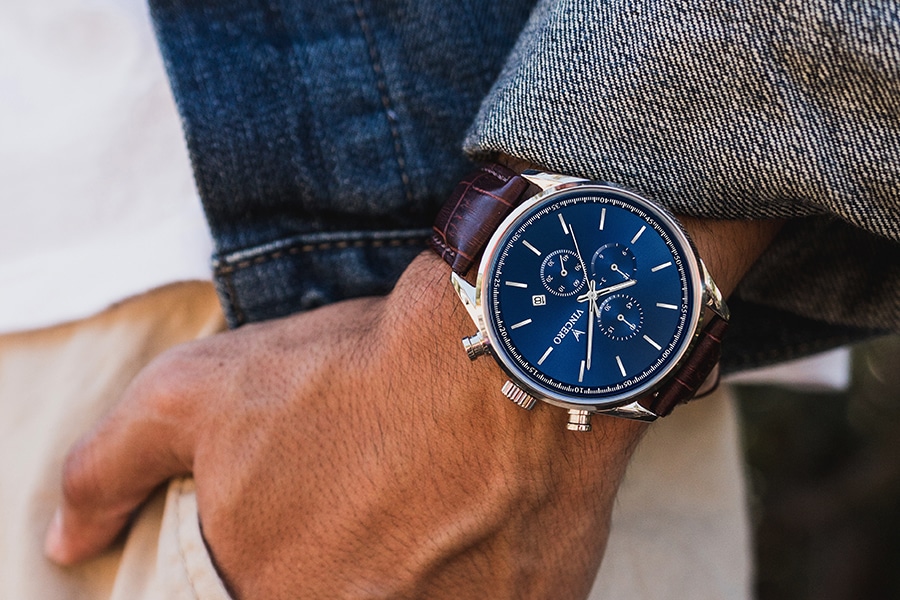 Should you be a modern businessman who favours classic designs, classic colours, and the occasional avant-garde touch, the Chrono S is calling your name. Of course, it's but one among a range of impeccable watches from Vincero. Find the model that speaks to you, strap up in style, and elevate your game today. Or as the brand itself likes to say: live your legacy.