William Wood Watches Releases First Swiss-Made Chronograph with New Triumph Collection
In Partnership with William Wood
British luxury watchmaker William Wood Watches takes their name from the founder's late grandfather, a decorated firefighting veteran of 25 years. Finding a seamless balance between two distinct worlds, every model incorporates upcycled firefighting materials and thereby retains literal heroic heritage. Mainstays include the signature crown, which is forged from part of an original 1920s London Fire Brigade helmet. Then we have the brand's hand-cut British fire hose straps, so authentic that you can smell traces of rich smoke in their rubber. It's all given way to a number of extraordinary timepieces, which respectively combine British design elements with either Swiss or Japanese mechanics. These unique themes don't merely continue with the watchmaker's latest range—they reach a new high ground on every possible front. Meet the Triumph Collection, the perfect gift for a firefighter.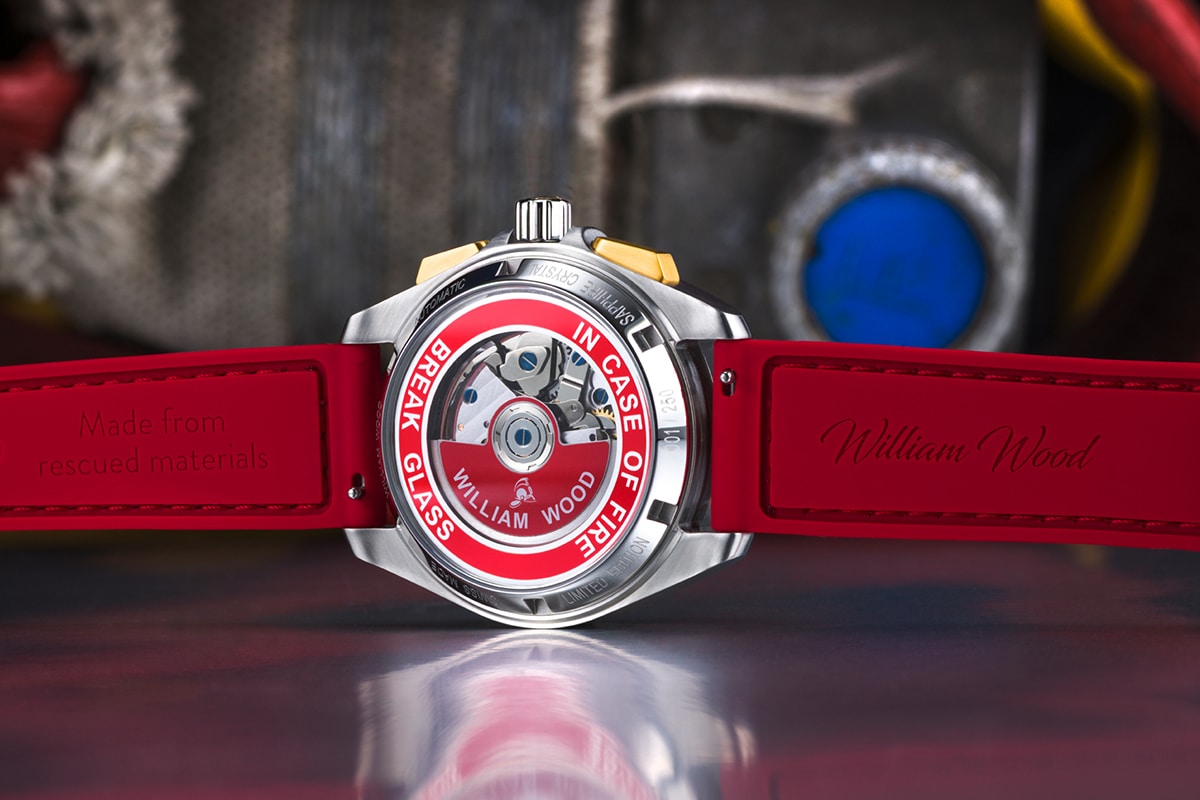 The latest release from William Wood Watches represents their first Swiss-made chronograph. As always, the brand takes direct cues from the world of British firefighting and really knocks this baby out of the park. Rarely does one see such an exquisite blending of classic design and signature detail as they do right here. These chronographs are coming in hot and that starts with the unmistakable sub-dials, both of which are inspired by the dashboard gauges in a fire engine cockpit. Peer closer and you'll notice that the sub-dial hands resemble pressure pumps, their anodised colour matching the main chronograph hand (which is modelled after a vintage fire bell chime). Antique brass finish buttons located on the side of the case operate both the chronograph hand and the 30-minute sub-dial. At the top of the dial is the brand's own iconic helmet logo.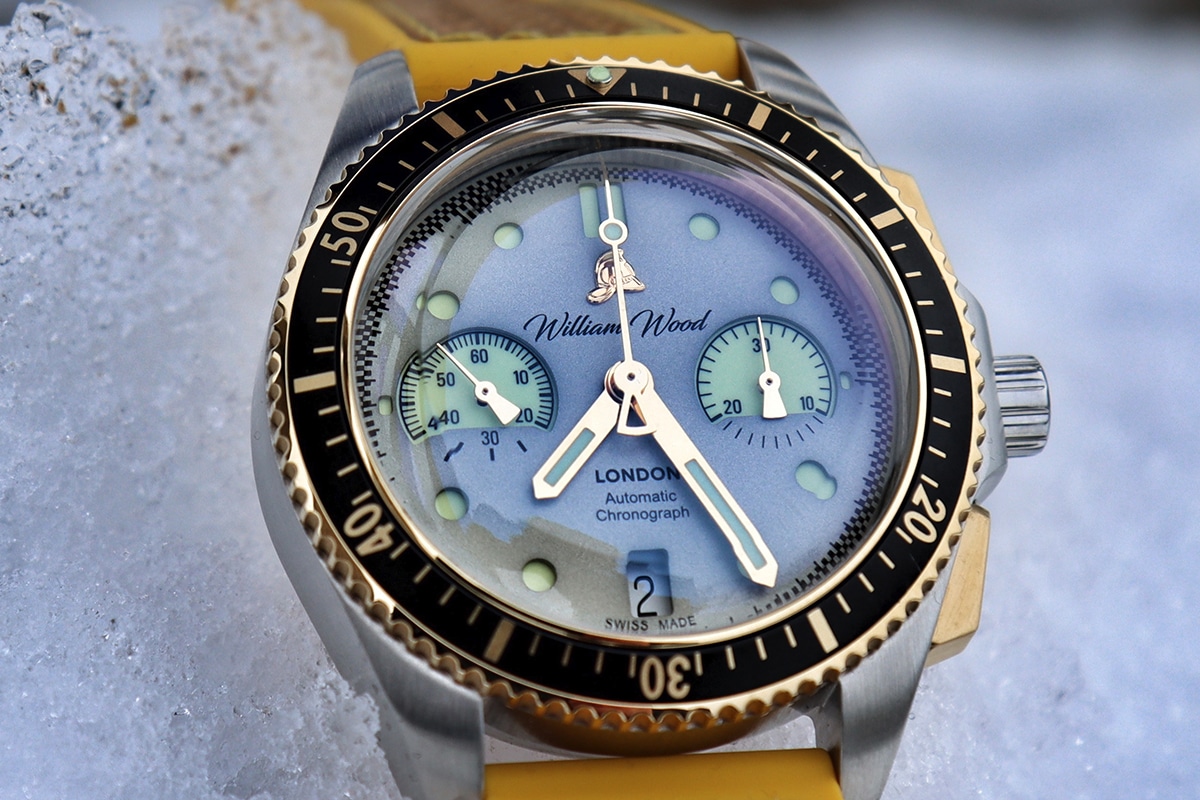 Flip each Triumph over and prepare for a case-back that's truly one of a kind. Custom-crafted in the style of a fire alarm, it displays the watch's Swiss-made Sellita SW510 movement through a window of exhibition glass. An emergency plate flanks the exhibition window and reads "In Case of Fire Break Glass," driving home the built-in motif. This could very well be the first time in your life that you're tempted to wear a watch inside out, if only to draw reactions or invoke discussion. Suffice it to say, the fire alarm case-back design renders quite an immediate impression and certainly makes good on the brand's heritage underpinnings.
Speaking of heritage, the Triumph Collection is available with the watchmaker's full line-up of British fire hose straps. What once served and protected the UK Fire & Rescue Service for over a decade is now immortalised through this unique tradition. Choose between four respective strap colours, each culling from a different source: London Fire Brigade Red, West Midlands Fire Service Yellow, Tyne & Wear Fire Service Blue, and British Armed Forces Fire Unit Green. Give them a whiff and you'll detect rich smokiness in the rubber—yet another distinguished hallmark that only the best British Watches can provide.
If you're looking for even more singular detail, scope the chequered markings around the dial perimeter of each model—they match the markings that you'd find on the side of a British engine. Along similar lines, the two stripe indices at 12 o'clock resemble rank markings. And let's not forget about the mighty crown, which is crafted from an upcycled 1920s British brass firefighter's helmet and all the more distinctive as a result.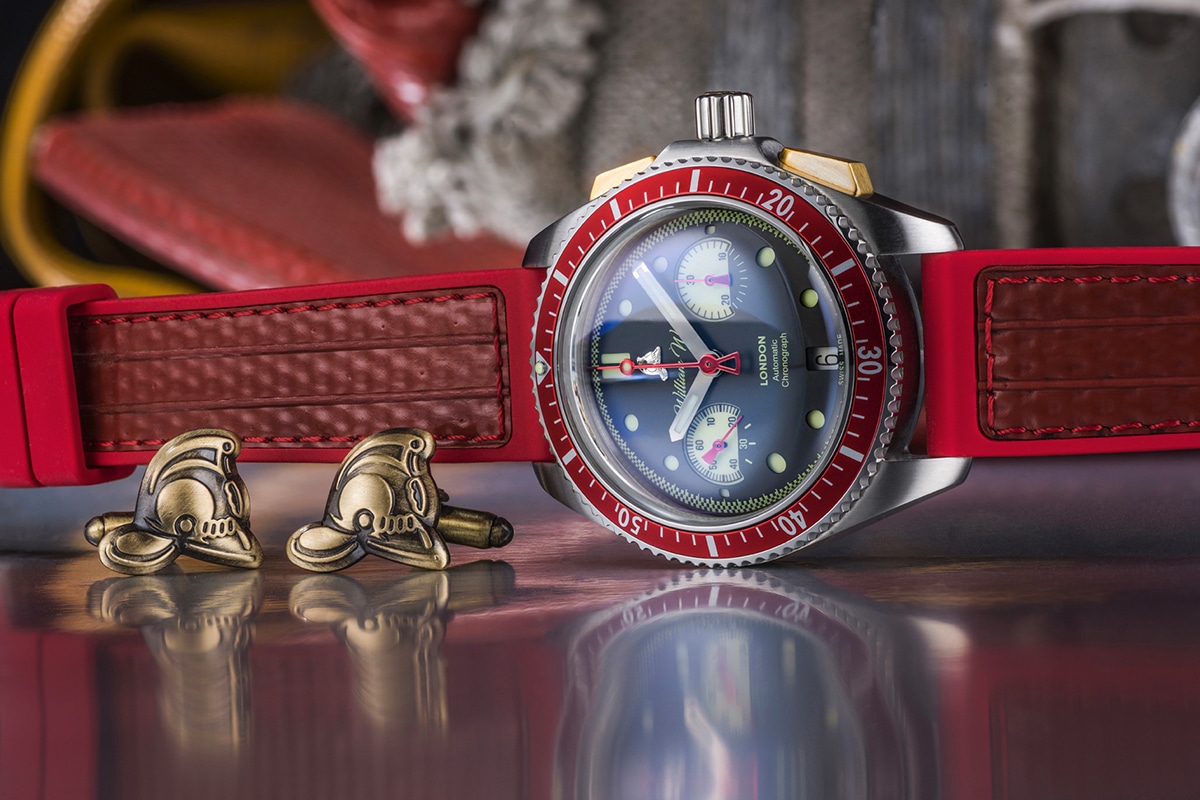 Matching brilliant heritage with striking horology, every Triumph employs a host of classic chronograph components. That includes two sub-dials on the symmetrical dial face, round indices, a rotating bezel, a push-button stopwatch, a compact date window, and a 41mm case of 316L stainless steel. Water-resistant to 100m, the watch features Super-LumiNova on the sub-dials, indices, hands, and bezel. Visible through the case-back window is its proverbial fire alarm, aka Swiss-made Sellita SW510 chronograph movement, which offers 27 jewelled bearings accuracy and a power reserve of 48 hours.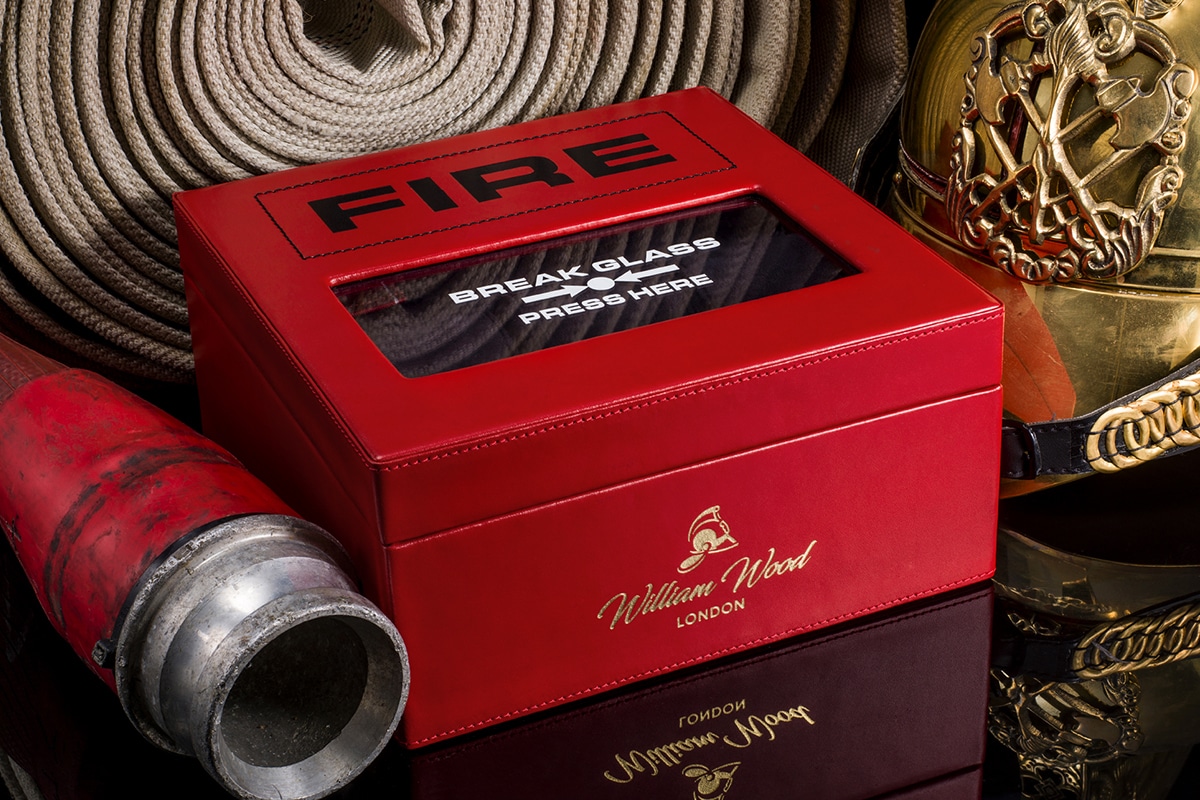 William Wood Watches' Triumph Collection consists of three distinct models: Heat Edition, Oxygen Edition, and Fuel Edition. Each watch is presented in a bespoke Italian leather box. Like the case-back, every presentation box is crafted in the style of a fire alarm, complete with a transparent viewing window and the words "Break Glass Press Here." The box features two levels and the first level can hold up to three watches at once. Pull the emergency cord (naturally) to access the second level, where you'll find a cufflinks box, straps box, and a certificate library.
The William Wood Watches Triumph Collection retails for £2,150 with payment options from £358 per month, it is available for pre-order online.