WIN the New Basecamp Timepiece from UNDONE Watches
In Partnership with UNDONE Watches
Quality reigns supreme at UNDONE Watches, a bespoke label that's come an impressively long way in little time. Founded by industry veterans, the brand combines traditional watchmaking techniques with modern mechanics to stunning effect. What's more, UNDONE treats every single customer as a unique individual by making custom watches to order within its own facilities. And when we say "making," we're talking research, development, components production, assembly, quality control, packaging, and fulfilment.
The latest masterpiece to emerge from UNDONE's workshop is Basecamp, and it can be yours free, should you partake in our exclusive giveaway. Of course, even if you don't win, the watch is available for just US$295. That's par for the course over at UNDONE, where premium horology always comes in at an unbeatable price.
Back to Basecamp, which takes the concept of 'form follows function' to heart. Indeed, this high-performance tool watch is an instant classic, with a robust body and brilliant vintage aesthetic. While modelled after the brand's own best-selling diver's watch, Aqua, this one is smaller, lighter, and thinner. It thereby delivers perfect everyday wearability for all the urban explorers out there.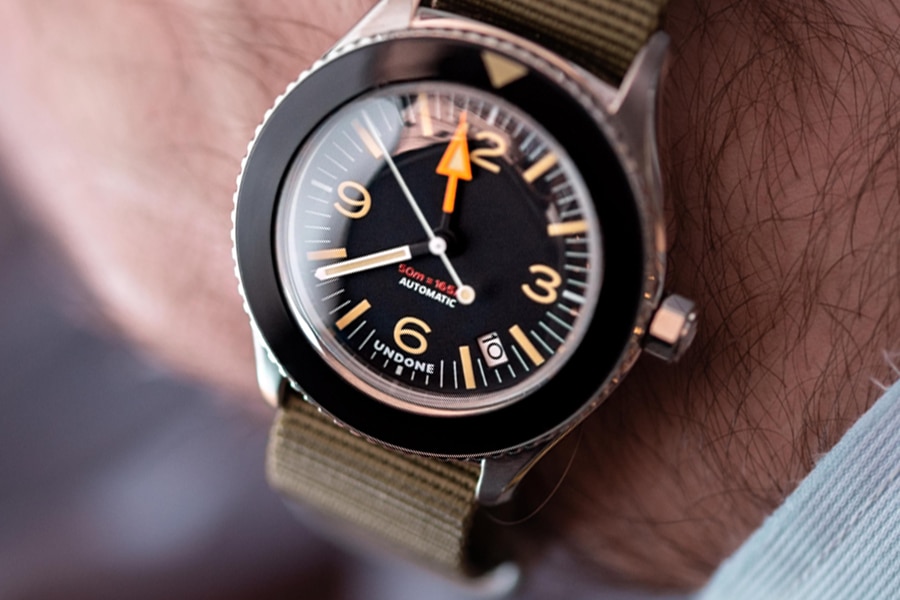 Basecamp is also as sturdy as a modern wristwatch can get, thanks to its ultra-domed 3mm crystal made out of Lexan. And what is Lexan, you might ask? It's a polycarbonate thermoplastic used in headlamps and motorcycle helmets, with 250 times the impact strength of glass. UNDONE Labs spent two years developing Basecamp's crystal dome and artisanal chamfered case, and it shows.
The watch's dial, meanwhile, is no less distinguished or extraordinary. Those who know their horology might recognise the highly visible orange hour-hand, as it takes direct design cues from the legendary Rolex Explorer II. Also featured are oversized luminescent hour markers, ensuring the utmost legibility in low-light conditions and drawing upon military watches. It's all set against a matte black dial and presented with exceptional contrast and clarity. The end result is functional minimalism at its finest.
Speaking of minimalism (and iconic precursors, while we're at it), Basecamp's signature bezel pays homage to Blancpain's Fifty Fathoms 'Sterile' dive bezel. Like that bezel, this one eschews numerals and markers in favour of a single lumed triangle. It also incorporates the original 'Bakelite' insert by applying lume under the acrylic. Keeping in the tradition of premium tool watches, the virtually faceless bezel rotates in both directions without clicks. Sleek is hardly the word.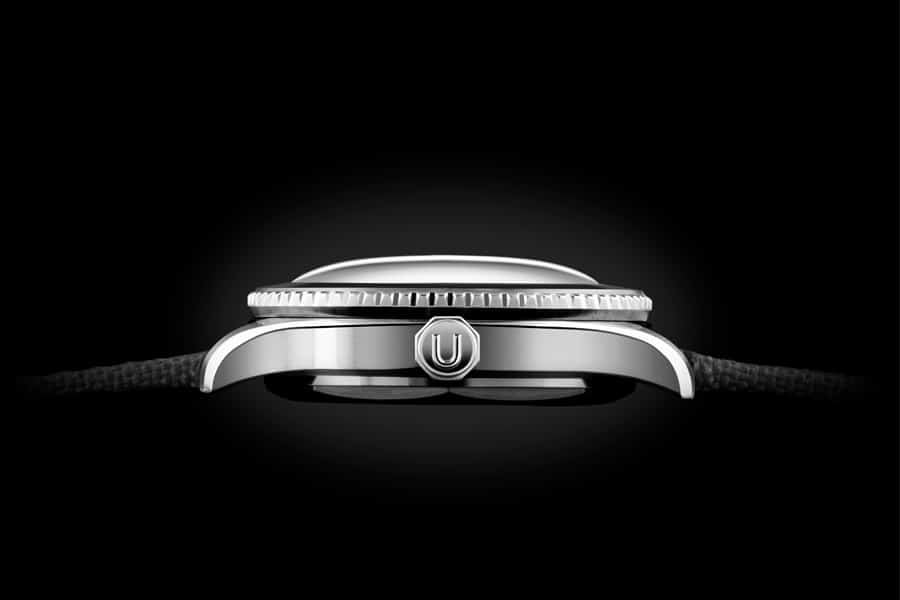 Powering Basecamp is Seiko NH-35 automatic movement with a 42-hour power reserve and date complication. Renowned for its efficiency and precision, the Japanese movement can be fueled by way of either wrist motion or manual winding. Expect zero problems in that department.
Don't forget: every single aspect of the production process goes down in-house. As such, UNDONE demonstrates an impeccable tier of quality control over its products and furthermore dispenses with a range of customisation options. Specifically, Basecamp comes available with four different case options and two bezel options. And while the timepiece is compatible with any 20mm watch strap, three colourful NATO straps are included with purchase. At US$295, this thing is a steal.
On the other hand, nothing says "steal" quite like a free watch. Should you be the lucky winner of our exclusive giveaway, you'll get a Basecamp watch for the same price of your average app, and by that, we mean no price at all. Soon enough, you'll be rolling with some blatant quality around your wrist. Between its legible dial, minimalist bezel, extreme durability, vintage aesthetic, subtle design nods, and modern mechanics, Basecamp is a tool watch no urban explorer is complete without. Strap one up and conquer.
To ENTER the competition, simply fill in the form below.
WIN the New Basecamp Timepiece from Undone Watches Worth More than AUD $400