Zelos Watches Unleashes the 'Horizons' GMT
Singapore-based Zelos Watches delivers high-quality materials and brilliant mechanics at an unbeatable value, and their latest release is no exception. Available in a variety of incarnations, the 'Horizons' GMT is versatile, functional, beautiful and ready for all kinds of adventure. Indeed, whether you're taking to the high skies or the deep seas, this brilliant model will serve you well. Don't leave home without it.
At the heart of the new collection is a GMT complication, which remains synonymous with some truly classic watchmaking. Its origins go back to the Jet Age when pilots needed to keep track of two separate time zones, lest they lose their sense of time and place altogether. Enter the Rolex GMT-Master, a game-changing model that supplanted traditional timekeeping with a rotating 24-hour bezel and a second, arrow-shaped hour hand on the dial. Thanks to a new complication under the skin, the second hour hand spun just once per day, while the traditional hour hand spun twice. As a result, the watch was able to simultaneously track two different time zones, using Greenwich Mean Time (GMT) as ground zero.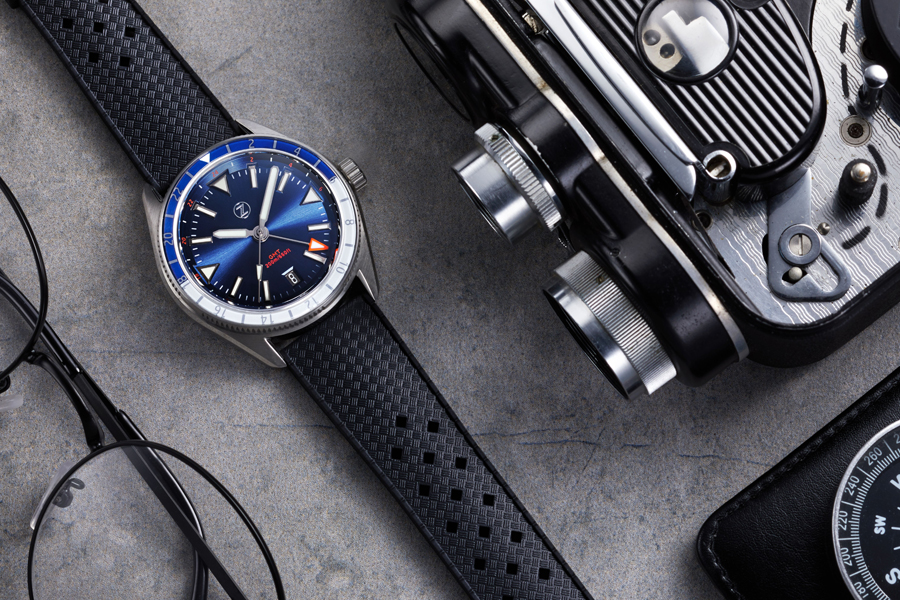 With the new 'Horizons' GMT from Zelos, the legend lives on. Coming in at 40mm in diameter and 12mm thick, the piece is as wearable as it is robust, and water resistant to the tune of 200m. It runs on Swiss ETA 2893 Elaboré movement with a custom engraved and rose gold plated motor, which can be seen through the sapphire caseback. The textured dial face, meanwhile, features large indices and luminous markers, amounting to the utmost tier of legibility. Surrounding the dial is a bi-directional rotating bezel with 60 clicks mounted on ball bearings, and either a sapphire insert or ceramic insert (depending on model). Look to the side of the 316L Stainless Steel case to find a classic screw-down crown. Put it all together and you get an eye-catching model of genuine distinction and exceptional fortitude.
Currently, the 'Horizons' GMT comes in four variants, including the Meteorite. This one hosts Muonionalusta meteorite—which landed in Sweden over a million years ago and is ultimately billions of years old—right there on the dial. Because meteorite develops a unique pattern (aka a Widmanstätten pattern) as it cools over time, no two dial faces look exactly the same. In other words: distinction, meet even more distinction.
Elsewhere in the range are the 'Cobalt Blue', the 'Slate Grey', and the 'Hunter Green'. True to its respective name, each model features a dial colour of either blue, grey, or green. The green variant, meanwhile, is the only one to include a ceramic insert on the bezel. Every model currently comes with both a Tropic Rubber Strap and Horween Leather Strap. Steel bracelets will be available soon, as will some bronze cases.
In a world oversaturated by technology, there's something to be said for a powerful and handsome GMT watch, especially if you're a frequent flier. To that end, the 'Horizons' GMT is a true stunner in every sense. What's more, it's brilliantly affordable when compared to other watches of its calibre. Of course, that's just how Zelos rolls. Choose your model, strap up, and conquer the world in style.