What to Wear to the 2016 Melbourne Cup Carnival
Presented by Marks & Spencer and Shopping Links.
The Melbourne 2016 Cup Carnival is right around the corner and if you think you'll away with just "throwing something on", think again. Stakes are high everywhere at this prestigious event and those stakes extend to horse racing and 14 Best Fitness Watches and Trackers alike. And while the Emirates Melbourne Cup winner gets to take home millions, if you dress just right you get to walk away feeling like a million bucks, which is basically the same thing. Okay, it's a little different.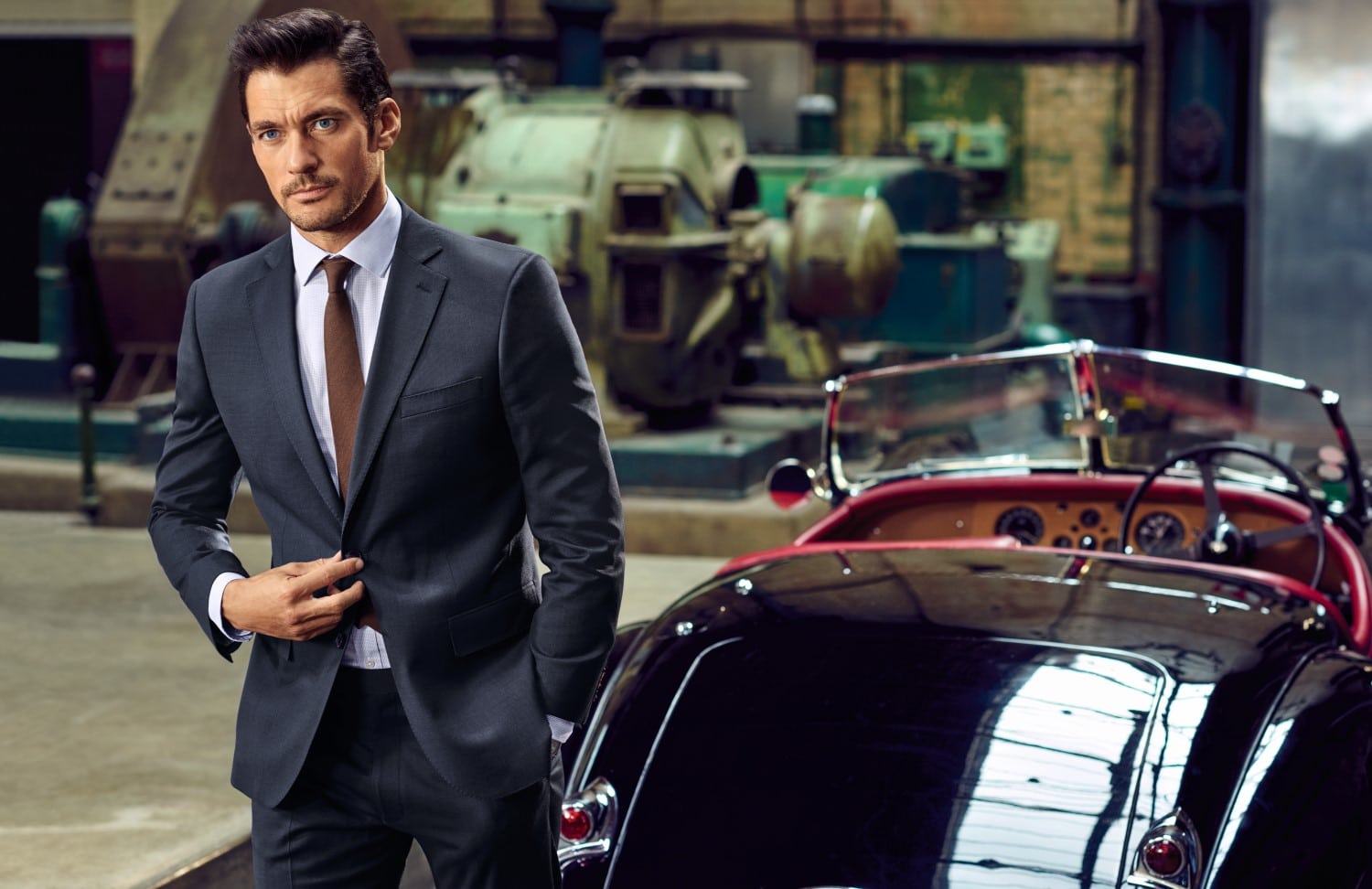 When it comes to the Melbourne Cup Carnival and what to wear it's all about making big statements within the confines of tradition and expectation. In other words this is not the time to break the rules, rather work within those rules to make your own singular impression. If you need some pointers fret not because we've partnered with Marks and Spencer to make sure you're dressed for the occasion. Marks & Spencer (M&S) knows how to make a great suit. For over one hundred years M&S they've been helping men stand out from the crowd through the power of style and design.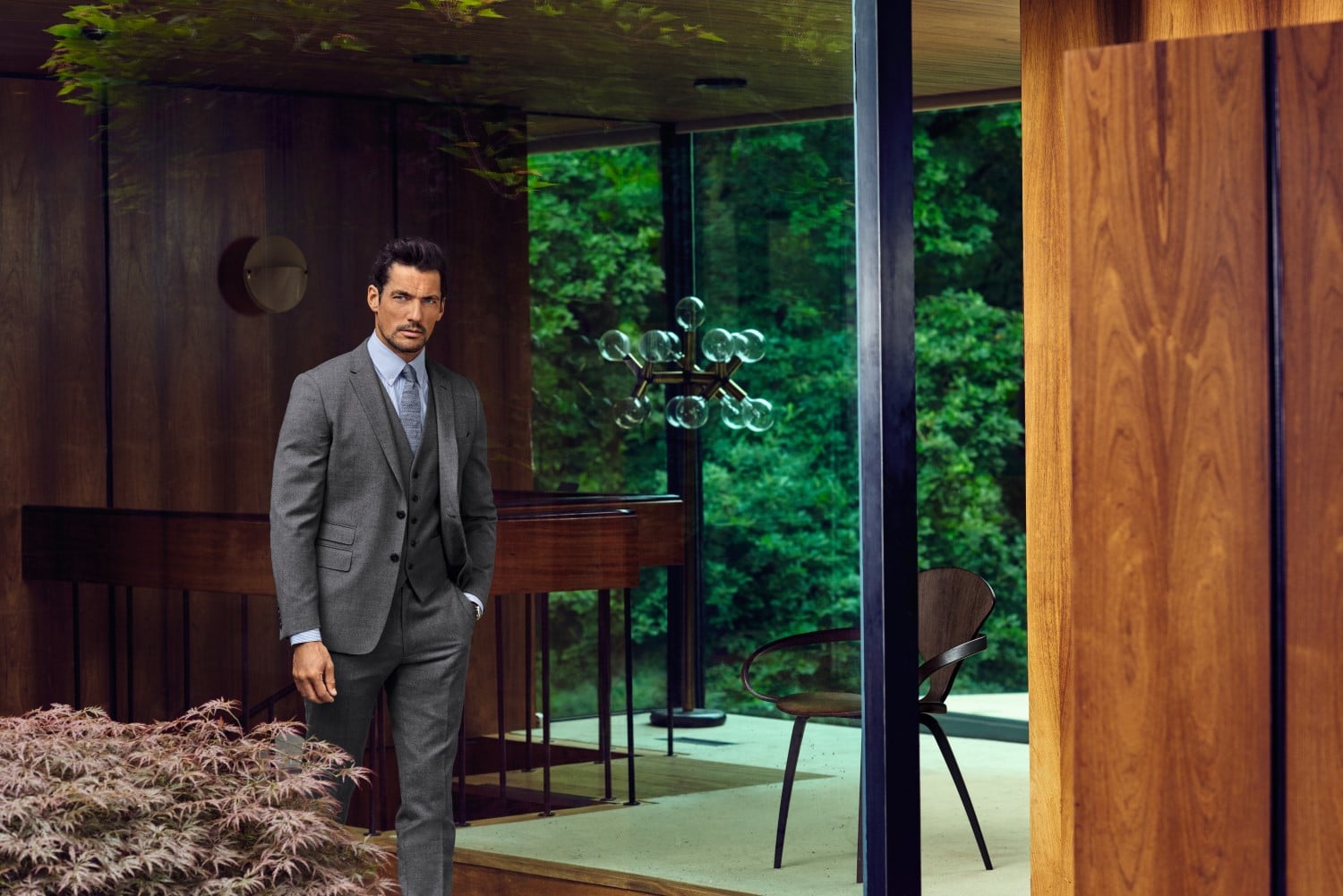 So how does this help you? M&S have recently launched an Australian and just released a new collection of suits that step blissfully outside of the norm, flaunting unbeatable value (and free shipping to Australia for orders over $50) while still retaining the benchmarks of refinement you'll need for the upcoming Melbourne Cup Carnival.
However, before we share some of the latest and greatest in the world of menswear we also want to remind you of the following general expectations:
1) You're expected to wear a dress shirt with cuff links and have some of that shirt showing beneath your suit.
2) You're expected to add a buttonhole flower for each day of the event.
3) You're expected to pay attention to every detail of your outfit. That means socks, shoes, shirt, cuffs, suit, everything.
4) You're expected not to fasten the bottom button on your jacket.
5) You're expected not to wear a raincoat even if it's raining–bring an umbrella instead.
6) You're expected to present a uniformly neat appearance with no rips or tears. That also means no jeans or sandals and a clean shave or finely trimmed beard. In other words: don't slack off!
Now that you're up to speed on the "dos" and "don'ts", allow us to offer some outfit suggestions for the most important days of the event.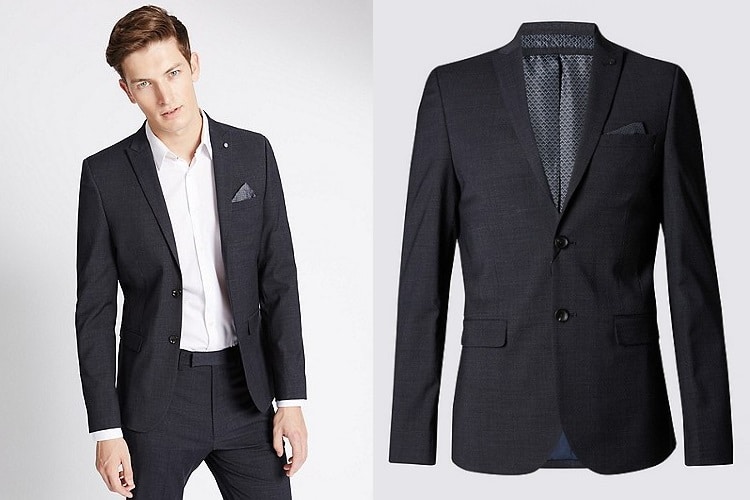 AAMI Victoria Derby Day – Saturday 29 October
Official Flower: Cornflower
Dress: Black and White
Consider Victoria Derby Day your qualifying round. In other words this is some entry-level style that's being asked of you, primarily thanks to the straightforward black and white dress code. Our tip is to use the minimalistic requirements to focus on neatness and sophistication. That means getting a sharp (preferably tailored) suit and not letting the slightest wrinkle or crease escape your eagle eye.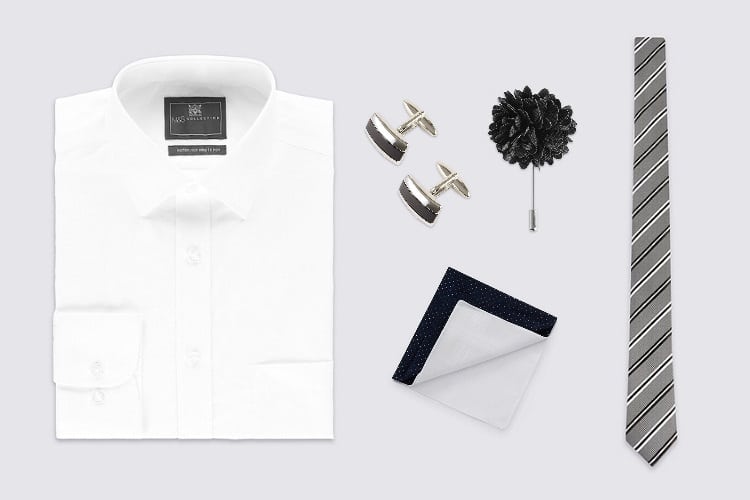 For Victoria Day, we suggest starting with the Charcoal Modern Slim Suit. With a material blend that consists of wool, polyester and elastane lycra, this suit fires on all cylinders of style to deliver a fit that's effortlessly breathable and tightly form-fitting. If you get a little messy never fear as M&S's Buttonsafe™ technology uses special heat fused buttons that won't fall off. Pair that suit with a clean Tailored Fit Easy-to-Iron White Collar Shirt, a black mix Striped Tie and Pocket Square, some brilliant Enamel Cufflinks and a beautiful Flower Lapel Pin and you're a walking example of everything that Victoria Day fashion aspires to. Up your gentleman game by throwing a Pure Cotton Handkerchief into the mix and now you're truly ready to conquer the competition.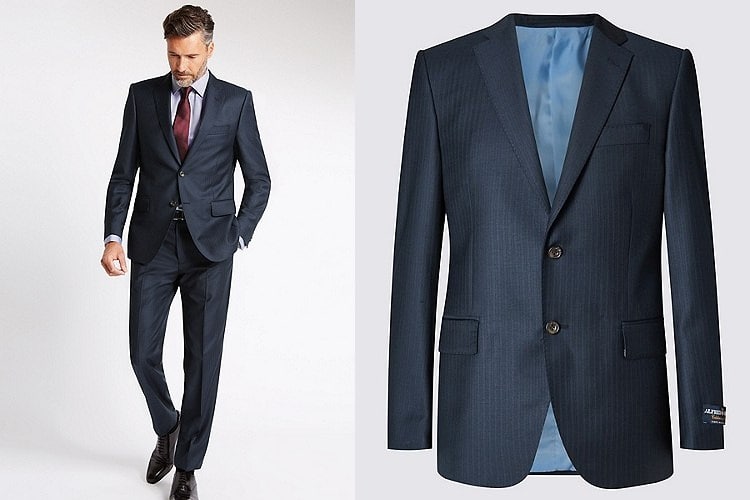 Emirates Melbourne Cup Day – Tuesday 1 November
Official Flower: Yellow Rose
Statement suits are in and Emirates Melbourne Cup Day is all about making a statement so you do the math. This day is truly the "go big or go home" day, as if you jumped from the qualifying round right into the main event. If you have some bold ideas stewing in your head today is the day to try them out. Paisley prints, pastel shirts, and bright colours are all par for the course. Just remember there is such a thing as too much style. Make an impression that's outspoken but not loud.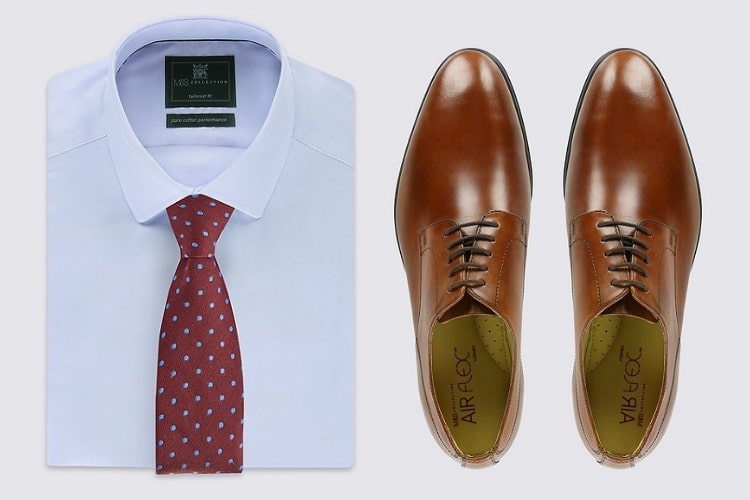 Since keeping it classy but impressionable is the essence of Emirates Day, allow us to recommend the Navy Tailored Fit Suit with Buttonsafe from Marks & Spencer. The suit is made from 100% Italian Wool and exudes pure warmth and confidence, turning heads but never rolling eyeballs with is subtle pinstripe. Pair that suit with a Classic Spotted Wool Tie and some Airflex Leather Lace Up Derby Shoes, reminding others that stepping outside the box can remain an elegant, approachable endeavour as opposed to dressing up like a character from Dick Tracy.
Crown Oaks Day – Thursday 3 November
Official Flower: Pink Rose
The Melbourne Cup Carnival has made a concerted effort in recent years to bring more females into the fold and who are we to disagree with more females? On Crown Oaks Day we men get a chance to show off our feminine side by way of lighter pastel colours and even some jewellery. At the very least it's a chance to get creative.
Of course a brighter sensibility again can be handled with modest gestures. Therefore in the suit department we recommend going with the Grey Regular Fit Suit with Stormwear. It's clean, it's warm, it's tight, it's adaptive and it's not black. And if the weather turns, the Stormwear technology and water resistance mean's you'll stay looking sharp. Then unleash your softer side by putting a Slim Fit Cotton Rich Chambray Shirt underneath the suit jacket, allowing you to tastefully explore brighter colours and eye-catching patterns without going overboard. Add the finishing feminine touch by way of a Pure Silk Open Swirl Floral Pocket Square, and prepare for some extra attention as the ladies flock to feel that smooth silk flow between their delicate fingers. Hey, this dress code isn't so bad after all.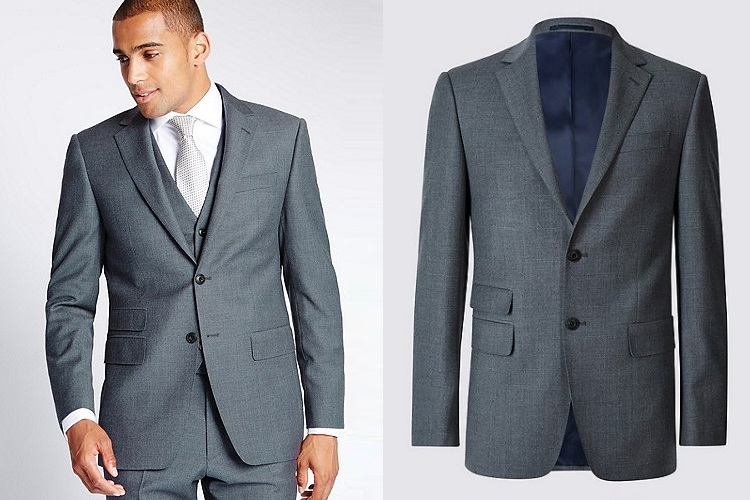 Emirates Stakes Day – Saturday 5 November
Official Flower: Red Rose
As the Melbourne Cup Carnival and all the wild times come to a close, we nurse our hangovers and take to Flemington for yet one more day. The vibe is laid-back but still pointedly fashion conscious–don't be afraid to throw some dappertude into the mix if that's your thing. Ultimately, on this day impressions still matter but not as much since you're probably with your family and who cares what they think? Do this one for you.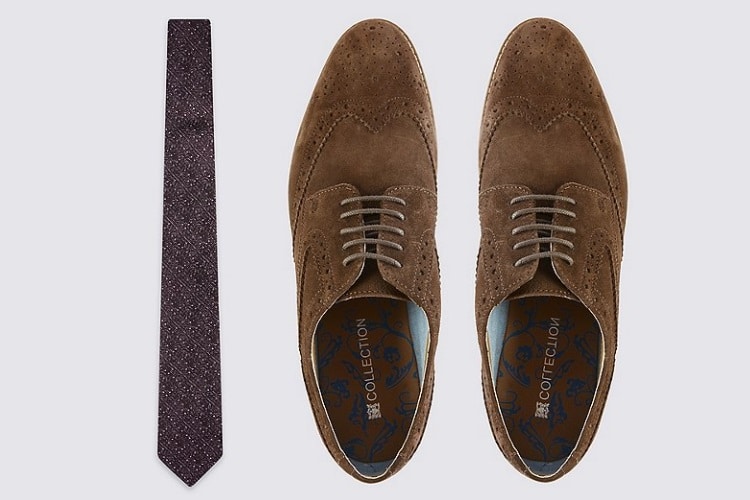 We take a casual-but-stylish approach to Emirates Stakes Day, and therefore suggest checking out the Grey Pure Wool Suit with Buttonsafe. It's affordable and comfortable and offers tried and true style without waving its arms in the arm. Pair that with an inviting Pure Silk Fleck Plain Tie, some Suede Lace Up Brogue Shoes with Stain Resistance and you're ready to call this year's Cup Carnival a resounding success.
This Collaboration was supported by Marks and Spencer and Shopping Links