Why Moral Code Footwear Should Be Your Next Pair of Shoes
In the wake of corrupt and increasingly antiquated business models, there has emerged a legion of ethically-charged companies and brands. Among them is Moral Code, a designer label that wears its honesty and integrity right there on its proverbial sleeve. Dedicated to value and values alike, the brand prides itself on providing high-quality leather goods for anyone and everyone from all walks of life. This is an utterly inclusive company for ethically-minded consumers and stylish ones alike, and their growing footwear collection keeps that trend alive with considerable precision.
While Moral Code technically launched just a few years ago, it comes backed by three-generations of family-based tradition. That's helped give it a leg up in terms of craftsmanship and quality control, as evidenced by its extraordinary range of sneakers, shoes, and leather accessories. Brimming with comfort and character, each and every product is sold directly to consumers through the brand's website. Values, meet value.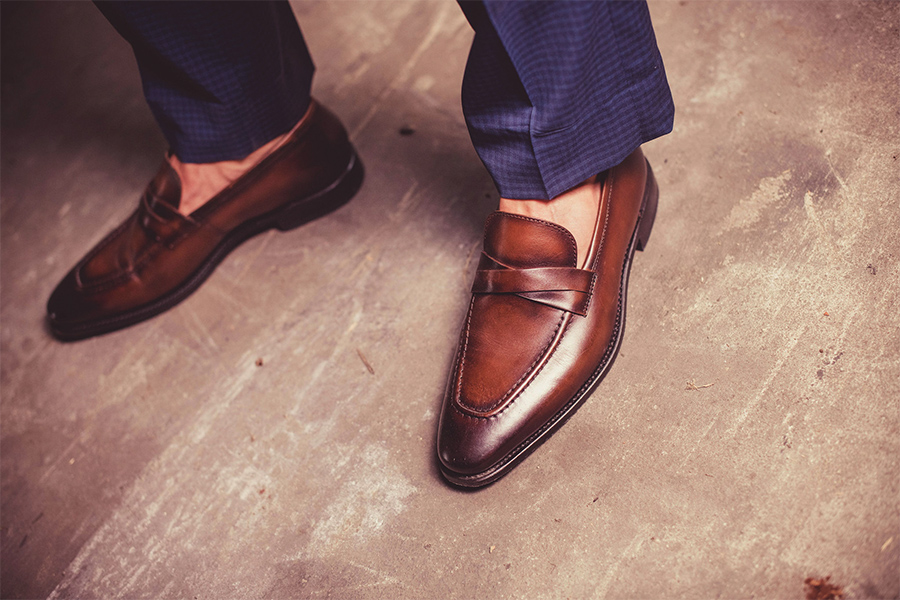 Because of its commitment to ethics and quality, Moral Code's manufacturing process remains second to none. Culling from centuries-old handcrafting techniques, each product is made using environmentally-conscious methods and from the best available materials. Take the brand's premium full-grain leather, for example. Sourced from their company-owned tannery, it's brilliantly soft and durable and will develop a unique patina over time. This is everything we love about leather and the brand delivers it in spades.
When it comes to footwear, comfort and durability remain a top priority for both Moral Code and its customer base. That's why a number of the brand's shoes are Goodyear welted with a hand-stitched sole and a cork inlay, providing for a custom feel. What's more, they can be easily re-soled when the occasion calls for it. Once again, both the value and values remain palpable at every stage of the process. There's simply no point where the brand doesn't have your back.
At the end of the day, these are shoes that anyone with a penchant for style can enjoy. They cover a full spectrum of styles and types, and thereby accommodate a slew of wardrobes, individuals, and occasions. It's all ethically made and sold directly to consumers, allowing the brand to avoid hefty mark-ups. All this said, don't mistake the democratic agenda for a lack of sophistication. On the contrary, Moral Code is focussed on providing a top-shelf product to as wide a demographic as is humanly possible. It's a mission statement that all of us can rally behind.
Man of Many's Favourites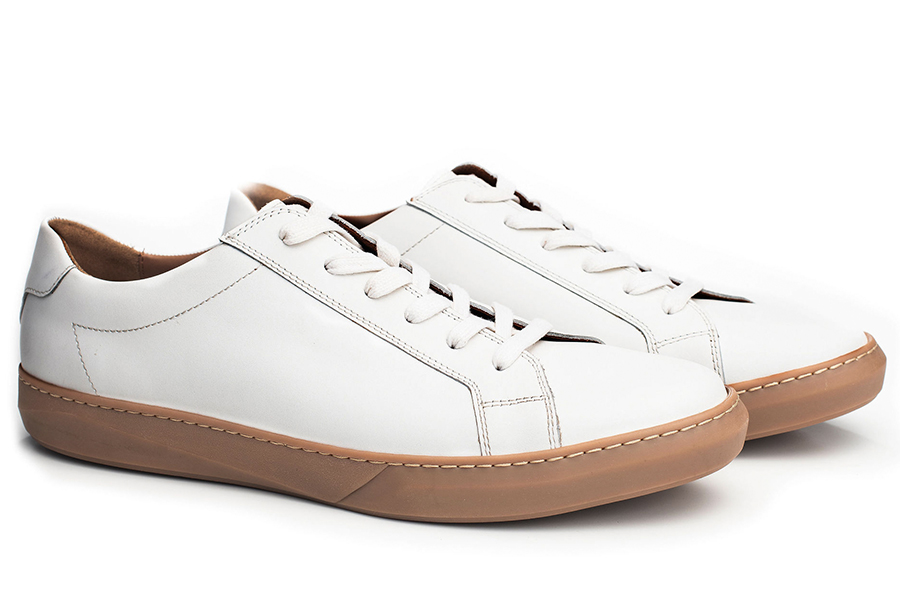 The Quintus Sneaker
Let's take a look at a few personal favourites from the Moral Code footwear collection. First up is the Quintus sneaker, which uses choice details to render a massive impression. Crafted from rich nubuck leather, it features a low-top silhouette, rubber sole, removable high-density PU footbed, and leather lining. Purposefully minimal, it can blend with a healthy spectrum of wardrobe-essentials. Choose amongst a variety of sizes and colours and take them pretty much anywhere. Expect people to ask where you bought them because they'll want a pair.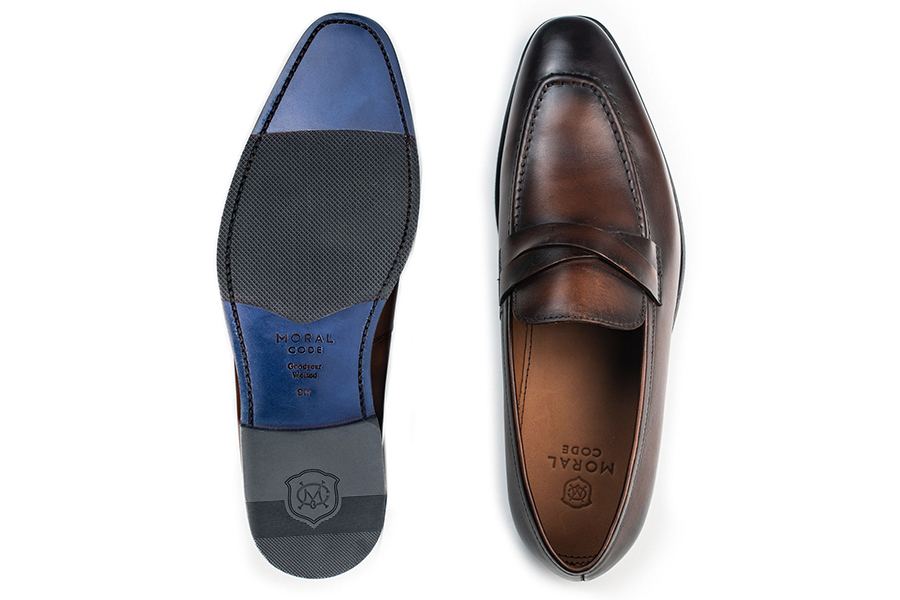 Lamont Loafer
On the dressier side of things is the Lamont loafer, which is as versatile as it is fashionable. Brimming with quality, this apron-style slip-on features a heavily burnished finish, unique cross keeper, and chiseled toe. Inside is leather lining and a leather padded footbed. Put it all together and you get optimal comfort and support, maximum breathability, and conspicuous style. Get the Lamont in either chocolate leather or dark blue leather and again, expect eyeballs to veer downward every time you pass by.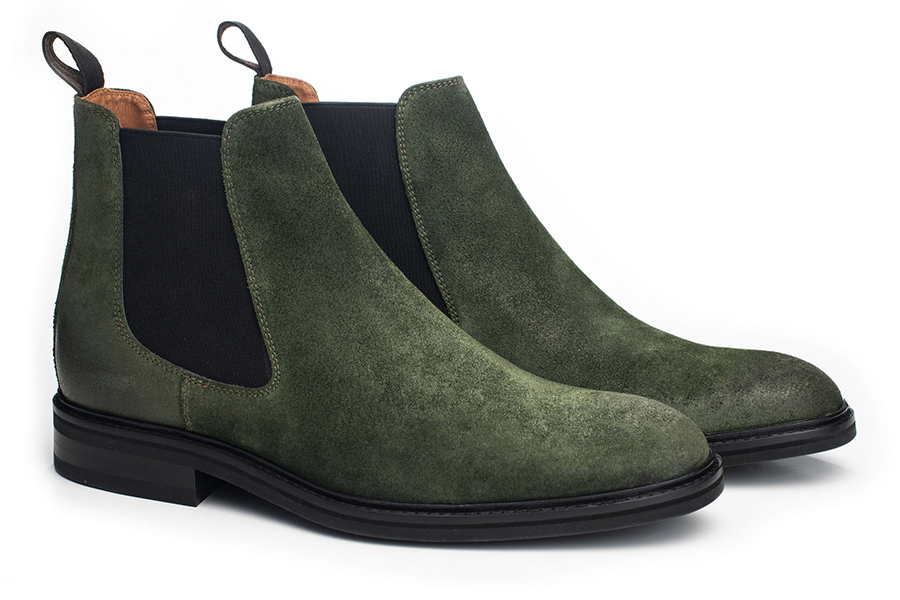 Lawry Chelsea Boot
We love ourselves a suede Chelsea boot and The Lawry is one of the best we've ever seen. Striking a deft balance between classic design and contemporary style, it will duly heighten pretty much any modern get-up. Thanks to a pull tab and gored elastic sides, these premium boots are effortless to slip on and off. Also featured is a leather footbed for long-lasting comfort and a rubber outsole for prime grip and durability. Choose between brown or green waxed suede and get rolling.
Of course, these selections are just a few amongst an array of choice silhouettes from Moral Code. Building upon three-generations of family-owned footwear, the brand leaves essentially nothing to be desired. From smart casual to strictly business, you'll find it here and in top form. Pair that with the brand's steadfast commitment to ethical standards and you'll be feeling as good as you look every time you throw on a pair.
Premium materials. Timeless methods. Admirable values. Eye-catching designs. Affordable prices. Quality control from the ground up and the top down. These are the principles that have helped make Moral Code stand out from the pack, one shoe, sneaker, or leather accessory at a time. Each and every product delivers character with its character and values with its value. That's the code and this brand is sticking to it.
*Moral Code only ships within the U.S.