William Wood Watches Pairs Timeless Designs with Unique Fire Hose Straps
Seeking common ground between two historic traditions, British watchmaker William Wood interweaves firefighting accents and materials within a classic design framework. The brand takes its name from the founder's grandfather, who served in the British Fire Service for over 25 years. An amazing individual, Wood received various commendations for acts of valour and once helped save 5 small children from a deadly house fire. With these brilliant timepieces, his legacy lives on and so too does the legacy of British firefighting.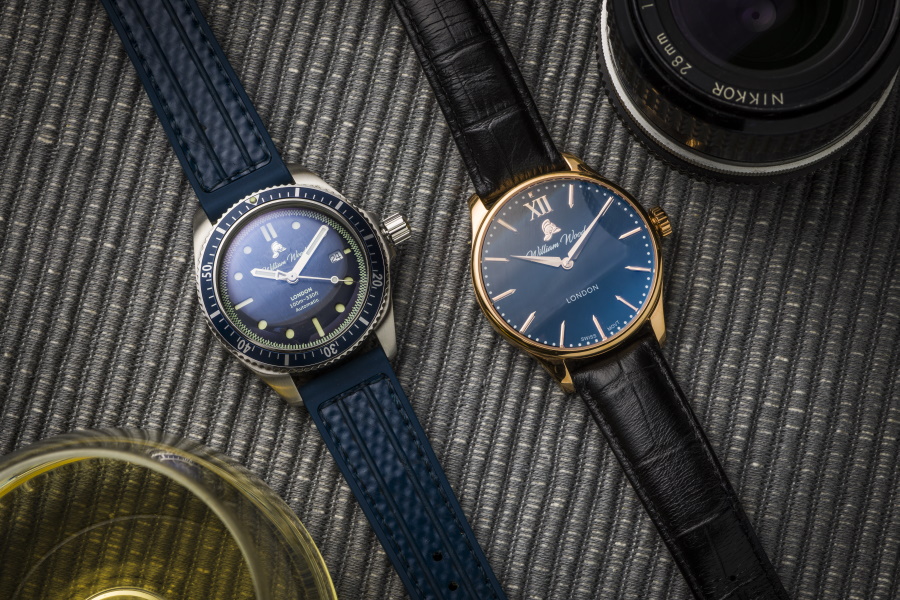 Given their venerable foundations, it's no surprise that William Wood offers collections with names like Valiant and Chivalrous. Bold and stylish at first sight, both ranges deliver no shortage of thematic detail. Nowhere is that more evident than through the brand's signature fire hose straps. Hand-cut from actual British firefighting hoses, the straps come in a variety of colours and exhibit unique individual patinas. You can even smell the lingering smokiness of the fire hose rubber.
Then we have the watches themselves, which initially project an iconic design language. Take the Valiant Collection and its expert interpretation of the modern dive watch, for example. Powered by either Swiss Sellita or Japanese NH35 Automatic movement, each standard model features Super-LumiNova hands, a 316L stainless steel case, double-domed sapphire crystal glass with anti-reflective coating, and a rotating bezel, to name just a few specs.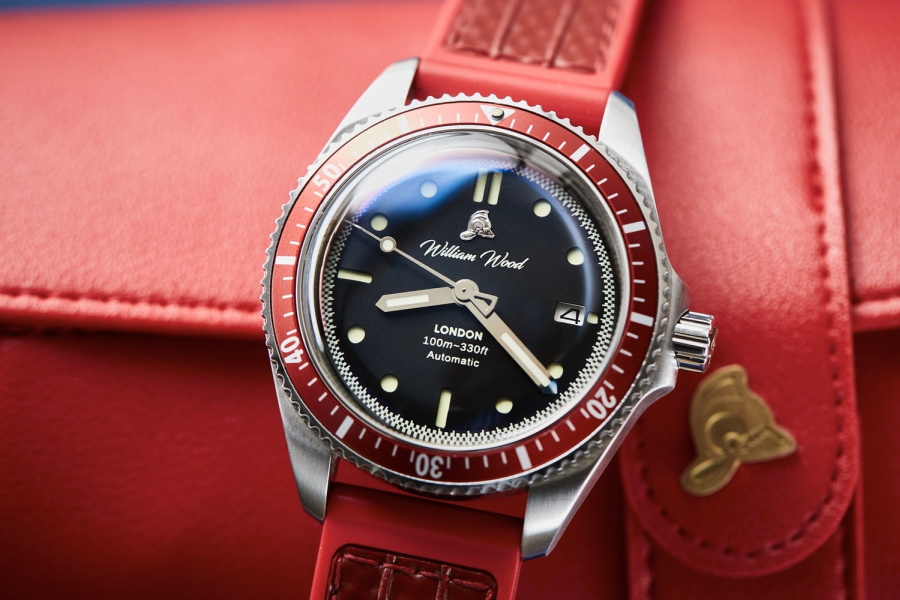 Peer a little closer, however, and you'll discover a choice spread of understated details. At the 12 o'clock marker are two subtle stripes, representing the rank markings of a Fire Brigade Crew Manager. The chequered pattern flanking the dial perimeter is an exact match to the one found on the side of a British fire engine. Along similar lines, the second hand has been designed to resemble the chime from an old fire engine bell. For the upcycled element, look no further than the watch's winding crown inset. Each one is made from a 1920s brass firefighter's helmet and then finished with the brand's logo engraving.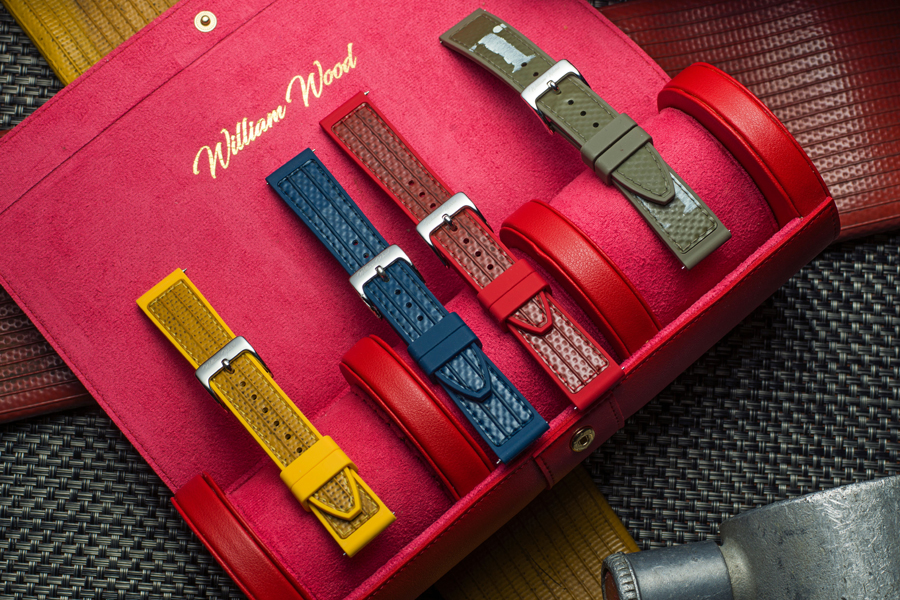 Of course, nothing drives home the upcycled element more than William Wood's famous fire hose straps. Each colour variant is derived from a different source and all the more distinct as a result. The blue strap is the brand's latest and it's also the closest to their hearts, using upcycled fire hose material from Tyne and Wear Fire & Rescue Service. As it just so happens, the real William Wood once served in this very region.
Amongst the brand's current supply, the Bronze Valiant Special Edition is a personal favourite. It renders an immediate impression by way of its fully bronze case with antique rose gold plated hands, bezel, and bottom ring. While available with a variety of straps, this limited edition piece goes best with a blue fire hose strap. Not only does that cultivate a striking aesthetic, but the strap's antique plated rose gold buckle matches the bronze case.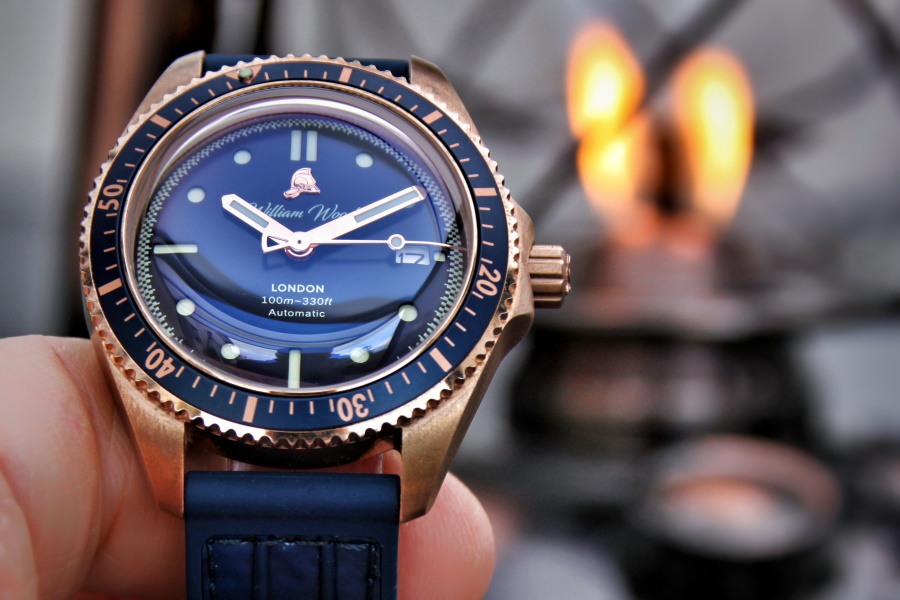 Speaking of personal faves, we're also huge fans of the Blue Valiant with Blue Fire Hose Strap (aka the Blue Watch) and the Red Valiant with Red Fire Hose Strap (aka the Red Watch). Working in conjunction, the straps and dial layouts generate a look that's uniform in essence but simultaneously bursting with subtle distinction. The straps also generate a particular sense of durability, invoking the spirit of bravery and adventure. Thanks to the patina, they're quite eye-catching as well.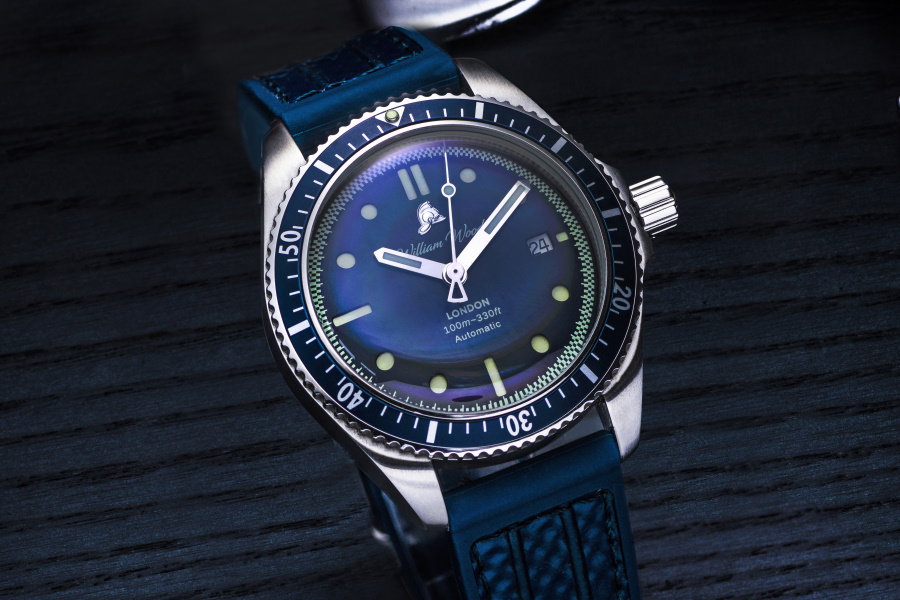 With the Chivalrous Collection, William Wood forays into dress watch territory. Running on Swiss-made Ronda quartz, each model employs a minimalist dial layout with dauphine hands and applied indices. The brand emblem rests just below 12 o'clock and provides a touch of distinction, but the real action goes down on the caseback. That's where you'll find a limited edition brass coin, complete with signature engravings. Bring in the fire hose strap to stir up unique chemistry between elegance and sportiness. An Italian leather strap is also available.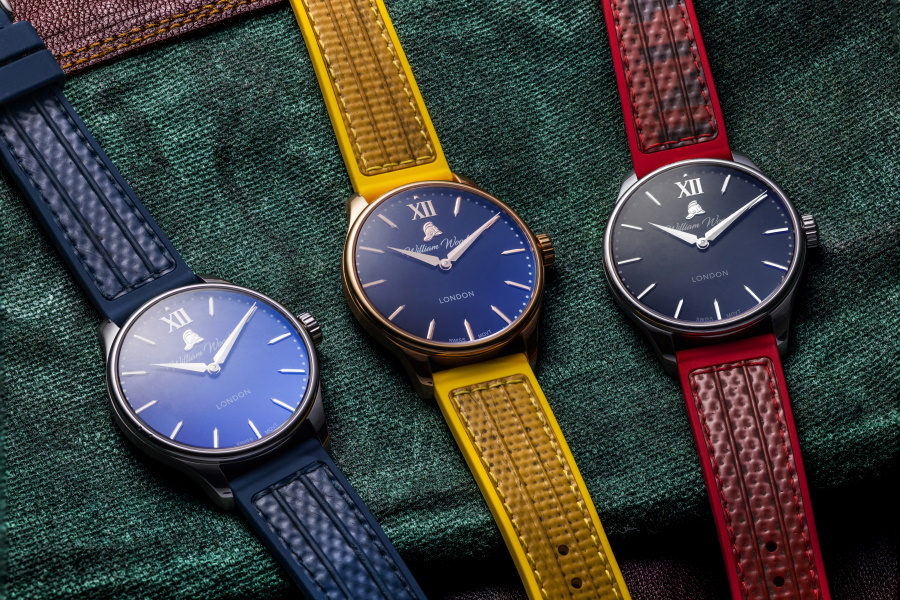 Being that fire hose straps are part of William Wood's ongoing allure, the brand is currently offering a VIP Full Fire Roll. Crafted from red leather, the luxurious travel roll includes the full line of fire hose straps: London Fire Brigade Red, West Midlands Yellow, Tyne & Wear Blue, and British Armed Forces Green. Buy it as a gift for yourself or for the watch lover in your life and save a bundle in the process. Pick up a Valiant or Chivalrous watch while you're at it and get busy mixing and matching. With one extraordinary piece of wristwear, you'll be honouring two timeless traditions.