12 Best Rooftop & Outdoor Bars in Canberra
Canberra is a city empowered by historical architecture, beautiful mountains, pristine lakes, and scenic nature reserves, but how the hell would you know if you're stuck inside some bar without a good view? Since we know you appreciate intoxicating visuals with your intoxication, we'd like to share our list of the 12 Best Rooftop Bars Canberra has to offer.
You'll also like:
20 Best Rooftop Bars in Sydney
20 Best Rooftop Bars in Melbourne
11 Best Rooftop Bars in Brisbane
1. Aviary Rooftop
With a stunning, eco-conscious decor made entirely out of recycled materials, Aviary Rooftop Bar is truly a 21st-century destination for all to see. But you probably didn't come here for the hip furniture and mind-blowing design. You came for the amazing cocktails and breathtaking panoramic views of Canberra's most renowned landmarks, including the serene Lake Burley Griffin. Not only is this possibly the best Canberra rooftop bar, it could rank as one of the best rooftop bars in Australia, period.
Address: 3 Barrine Drive, Acton ACT 2601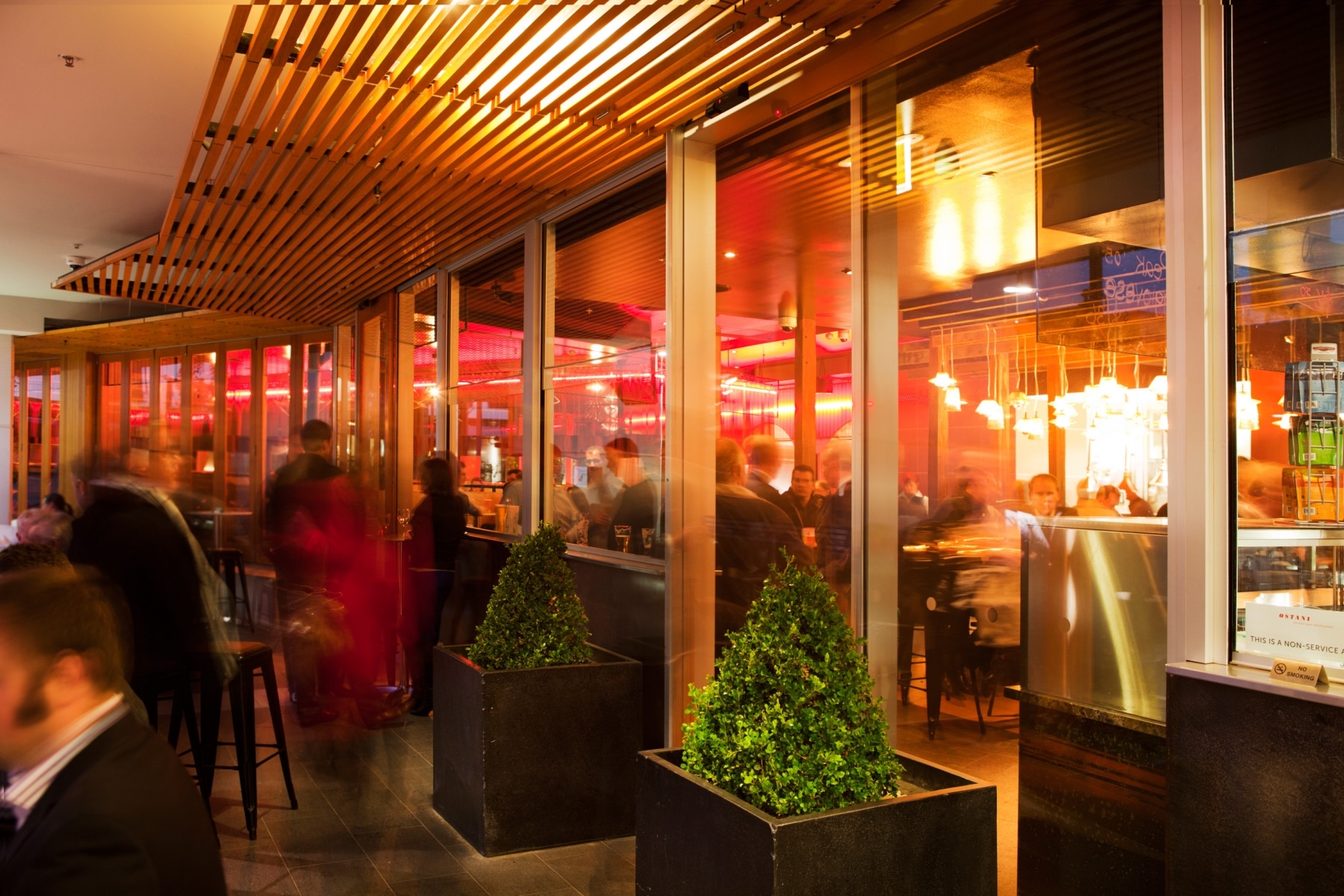 2. Ostani
Located inside the luxurious Hotel Realm Canberra, the trendy Ostani offers up wood-fired pizzas, mouth-watering tapas, and an impressive wine and cocktail program. Nestle into one of their cozy leather booths or grab a seat outside in the garden bar. Proceed to drink away the day or night while munching on a variety of tasty creations.
Address: 18 National Circuit, Barton ACT 2600
Phone: +61 2 6163 1802
Trading hours: Mon-Fri 8am-11pm, Sat-Sun 11am-11pm

3. Frankies
Named for Australia's shortest serving Prime Minister, Frankies is a popular restaurant that will satisfy all your cravings, including your craving for a Canberra rooftop bar. Come any time of day to enjoy excellent food, friendly service and amazing drinks in a beautiful courtyard setting. The courtyard is also perfect for large functions and get-togethers.
Address: 1/26 Francis Forde Blvd, Forde ACT 2914
Phone: +61 429 781 704
Trading hours: Tue-Thu 8am-9pm, Fri-Sat 8am-9:30pm, Sun 8am-8pm

4. Walt & Burley
Perched directly on the shores of beautiful Lake Burley Griffin, Walt & Burley gives any given Canberra rooftop bar a run for its money by flaunting an incredible ground-level view along with top-notch, locally-sourced cuisine and a tasteful list of Australian wines. This is the kind of place where time simply passes you by in a flurry of great views and great conversation.
Address: 70/17 Eastlakes Parade, Kingston ACT 2604
Phone: +61 2 6239 6648
Trading hours: Mon-Sun 11am-12am

5. Burbury Terrace
Perhaps the best Canberra rooftop bar to start your day, the Burbury Terrace at the Burbury Hotel serves a delectable breakfast, fresh coffee, and an amazing rooftop view. Watch the sunlight coast along the other rooftops of the city and then sparkle on the surface of Lake Burley Griffin. You're getting caffeinated and inspired all at once!
Address: 1 Burbury Close Barton ACT 2600
Phone: +61 2 6163 1894
Trading hours: Mon-Sat open 24 hours

6. Lighthouse Waterfront Pub
The Lighthouse Waterfront Pub offers live music and delicious pub food in a no-frills setting. The seats fill quickly and the smell of steaks and burgers constantly waft in the air. Patrons will often choose to sip pints in the beer garden while enjoying a view of Lake Ginninderra–when there isn't a game on that is.
Address: 78-80 Emu Bank, Canberra ACT 2600
Phone: +61 2 6253 0390
Trading hours: Sun-Thu 11am-11pm, Fri-Sat 11am-3am

7. Ha Ha Bar
Ha Ha Bar & Dining Room is proud to offer its patrons an array of inventive small plates, spectacular hand-crafted cocktails and a picture window view of the beautiful Lake Ginninderra. Their unique take on cuisine and libation will heighten the senses while the great, relaxing views of the lake take off the edge. The Ha Ha Dining Room is equipped to handle any scenario and is, therefore, an ideal place to take a first date or hold a group function alike. Is it the best rooftop bar in Canberra? Only one way to find out!
Address: 102 Emu Bank, Belconnen ACT 2617
8. Siren Bar
Known for its sleek vibe and a culinary philosophy of "simple food well done", Siren Bar has become a popular destination among locals and visitors alike. It's the perfect locale to sit on the deck and sip a martini while soaking in the late afternoon sun. And don't forget to order some prawns or calamari while you're at it. Like the name, this is a Canberra rooftop bar that simply lures you in.
Address: 30 Anthony Rolfe Avenue, Gungahlin ACT 2912
Phone: +61 2 6162 0377
Trading hours: Mon-Wed 8:30am-10pm, Thu 8:30am-11pm, Fri 8:30am-12am, Sat 8am-12am, Sun 8am-10pm

9. Mint Garden Bar
As the outdoor bar at the stylish and universally praised Sage Restaurant, Mint Garden Bar is your personal oasis away from the hustle and bustle of the pesky, annoying real world that's always begging for your attention. The tranquil, tree-lined courtyard is the perfect place to relax and pass the day while eating high-end canapes and drinking hand-crafted cocktails made with only the best ingredients. Located inside one of Canberra's oldest historic buildings, this Canberra rooftop bar is a feast of visual and edible delights.
Address: Gorman House Arts Centre, Batman Street, Braddon ACT 2612
Phone: +61 2 6249 6050
Trading hours: Tue-Sat 12pm-11pm

10. Kingston Hotel
As one of Canberra's longest running establishments, the Kingston Hotel brims with a casual, rustic charm that draws people in from all over the world. In addition to featuring craft beers on tap and a cook-your-own steakhouse, the Kingston also boasts a spacious courtyard that's simply perfect during summer months, bringing locals and tourists together in a convivial, social setting.
Address: 73 Canberra Avenue, Canberra ACT 2603
Phone: (02) 6295 0123
Trading hours: Mon-Sat 10am-late, Sun 11am-late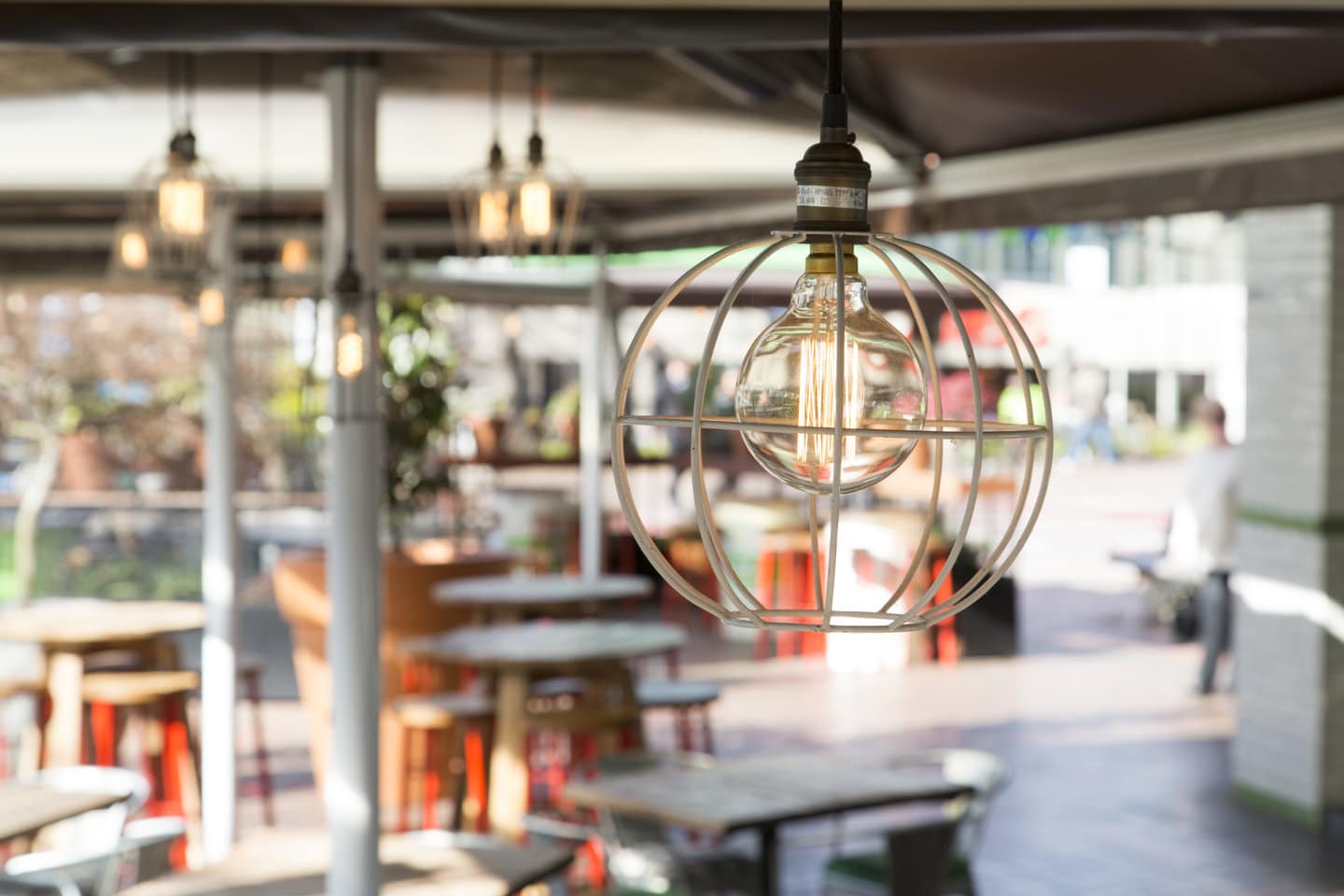 11. Cocu Public Bar
For those who love the modernized gastropub experience, Cocu's Public Bar has what you need in spades. Featuring an unpredictable mix of share plates and elevated pub far, not to mention an exhaustive list of wine and spirits, this bar is the ideal place to sit on the patio and simply try something that's both comfortably familiar and excitingly new. Bring a small group of friends and forget that time exists altogether.
Address: Flinders Way & Franklin Street, Canberra ACT 2603
Phone: +61 2 6161 8808
Trading hours: Weekdays 11am till late, Weekends 10am till late

12. Little Brooklyn
Another offering from Canberra's premier hospitality group, Coco, Little Brooklyn is nestled inside Kingston's Green Square. Using American cuisine as inspiration, Little Brooklyn offers an intensive menu of modern food and drink as well as a lovely outdoor seating area. Should you choose to sit in one of the inside booths, however, you'll be more likely to partake in the establishment's goal to bring "downtown grunge to the heart of the suburb".
Address: 1/50 Bunda Street, Canberra ACT 2600
You'll also like:
20 Best Rooftop Bars in Sydney
20 Best Rooftop Bars in Melbourne
11 Best Rooftop Bars in Brisbane