2017 Christmas Gift Guide – The Music Lover
Whether you're buying for a loved one or just spoiling yourself, our 2017 Christmas Gift Guide for the Music Lover features a selection of premium soundstages, albums and accessories that are guaranteed to scratch that musical itch. When it comes to quality, luxury and prestige, our handpicked selection of gifts show no bounds. That's because, at heart, we are just like your friendly neighbourhood physician. We know what's good for you.
2017 Christmas Gift Guide – The Gamer
2017 Christmas Gift Guide – Stocking Stuffers
Explore All 2017 Christmas Gift Guides
Dynaudio Focus 20 XD Speaker
You know what they say about high-end speakers: if you don't think they're worth it, you've never owned a pair. The difference lies mostly in the speakers' ability to capture a natural soundstage without any distortion, no matter how high you crank the volume. It's like hearing a song or album you already know by heart for the very first time. That's why the Focus 20 XD loudspeaker made the top of our list.
Bose Soundlink Revolve+
Revolve+ is an omni-directional Bluetooth speaker, meaning it doesn't have to be aimed to favour one location over another; the sound is broadcast equally in every direction. It's lightweight, offers 16 hours of playtime and can withstand splashes, dings and drops. With Revolve+ you can bother each neighbour equally, all day and into the night.
Astell & Kern KANN Portable Audio Player
KANN is no relation to the Star Trek villain. Instead, it's the triumphant return of the portable media player. KANN completely ignores the past decade of innovation and channels a simpler time, one where technology was built to last. It's got 64 GB storage, TWO headphone jacks and a 4-inch colour display. It's even made from aluminium, so drops and scrapes mean very little to KANN. If the iPhone never existed, we'd be lining up to chat with a 'genius' at the Astell & Kern store.
Sonos One Bluetooth Speaker
Sonos One is a Bluetooth speaker that's all about voice control. It's built with six microphones and adaptive noise suppression to focus on the right person and ensure the voice service understands you. A light even illuminates when the microphones are active. It's compatible with Amazon Alexia and Google Assistant, along with voice activation for your favourite music, podcasts and audiobooks from over 80 streaming services.
Bruce Springsteen – Born to Run Hardcover Edition
In 2009, Bruce Springsteen and the E Street Band performed at the Super Bowl's halftime show. The experience was so exhilarating that Springsteen decided to write about it. That's how this extraordinary autobiography began. Over the past seven years, Bruce Springsteen has devoted himself to writing the story of his life, bringing to these pages the same honesty, humour and originality found in his songs. It's a must-own for any Springsteen fan.
Sennheiser Momentum 2.0 Headphones
Sophisticated styling meets serious sound quality. Momentum 2.0 headphones have a stainless steel headband, foldable design and large leather ear cushions that maximise comfort while ensuring an improved fit for excellent attenuation of external noise. They're designed for long listening sessions or just a classy commute.
Shinola Bookshelf Speakers
Speakers are just as crucial to a home's aesthetic as a couch, rug or artwork, and that's why these beauties made the cut. Handcrafted by the Shinola audio team to capture the great American vintage aesthetic, these bookshelf speakers deliver top-notch audio performance that reproduces powerful lows and crisp highs. It's the best of both worlds.
The Smiths – The Queen is Dead 2017 Remastered Deluxe Edition
Widely considered to be both The Smiths' finest work and one of the greatest albums of all time, The Queen Is Dead has influenced generations since it was first released in 1986. The newly mastered and expanded 5 record box set features all the tracks you know and love, plus demos, B-sides and a live set recorded in Boston. It's also housed in a collector's edition box. The Smiths did get one thing wrong. Liz is still alive and kicking.
Q Acoustics M2 Soundbase
What's great about a soundbase is that it hides in plain sight under the TV, keeping your entertainment area uncluttered and media sounding great. M2 is one of the best money can buy, so good in fact, What Hi-Fi? gave it a 5-star rating and awarded it the Best Soundbase of 2017. It's a small and sleek box that delivers an immersive room-filling experience. Decent price too!
Ultimate Ears Blast and Megablast Speakers
Don't be fooled by the lifestyle image; you don't need to be a diva to make the most out of these Bluetooth speakers. They do feature Amazon Alexia so you can sing to them if you want. Christmas carols even. Tis the season after all. Not sure what happens when you sing carols to Alexia, but if you ask, she will play some. Seriously, don't do that. There's already enough pain and misery in this world. Instead, play your favourite tunes with this sturdy, water-resistant immersive speaker. Equip yourself with one of these beauties and prepare to have a blast…or a Megablast even.
Bowers & Wilkins P9 Signature Headphones
Italian Saffiano leather and memory foam ear cushions on headphones make everything sound better. The materials also assist in isolating noise from the outside world and mould to the shape of your head over time, providing both an acoustic seal and an incredibly comfortable listening experience. Even the case is luxurious. It's crafted from Alcantara for an elegant suede-like feel, with Saffiano leather detailing. P9 Signature headphones should satisfy even the fussiest loved ones.
Pro-Ject Debut III Turntable
Sometimes, you don't need frills. You don't need all the bells and whistles. It's not about flashy designs, unnecessary innovations or reinventing the wheel. Sometimes, you just need the essentials, done right. Debut III is an everything you need, nothing you don't' turntable. It's sturdy too: Chrome, stainless steel, brass and matte black colouring to avoid unsightly fingerprints. Plus music sounds undeniably better on vinyl.
Woo Audio WA7 Fireflies Headphone Amplifier (2nd Gen)
This wonderful little cube-shaped device is a headphone amplifier, cross USB Digital-to-Analog Converter. The all-aluminium chassis has no visible screws from any angle, plus the upper glass portion lets you indulge in the vacuum tubes and their transparent red lights. Woo would look perfect when positioned on the desk of any home office. Will make your music sound better too! Obviously.
Marshall Major II Bluetooth On-Ear Headphones
30+ hours of wireless playtime! That should be enough to convince you to gift these beauties, but there's even more to swoon over. Major II has an analogue control dial, so you can feel the volume and track changes, there's no fumbling around in your pocket to touch the phone's display. The mic & remote is also completely detachable and compatible with any music player that receives a 3.5mm jack. Not sure why you would want to use any other pair of headphones, but it's possible. Tune in and rock out with Marshall this holiday season.
Bowers & Wilkins PX Noise Cancelling Headphones
Take the impressive soundstage and luxurious design of P9; add Active noise cancelling, and you have PX. What makes this noise cancelling tech so special is that its scalable based on your environment or mood. 'City' allows traffic noise through so you can cross roads safely. 'Office' allows voices so you can hear colleagues when they talk to you. 'Flight' completely cancels ambient engine noise. This one's perfect for when Christmas Day begins wearing thin.
B&O PLAY Beoplay E8 Earphones
Beoplay E8 is all about luxury and true wireless freedom. These little beauties feature a rich, full-bodied and precise soundstage, complemented by voice commands and active noise cancelling technology. Probably the most exciting thing about E8 is that it's housed in a pocket-friendly charging case. Ooh la la indeed!
Naim Uniti Atom Audio Amplifier
If you're serious about music (of course you are it's why you're here), but want to keep your system simple, Uniti Atom's 40-watt amplifier will make all but the most power-hungry speakers sing. Like all good modern technology, it's also compatible with Wi-Fi and Bluetooth, just add your choice of speakers. There are plenty of excellent recommendation on this list wink, wink.
Fender Newport Bluetooth Speaker
Take Fender's classic stage-ready style, performance and sound everywhere you go. With a design inspired by classic amplifiers, the Newport brings Fender's famously clear and compelling sound to streaming music. It also adds a touch of grunge to your phone calls. There are plenty of good reasons why Fender has been the go-to for quality sound for 70 years and counting. Newport is just the most portable one.
Guns N' Roses 'Welcome to the Jungle' Doormat
Whether you're a Guns N' Roses fanatic or simply warning guests about the primal, untamed state of your interior, this doormat is perfect for you. Even if you don't like their music and simply need something to wipe your feet on, you should consider the doormat. It's no more embarrassing than that time the band's guitarist wore a bucket on his head.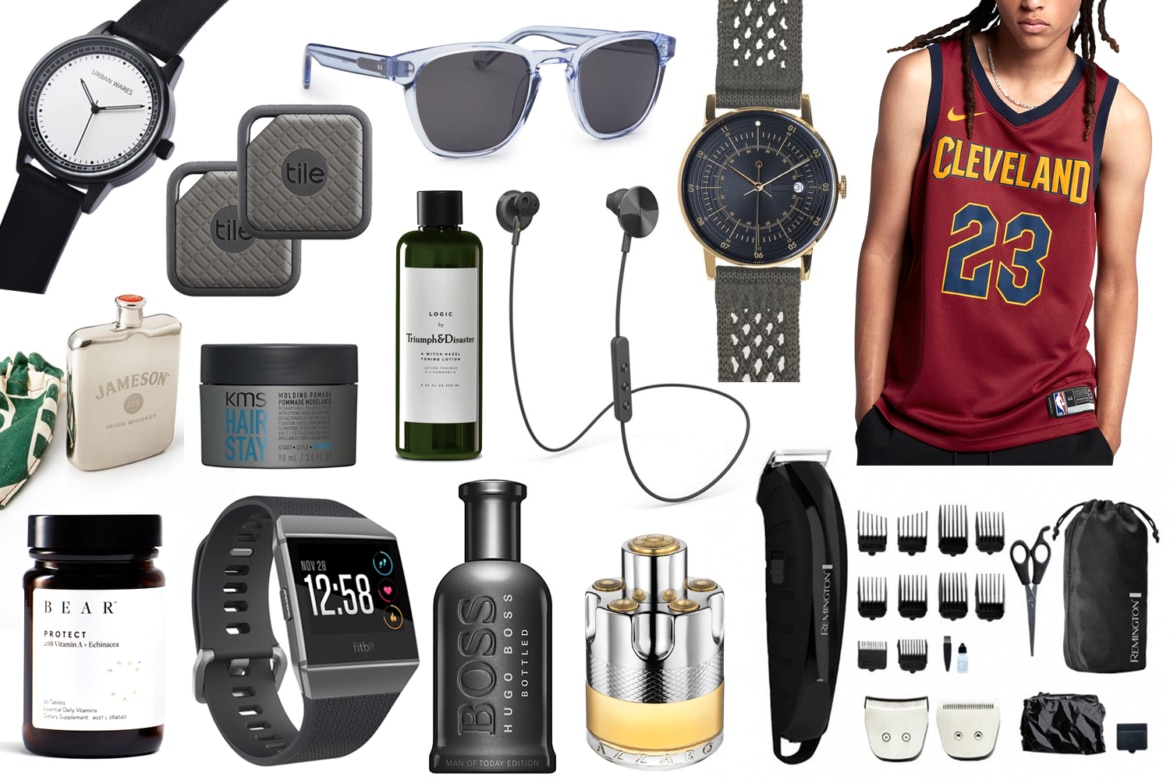 Explore All 2017 Christmas Gift Guides