2017 Christmas Gift Guide – Stocking Stuffers
Like a delicious appetiser before the main course, stocking stuffers are the perfect way to get Christmas morning off on the right foot. However, when putting together our 2017 Christmas Gift Guide, we sought out stocking stuffers that transcended their innate status as mere holiday foreplay. That is, we looked for small products that still render the same kind of big impression as any terrific present under the Christmas tree. So put down the hard candy and the deck of cards, and pick something up from our gift guide instead. It will make everyone's holiday that much better–trust us. Presenting our 2017 Christmas Gift Guide – Stocking Stuffers.
2017 Christmas Gift Guide – The Music Lover
2017 Christmas Gift Guide – The Gamer
Explore All Christmas Gift Guides
Tile Pro Series
Every year our tech gets smaller, making it that much easier to fit inside a giant sock. For proof, look no further than the Tile Pro Series. It's a set of handy tracking devices that essentially anyone with possessions will love. To use the Tile tracker, simply attach it to anything you never want to lose again. If and when you can't find your missing object, load up the app and either locate the Tile on a map, or activate a ringing noise. Likewise, if you ever lose your phone, you can either log on to the Tile website to locate it on a map or press down on the Tile to activate a ringing noise if the phone's nearby. Each Tile lasts a full year with no maintenance required. Now that's what we call one heck of a stocking stuffer!
Nokia 3310 3G
What was once a revolutionary device is now an affordable piece of retro tech that would make for the perfect stocking stuffer. We're speaking, of course, of the revived Nokia 3G cell phone. The vintage stunner is back at a price that's too good to refuse. Available in a variety of colours, the phone hosts a long battery life and features the original Classic Snake game. Given the current price tag of something like iPhone X, we can definitely see the appeal of a resurrected Nokia 3G.
Star Wars Drones – Air Hogs
Odds are there at least a few Star Wars fanatics in your life. Brighten up their holiday season by getting them the Star Wars Air Hogs, a set of remote control drones modelled after iconic ships from the franchise. Choose between the Millennium Falcon, an X-Wing Starfighter, a Tie Fighter and more. One set even allows users to take on the Death Star.
Belkin Boost Up Qi Wireless Phone Charger
Give your friend or loved one an extra boost on Christmas morning by stuffing their stocking with the Belkin Boost Up Qi Wireless Phone Charger. Compatible with a range of Galaxy and iPhone devices, the charger provides a flat and stable matte surface that grips and powers the device with both efficiency and ease.
Sphero Mini
Meet Sphero Mini, the app controlled robot ball! Operate the savvy toy using three separate methods on the adjoining app. Among those methods is Face Drive, which allows you to control the ball's motion using nothing but facial expressions. Meanwhile, Sphero Mini's shell is interchangeable, meaning you can swap out the colour depending on mood or preference.
Anki Cozmo
Looking for a little more personality from your robot toys? Then drop the Sphero Mini and pick up a Cozmo from Anki. The sturdy bite-size toy is good for endless gameplay and no small amount of companionship either. Behind Cozmo's digital smile is a bona fide personality that evolves over time. Use the Cozmo app to challenge the robot to a game, or view things from his POV by way of Explorer Mode.
Stranger Things Squad Pins
Netflix's smash hit Stranger Things has captured minds both young and old across the world. That makes these nifty Stranger Things Squad Pins a stocking stuffer guaranteed to please. Smooth to the touch, the soft enamel pin portrays the show's four central characters bordered by a black metal trim.
PopSockets
Part novelty item and part useful accessory, a PopSocket is an expandable doohickey that sticks to your smartphone or tablet. It can be used as an impromptu stand or a secure grip allowing your hand to relax while you hold your device. Making each PopSocket stick is an advanced, reusable and washable adhesive that works with most devices. Available in a wide variety of colours and patterns, PopSockets will get those stockings popping, indeed!
Blunt Metro Umbrella
True to its name, the Blunt Metro Umbrella delivers unfettered usability and a downright brilliant design. Distinguishing the compact umbrella from the herd is a swift auto open mechanism and tight folding frame. Each umbrella is also rigorously tested to ensure the utmost dependability in the face of harsh wind and rain. The urban warrior in your life might not jump for joy when he finds an umbrella in his stocking, but he'll come around as soon as that first storm hits.
Peerless TrackR Quartz Blue Ballpoint Pen with Chrome Appointments
A pen might not sound all that unconventional as a stocking stuffer, but the Peerless TrackR Quartz Blue Ballpoint Pen with Chrome Appointments is no ordinary pen. Touting a quartz blue lacquer finish, chrome-plated details, a tapered medium-diameter barrel and a steadfast swivel action feature, the blue ballpoint pen is a masterpiece of ergonomics and precision. Best thing yet, is that you can protect your investment with the TrackR technology and its crowdsourced location network of over 1MM+ users.
T2 Tea Gift Pack
As a healthy, rejuvenating alternative to coffee, quality tea offers a bounty of flavours, aromas and benefits. Give that bounty to a friend or loved one this holiday season by putting a T2 Tea Gift Pack is his stocking. Among the variety of blends are exotic entries like Strawberries Sensation and Geisha Getaway, holistic offerings like Tummy Tea, and familiar classics like English Breakfast and Earl Grey. Of course, that's a small sampling of what lies in wait for your favourite tea lover.
OrbitKey 2.0
Give your keys (and the keys of your friends and loved ones) the home they deserve by picking up an OrbitKey 2.0. Each one is made from genuine cowhide leather and thereby brilliantly soft the touch, not to mention scratch free. Included in the purchase is a separate attachment for electronic car keys, while the base unit holds between 2 and 7 seven regular keys.
Happy Socks
Double down on socks this holiday season by stuffing those stockings with Happy Socks. Since 2008, the brand has taken a supremely positive approach toward craftsmanship and design. As a result, their range of socks and underwear is simply huge in terms of selection and quality alike. Find the pattern that will raise the biggest smile and get giving.
Where to Drink Coffee
For many drinkers, coffee is more than a pick me up, it's a lifestyle. If you know someone who takes their passion for java to the next level, consider making Where to Drink Coffee their newest indispensable resource. The handy guide is a treasure trove of insight, culling opinions from the world's foremost baristas and experts in regards to their favourite spots around the globe. Also included are helpful maps to ensure you get where you're going before those withdrawal headaches kick in.
Tactica Tool
Compact as heck and equipped with an internal storage chamber, the Tactica Tool is as adaptive as it is versatile. It's also the highest funded multi-tool in crowdfunding history. Inside the sturdy, lightweight tool you'll find a bottle opener, ruler, Philips + Flathead hex nuts, wrench and more. Need to add a tool or take one away? No problem–just swap them out. If the surf dog or cycler in your life doesn't have one of these babies already, he needs one.
Matador Nanodry Towel
Perfect for travel, the Matador Nanodry Towel is made using an innovative nanofibre material that's super light and able to absorb 2.3 times its own weight in water. In other words, this thing dries fast and never bogs you down. Also featured is anti-microbial coating to keep the towel clean and ready for action. For your stocking stuffing convenience, the towel comes in its own tiny silicone travel case.
The Sriracha Cookbook
Who doesn't enjoy Sriracha? Well, people who don't like spicy food. Putting them aside, it's tough to find someone who isn't in love with the ubiquitous chili sauce. Taking that love affair to new heights is The Sriracha Cookbook by food writer and chef Randy Clemens. On these pages you'll find 50 delicious recipes featuring the popular sauce. We're talking dishes like Honey-Sriracha Glazed Buffalo Wings, Bacon-Sriracha Cornbread, and even Peach-Sriracha Sorbet. Get this book for the talented chef in your life and have him whip up something tasty.
ThinkGeek Tactical Chef Apron
Speaking of the talented chef (or grill master) in your life, dress him for the occasion by getting him the Tactical Chef Apron from ThinkGeek. Equipped with pouches, removable Velcro patches and an adjustable side-strap, this culinary apparel touts a military grade aesthetic. It might not fit in a stocking, but it's too cool to pass up. Suffice to say, this apron means business.
Stendig Wall Calendar 2018
Stocking stuffers are a great way to infuse a little practicality into gift giving while not stepping on the toes of all those fun presents sitting under the tree. Where are we going with this? To the Stendig Wall Calendar, of course. However, don't be fooled into thinking this is pure pragmatism at play. Originally designed in 1966 by Massimo Vignelli, the calendar flexes some genuinely artistic muscle while serving its practical purpose.
Ultimate Ears Wonderboom
If you're looking for a stocking stuffer that comes satisfaction guaranteed, then pick up an Ultimate Ears Wonderboom and cram it into that oversized sock. The eye-catching gadget is waterproof, wireless, compact, synchronous, compatible and powerful. When it comes to audio, no one argues with wireless and portable. Indeed, this might be better than anything he'll find under the tree.
The Subtle Art of Not Giving a F*ck: A Counterintuitive Approach to Living a Good Life 
Wildly popular blogger Mark Manson was fed up with all the overly positive self help books and hippy dippy new age mantras. Rather than deceive ourselves, he argues, why not accept life for what it is and tackle it head on? To expand on his point, he wrote The Subtle Art of Not Giving a F*ck. The bestselling book takes a tough love approach toward self-improvement, asking readers to embrace their limitations and take a realistic approach toward achieving their goals. Such uncompromising advice might sting a little at first, but it will prove far more beneficial in the long run. Spread the word.
Pornburger: Hot Buns and Juicy Beefcakes 
Chef and producer Mathew Ramsey gets turned on by hot beef and succulent buns, and let's face it, so do you. In Pornburger, Ramsey ditches all pretences of healthy eating and puts our excessive love of burgers, breads, sides, toppings and even booze in the spotlight. Expect a gluttonous buffet of drool-inducing pictures and recipes alike. You're getting hungrier just thinking about it.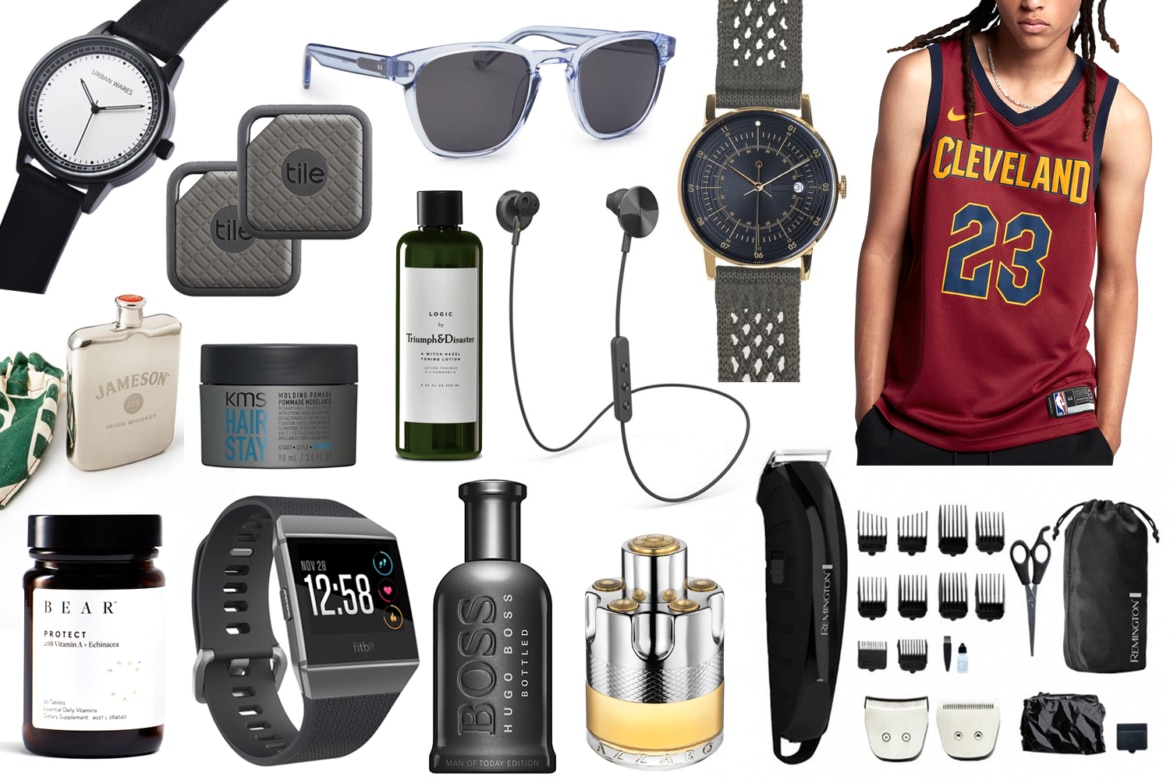 Explore All 2017 Christmas Gift Guides