City Guide: 48 Hours in San Francisco
In the mid-1800s it was the gold rush. In the late-1960s it was the summer of love. Now it's the tech boom. It seems no matter what the era that California's San Francisco (or SF if you will) remains at the centre of the action. As such, the beloved city by the bay continues to defy old trends and set new ones, depopulate and repopulate, shift, grow, innovate, gentrify and modernise.
While SF might be looking uniformly greener these days it remains an indisputable hotbed of various ethnicities, neighbourhoods and perspectives, each one bringing something unique and memorable to the table. From the Mission District to North Beach to Chinatown, this is still the place to go if you're seeking an authentic and overwhelmingly positive cultural experience. Just hurry up and visit now before they build a wall around it to keep all the non-billionaires out.
EAT
Urban Tavern (at Hilton Hotel)
They say home is where the heart is and while in SF, the Hilton Union Square was indeed our home. That meant eating at Urban Tavern, which just launched a new menu courtesy of an amazing new chef. Breakfast was stellar and included cooked-to-order eggs paired with locally sourced breads and meats, fresh squeezed OJ and naturally some piping hot, delicious coffee. At dinner we had the best BBQ Octopus we'd ever tasted, cooked to perfection and simply oozing with flavour. Toss in a consistently convivial atmosphere, large family sharing plates and exceptional service and we almost forgot to leave the hotel entirely.
Urban Tavern – 333 O'Farrell St. 94102
www.urbantavernsf.com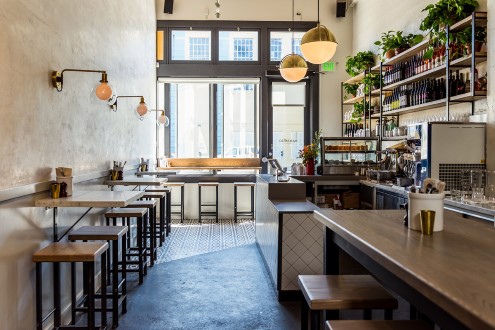 Barzotto
Barzotto is epitome of modern American/Italian cuisine and the kind of place that will spoil you for life. They make their own pasta in house and every plate in general is a masterpiece of freshness, quality and presentation.
Barzotto – 1270 Valencia St 94110
www.barzotto.com
Nopa
If you're looking for a prime example of the northern California dining experience with a touch of European technique, look no further than Nopa. Here you'll find mouth-watering rustic food and craft cocktails served in an open environment that encourages camaraderie. Drink, eat, laugh and make some new friends.
Nopa – 560 Divisadero St 94117
www.nopasf.com
Sweet Maple
Get your booze and thick cut bacon on at what's arguably the best brunch spot in the bay area: Sweet Maple. Order a mimosa while you wait for your table because trust us, there will be a wait.
Sweet Maple – 2101 Sutter St 94115
www.sweetmaplesf.com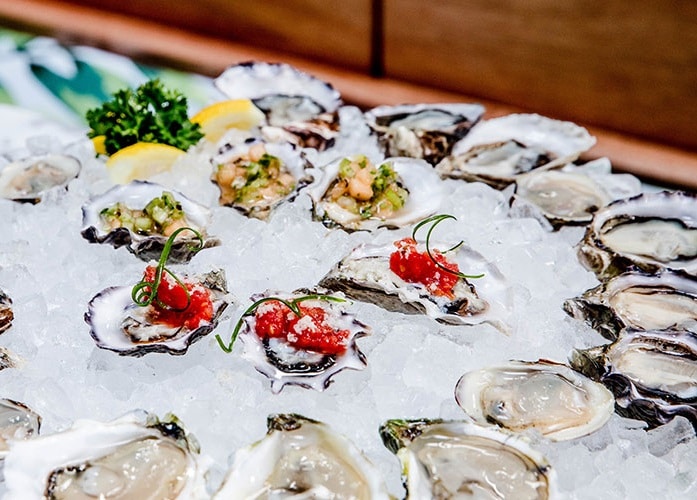 Leo's Oyster Bar
Leo's Oyster Bar celebrates the legendary city and its watery environs with old school flair and spectacular seafood. Between the classic drinks, the impeccable service and the intensely satisfying cuisine, expect this vivacious establishment to heed your every indulgent desire.
Leo's Oyster Bar – 568 Sacramento St 94111
www.leossf.com

STAY
Hilton San Francisco Union Square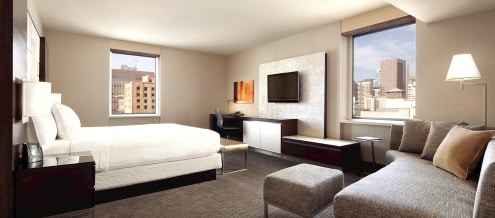 San Francisco has so much going on in every imaginable corner of its universe that finding a hotel central to it all is downright essential, especially if you're on a time crunch. It was therefore what you might call clutch that we landed at the Hilton San Francisco Union Square, a true world-class hotel that's preciously close to shops, bars, restaurants, theatres, clubs, historical landmarks and under-the-radar locales.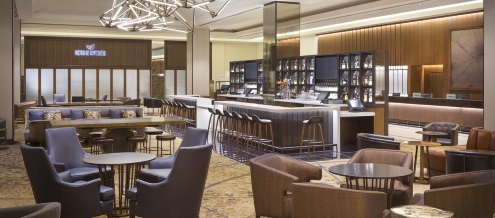 But location was merely one among many in Hilton's arsenal of features. Having been recently renovated the hotel is now more high energy and aesthetically brilliant than ever before. On top of that the service was meticulous, the views incredible, the room spacious and clean, and the restaurant aces for both breakfast and dinner. And let's not forget the best part: an awesome rooftop bar that we'll get to in a moment. We couldn't be more grateful for the accommodation, and we can't recommend the Hilton San Francisco Union Square enough to future visitors.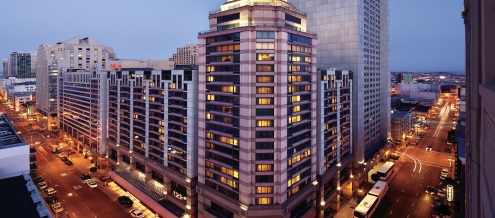 Hilton San Francisco Union Square – 333 O'Farrell St 94102
www3.hilton.com

DRINK
Cityscape Lounge
There's more than one way to get high in SF, folks. Consider the Cityscape Lounge, aka Hilton's impeccable rooftop bar. Gaze through massive floor-to-ceiling windows at breathtaking, 360-degree views of the entire Bay Area including the city's most iconic landmarks. Joining those unparalleled vantage points are exquisite small plates, signature cocktails and a variety of beers and wines. Sit back, drink up and soak in some of the best scenery you're likely to find in an urban setting anywhere.
Cityscape Lounge – 333 O'Farrell St. 94102
www.cityscapesf.com
Black Cat
By expertly fusing grit, glamour, entertainment and artisanal craft, Black Cat Bar and Restaurant has become a Tenderloin staple in record time. In addition to the stellar food and cocktail menu, this veritable hot spot features some of the best live jazz in the city. Expect a crowd.
Black Cat – 400 Eddy St 94109
www.blackcatsf.com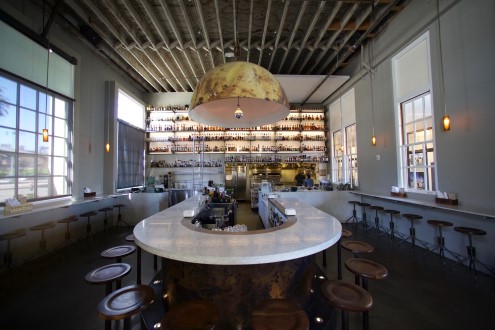 Hard Water
Those who enjoy the soul-awakening taste of a rare single barrel bourbon or classic rye are advised to check out Hard Water, a booze-lover's wet dream come to life on Pier 3 in the Embarcadero. Here you you'll find pretty much every worthwhile whisky in existence, bartenders with PhD levels of alcohol knowledge, creative comfort food and killer bay side views. Heck, the name alone tells you they mean business.
Hard Water – Pier 3 Ste 102, 94111
www.hardwaterbar.com
Trick Dog
Occupying a converted warehouse space in the Mission District is Trick Dog Bar, an adult funhouse overflowing with kitschy visuals and some of the most memorable cocktails to ever cross your lips. Everything is scrumptious here and the drink menu is always changing so don't waste your time researching in advance–just go and see where your appetite takes you.
Trick Dog – 3010 20th St 94110
www.trickdogbar.com
Mezcalito
Celebrate tequila's smoky, versatile cousin in all its glory here at Mezcalito by trying a mescal-based cocktail or sipping the spirit neat. Pair that with some delicious high-end tacos and you're looking at a premium Mexican bar experience minus the poor health grade.
Mezcalito – 2323 Polk St 94109
www.mezcalitosf.com

Coffee
Blue Bottle Café
Part coffee house, part living museum, Blue Bottle Café takes the best science of old and new to deliver a downright remarkable cup of java. That means using contraptions like a five-light siphon bar from Japan or an Oji iced coffee drip. Prepare to be invigorated in new and interesting ways.
Blue Bottle Café – 66 Mint St 94103
www.bluebottlecoffee.com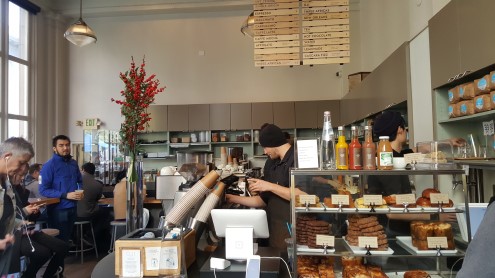 Four Barrel Coffee
The folks at Four Barrel take coffee seriously, so seriously that you might even scoff at the hipster vibe, the lofty price point and the precision pouring as an example of style over substance. But one sip of that perfectly executed latte will shut you up real fast. And if you're still complaining there's surely a Starbucks in walking distance.
Four Barrel Coffee – 375 Valencia St 94103
www.fourbarrelcoffee.com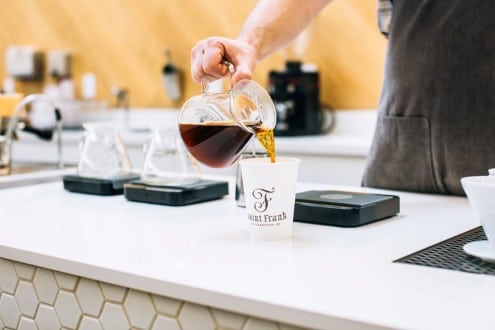 Saint Frank Coffee
If you like unique and energising coffee drinks that are big on flavour and served in a clean, hip environment, you can do no wrong by getting your morning fix at Saint Frank. The renowned coffee house roasts its own beans and even makes a "syrup of the day" in house. Now that's artisanal coffee.
Saint Frank Coffee – 2340 Polk St 94109
www.saintfrankcoffee.com

WHAT TO DO
Given there's only so much food, alcohol and caffeine the human body can handle, there might come a point during your stay in SF where you ask yourself, "what now?" The answer to that is wide-ranging in scope because there are simply a TON of things to do in San Francisco. And while a quick Google search might direct you to the Fisherman's Wharf, our advice is to skip it in favour of some other activities that might be a tad less touristy. Of course, should you want to hit up the Fisherman's Wharf and see a bunch of seals doing their thing, we certainly wouldn't try to stop you since seals are definitely awesome! Nevertheless, here are some other activities guaranteed to make your trip worthy of legend:
Bike Ride Across the Golden Gate
Plant yourself right in the middle of all that epic scenery by renting a bikeand cycling across the Golden Gate Bridge to beautiful Sausalito. Stop for some coffee and maybe a quick bite and then take the ferry back to the city. Along the way you'll get a lifetime's worth of views and pictures to make all your friend's insanely jealous. The whole adventure takes about 3 hours.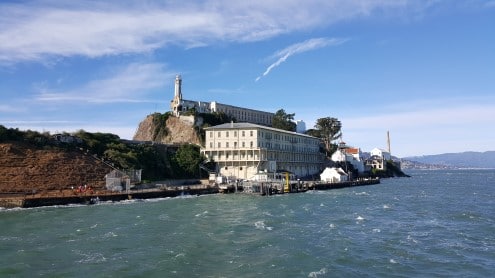 Alcatraz
You've heard the stories and seen the movies–now it's time to check out the real thing. Take a cruise to Alcatraz, the infamous island prison located just over a mile off shore from the city. It's been painstaking preserved for your viewing pleasure and really does a superb job at keeping the past alive, going as far as giving visitors a chance to chat with wardens and inmates who worked/live in the jail when it was active.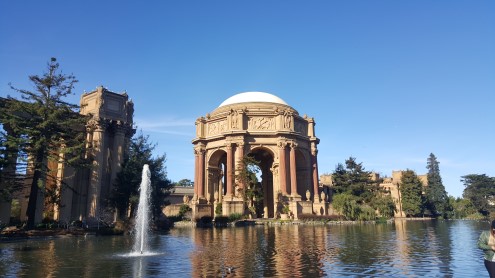 MOMA
Being one of the premier cities on the planet means having legendary works of art on the walls of your museums. Picasso, Warhol, Rivera and Jasper Johns are just a few names among the thousands of brilliant artists in SFMOMA's insane collection.
Golden Gate Park
At over three miles long and about a half mile wide, SF's Golden Gate Parkis similar in spirit (and design) to New York's Central Park and about 20% bigger. Rent a bike and retreat from the urban hustle for hours on end by traversing the spacious park, being sure to stop at its many notable attractions like the California Academy of Sciences, the de Young Museum, and the Japanese Tea Garden.
Sutro Baths
At the outer perimeter of the city limits is a rugged shoreline gem known as Lands End Park. Here you'll find breathtaking vistas, rocky beaches, historic ruins, hiking trails, and the famous Sutro Baths, a massive complex that once hosted up to 10,000 people at a time. It's said the Sutro Baths were a favourite stop for folks travelling the coast by rail back in the day–at its peak it held six saltwater pools, a freshwater pool, dressing rooms and an amphitheatre. Nowadays the baths are a historical landmark and a terrific place to kill a few hours.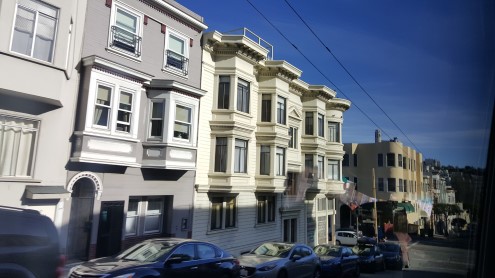 Painted Ladies
No trip to San Francisco is complete without a visit to the famed "painted ladies", aka "postcard row", aka that one scene in the credits sequence from Full House, aka a string of picturesque Victorian houses in Alamo Square that slope upward and make for the perfect Instagram shot. Do not resist the temptation–go there and take that photo!
Haight/Ashbury
Decades ago, the general area surrounding Haight Street and Ashbury Street was a refuge for artists, free thinkers, hippies, stoners, and vagabonds alike. Surprisingly that's still very much what you'll find here. Sure, plenty of the local businesses are merely capitalising on the "mythology" of hippie culture, and the line between "free spirited nomad" and "angry homeless person" has been blurred beyond recognition, and buying a vinyl record at one of the many local record stores might put a noticeable dent in your budget, but somehow that still equates to a colourful district big on personality and culture.

Shop
If you find yourself staying near Union Square then you'll quickly see there's no shortage of appealing retailers. In addition to the nearby Westfield shopping mall, we discovered this area to be bursting at the seams with great and interesting places, all ready to relieve us of our hard earned cash. In general, San Francisco is a consumer's paradise, home to any major brand you can think of and then a slew of local stores you'll be hard-pressed to find anywhere else. Here were some favourites:
Unionmade
Unionmade delivers classic, American style by way of well-made apparel that both looks and feels great. The retailer hosts all the best menswear brands and any modern gentleman with an eye for fashion could get lost in here for hours.
Voyager Shop
As fashion curators, the folks behind Voyager Shop scour the world for the best in clothing and homewares and unify them in one place for your buying pleasure. The atmosphere is clean, fun and open, but don't think for a second that any given detail wasn't arrived upon with near surgical precision.
Joshu + Vela
Taking a true hands-on approach is Joshu + Vela Tradeshop, where designer bags and wallets are manufactured in house from the ground up using only the best materials. The result of such quality control is a portfolio of handmade accessories that are built to last, practically before your very eyes.
Song Tea & Ceramics
Song Tea & Ceramics offers a variety of superior loose-leaf teas and stunning handcrafted ceramic teaware in a minimalist setting. In keeping with the minimalist spirit, we'll say no more.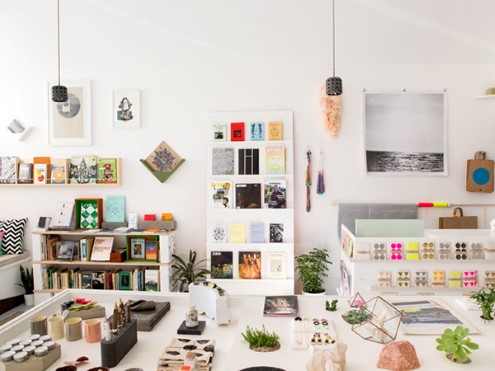 Little Paper Planes Shop
Celebrate creativity and design in all its wondrous permutations at Little Paper Planes Shop, a boutique store that offers affordable prints, books, media and apparel for the art-lover in all us. This place is fun, crafty, inventive and inspiring all at once.
Man of Many was a guest of Hilton Hotels & Resorts.