10 Classic Drum Songs You Can Learn in 10 Minutes
In Partnership with Roland
We're all guilty of watching a drummer play live and thinking, "I could do that". After all, it's just hitting things with a stick and kicking the pedal, right? For beginners and those new to drumming, it might seem remarkable just how much coordination is involved in musical performance. Whether it be a thrash metal band going hard on the blast beats or a smooth jazz rhythm that tickles your fancy, drums are the driving beat at the heart of every genre and are remarkably easy to pick up. In fact, there are a bunch of easy drum songs for beginners that you can pick up in no time. Prepare to dazzle your friends and up your musical conquests, the fast-track to feel is here.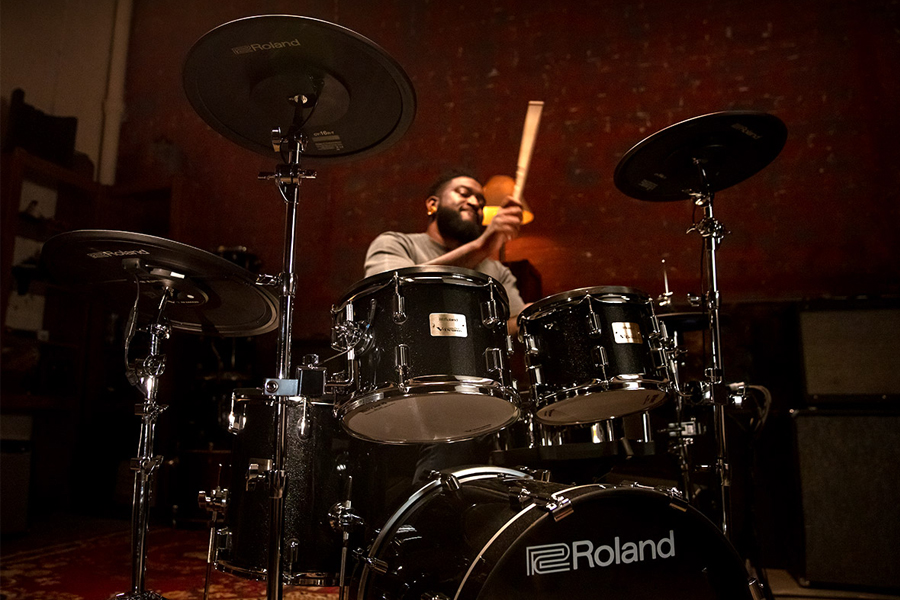 To Drum or Not to Drum?
When you first decide to step into the world of drumming, there are a few things you learn pretty quickly. Firstly, these things are loud. Like, not apartment-friendly loud. That's why we always recommend learning on an electric kit before you do anything else. The legends over at Roland have for long been renowned as lords of the sound, best known for its world-class drum machines like the TR-808 (did someone say iconic?). But aside from practically inventing the trademark hip-hop street sound, the brand also makes some of the best electric kits on the market. New innovations like the V-Drum Acoustic Design mesh the look and feel of traditional kits with audio jacks and personalised EQs for that crispy sound. Trust us, the ability to mitigate excess noise will keep your neighbours on-side and progress on-track.
The second thing you'll notice is that great drumming isn't all about speed. Some songs that you thought were simple often involve complex fills and movements, but the inverse is also true. If you want to pick up a song quickly, it's worth looking for songs that have a consistent drum beat, without a lot of fancy fills. Also, try and aim for a song between 80 and 120 beats per minute. Too slow and you might get bored, too fast and you won't be able to keep up.
But by far the biggest lesson you'll learn along the way is just letting loose. Whether you are a drumming expert or you've never sat behind before in your life, slapping the sticks together on a fresh set of skins is just about as primal and fun as music gets. Got an anger problem? Smash it out on the kit. Need to exercise? Work up a sweat with the sticks. Having trouble with the opposite sex? Drummers are inherently good with their hands. You get the picture.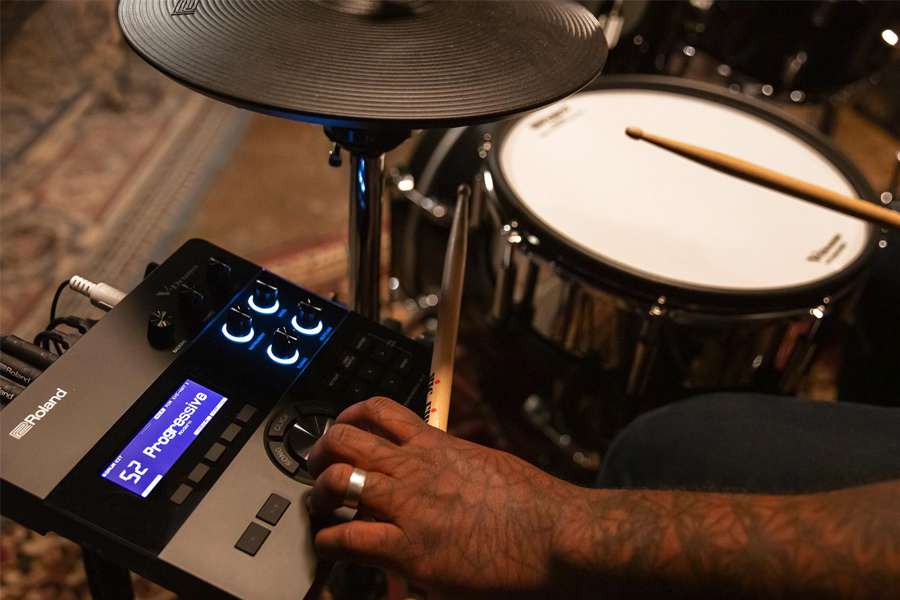 10 Easy Drum Songs for Beginners
Start working on your rudiments, the best drum songs for beginners are loaded with simple to follow fills. Here is a list of 10 easy drum songs to get you in the groove.
1. Michael Jackson – Billie Jean
Perhaps MJ's most famous tune, Billie Jean kicks off with an iconic drum beat. As memorable as this one is, it's actually not as hard as you'd think. With a mix of 16th notes on the hi-hats, along with half and full notes on the snare and bass drum, there isn't a lot to the drum line. Even better, Billie Jean sits right in that beginner sweet spot at 118BPM and with the easy to follow 4/4 time signature. Hit the bass drum on the 1 count and the snare drum on the 3 count and you've pretty much got it down. Sound tricky? Don't stress, if you've ever tapped your foot to the beat of a song, then you've nailed 4/4/ time signatures and 16th notes. You don't even need to read music or hold a tune. Trust us, if you want to get the people moving, throw a bit of Michael Jackson in the mix. It's a winner every time.
Artist: Michael Jackson
Drummer: Leon Ndugu Chancler
Tempo: 118BPM
2. Green Day – Wake Me Up When September Ends
Green Day is well-known for it's easy to follow instrumental lines (we've all seen an amateur guitarist bust out Time Of Your Life), but Wake Me Up When September Ends is an easy drum song to kick off your percussion career. The start of the song has very little drumming, however, it's when that all-important snare and bass drum line comes in that the song really falls together. A great example of how two drums are enough to make a powerhouse tune.
Artist: Green Day
Drummer: Tre Cool
Tempo: 105BPM
3. The Rolling Stones – Honky Tonk Woman
You can't do a lineup of easy songs to drum to without including at least one Rolling Stones song. Charlie Watts is the master of simple drumming with a purpose and in Honky Tonk Woman, he really lets the guitars take the lead. Combining a simple rock groove, with a jazz-based fill on the snare and tom, even the greenest of players will get this one down. Rather than focusing on hitting the snare on the 3 and 4 notes, you'll be holding off and going for the 3& and 4& timings. Tricky stuff.
Artist: The Rolling Stones
Drummer: Charlie Watts
Tempo: 121BPM
4. The White Stripes – Seven Nation Army
Meg White used to cop a bit of flack for her simplistic drumming style back in the day, but it's a perfect place to start for beginners, and ridiculously fun to play. With Seven Nation Army, the grove is about as straight-forward as it gets, and yet, it works perfectly. Focusing primarily on a continuing bass drum beat during the verses, building into a standard 4/4 rock beat, you'll easily be able to pick this one up in no time.
Artist: The White Stripes
Drummer: Meg White
Tempo: 120BPM
5. Bon Jovi – Livin On a Prayer
Whoa, we're halfway there…through our list of 10 easy drum songs you can learn in 10 minutes. As with a lot of great 80s rock and metal, the drumming is easy as hell, and Bon Jovi's Livin On a Prayer is a great example of this. It has a powerful, but uncomplicated drumline, which makes it a great option for new players. The intro and verses flow smoothly, as you need kick drum, hi-hat and snare to play, with a couple of fills thrown in. In the chorus and middle section, you may find a couple of beats that sound complicated, but even this section is simple, as the base rhythm remains the same and a couple of nice cymbal kicks is all you need to add.
Artist: Bon Jovi
Drummer: Tico Torres
Tempo: 123BPM
6. AC/DC – Highway to Hell
Do you love AC/DC? Of course you do, everyone does. From the very beginning, the Aussie rockers have dropped iconic songs that are as simple as they are memorable. With Highway to Hell, we see the drum groove take a characteristically easy approach. Forget the 10 minute time limit, you'll be able to pick this one up in five. Drummer Phil Rudd's playing style is characterised by beats that mostly involve bass drum and snare combinations, with simple fills. If you want to learn how to play a song that is instantly recognisable, you can't go past Highway to Hell. Bonus note, if you can play one AC/DC song, you can probably play them all.
Artist: AC/DC
Drummer: Phil Rudd
Tempo: 117BPM
7. Nirvana – Come As You Are
Nevermind was the album that brought Nirvana into the global eye and this song was a major reason behind it. Come As You Are is often one of the first tunes novice guitar players learn when they pick up the instrument, but it's a super easy drum song for beginners as well. Unlike his more complex later years, Dave Grohl didn't over-do things at all with this one. Basically, there are two main sections, with the verses mostly relying on the typical combination of a bass drum, snare and ride cymbal. The chorus is slightly more complicated, as it includes tom-toms as well, however, the transition is as easy as pie. Best of all, once you get this down, you can start jamming with the other shred-lords in your life.
Artist: Nirvana
Drummer: Dave Grohl
Tempo: 117BPM
8. Muse – Starlight
Muse is one of those bands that knows exactly when to go hard and when to keep it simple. With Starlight, drummer Dominic Howard plays it pretty safe, opting for a catchy, yet simple drum groove. Not unlike the other standard rock beats in this list, Starlight takes the general 8th note hi-hat work and adds in a few extra snare notes to mix it up. While it might take a little longer to get the hang of this one, we're sure you'll get the jist of it soon enough. The good news is that the verse and pre-chorus are essentially identical, with the chorus itself even more simple than the other section.
Artist: Muse
Drummer: Dominic Howard
Tempo: 122BPM
9. The Strokes – Last Nite
Definitely one of the faster songs on this list, Last Nite by The Strokes might be a challenge for new players. It's a simple enough groove though, which is made all the more obvious once you take the kicks out of the opening phrase; all of a sudden things become a lot easier. Even the jazzy little introduction is more simple than you'd think. Two quick hits on the snare and a closed hi-hat and you're in. Remember, it's always best to start off at a slow tempo and build your way up!
Artist: The Strokes
Drummer: Fabrizio Moretti
Tempo: 104BPM
10. Queen – Another One Bites the Dust
Another One Bites the Dust is a song that has a lot going for it. Amazing bass lines, great vocals and a steady drum beat to keep things in check. In a song as stripped backed as this, every mistake gets emphasised so keeping things simple was the ideal choice here. The song consists of straight 8th notes on the hi-hat, with 2 and 4 notes on the snare and then 1 and 3 notes on the bass drum.
For this one, we're going to jump into fills. The first break is a simple series of eighth notes on the snare, whereas the second will require you to be a little more coordinated with your use of the hi-hat. Get it down and you're on to a winner.
Artist: Queen
Drummer: Roger Meddows Taylor
Tempo: 110BPM
Acoustic v Electric Drum Kits
Let's face it, not everyone has the bones to make it as a drummer. Not necessarily because of their coordination (or lack thereof). No, for most people, the only thing stopping them from getting behind the kit is an absence of space and a few neighbours who aren't too keen to hear them practice. That's where electric drum kits have the edge. Unlike acoustic kits, the electric variation allows you to silence unwanted sound and play purely for yourself. That means no angry neighbours and housemates on your case.

But for a lot of people, electric kits just don't have the same appeal, until now. Roland's V-Drums Acoustic Design blends the physical presence of acoustic drums with Roland's world-leading digital percussion technology. With this lineup of electric wizardry, you get the authentic look and detailed craftsmanship of a premium acoustic drum kit, with full-size wood shells and cymbals, beautiful wraps, and deluxe chrome hardware. Better yet, these kits pump out a rich, immersive sound and organic response that inspires you to go deeper. Much like acoustic drum heads, Roland's mesh heads are tunable to adjust tension and rebound. In fact, you can choose a range of sounds, so that you can sound like any drummer. Want that John Bonham sound? You got it. V-Drums Acoustic Design delivers an unmistakably acoustic vibe with the ease and functionality of an electric kit.

If you've ever wanted to get into drumming and weren't sure where to start, Roland has you covered. Electric drums that look, sound and play like acoustic? You can't beat that.
General FAQs
What is the easiest song to play on drums?
When it comes to easy drum songs, most pop music is straight-forward enough for beginners to get the hang of it. Songs like Teenage Dream by Katy Perry, Billie Jean by Michael Jackson or Seven Nation Army by The White Stripes are all good examples of simple drum songs.
What drums are best for beginners?
For beginners, it's always encouraged to go for something simple and easy to set-up. While in most cases, this means going for a second-hand acoustic rock set-up, you could always opt for an electric kit, to ensure that the practice sounds don't get too annoying on your neighbours. We recommend going for the Roland V Drums Acoustic Design kits. They look like acoustic, but have the option to play silently.
Is an electronic drum set good for beginners?
Quality electronic drum kits have a headphone jack and can be further silenced by drum sound isolation boards and noise-reducing pedals. This makes them an ideal choice for beginners practising in shared accommodation.