Father's Day Gift Guide 2020 – The Watch Lover
Your dad is a bona fide watch lover and who can blame him? Far more than functional wristwear, quality watches retain an air of pure fashion and compulsive collectibility. Like jewellery, they can round out a stylish ensemble and increase in value over time. As a result, there's always room for another watch in even the most epic collection, which isn't to mention peripheral products like accessories, cases, and books. That's good news for you this Father's Day because it gives you a perfect jumping-off point in your search for a choice gift. Let our watch lover's gift guide help seal the deal.
Note: Father's Day in Australia is on the 1st Sunday of September which is a different day to the USA and UK which is on the 3rd Sunday of June, but it doesn't mean you can't still shop the gift ideas listed below!
You'll also like:
Father's Day Gift Guide 2020 – The Music Lover
Father's Day Gift Guide 2020 – The Corporate Dad
Father's Day Gift Guide 2020 – Grooming
More Father's Day Gift Guides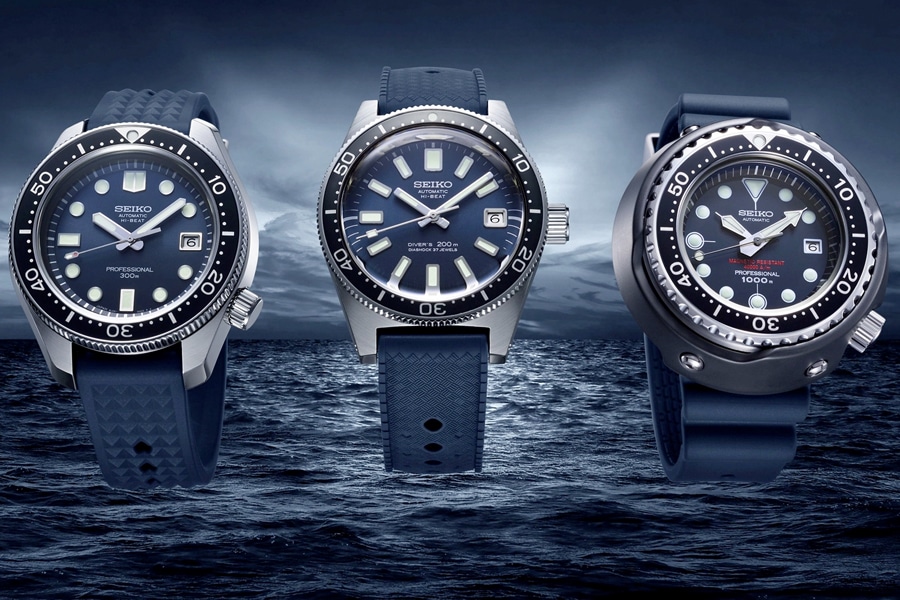 Seiko Prospex 55th Anniversary Diver Watch
In Partnership with Seiko. 
On its 55th anniversary, a legend has been reborn. That legend is the Seiko Diver's Watch and it debuted in 1965 to immediate acclaim. Members of the Japanese Antarctic Research Expedition were amongst the first to take it for a spin, but they were far from the last. Powered by an automatic movement and water-resistant to 150m, it kicked off a thriving legacy of similar fare. Now three of the brand's original stunners are back but with plenty of advanced touch-ups.
The new Prospex Collection features re-creations of Seiko's 1965, 1968, and 1975 diver's watches, respectively. Each model conjures the same rugged durability and timeless aesthetic of its predecessor. Meanwhile, the case or bezel material is now constructed out of the brand's high-grade "Ever-Brilliant Steel," which gives off a unique look and remains highly resistant to corrosion. Much of the underlying technology and architecture has likewise been upgraded.
Otherwise, the new collection does an expert job of bringing the past to life. The robust dial layout. The rotating bezel. The luminous markers. It all resonates with the thrilling spirit of adventure, which isn't even to mention the watch's stylish qualities. Speaking of adventure, the 1975 re-creation—which was originally water-resistant to 600m—is now water-resistant to a whopping 1000m. Each model is limited in supply so find the one that Dad will love and take the plunge…pun intended.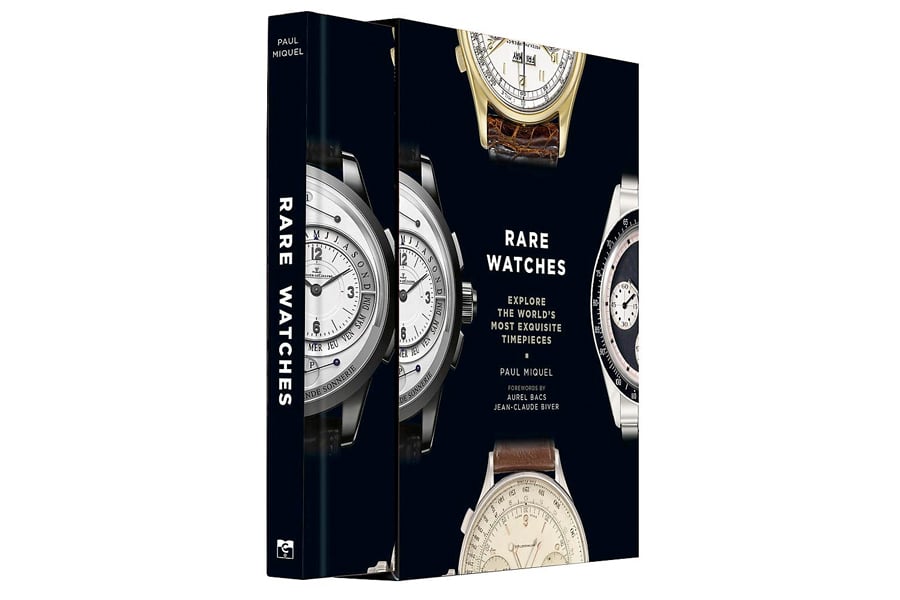 Rare Watches: Explore the World's Most Exquisite Timepieces
A true watch lover doesn't just wear quality timepieces but gets to know them on every level. Should your dad fit the bill, we have just the book for him. Written by industry expert Paul Miquel, it provides a rich chronicle of the world's rarest watches. That includes models that are limited to just a single unit, along with classic icons such as those worn by James Bond. Naturally, we're just skirting the surface of what this amazing book has in store. It all comes to life by way of brilliant writing and vivid photography. – AU$73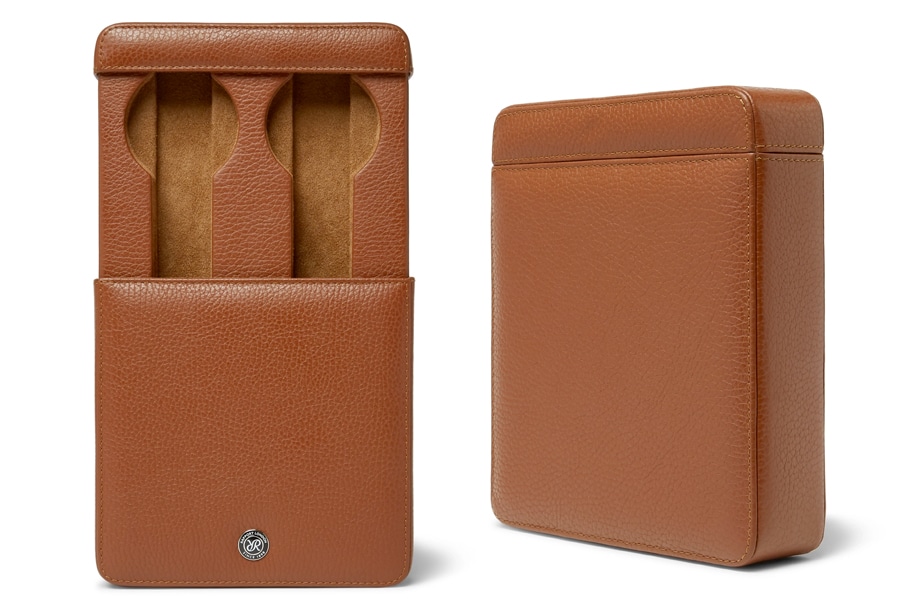 Rapport London Full-Grain Leather Watch Case
A luxury watch deserves a luxury home and that brings us to this full-grain leather case from Rapport London. Lined with velvet and equipped with a slide-out drawer, it fits up to two timepieces. While perfectly usable on the homefront, it's also compact enough for travel. It's a gift no watch lover can resist. – AU$342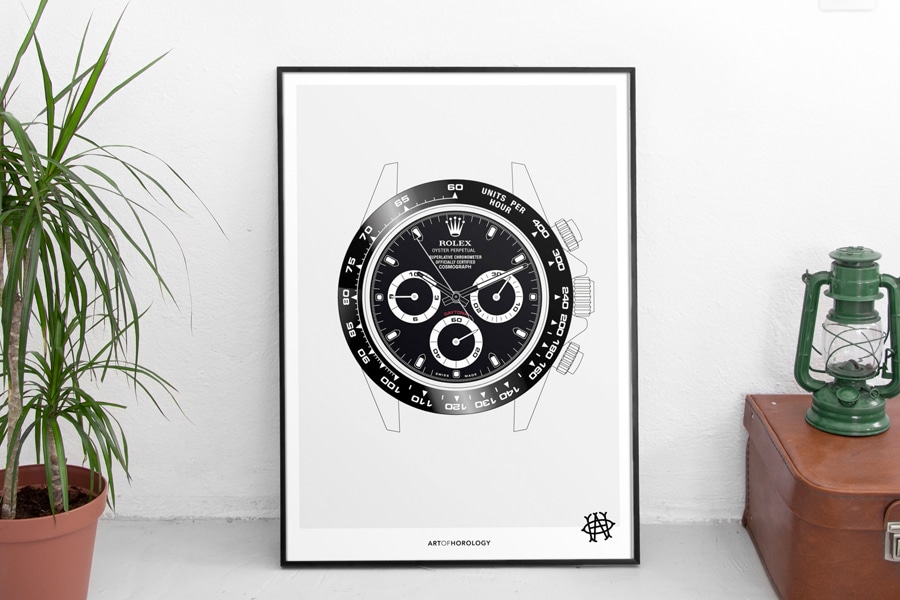 The Art of Horology Prints
"The rare watch my dad wants costs how much?!" you ask yourself upon looking at some of those market prices. While you save up for something special, consider getting him a distinguished watch-themed poster instead. Each one puts an iconic model front and centre, thereby highlighting the piece's innate qualities as a work of art.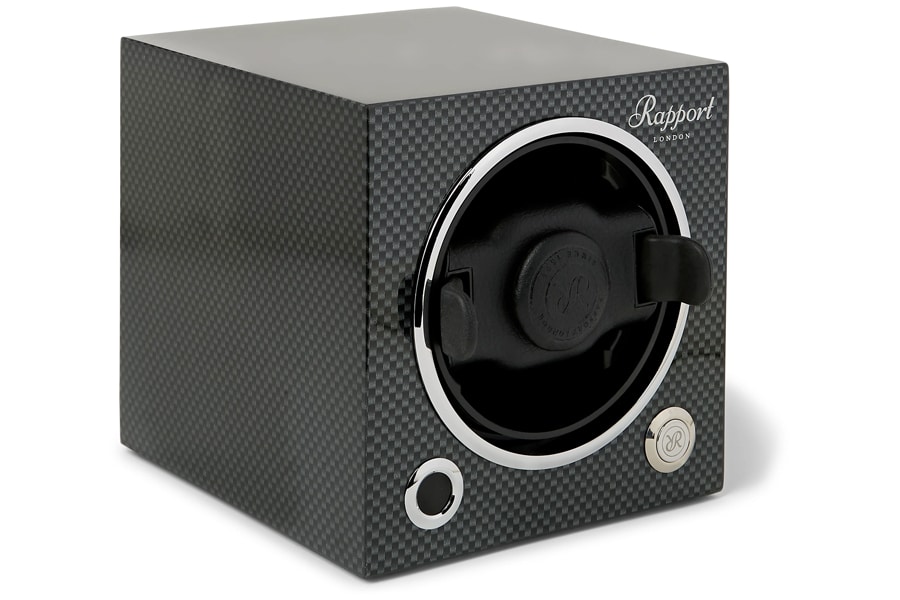 Rapport London Evo Cube Single Watch Winder
Behold the best-selling Evo Cube from Rapport London. Crafted from lacquered wood, it renders an immediate visual impression. Look beyond the stylish veneer to discover an exceptional watch winder, which purrs like a kitten and delivers a variety of rotation options. If you want to know what it sounds like when Dad gasps with pure pleasure, here's your ticket. – AU$616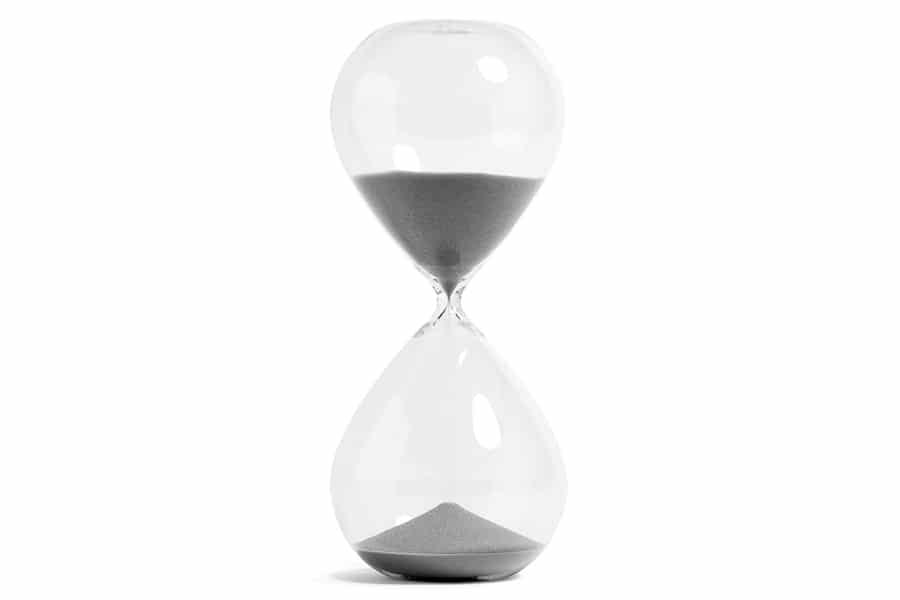 Hay Time Large Hourglass
Made of 100% glass, this beautifully large and transparent hourglass conjures the timeless art of telling time. Filled with silver-tone sand, it's guaranteed to spruce up the nearest modern decor. Flip it over and gaze upon the falling sand as if in a meditative trance. Did we say telling time? We meant getting lost in time. Plus, it's just a cool gift. – AU$124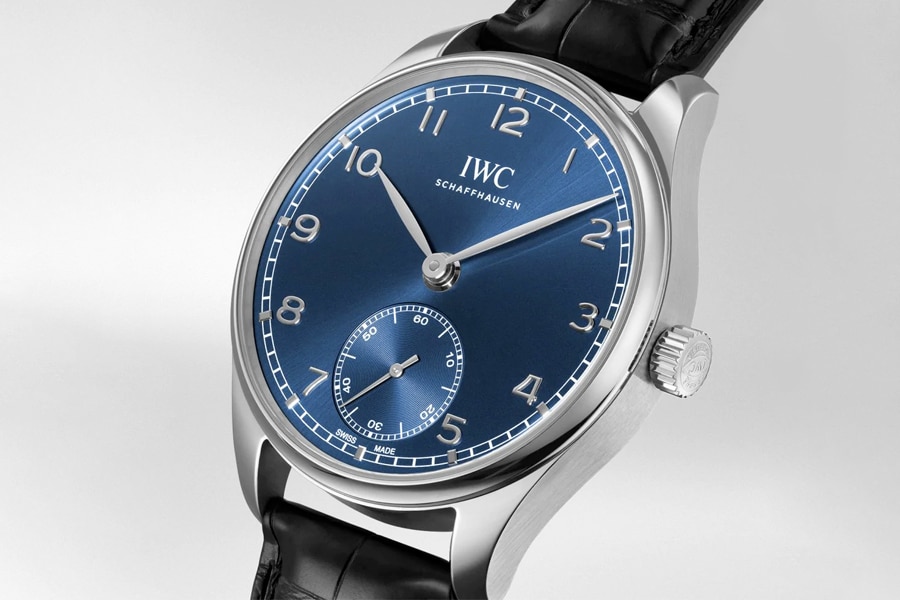 IWC Portugeiser Automatic 40
Affixed to a strap of pure alligator leather, IWC's Portugeiser Automatic 40 is a masterclass in horological beauty. Features include an eye-catching blue dial face, 40.4mm case of stainless steel, and sapphire glass with anti-reflective coating on both sides. Peer through the case back window to discover in-house 82200 Calibre automatic self-winding movement with 31 jewels, 224 components, and a 60 hours power reserve. This kind of luxury will cost you, but who can put a price tag on Dad's happiness?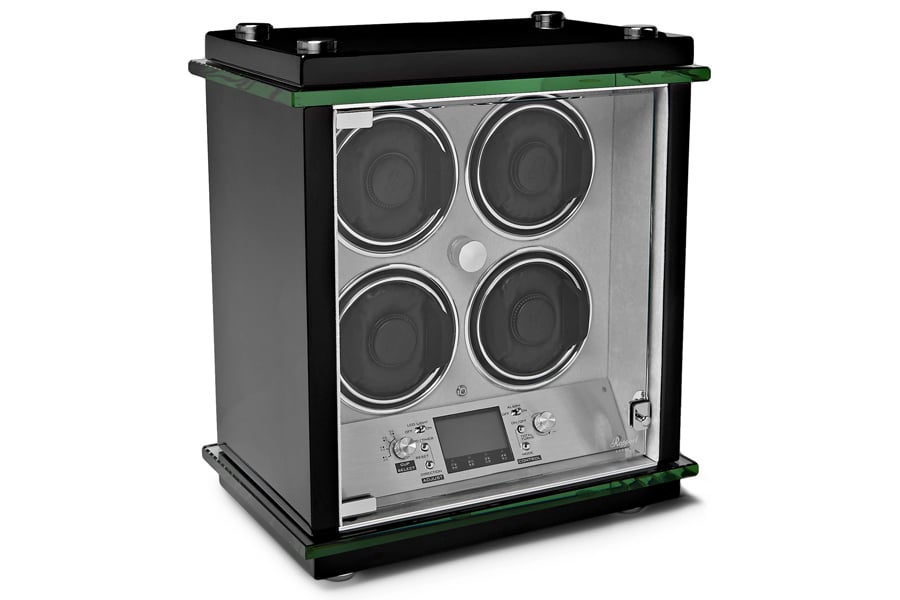 Rapport London Commander Quad Watch Winder
If only the most epic watch winder will suffice, accept nothing less than Rapport London's Commander Quad. Splaying black-lacquered ebony and glass over a base of solid wood, it comes fully lined in plush grey velvet. Thanks to an LCD control panel, you can monitor the fast-winding cycle of up to four watches at a time. Dad is guaranteed to love this thing. – AU$5,102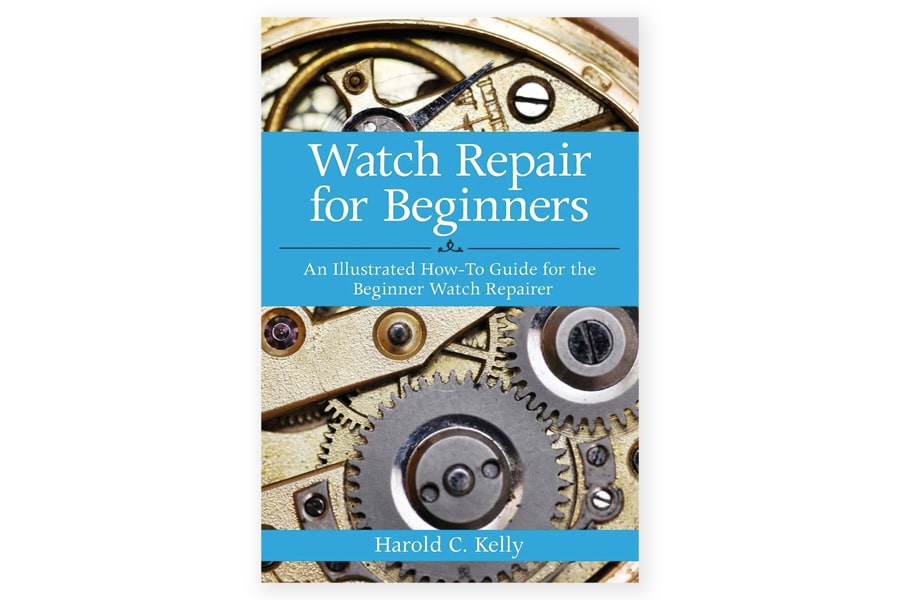 Watch Repair for Beginners: An Illustrated How-To Guide for the Beginner Watch Repairer
With great horology comes great responsibility, making this classic book a must-have for any true watch lover. Presented in a clear and legible fashion, it walks readers through the basics of watch and clock repair. Prepare to get into the guts of timekeeping itself, learning key terms and definitions along the way. Concise writing and black-and-white illustrations serve as your guide. – AU$20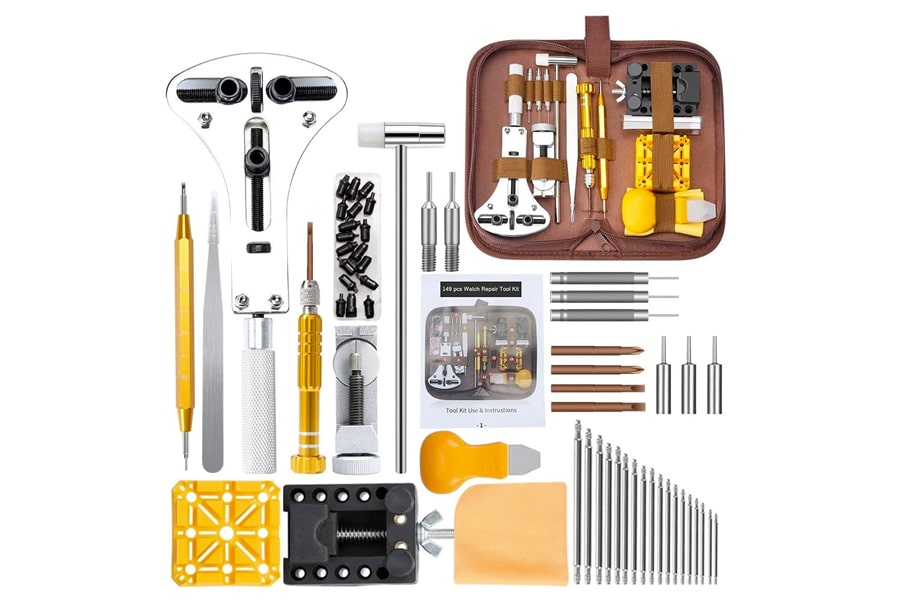 Watch Repair Kit
Why settle for one tool when you can get the whole toolbox? If you just asked yourself that question, E-Durable's Watch Repair Kit is your answer. Affordably priced and highly acclaimed, it consists of 149 pieces in total. That includes screwdriver heads, pin punches, a spring bar pin, a watch back pry opener, and much, much more. Buy this along with the watch repair book we mentioned earlier and you may never hear from Dad again. – AU$27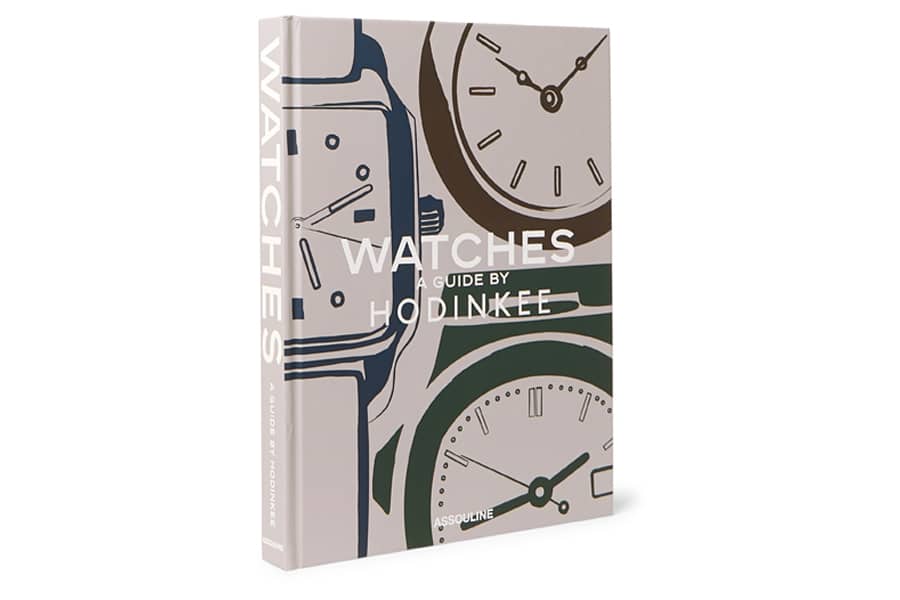 Watches: A Guide by Hodinkee Hardcover Book
New York-based site Hodinkee has become one of the most quintessential authorities on all things watch-related. In this hardcover book, their team leaves no era or innovation unexplored. Divided into nine sections, it provides for an illuminating education and an entertaining one as well. Embark on a journey of game-changing proportion, one brilliant photo and paragraph at a time.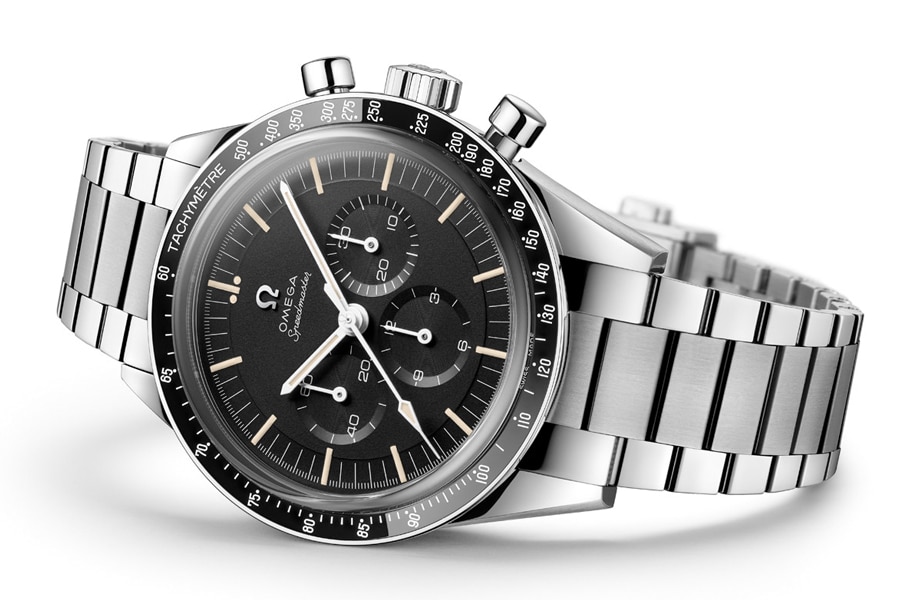 OMEGA Speedmaster Moonwatch 321
The one, the only: OMEGA Speedmaster Moonwatch. Having played a role in all six lunar missions, it brings some serious heritage to the table. This stainless steel variant measures in at 39.7mm in diameter and comes powered by iconic Calibre 321. Historic in its own right, the manual-winding chronograph movement was once worn on the moon and it flaunts an 18K Sedna gold PVD-coated finish. On the surface of things are a polished black ceramic bezel ring, tachymeter scale in white enamel, and black step dial with Moonwatch hands and brand logo. Classic!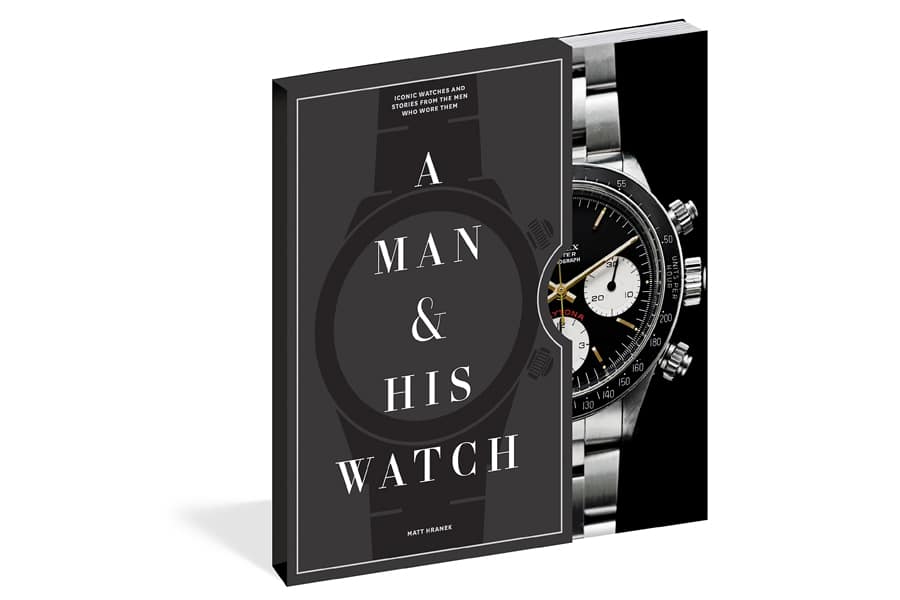 A Man & His Watch: Iconic Watches and Stories from the Men Who Wore Them
In this legendary book, readers meet iconic timepieces and the iconic men who wore them. Follow the relationship between Paul Newman and his famous Rolex Daytona, or JFK and his Omega. Ralph Lauren. Andy Warhol. Joseph Stalin. These are just a few more names to grace the book's pictures and pages. If hundreds of five-star reviews are anything to go by, this gift is guaranteed to please. – AU$55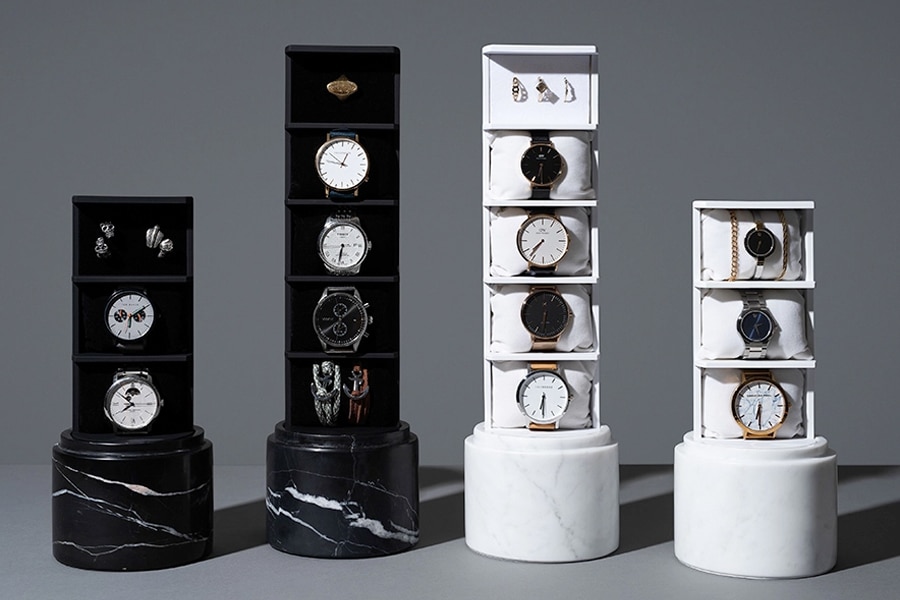 Marbus Carpar Time Capsule
If something unique is what you seek, this Kickstarter campaign is your new best friend. It comes to us from Melbourne's own Marbus Carpar and goes by the name of Time Capsule. Displaying watches and jewellery behind protective perspex, these stately towers feature high-impact stems, plush ring pillows, and elegant marble bases. Act fast so you don't miss out on those early-bird specials.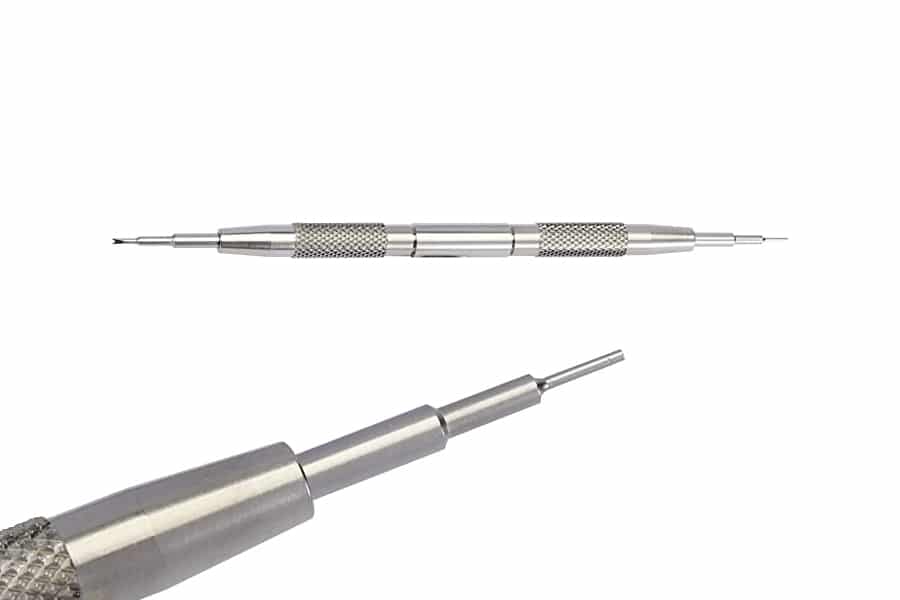 Burgeon Watch Strap Spring Bar Tool
Bring out Dad's inner craftsman with this sturdy spring bar tool. Dressed in the silver of stainless steel, it features a fine-pointed tip on one side and a fine-sized fork on the other. This deft combination lends the compact tool a palpable edge of versatility. It all comes to us from Swiss-based Bergeon, which makes some of the best watch tools in the world. – AU$36
You'll also like:
Father's Day Gift Guide 2020 – The Music Lover
Father's Day Gift Guide 2020 – The Corporate Dad
Father's Day Gift Guide 2020 – Grooming
More Father's Day Gift Guides