IWC Schaffhausen's thriving heritage of innovation continues with the release of two new TOP GUN Pilot's Watch Chronographs. Available in the respective ceramic colours of white (Pilot's Watch Chronograph TOP GUN Edition "IWC Lake Tahoe" (Ref. IW389105) and green (Pilot's Watch Chronograph TOP GUN Edition "IWC Woodland" (Ref. IW389106), they arrive just in time for this year's Watches & Wonders. Advanced materials remain an absolute benchmark of the popular range, which launched in 2007 as a double chronograph in black zirconium oxide ceramic with a titanium case back. With the latest models, the Swiss luxury watchmaker breaks new ground yet again in terms of both thematic underpinnings and striking ceramic colour.
Discernibly lightweight but nevertheless harder than steel, ceramic is fully scratch-resistant and ultra-smooth to the touch. As IWC discovered many decades ago, these desirable properties make it the perfect case material. IWC has since become a leading pioneer of coloured ceramics, which are created through a combination of zirconium oxide and other metallic oxides. The newest models pick up where the brilliant TOP GUN Edition "Mojave Desert" from 2019 left off, thereby completing the collection.
Speaking of the iconic 'Mojave Desert,' it recently wowed visitors at IWC's Big Pilot Roadshow in Melbourne, where it was presented alongside a slew of other legendary timepieces. NFL star and brand partner Tom Brady also wears one in an adjoining marketing campaign, which has helped fuel even greater interest. The watch remains in spectacularly high demand and so too will its newly released brethren, thanks in no small part to their signature ceramic profiles.
When bringing both chronographs to life, IWC overcame a number of challenges. Producing coloured ceramic is difficult enough on its own, but they needed to adapt each newly developed shade to co-exist with the other unique watch materials. The dial, hands, strap, inlays, and even the luminescent paint presented a potential obstacle for the brand, which enjoys a long and celebrated history of innovation. They took the challenge in stride and came back with the following stunners.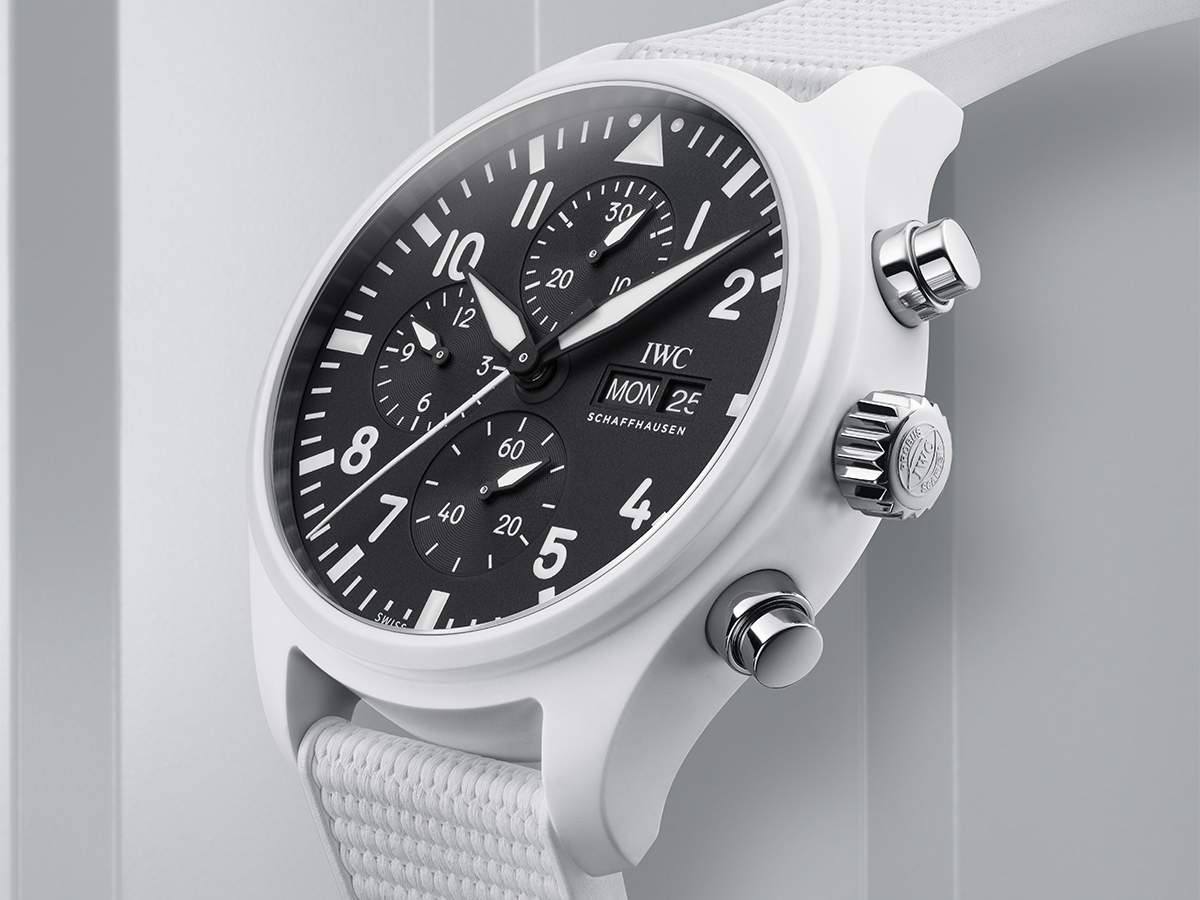 IWC Pilot's Watch Chronograph TOP GUN Edition "IWC Lake Tahoe" (Ref. IW389105)
Straddling the border between California and Nevada, Lake Tahoe is home to epic winter landscapes, majestic mountains, and vast expanses of freshwater. It's also where TOP GUN pilots perform various training exercises. Put these elements together and you have the thematic foundations for IWC's new TOP GUN Edition "Lake Tahoe."
Making expert use of contrast, the mechanical chronograph blends a 44.5mm ceramic case of "Lake Tahoe" with a pitch-black dial, black hands (coated with luminescent material), stainless steel pushers and crown, and a titanium case back. A matching white rubber strap with distinctive embossing rounds out the primary colour motif, whilst a soft-iron inner case delivers protection against magnetic fields. This one is limited to an annual production of just 1000 units.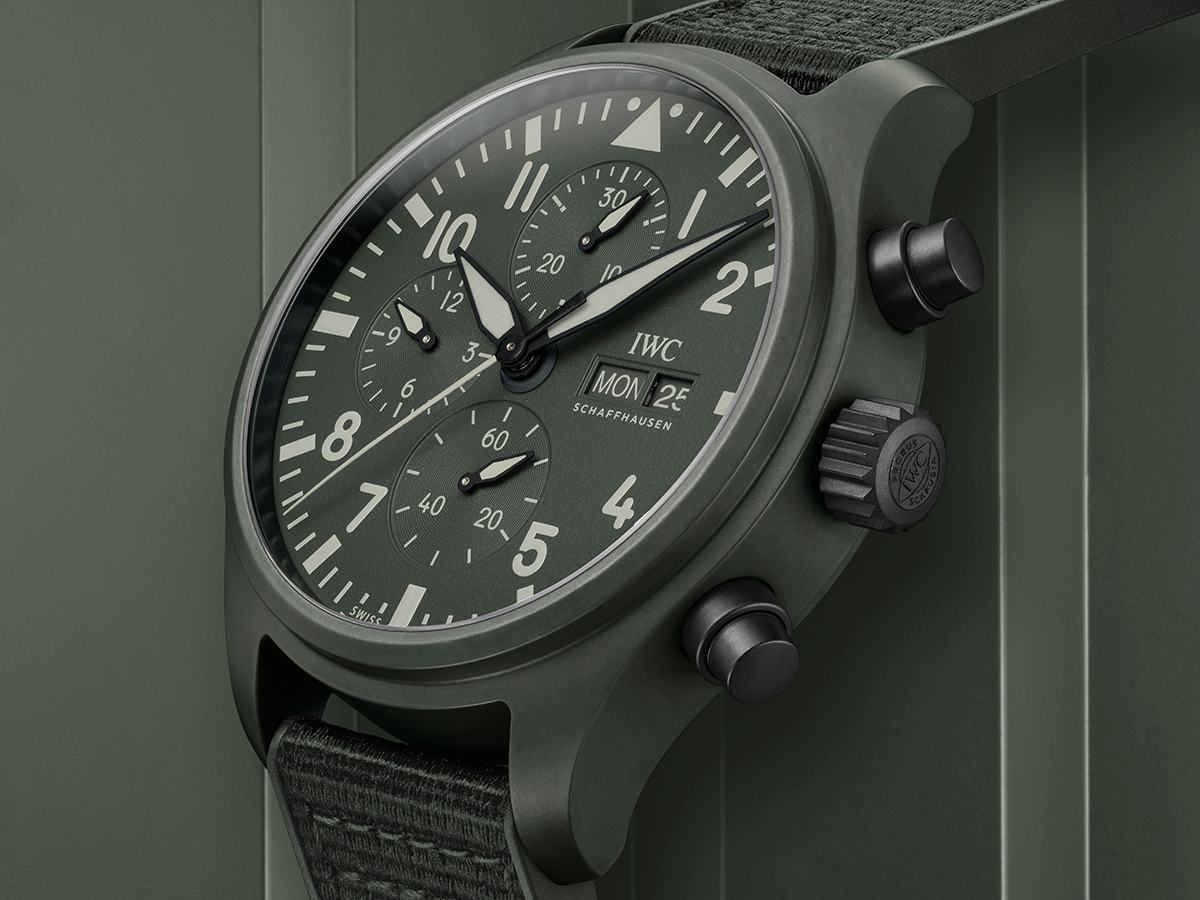 IWC Pilot's Watch Chronograph TOP GUN Edition "IWC Woodland" (Ref. IW389106)
The eye-catching shade of this TOP GUN Edition culls direct inspiration from the flight suits worn by naval aviators. Dubbed "Woodland Green," it's featured on both the case and dial, whilst the numerals and hour markers are presented in a lighter hue. The pushers and case back are forged from patented black Ceratanium, which combines the lightness and durability of titanium with ceramic's hard and scratch-resistant properties. A matching rubber strap with textile inlay drives the comfort and wearability. Like its white-hued brethren, this one runs on IWC-manufactured 69380 calibre and comes limited to 1000 pieces per year.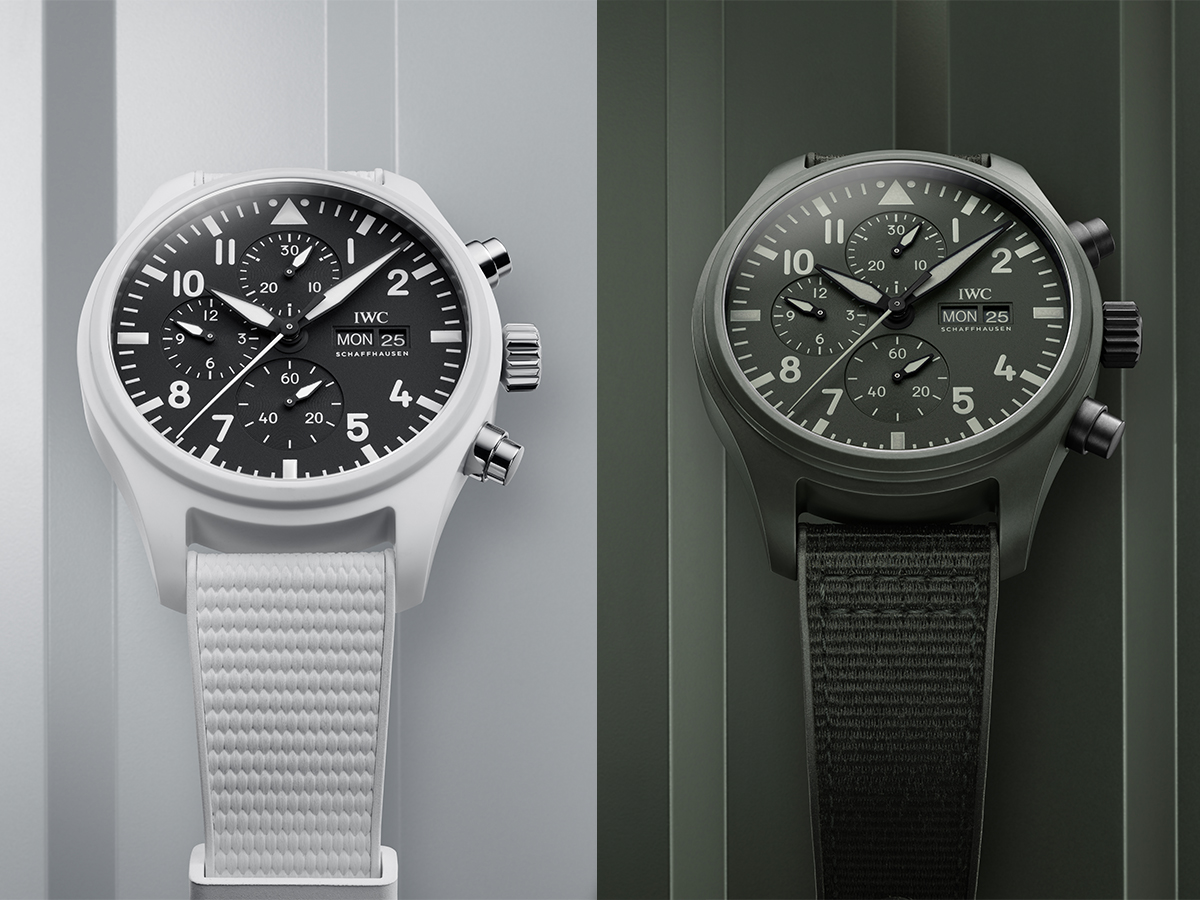 Coloured Ceramic
Renowned for their purity but highly complex in their creation, technical ceramics begin as raw polycrystalline powders (namely silicates, aluminium oxide or silicon carbide). The powders are then mixed with various additives to form a homogeneous mass, which is shaped and treated in a furnace at high temperatures. This is known as sintering and it volatilises the supplementary materials, leaving behind stable ceramic bodies of innumerable microscopic grains.
To give the ceramic its colour, zirconium oxide is combined with other metallic oxides, with the raw materials and mixing ratios being different for each respective shade. It's a complicated manufacturing method that involves adapting the coloured ceramic and its components to a number of variables, including the temperature and duration of the sintering process.
Thanks to a long history of working with ceramic material, IWC and their genius engineers have this scientific process down to a…well…science. The latest models and their signature shades offer living proof. Of course, to really experience the full glory of these limited-edition chronographs, you'll have to see them in person. That's when the colours pop and the hard but lightweight ceramic shows you what it's really made of.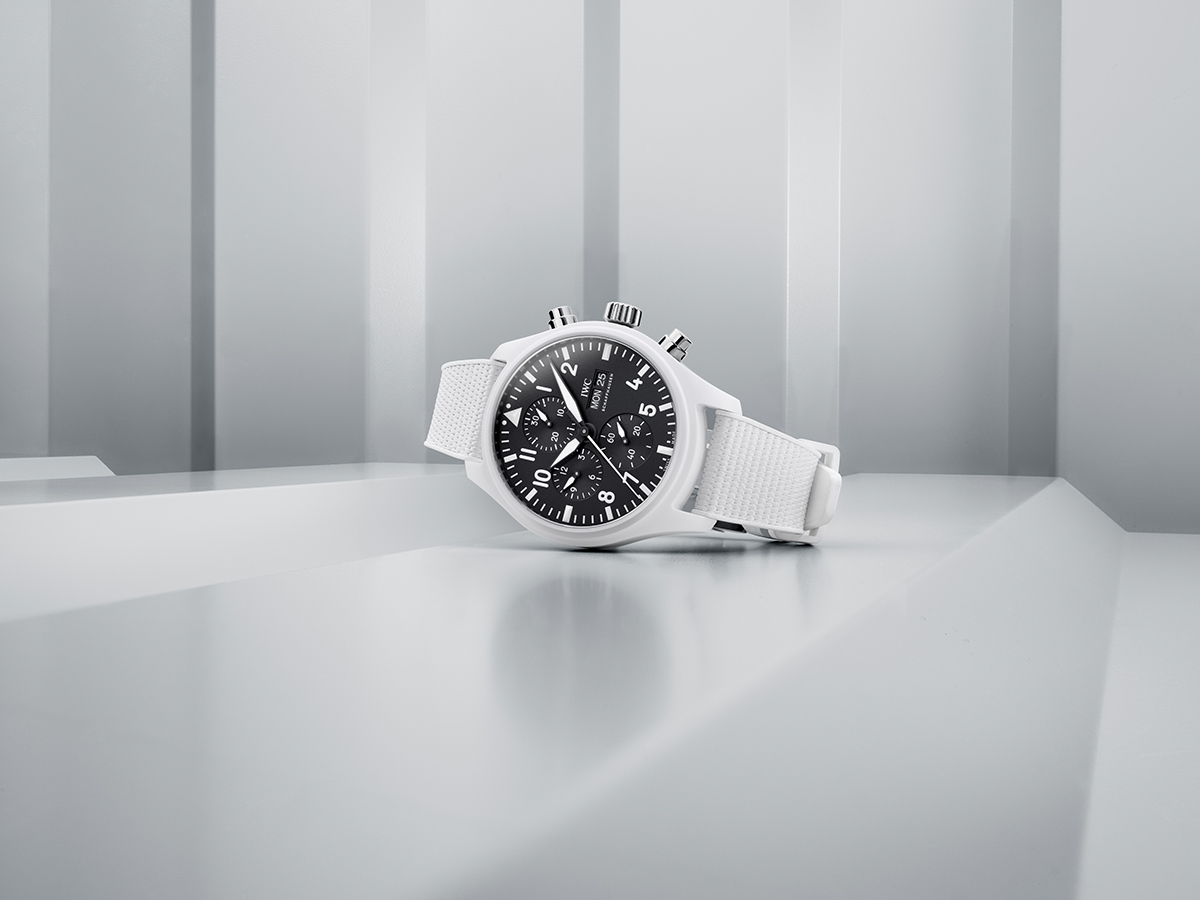 Regarding the latest release, CEO Christoph Grainger-Herr said the following, "These new chronographs not only underscore IWC's longstanding and extensive experience in the fields of in-house chronographs and advanced materials. The white and green ceramic used for the cases also illustrates the current evolution of TOP GUN from a collection primarily focused on performance to a bold style statement and an expression of a distinct way of life.
The Pilot's Watch Chronograph TOP GUN Edition "IWC Lake Tahoe" and the Pilot's Watch Chronograph TOP GUN Edition " IWC Woodland" are available now through IWC boutiques and you can discover more at IWC.com. Purchasers would be eligible for registration under the My IWC care program, benefiting from a 6-year extension to the standard 2-year International Limited Warranty.