Timeless – Thread Etiquette Watches
Use the code "MANOFMANY30" to receive a 30% discount on any Thread Etiquette purchases.
Watch (and accessory) maker Thread Etiquette takes such a regimental approach toward craft that you can almost picture a small group of their employees gathered in a huddle while chanting the mantra "the first rule of Thread Etiquette is clean, minimalist design…the second rule of Thread Etiquette is clean, minimalist design…" And that's a good thing because it means behind their remarkable (and affordable) gear is an unyielding brand philosophy maintaining a consistent aesthetic. Pair that rock solid foundation with some stunning Instagram photography and we're as close to "watch porn" as we can get without stripping these beauties of their stainless steel cases to see their insides–okay, that sounded kind of dirty.
Thread Etiquette is part of a new breed that's mastered two essential forces in the contemporary world of gear: timeless craft and modern marketing. In other words the designers retain a pure "if it isn't broke don't fix it" mentality on their products while the marketing team slays it on social media (Instagram in particular). At first these two approaches might seem almost incompatible, but Thread Etiquette is simply using the best of modern means to pay respects to the best of old school elegance.

However, that doesn't mean Thread Etiquette embraces technology and modernity with unabashedly open arms. In spite of their exceptional social media marketing, the brand's timepieces do seek respite from the overabundance of technology and information by way of minimalist design and function. Thread Etiquette knows all too well that we're never out of eye's reach from a 24-hour news feed or useless notification and their analogue watches are intended as welcomed sighs of relief amidst the excessive digital clutter all around us–clutter that's often misconstrued as informative when if anything it's harmful because it renders us too dependent on stimuli in general.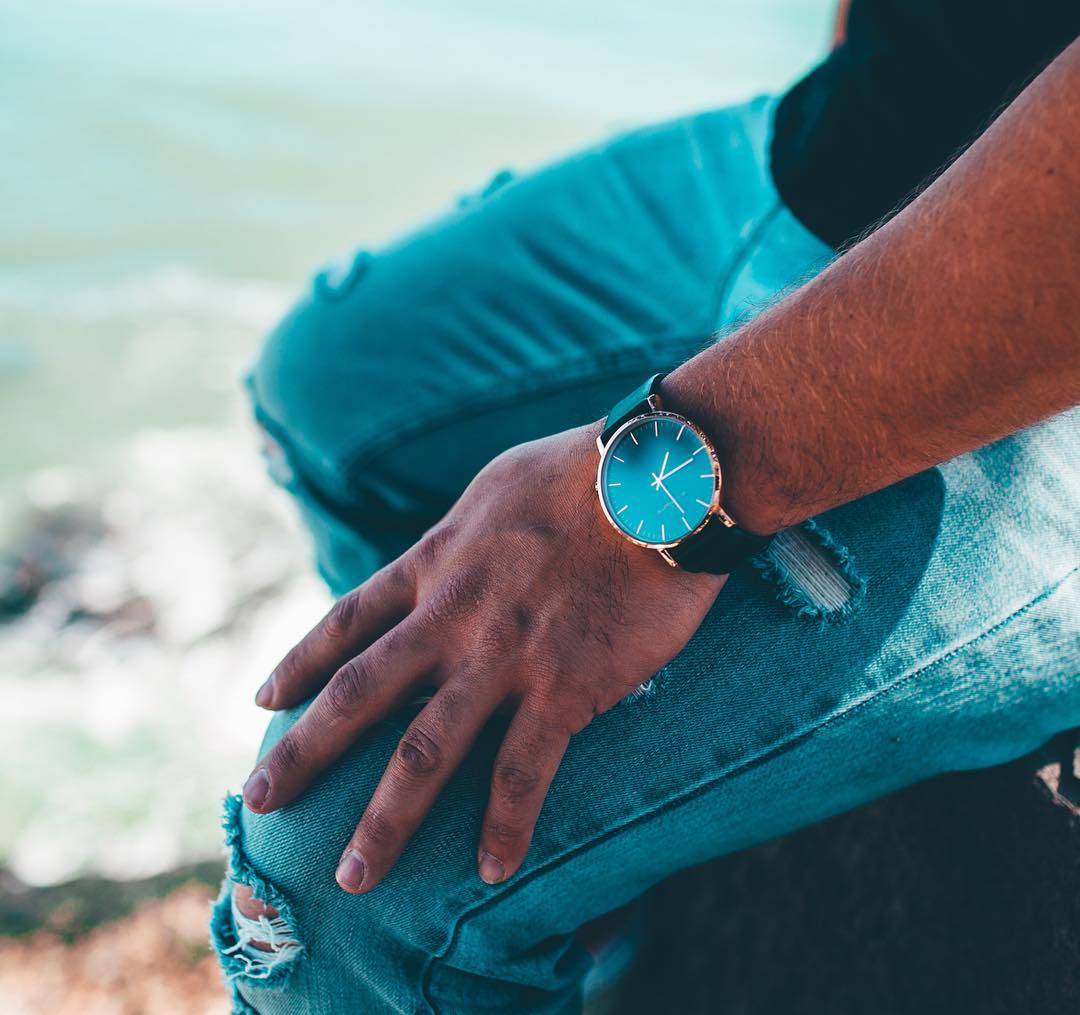 In keeping with their "less is more" philosophy, Thread Etiquette offers three distinct watch styles that are differentiated by small, meaningful details. We'll break them down below.

Chrono
The Chrono bears all the hallmarks of a great analogue timepiece with the added visual element of a clean and beautiful silver-studded watch face. The silver studs give the watch an almost gem-like elegance, elevating the gear to the level of fine jewellery. The polished stainless steel case is 42mm in diameter a 5mm thick. The hands and crown are brass with IP plating finish and powered by a Swiss Ronda 1069 movement with a 2-year battery life. The strap is genuine leather with black stitching and a stainless steel buckle.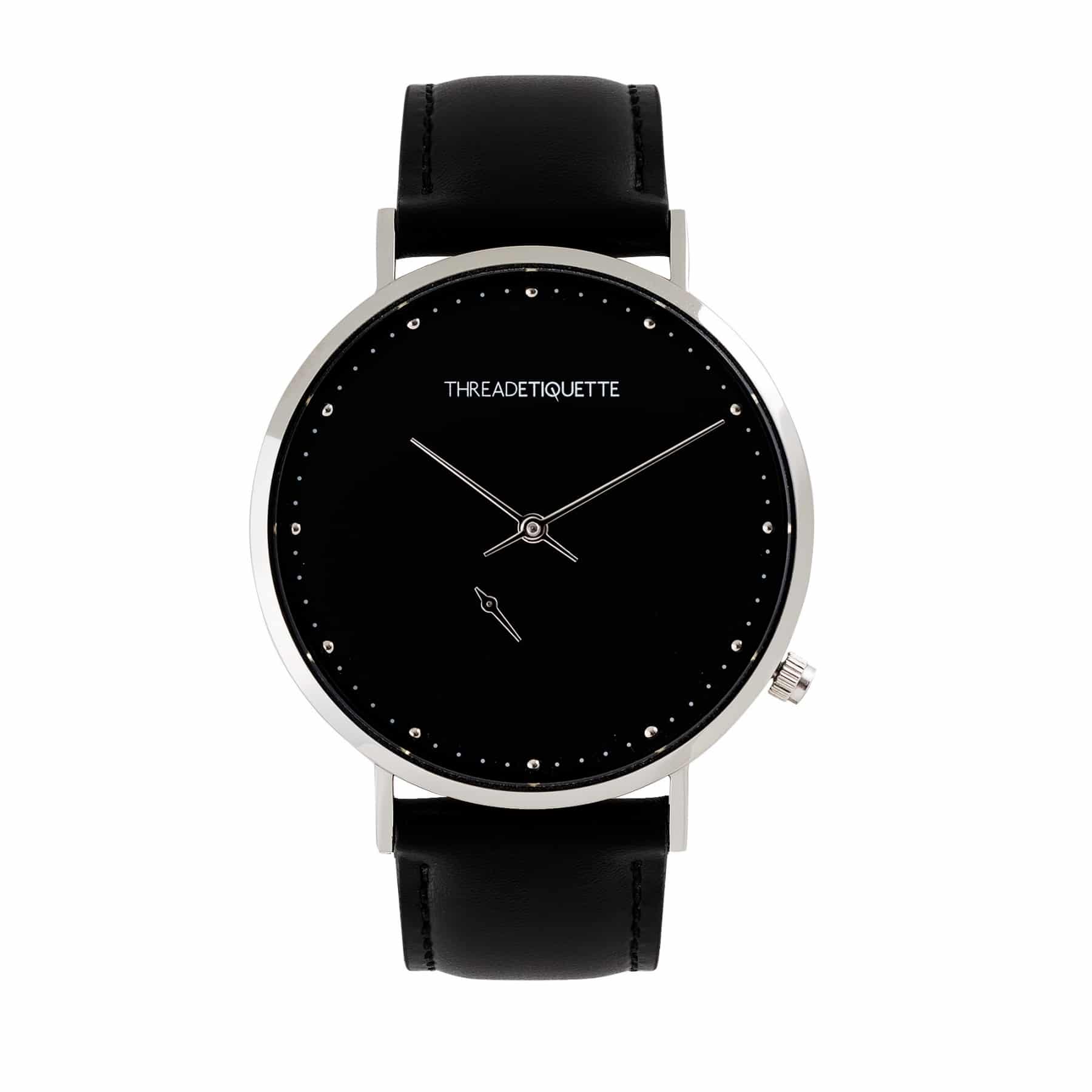 Classic
Like the Chrono, the Classic exudes pure analogue warmth by way of unfettered top-shelf design and trusty material. On the Classic watch face are more traditional lines for numbers, giving the timepiece some genuine old school charm. The movement is tried and true Japan Miyota GL30 instead of the equally reliable Swiss Ronda. The strap is genuine leather and the case is polished stainless steel. Classic is right!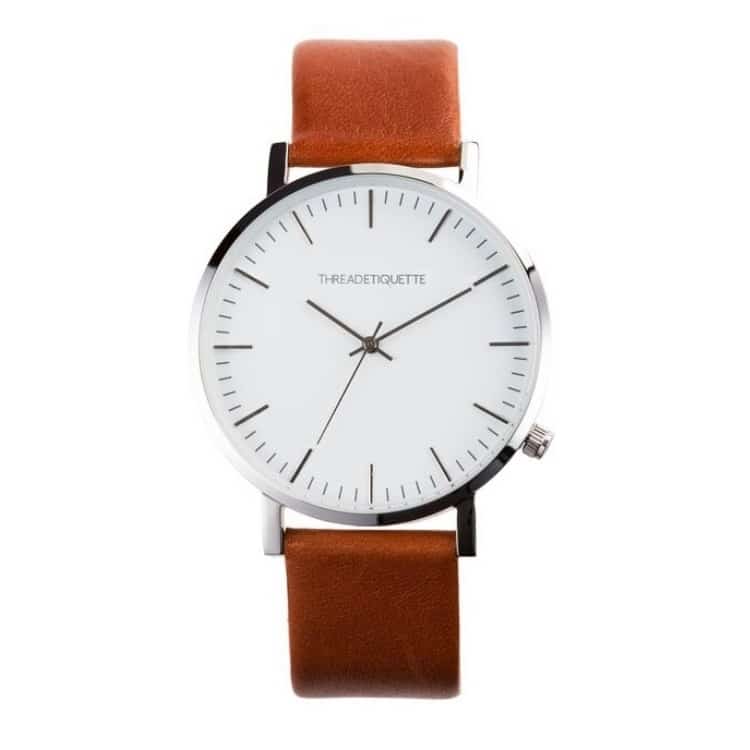 Minimalist
Consider this a watch so minimalist in spirit that Thread Etiquette didn't spare any words when naming it. Accordingly this watch conjures up the best of timeless craft and design. In other words the Minimalist is a straightforward, elegant timepiece that looks like a million bucks even if it only costs around a hundred. The case is 42mm around (minus the crown) and 5mm thick. The crown and hands are brass with IP plating finish beneath premium mineral crystal glass. Representing the numbers are elegant rose/gold lines and powering the whole operation is Miyota GL30 Quartz movement. For the strap, Thread Etiquette employed smooth, durable Nylon.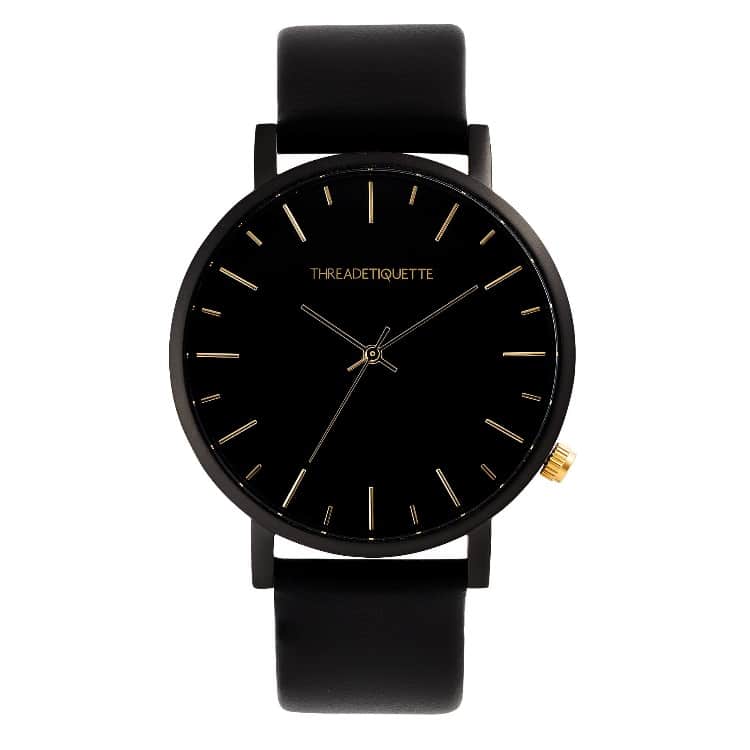 For those who love gear and photography with equal relish, you can do no wrong by following Thread Etiquette on Instagram. Their account is definitely not just "by the numbers" marketing, rather the work of spirited professionals. If you visit the Thread Etiquette website you'll see the brand pays tons of respect to its photographers by honouring them in the blog section. Ultimately, this is a great brand that wears its heart and soul on its sleeve.

If you love the look and performance of these watches as much as we do, please visit Thread Etiquette and do some browsing.
Use the code "MANOFMANY30" to receive a 30% discount on your purchase.