28 Degrees: Secluded Luxury in the Heart of Byron Bay
While every second boutique in Byron Bay boasts of luxury accommodation, the real thing is truly something else. Our stay at 28 Degrees made this very clear. Here we have a whole other echelon of luxury. The private guesthouse located in the heart of Byron Bay is an idyllic retreat for couples who are looking for a refined oasis where privacy is paramount.
Situated behind high fences just on the fringe of town, is the boutique guesthouse. An intimate retreat with only seven rooms offering secluded luxury only a stone's throw from Byron's vibrant high street. It's beachy farmhouse aesthetic – think soft linens, deep lounges and warm wooden floorboards – is instantly comfortable and each room is adorned with everything you could possibly need to relax in barefoot luxury.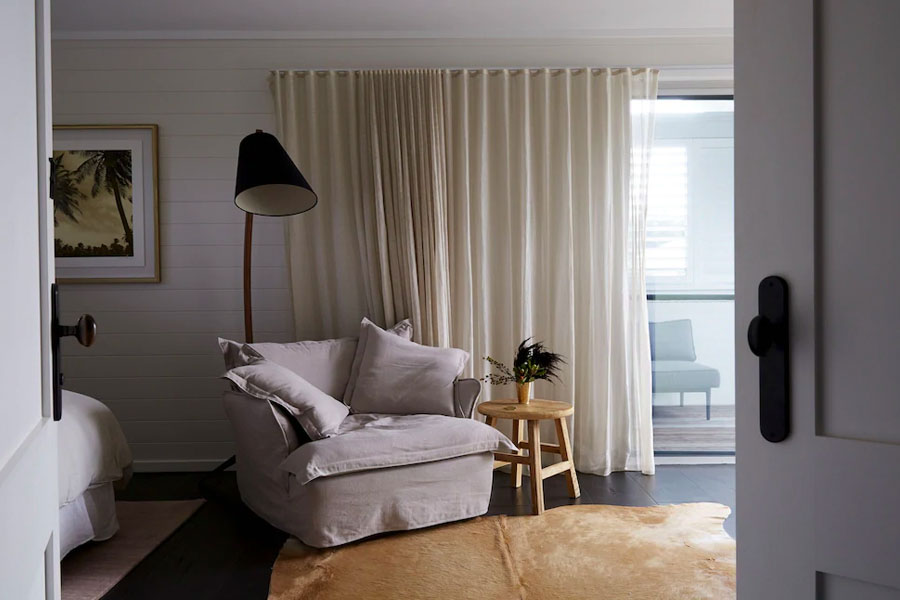 We Love
The solitude. With only a handful of rooms and a deliberately hands-off approach to service, its not uncommon to go your whole stay at 28 Degrees without seeing another guest. In turn, this makes the guesthouse inherently homey.
The plunge pool room is a must in the warmer months. The private pool and garden presents a peaceful indulgence that can't be found at many of Byron's busy beaches and bars. Before heading out, enjoy an intimate glass of champagne with your partner and the following morning, start with a light breakfast of granola and freshly made compote.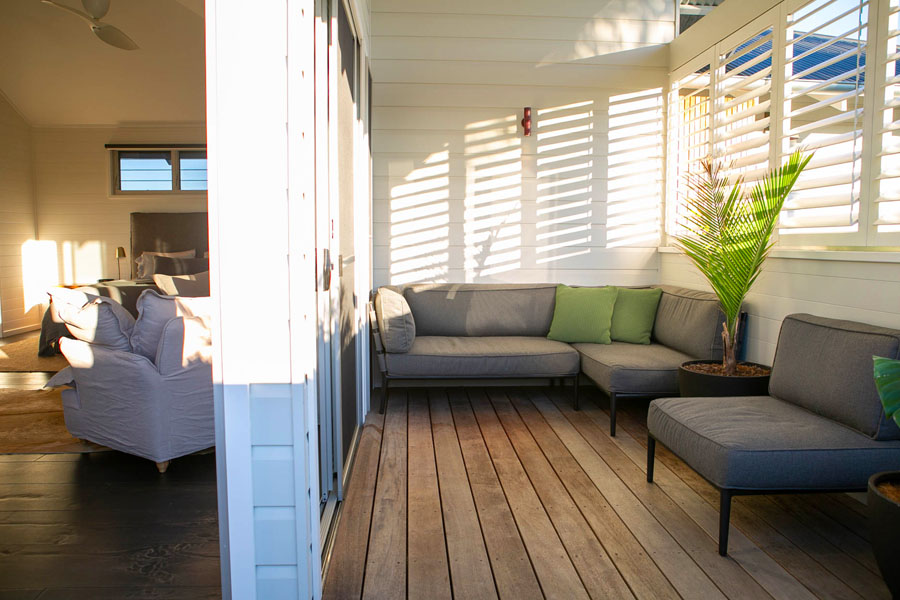 Must Try
If you're staying in either the iconic Lighthouse Room or Luxury Master, run yourself a bath in the antique clawed foot bath. It's the ideal way to rejuvenate after a long day in the sun and surf. In each room, there is an eclectic collection of books to peruse and the guesthouse has a strict no-screen policy to ensure that you're disconnected from the babel of everyday life. A true retreat. If you're in the Luxury Master room's, see if you can spot the Cape Byron lighthouse from your vantage point of the bathtub.
If you're prepared to sacrifice your sleep in, grab one of the guesthouse's complimentary bikes and take a morning ride to The Pass. From here, leave the bikes and take the short walk around to Wategoes to watch the sunrise over the water. Not enough? Bring your sneakers and hike up to the lighthouse for the remarkable 360-degree view of Byron and the surrounding hinterland. Vistors in early Autumn or late Winter might be greeted with views of migrating whales off the coast.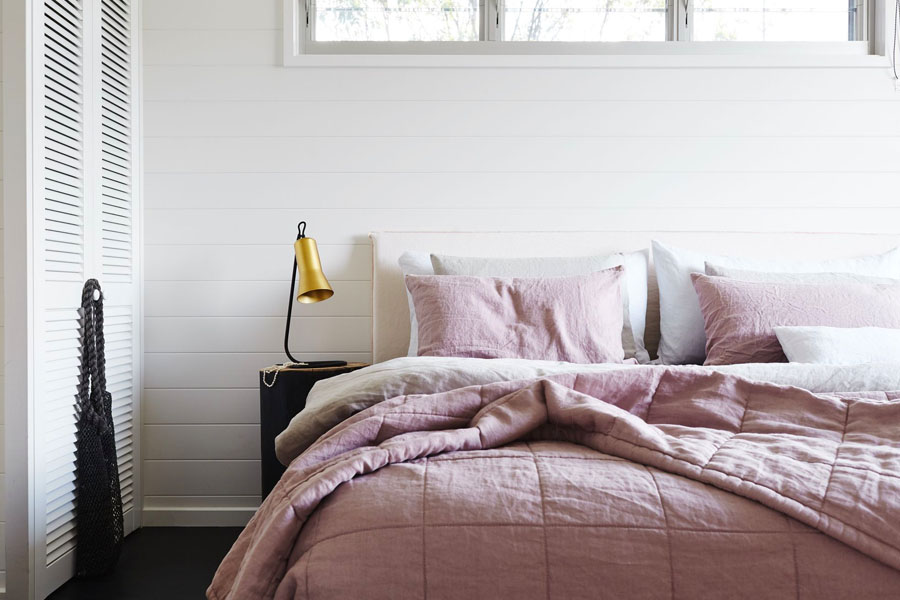 Why We're Coming Back
Unlike other boutique hotels in Byron, 28 Degrees offers a uniquely tranquil experiance. Every detail of your stay has been carefully considered before arrival allowing you to relax in the utmost privacy. We adore the luxurious linen features and the ability to be absolutely secluded so close to Byron's beating heart.
The travellers that expect to spend their days at the beach and their nights appeasing their hedonistic side at Byron's infamous nightlife, this probably isn't the hotel for you. But, if you're looking to recharge and relax in a luxurious oasis that's devoid of the sterility of other hotels, we can't recommend 28 Degrees enough.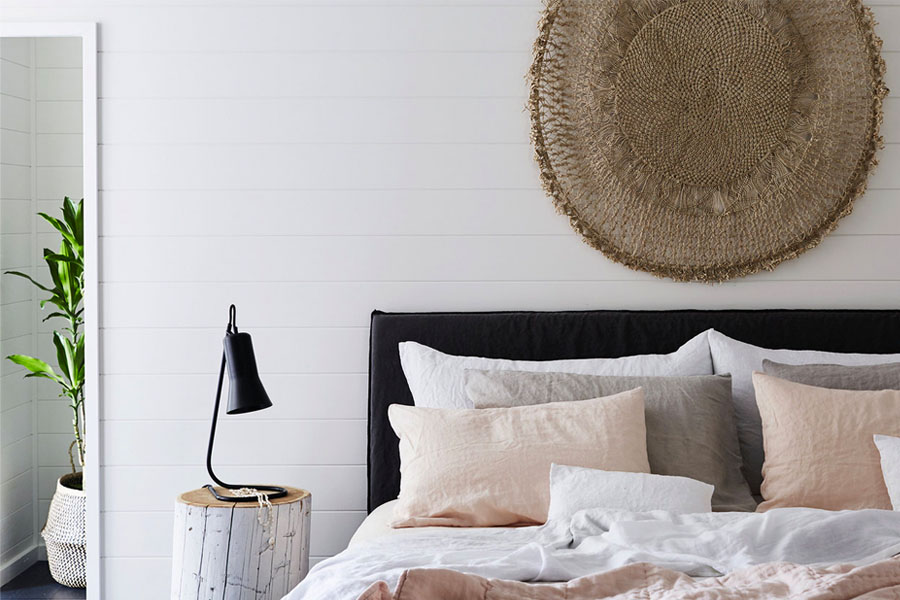 What You Need To Know
Where: 12 Marvell St, Byron Bay NSW 2481, (02) 6685 7775
Cost: From $450 for classic rooms to $650 plunge pool rooms
At a glance: Seven rooms in total. Three plunge pool rooms, two classic rooms in the main house, a luxury master room and the lighthouse room. Convenient location with bikes, pool, beach towels, kitchen and honeymoon packages available.
In room: Complimentary Mini Bar with a selection of drinks and breakfast granola, yoghurt + homemade compote. Air conditioning & Heating. Free wifi and organic linen sheets. Plunge pool rooms have a secluded private garden & plunge pool.
Best rooms: The plunge pool rooms offer absolute privacy and luxury, while the lighthouse and luxury master rooms have the best views.