Elon Musk's Resume on One Page
It's no secret in the business world that "less is more" when it comes to resumes, but does the same rule apply to someone as accomplished as Elon Musk? According to the pros over Novorésumé, it sure does. To prove as much, the company took it upon itself to create a one-page Elon Musk resume, first in 2016 and then again earlier this year. Needless to say, the Elon Musk resume makes for one heck of an impressive one-pager.
For those of you just waking up from a 20-year coma, Elon Musk is a multi-talented engineer and entrepreneur with a range of achievements under his belt. For one of his first magic tricks, Musk helped launch PayPal, thereby changing the world of electronic payments for good. In the time since, he's turned his attention to revolutionising a range of technologies and industries.
Indeed, not only is Musk the founder and CEO of innovative companies like Tesla, SpaceX, and Neuralink, he's also the owner or main force behind SolarCity, Hyperloop, The Boring Company, and OpenAI. Oh, and did we forget to mention that he's also one of the richest men in the world, or that he's trying to spare modern civilisation from an untimely demise? How about the fact that he's in the news (sometimes for the wrong reasons) every other hour? Put it all together and Elon Musk's resume sounds like something that might as well come in volumes.
But Novorésumé says otherwise. In fact, they argue that Musk's seemingly endless list of achievements can be boiled down to a single page. Rather than wait for the man himself to whip out a fancy one-page resume for no good reason, the company continues to do it on his behalf. This time around, they went with the professional resume template and played it straight for the most part. However, closer inspection of the mock Elon Musk CV will reveal at least one inside joke: that one of his "Skills and Competencies" is "Micromanagement". Oh, Novorésumé, you cheeky dogs!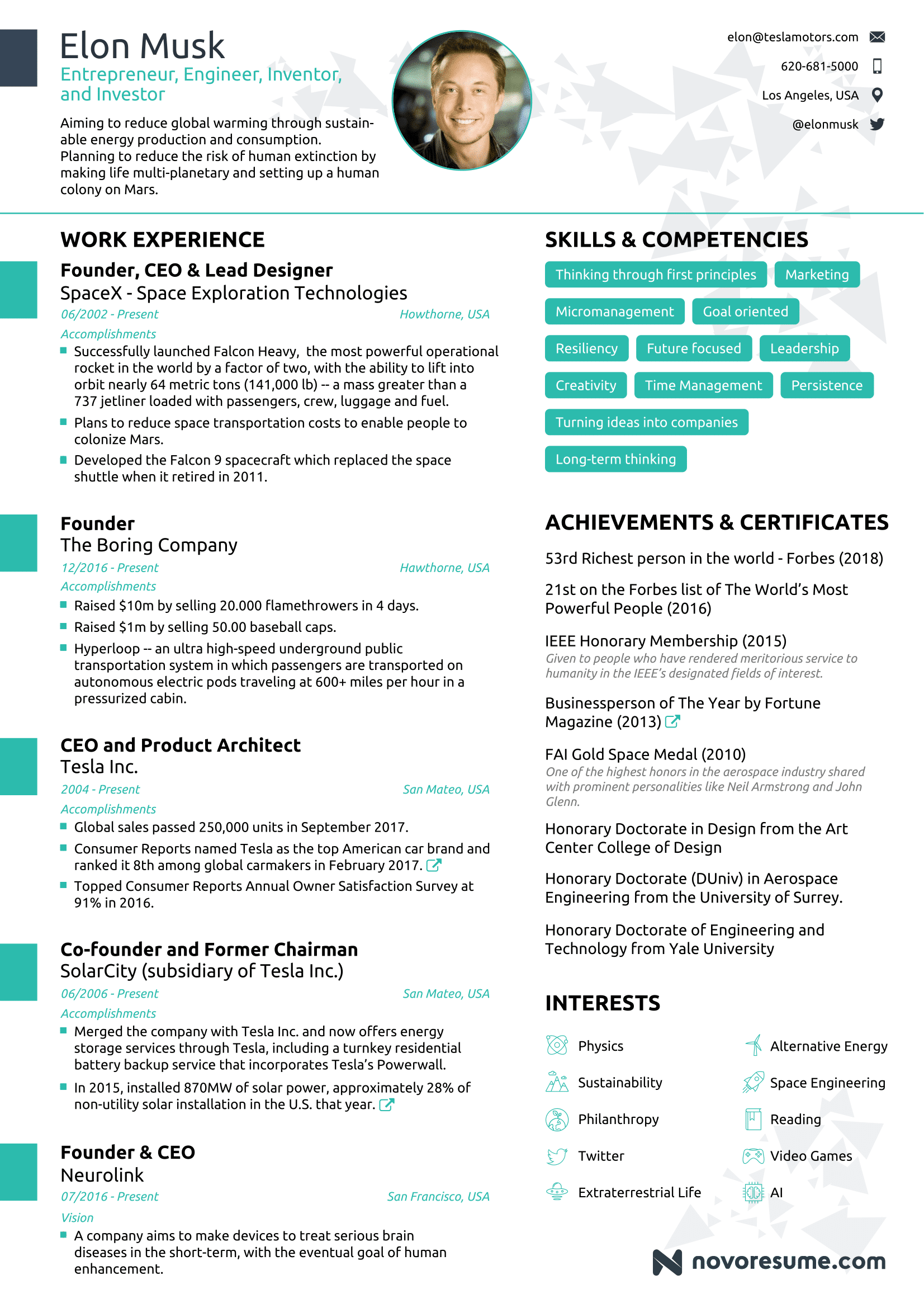 What's the point of all this, you might ask? Well, it's a clever marketing ploy for one. But it also plays into the larger notion that even the most accomplished professionals in the world can keep their respective resumes or CVs to a single page. Shakespeare himself once wrote that "brevity is the soul of wit". As it turns out, brevity also increases your chances of getting hired in the modern business world. After all, who has time to read these days?
Hence, according to Novorésumé, you want to consolidate your accomplishments and ambitions onto a solitary page. At the top of the page should be a convincing mission statement. Under your previous places of employment, you should focus on your greatest achievements, listing them in a clear and concise fashion. Interests, awards, skills–there's room for all of it, presuming you know how to make the best use of space.
Of course, not everyone agrees with the Novorésumé approach. In fact, some experts argue that the one-page resume in general isn't as effective as most people presume, and that a number of seasoned professionals still hand in much longer CVs. Furthermore, those same experts suggest that the Elon Musk resume, in particular, doesn't necessarily hold up without the man's reputation preceding him. For example, his mission statement is rather broad, focussing on his wildest long-term ambitions in lieu of immediate goals.
By contrast, a normal mission statement usually emphasises how one plans to use his or her most vital strengths to bring a direct sense of value and accomplishment to the position at hand. For example, if you're applying for a new job at an investment firm, you're probably better off putting that you expect to "improve return on investment" rather than  "achieve financial world domination" at the top of your one-page resume.
Nit-picking aside, the Elon Musk resume is really about consolidation, and little else. After all, we live in a fast-paced society where young people switch jobs with stunning alacrity. In this newfound professional world, a solid one-page resume can definitely go a long way. And if you're struggling to adapt, just remember: if Elon Musk can do it, surely you can too. Okay, Elon Musk didn't actually do it, but you get the point.
Have you subscribed to Man of Many? You can also follow us on Facebook, Twitter, Instagram, and YouTube.