Walk past an inner-city office space anywhere in the world and you'll see it; a mass of twisted metal and rusted steel that vaguely resembles a bicycle. The remnants of a 'best-intention' New Years resolution gone unused for some time, you might not give it more than a second's thought. But for Sydney local Thomas Treloar, he saw an opportunity.
"We all have good ideas, but every so often you get one and it niggles at you for a while," he says. "Sometimes the simplest concept requires the most thought because it needs to be done well."
That idea was The Rolling Fix, a mobile bicycle mechanic business that offers dedicated servicing and repairs on the go. But coming up with a concept was just the beginning. We caught up with Thomas to find out how he took a simple idea and made it a reality with some hard work, careful planning and a Squarespace website.
The Spark
That idea was The Rolling Fix, a mobile bicycle mechanic business that offers dedicated servicing and repairs on the go. With a growing number of Aussies opting to ride to work, Thomas knew there was a market there to be met, but it wasn't until government legislation was introduced that the business started to take shape.
"It really gathered pace when Lord Mayor of Sydney City, Clover Moore mandated a certain number of bike racks be installed at each new building," he explains. "I started to notice there were a lot of bikes sitting around not being serviced. It was as straight-forward as 'I've got a van, I can fix a bike", so I started with a mate and that's how it all kicked off."
But rather than targeting the individual bike owners themselves, Thomas negotiated deals with building managers, office blocks and body corporates. The strategy allowed him to generate consistent business, as opposed to the one-off repair jobs he was staring down the barrel of.
"More often than not, it's a rolling monthly arrangement, where I turn up to a business, perform repairs and services, with the whole operation paid for by the company," he says. "For businesses, it can be sold in as added value, or as a way to incentivise people to ride. It can increase an operation's green-star rating and help them to promote an active lifestyle amongst their staff. It's a cultural movement as much as it is a business decision."
The Creation
With no bicycle experience behind him, the former IT worker wasn't exactly a perfect fit as a mobile mechanic, but he did have some expertise. "I actually worked in the mobile bar world for a while, which gave me a basic understanding of mobile technology platforms," he says. "Then when it came to build my website, I did it all myself. Back then, the barrier to entry was a bit higher and you really had to choose a lot more to build a site, that's why Squarespace became a great option. It does make you feel like the real deal."
Toiling as a side hustle for the first few months, Thomas and his business partner finally decided to quit their day-jobs and go all-in, buoyed by a new website and an idea bursting with potential. "In those early days, we could afford to take that gamble. The van, the tools and some two-minute noodles were all we needed," he says.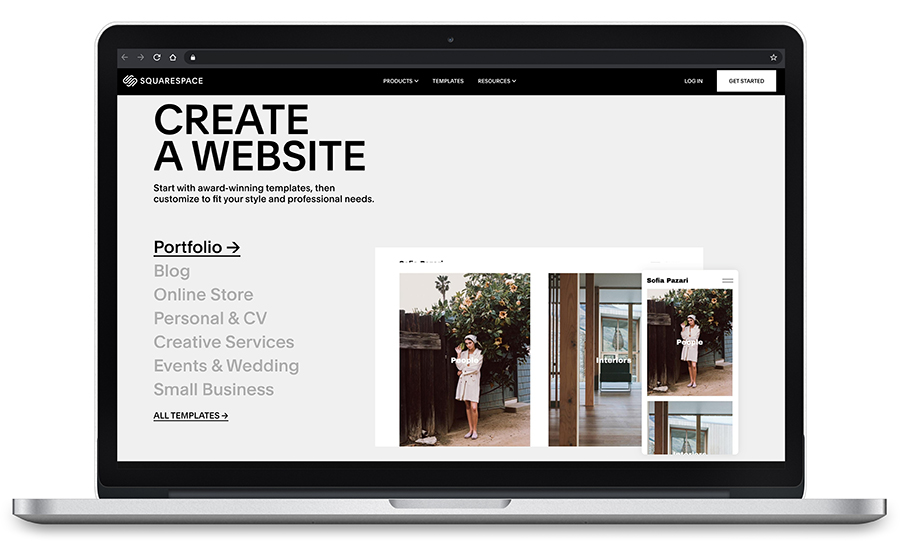 Start Your Free Squarespace Trial
But The Rolling Fix gamble paid off and seven years on, the business is booming.
"Once we started putting the word out and launched the business, the amount of work was staggering. We had the confidence that our idea was simple enough that any challenges we encountered on the way were operational, not conceptual. This way, we always knew we could readjust and having a website that could do the same was a massive advantage."
It's a sentiment that has never rung truer than in 2020.
The Cultivation
With office blocks deserted and an influx of Aussies taking up cycling to stay fit during lockdown, Thomas has seen his business swell in ways he never thought possible. Where the corporate side has seemed uncertain at times, The Rolling Fix co-founder has been able to diversify his operation, at the touch of a button.
"When I first started, it was real basic, but I've grown my knowledge through the online tutorials, learning how to put in basic code and adding plugins to our Squarespace site," he says. "Now, I put in a cycling kit every six months, so it's incredibly handy to periodically turn the Squarespace e-commerce option on and off as I need it, or update things on my phone."
"I just started using the blogging aspect and that's been great as well. There are so many new people bike riding that it can be overwhelming. I get so many questions on repeat, so I've started putting answers to those questions up as well as providing commentary on the electric bike explosion. Obviously, there's an SEO aspect to that, but I really just want to help new riders understand what to buy and what to look out for."
On the business side of things, for now, Thomas is comfortable. Not eager to craft an empire, he's happy running this as is. "All my buildings are pre-booked for the entire year, and I work on between 10 and 30 bikes a day," he says. "If I want to drum up a bit of extra business, I run a Squarespace campaign which is huge. I really believe you should do what you're good at and keep it sustainable, there's no need to take over."
It's safe to say, community is at the heart of The Rolling Fix. This is a business born out a simple concept put together by two guys with a passion for DIY. Whether it's building a new bike, building a community or building a website, Thomas Treloar isn't afraid to get his hands dirty.
"Having the confidence to commit to something is the hardest part, it never really goes away. It always lingers. No matter the size of business or how many wins you have, there is that little voice in your head that doubts and, in a way, that inspires you to keep working."
Whatever Your Idea is, Launch it With Squarespace
If, like Thomas, you've got an idea that needs to be heard, the next step is getting online. With Squarespace's dynamic all-in-one platform, you can bring your business to the global marketplace.
Through intuitive features and easy-to-use functionality, the Squarespace platform lets anyone, regardless of experience create the site, claim a domain, sell online and market their brand. Even better, all users score a free two-week trial, meaning you can try before you buy.
Head to Squarespace.com today for a free website trial and use offer code MANOFMANY for 10% off when you're ready to show the world.