Sometimes the best things in life are free. Nothing sounds better than a crisp full-flavoured German Pilsener brewed using traditional methods. But you'd probably call us a liar if we said you could have it all with zero side effects and a third of the calories. Well, now you can. Say goodbye to hangovers and hello to a social life with Holsten 0.0%. We reckon this is the life-changing Pilsener we've been searching the esky for and you'll be thanked ten-fold when designated driver duties come calling, what a legend.
Now you can take that legend status to the next level. With Dry July coming up, we've found a perfect time to give it a try. Not only does taking the month off alcohol reiterate the health benefits found in Holsten 0.0%, but the funds raised through Dry July provide invaluable services for cancer patients, their families and carers.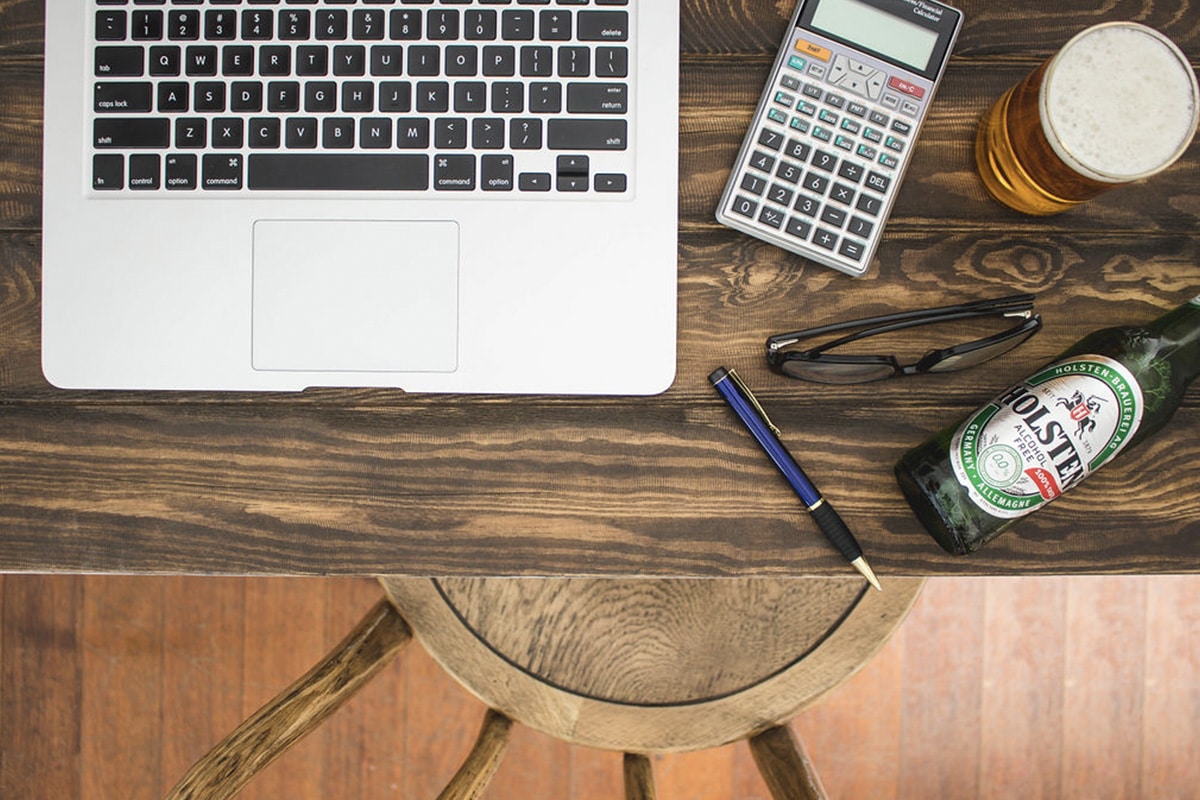 What is Dry July?
Dry July began with the classic case of 'three men walk into a bar'. In 2008, a couple of mates wanted to take a break from alcohol. They decided to take on the challenge and abstain from drinking alcohol for the month of July, coining it their 'Dry July'. More than just giving up alcohol, they also wanted to raise funds for their local cancer centre, after they'd all been impacted by cancer in some way. 
They hoped to raise $3,000 to buy a TV for their local hospital's waiting room, but the first Dry July turned out to be a HUGE success, and raised over $250,000, thanks to the support of Adam Spencer. The first Dry July led to the establishment of Dry July Foundation, an Australian based not-for-profit, that provides funding for people affected by cancer. Since 2008, the Dry July campaign has inspired more than 250,000 Aussies to go dry, raising over $60 million, and funding projects at more than 80 cancer organisations across Australia. Dry July really is a win-win; raising money for people affected by cancer, while doing something great for your own health by giving up alcohol for a month.
The Perfect Partner this July
The stigmas around social drinking are being challenged more than ever, and Holsten 0.0% has set the ball rolling for the choice zero-alcohol drink with a full flavoured German Pilsener. This isn't your run of the mill bevvy either, this one's brewed using traditional methods. Prior to bottling the alcohol is removed using gentle evaporation, leaving a refreshing Pilsener taste that everyone can enjoy while raising money for a great cause.
The benefits don't stop at the taste. This is the perfect partner for a successful month off drinking, boasting less than a third of the calories in a full-strength beer. Holsten 0.0% matches waist-kind flavour with sources of electrolytes, so you can even take it that one step further and wake up fresh with an early morning breakfast run, even after you've polished off a 6-pack with some mates the night before.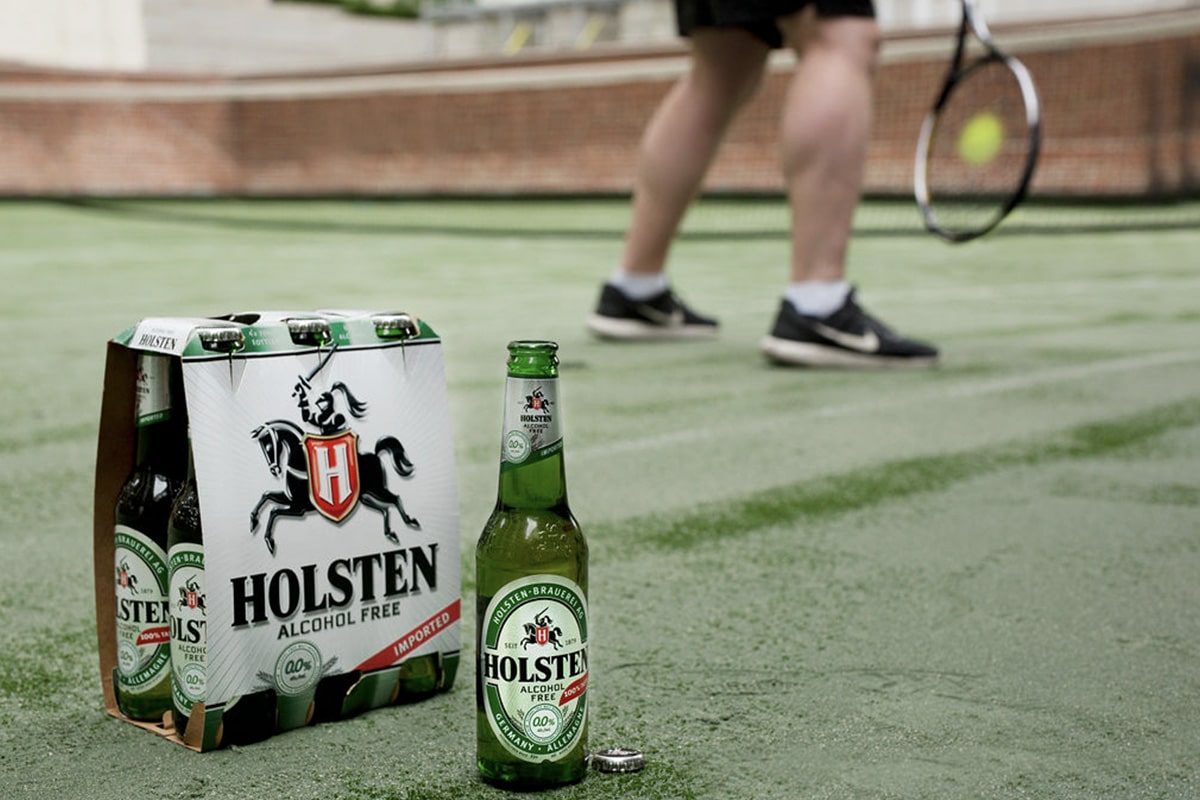 Health Benefits of Taking a Month off Drinking
Ultimately, drinking is all about moderation and taking a month off can help you hit the reset button and start the process of getting your health back on track. While you may not notice an immediate physical change, the mental health benefits speak volumes. A 2017 study into the health benefits of a 31-day alcohol-free detox found 82 per cent of participants reported enhanced awareness of their relationship with alcohol.
On top of driving the change in social drinking, the survey saw 71 per cent having better quality sleep. Combine that with the findings in a study from the University of Extremadura, Spain, which saw non-alcoholic beer drinkers experienced 27 per cent fewer movements while sleeping than those who went to bed without a brew and all of sudden, a month off the grog doesn't sound so bad.
What about Non-Alcoholic Beer?
When you're looking for great quality beer, you head right to the source. Same goes for non-alcoholic drops. In Germany, the traditional home of brewing, consumption of non-alcoholic beer grew 43 per cent from 2011 to 2016 even as overall beer consumption declined. In doing so, non-alcoholic beer has also become a choice drink for athletes in training. As referenced in an article published by the Sydney Morning Herald, where Johannes Scherr, doctor for the German Olympic ski team, said "nearly all of his athletes drink non-alcoholic beer during training".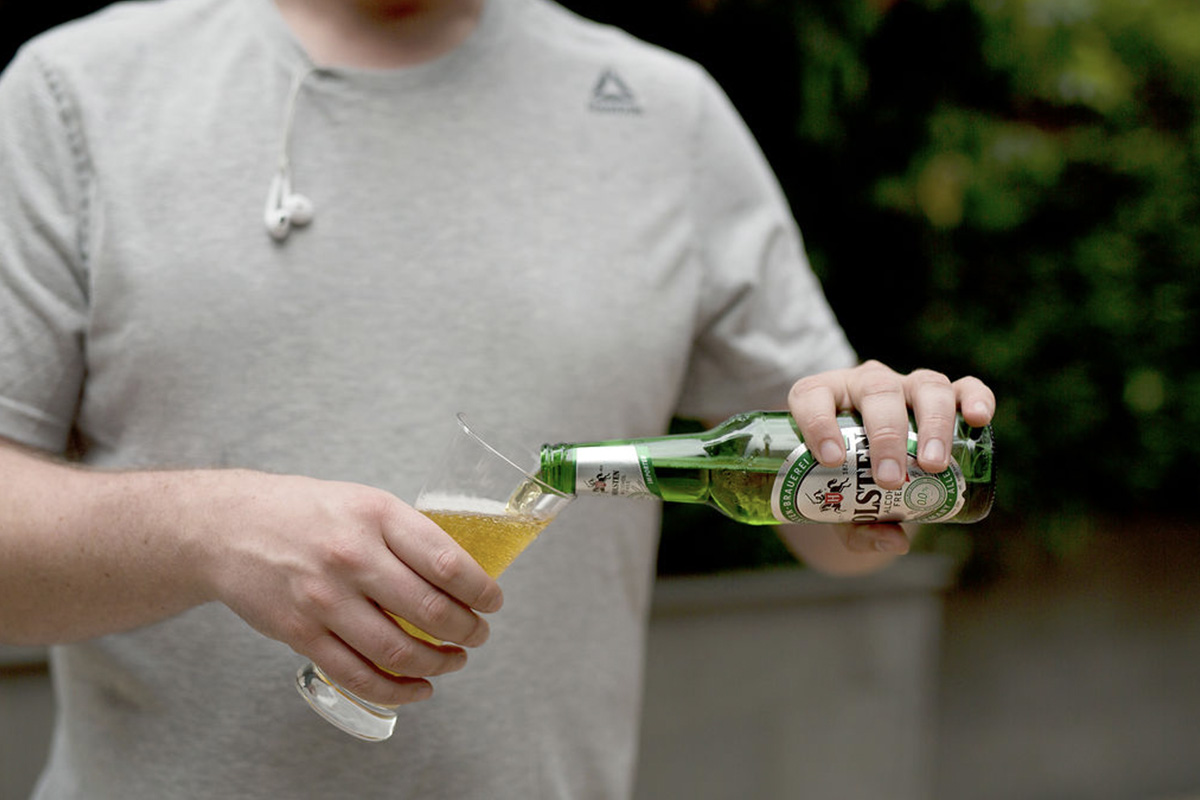 Holsten 0.0% Alcohol-Free Beer
While many beers with an alcohol volume greater than 2% can make you feel dehydrated because of their diuretic effect. Holsten 0.0% won't leave you feeling like the Sahara Desert (or hung-over) the next day. It's also far lower in calories than your typical alcoholic beverage. While wine and beer will set you back 500KJ (120 cals) to 627KJ (150 cals), Holsten 0.0% has just 165KJ (40 cals) – in fact, it's the lowest calorie non-alc beer on Australian shelves!
Average stubby of lager beer (330ml): 565 kj (135 cal)
Average stubby of 'low carb' beer (330ml): 454kj (109 cal)
Holsten 0.0% (330ml): 165 kj (40 cal)
With a number of health benefits, Holsten 0.0% is the perfect partner for moderation, beer-free worksites, athletes, and for those signed up for Dry July. It's the cold, refreshing friend that will stand by you no matter the occasion. The best things in life are free, including Holsten 0.0%. Free from alcohol, this is a great option for those seeking to moderate their alcohol intake, available at Dan Murphys.
So, what are you waiting for? Treat yourself to a Holsten 0.0% and sign up for Dry July today!