29 Best Dog Toys To Keep Man's Best Friend Entertained
In Partnership with Chewy
If you have a dog of your own, you know all too well that they're kind of like a beloved child and loyal best friend wrapped into one. It's then only natural that you spoil them as much as is humanly possible. Would this be a good time to mention that pet goods retailer Chewy is hosting a massive Blue Box Event? We think so. Hit them up from 10/11 to 10/14 to score the following deals:
Up to 30% off sitewide
40% off your first auto-ship purchase
Buy 3, get 1 free on select toys, treats, and apparel
Buy 2 get 25% off personalised products
Is your dog all about the squeaky toy? Or maybe they're into classic frisbees. Whatever they love, you'll find it at Chewy and in ample supply. The retailer even has a Holiday Pet Shop with special discounts and popular gifts.
To help steer you in the right direction, we present 29 dog toys that are guaranteed to please. Load up during the Blue Box Event to score the best deals and then spoil your pet silly. Who's a good dog?! They're a good dog, yes they are! Oh, they're such a good dog and that's why we love them!
Ahem…got a little carried away there. Onto the toys!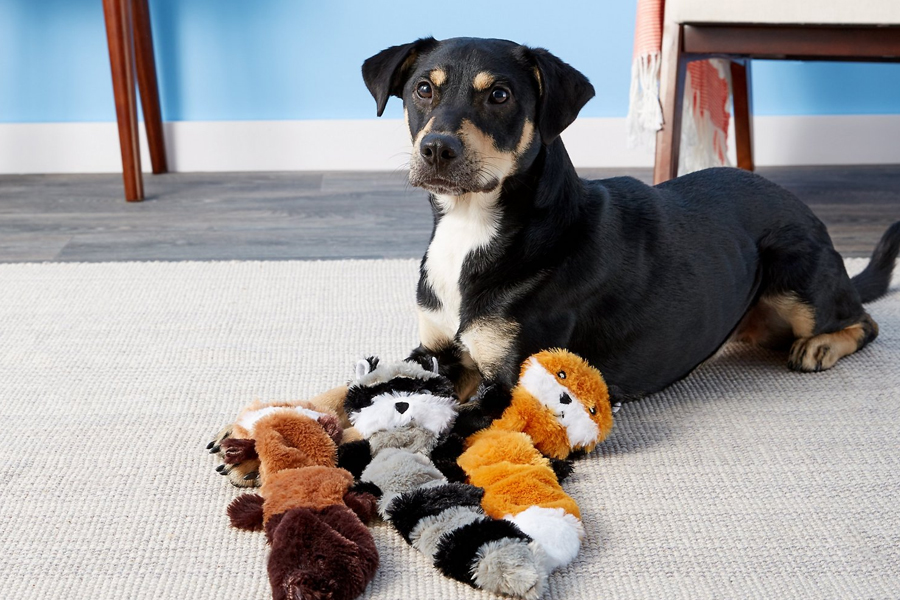 1. ZippyPaws Skinny Peltz No Stuffing Squeaky Plush Dog Toys
Taking the form of adorable woodland creatures, these squeaky dog toys feature no stuffing so as to spare you the mess. Included in the set are a fox, raccoon, and squirrel.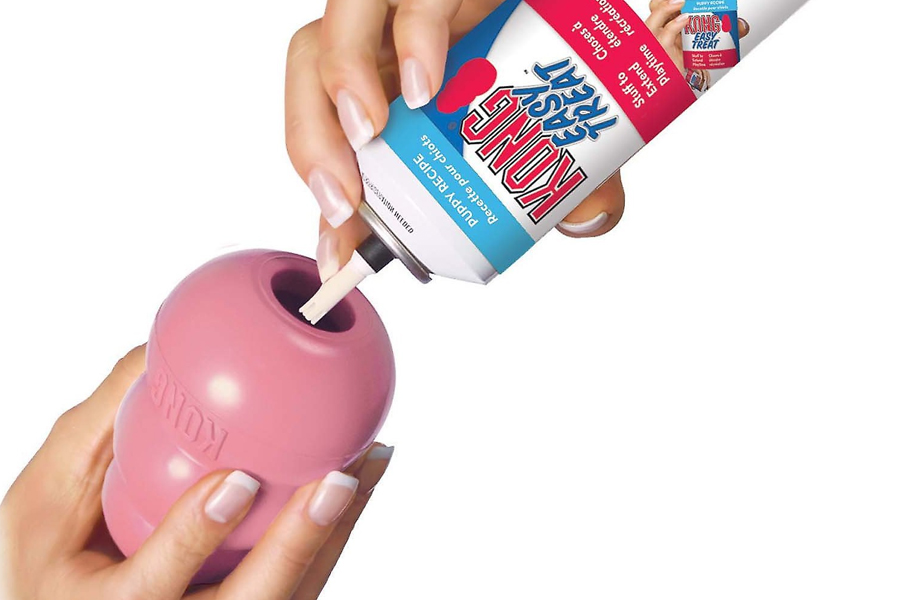 2. KONG Puppy Dog Toy
Made of gentle and all-natural rubber, the KONG Puppy Dog Toy is specifically designed for your puppy's growing baby teeth and gums. Thanks to an unpredictable bounce, it's also quite fun to play with. Oh, and did we mention that you can fill it with dog treats (sold separately) or tasty snacks like peanut butter? That's a lot of functionality for such a simple-looking toy.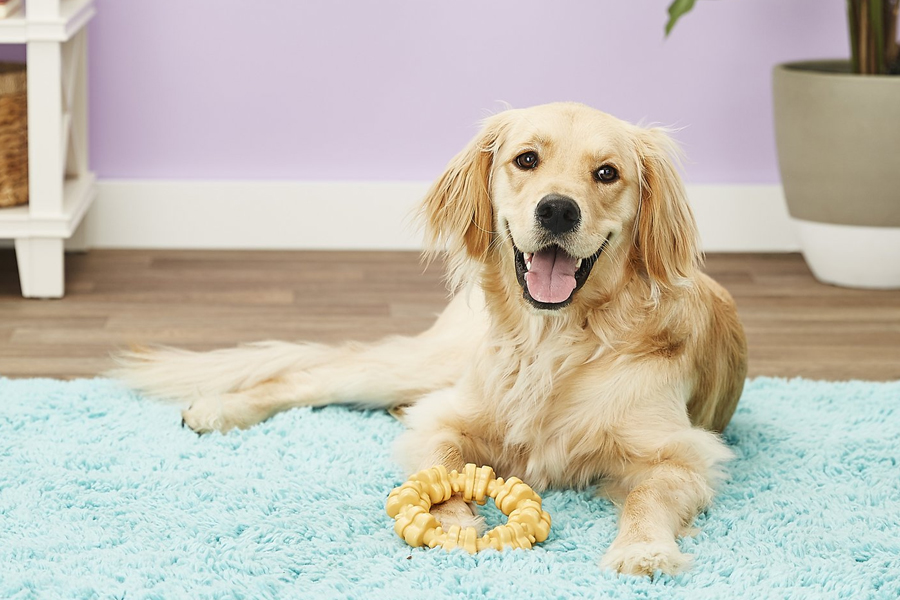 3. Nylabone DuraChew Textured Ring Flavor Medley Dog Chew Toy
This ring-shaped chew toy promotes healthy teeth and gums and tastes like chicken. What's there not to love?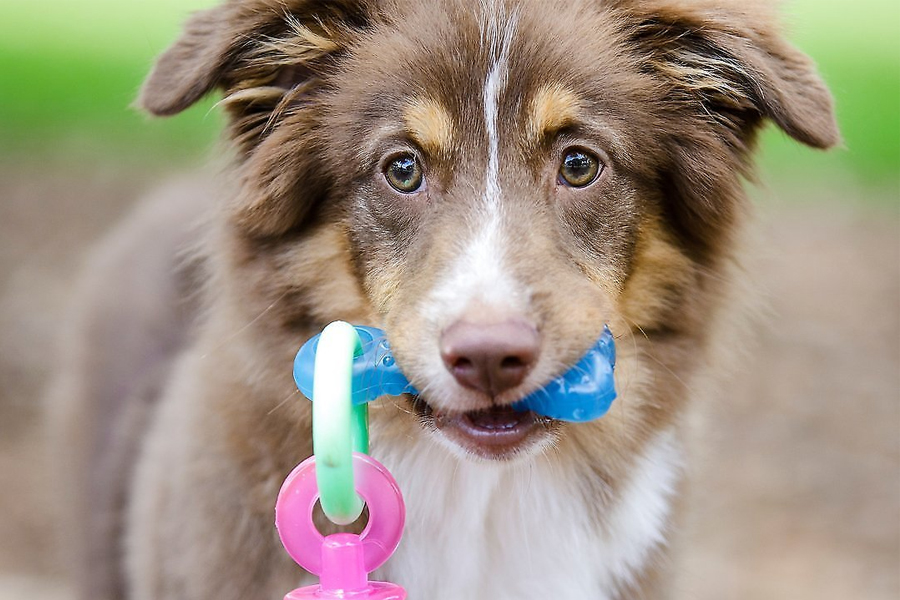 4. Nylabone Teething Pacifier Puppy Chew Toy
Wildly popular and priced to move, Nylabone's teething pacifier promotes positive play, healthy chewing habits, and clean teeth for puppies of up to 25 pounds. It also keeps them preoccupied when they'd be otherwise chewing up Dad's new sneakers.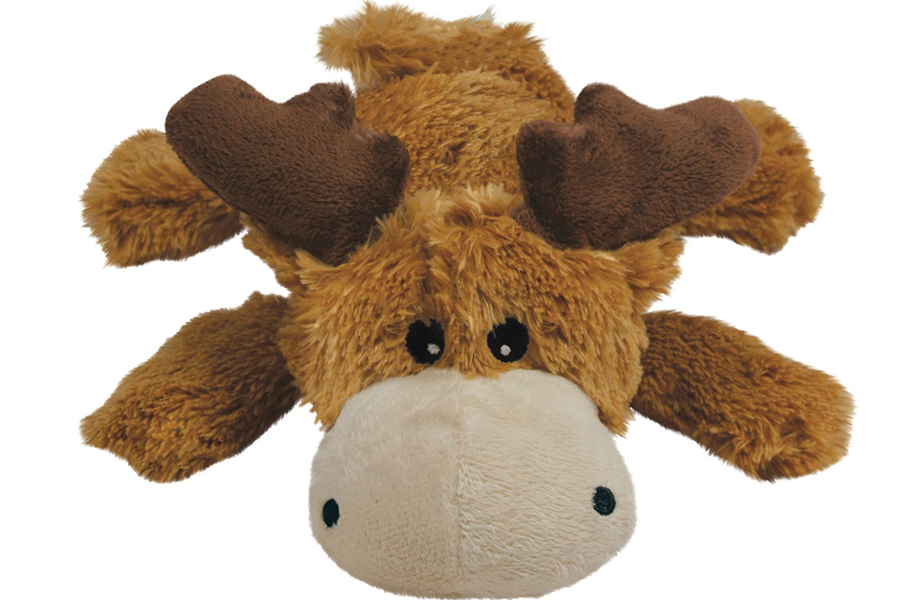 5. KONG Cozie Marvin the Moose Plush Dog Toy
KONG Cozies are every bit as cute and cuddly as they appear, and also packed with minimal fill. If Marvin the Moose isn't doing it for you (or your dog), other Cozie characters are available.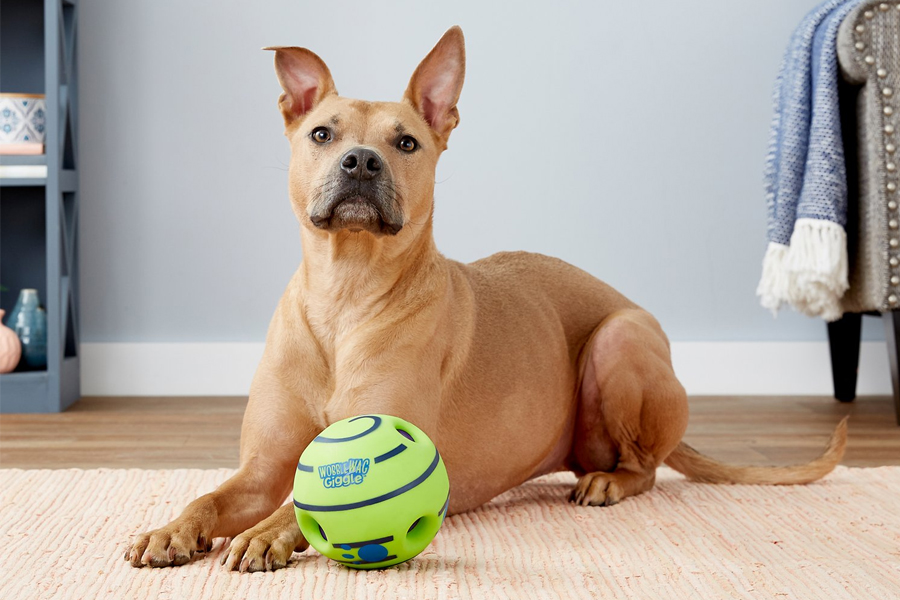 6. As Seen on TV Wobble Wag Giggle Ball Squeaky Dog Toy
Bursting with ingenuity, the Wobble Wag emits funny giggling sounds as it keeps your dog both active and entertained. It's battery-free, colourful, flexible, durable, kinetic, and quite fun.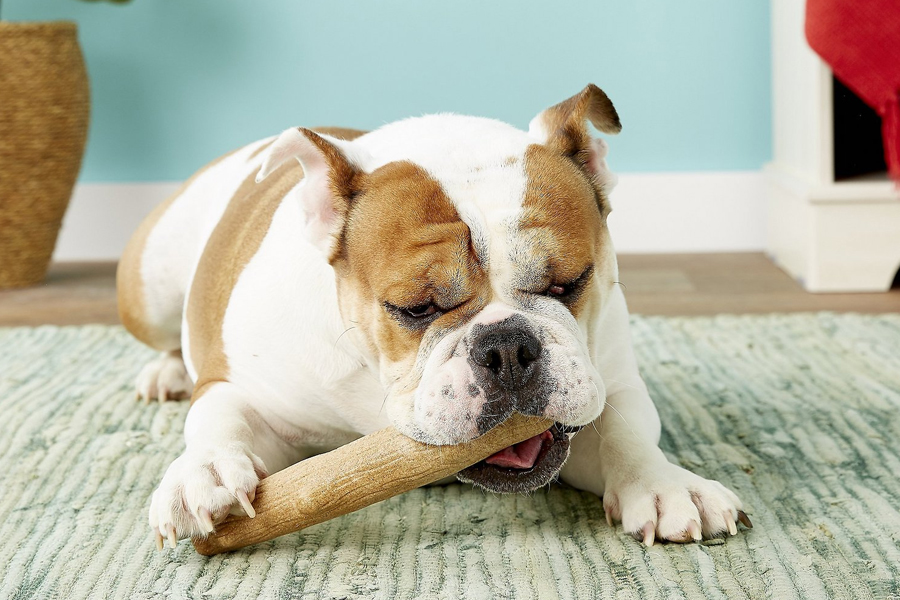 7. Petstages Dogwood Tough Dog Chew Toy
Petstages knows all about the importance of chewing and that's why they've created this amazing toy, which blends real wood with a non-toxic, synthetic material. Safer than real sticks, it emits a natural wood smell. Your dog will love it.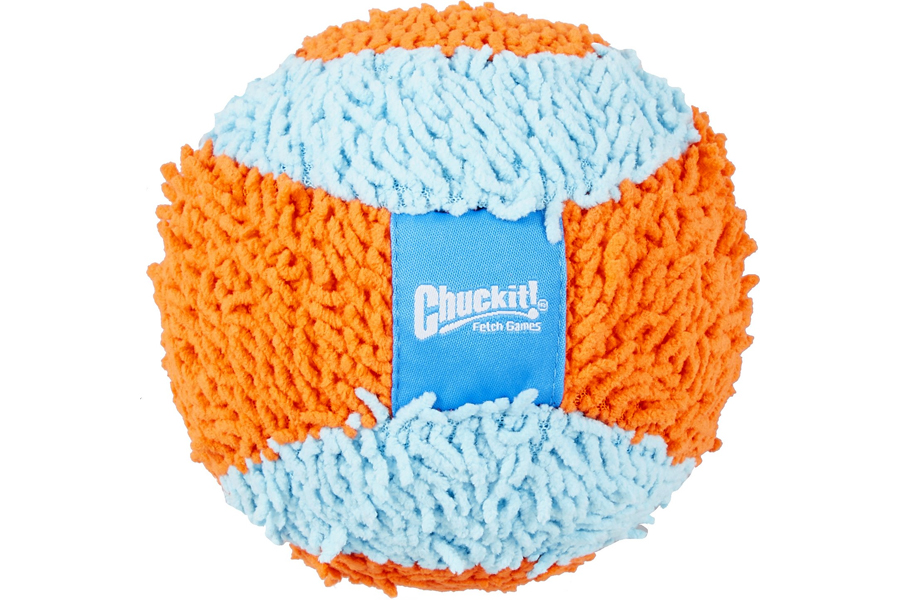 8. Chuckit! Indoor Ball Dog Toy
It's a rainy day but Rover still wants to play. Enter the Chuckit! Indoor Ball Dog Toy, which uses lightweight Bounceflex Core Technology to ensure a soft landing with just the right amount of bounce.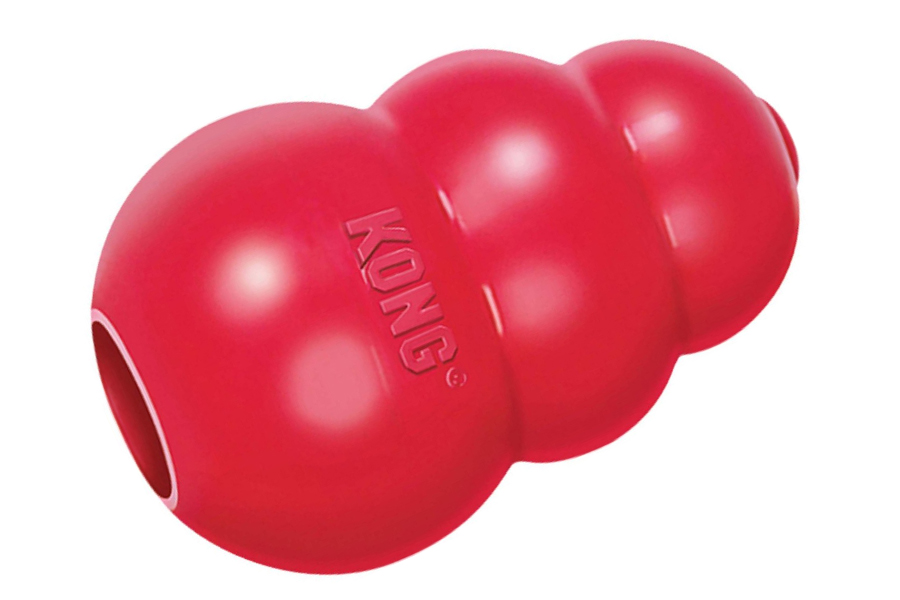 9. KONG Classic Dog Toy
Backed by 40 year's worth of expert recommendations, KONG's Classic Dog Toy is a classic indeed. Good for all kinds of games, it comes equipped with a fill-space for treats and snacks. It's simple and superior, just like a great dog toy should be.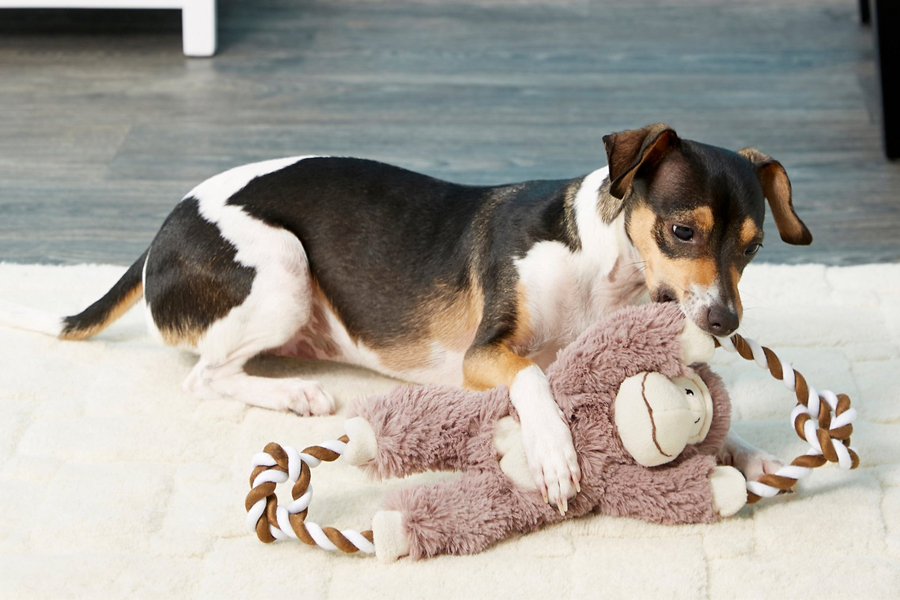 10. Frisco Plush with Rope Squeaking Monkey Dog Toy
With its ultra-soft exterior, built-in speaker, and plush rope attachment, this squeaking monkey will be you're best friend's new best friend. Don't be jealous—it's still just a toy.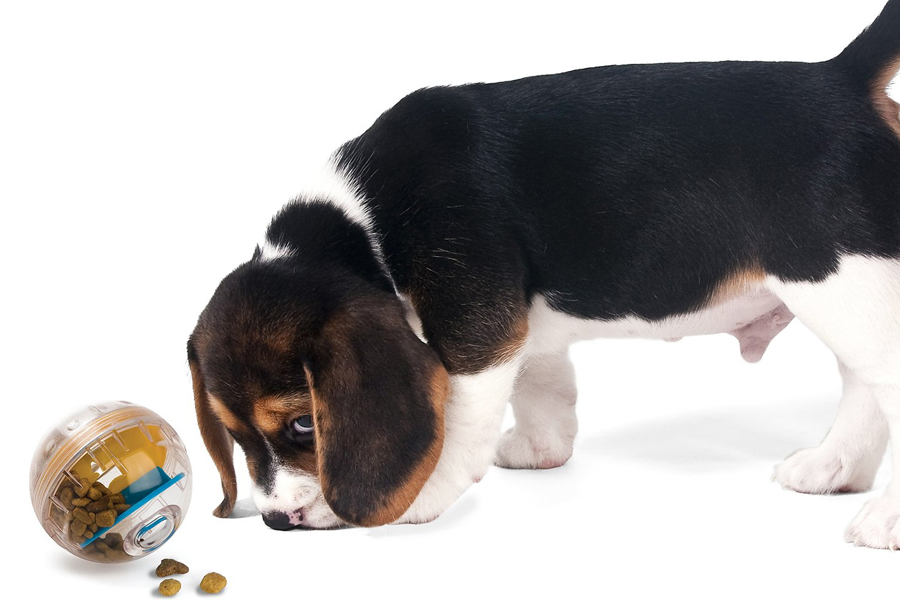 11. Pet Zone IQ Treat Dispenser Ball Dog Toy
Nothing will engage your dog quite like this crafty treat dispenser, which offers different levels of difficulty. It dispenses just a few treats at a time and sharpens your pet in the process.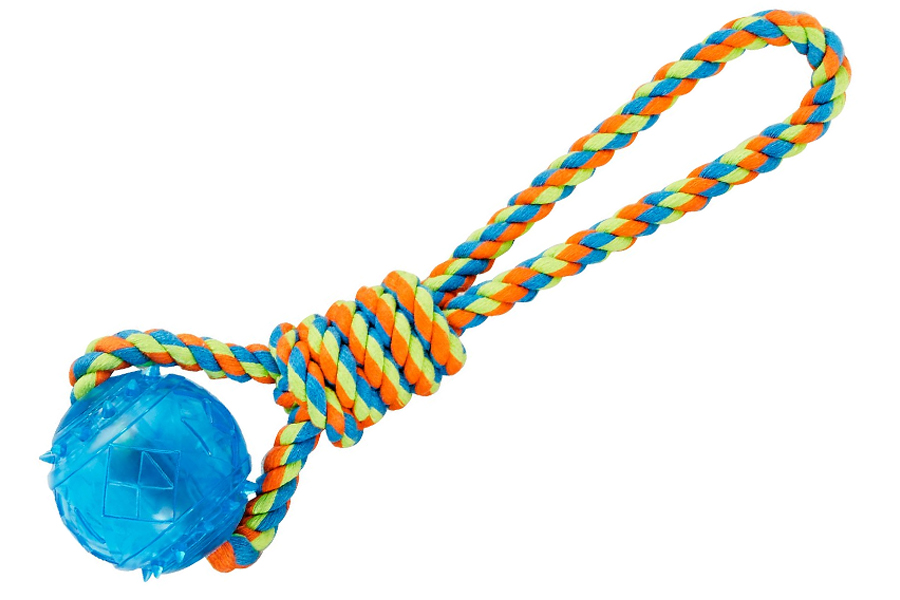 12. Frisco Rope with Squeaking Ball Dog Toy
A rope. A ball. A built-in speaker. Put these things together and you get endless hours of entertainment, especially if you happen to be a dog.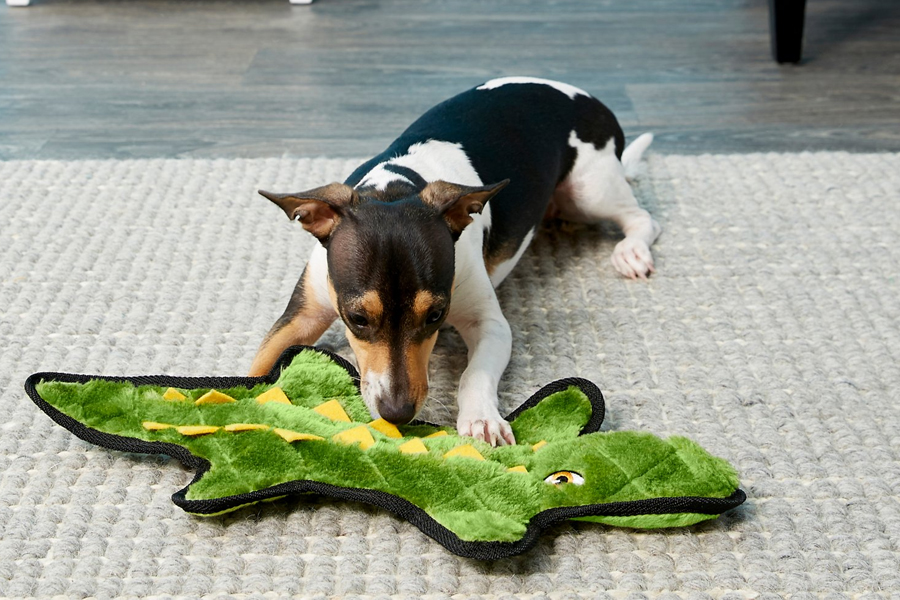 13. Frisco Flat Plush Squeaking Alligator Dog Toy
This squeaky critter is soft to the touch, stuffing-free, and equipped with four speakers. Your dog will be tossing and chewing it by day and then cosying up to it at night.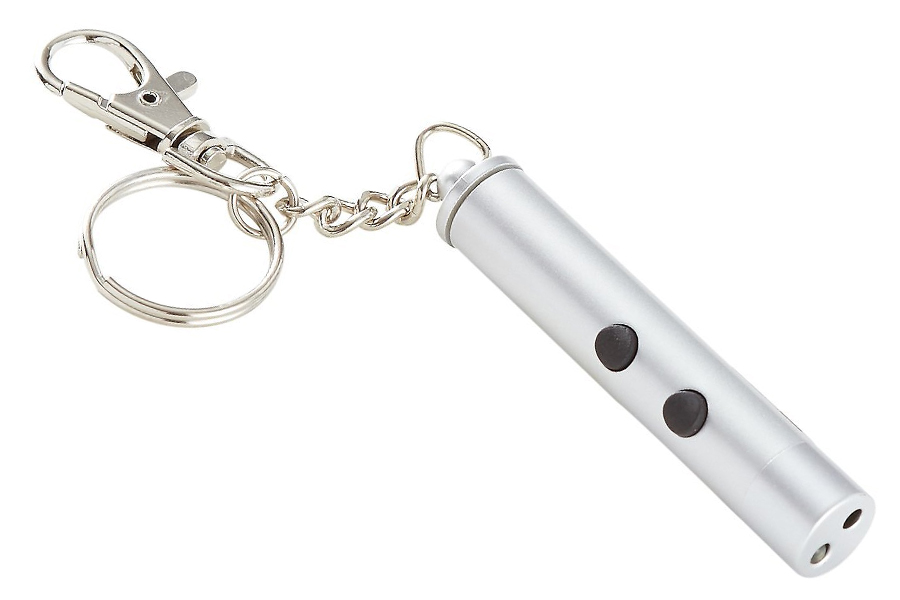 14. Ethical Pet Laser Exerciser Original 2 in 1 Dog & Cat Toy
A classic if there ever was one, the pet laser delivers countless hours of entertainment for both you and your dog. Point the safe LED light in pretty much any direction and behold the wild goose chase that follows.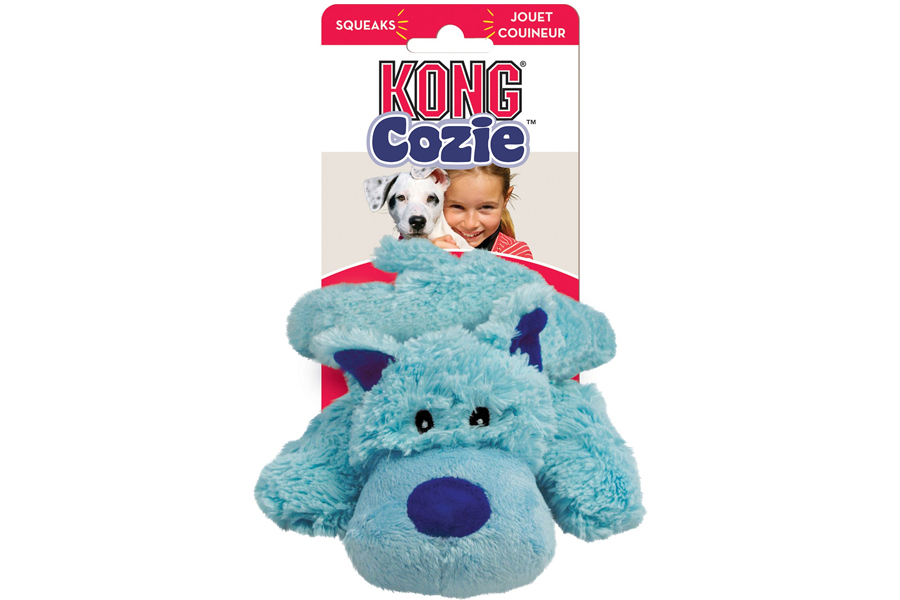 15. KONG Cozie Baily the Blue Dog Toy
Remember when we said there were other Cozie characters to choose from? Well, meet Baily the Blue Dog. Awwwwww!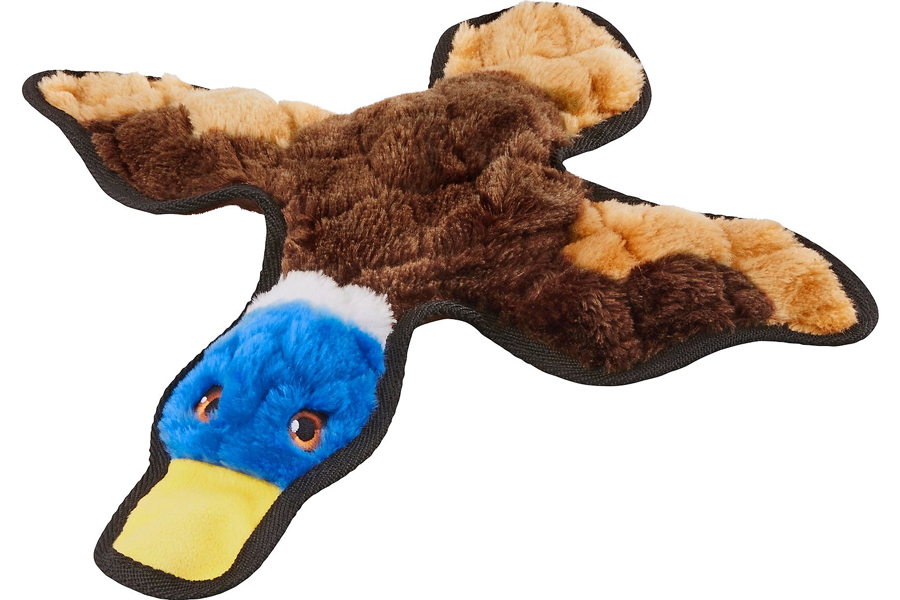 16. Frisco Flat Plush Squeaking Duck Dog Toy
Here's a plush toy from Frisco that features no stuffing and four speakers. How does your dog feel about ducks? While we're on the subject: how do you feel about ducks?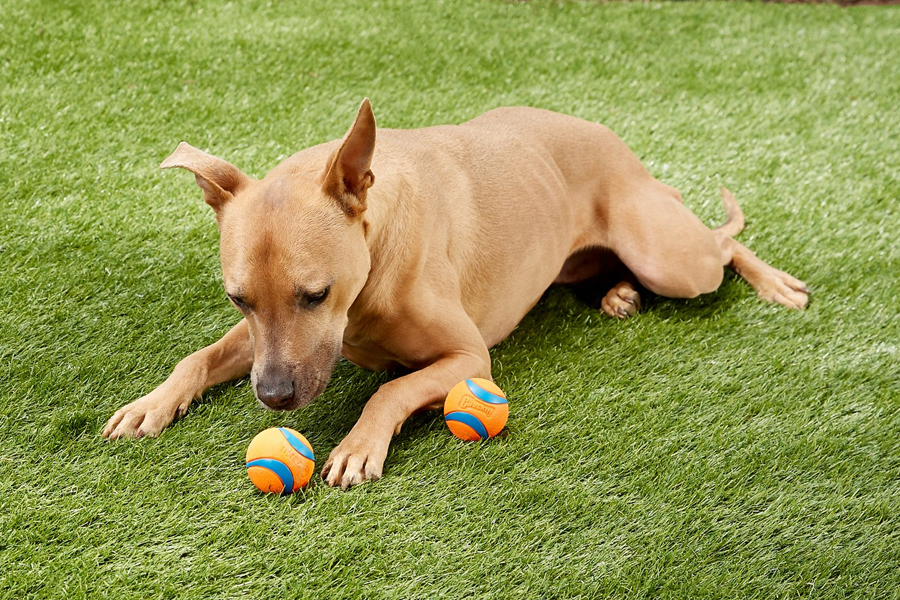 17. Chuckit! Ultra Rubber Ball Tough Dog Toy
Made of natural rubber with an extra-thick rubber core, this high-bouncing ball puts the fun in fetch and floats on water.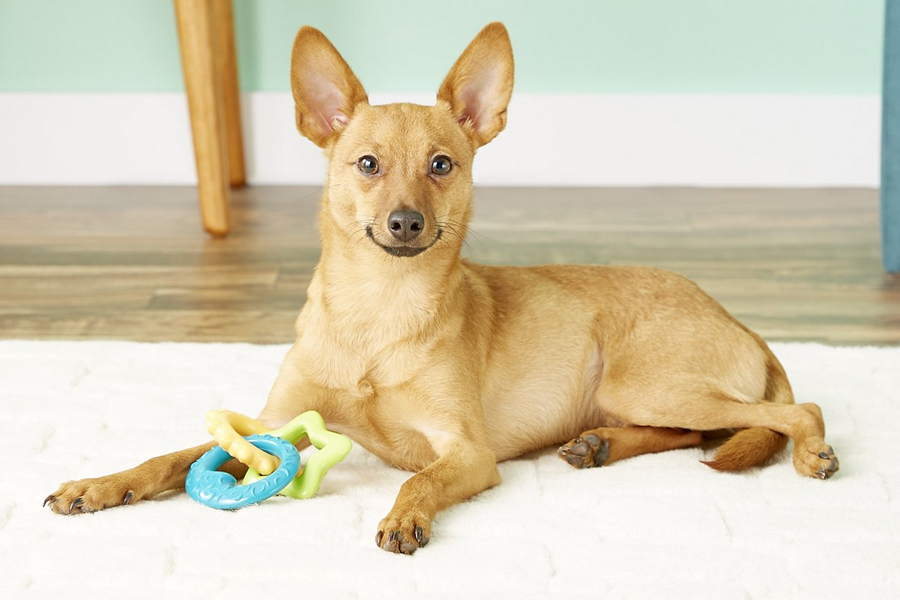 18. Nylabone Teething Rings Puppy Chew Toy
A solid puppy chew toy doesn't just promote strong teeth but also fortifies the bond between a pet and their owner. This one from Nylabone will do the trick.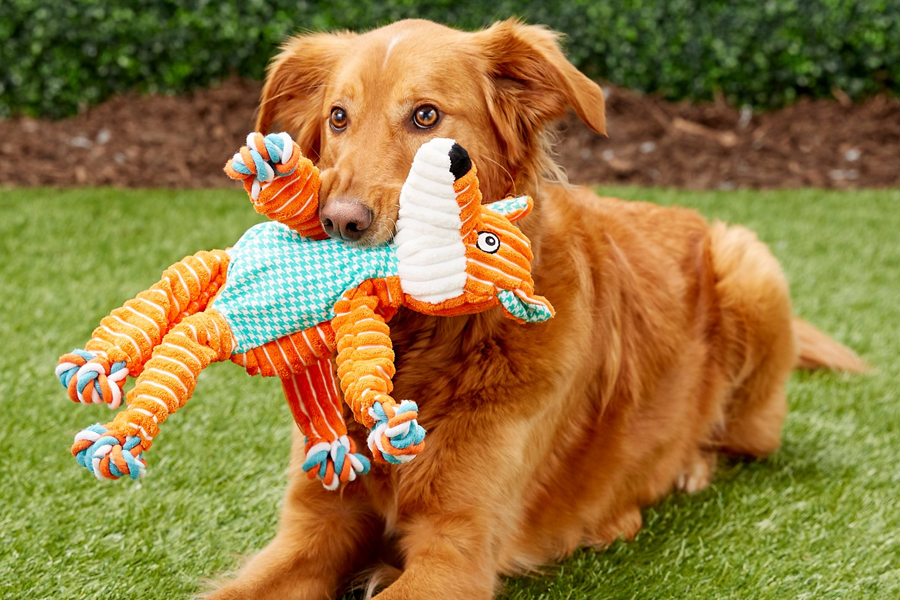 19. KONG Floppy Knots Dog Toy, Fox
Perfect for thrashing, this floppy dog toy will take a licking and keep on ticking. Get one for the overactive dog in your life and you might be able to relax for a few minutes.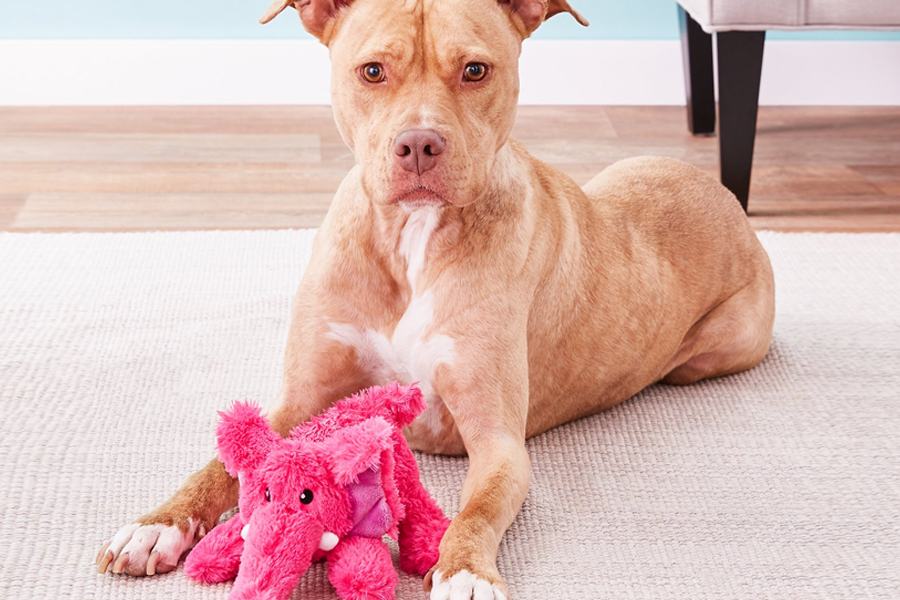 20. KONG Cozie Elmer the Elephant Dog Toy
You've met Marvin the Moose and Bailey the Blue Dog and now it's time to meet Elmer the Elephant. He's cute. He's cuddly. He's a Cozie.
21. Nylabone DuraChew Dental Chew Chicken Flavored Dinosaur Dog Chew Toy
Built to withstand the toughest of chewers, this dental dog toy looks like a dinosaur but tastes like chicken. On the other hand, maybe dinosaurs did taste like chicken—you ever think of that? Well, don't use this toy to find out because it's not edible.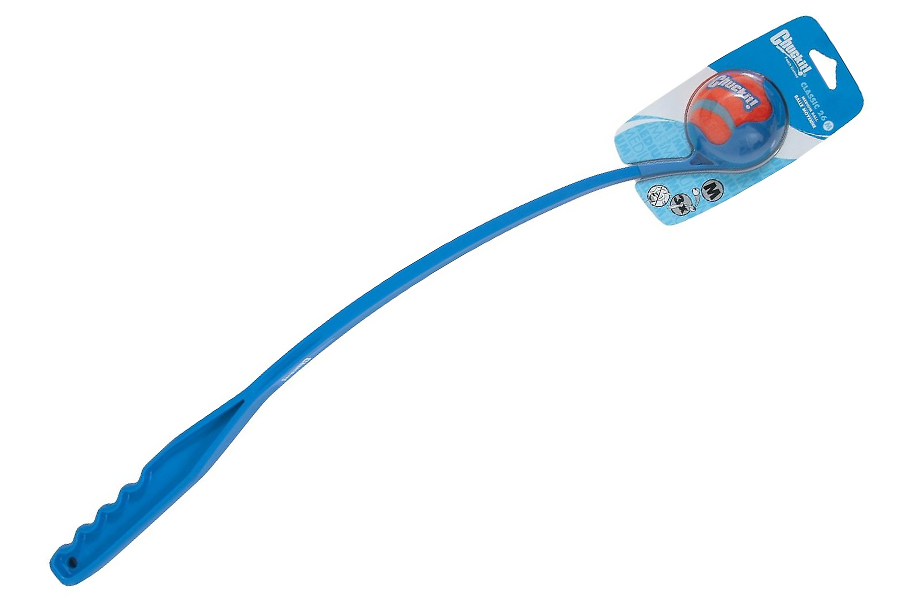 22. Chuckit! Classic Launcher Dog Toy
Is your dog serious about the game of fetch? We mean, really serious? If so, you owe it to them to get this launcher and ball set, which enables the kind of long distances your puny arm can't muster.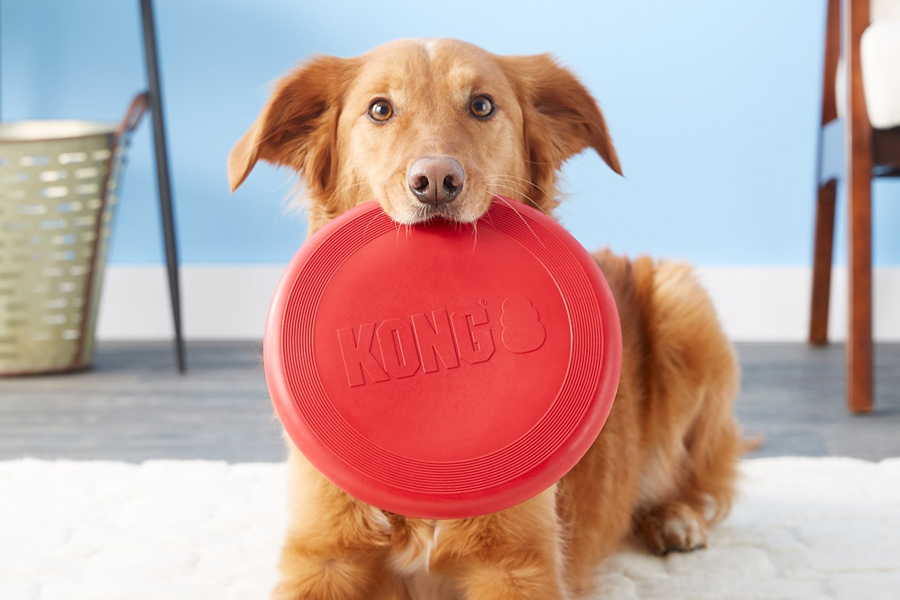 23. KONG Classic Flyer Frisbee Dog Toy, Large
No list of the best dog toys is complete without a classic frisbee. This one comes from KONG and it's soft enough to go easy on the gums. That said, don't mistake it for a chew toy.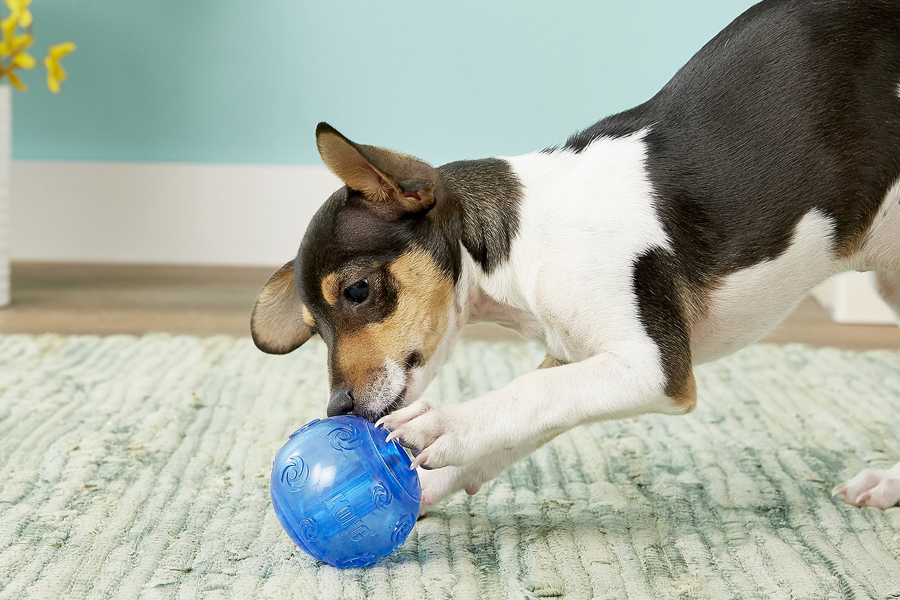 24. KONG Squeezz Ball Dog Toy
You never know where this squeaky ball will bounce next and that's part of its charm. You also never know which colour you'll get after placing your order online. This thing is all kinds of unpredictable!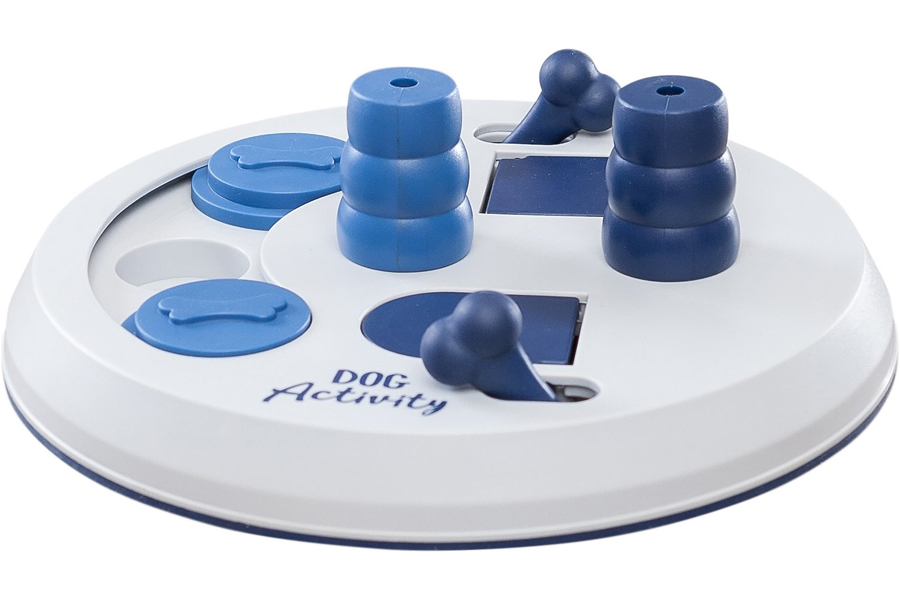 25. Trixie Activity Flip Board Activity Strategy Game Dog Toy
Our dogs are even smarter than we think and this puzzle board is here to prove it. Hide some tasty treats in the compartments and let Rover's intellect take care of the rest.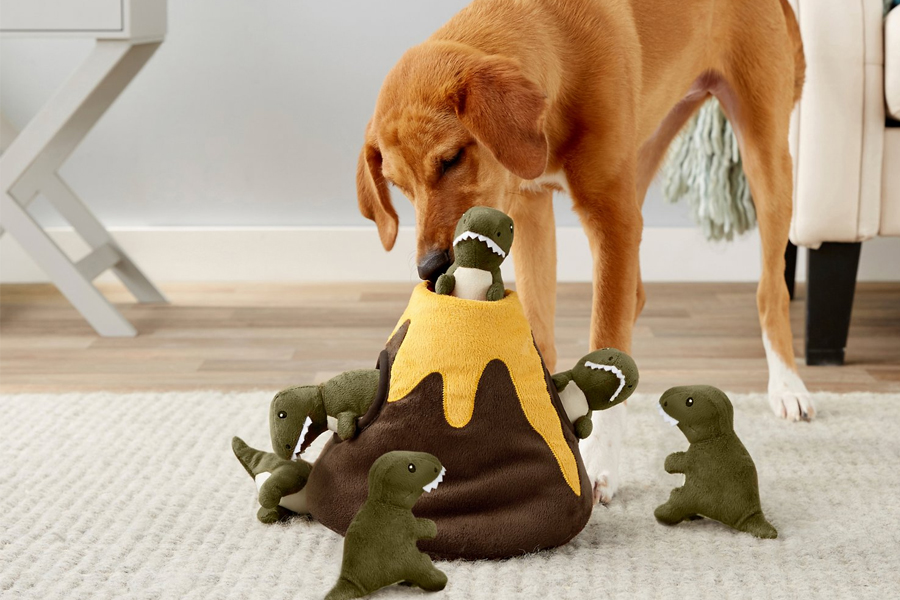 26. Frisco Hide and Seek Plush Volcano Puzzle Dog Toy
Here's another puzzle game that your pup will adore. Pack six squeaky dinosaurs into a plush volcano and see if your beloved pet can retrieve them, one by one.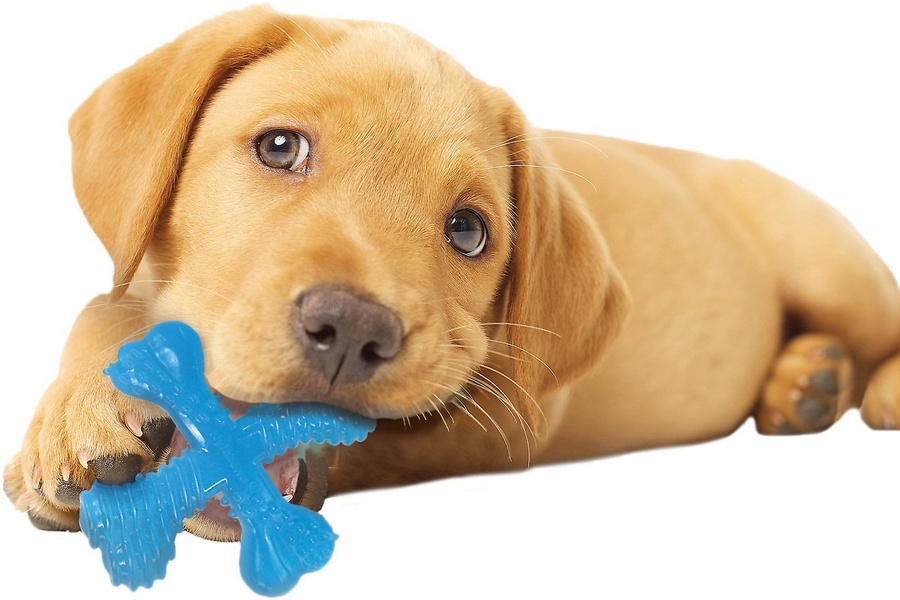 27. Nylabone Puppy Teething X Bone Beef Flavored Puppy Chew Toy
Nylabone is back with another chewable (but non-edible) toy, this one designed for teething puppies. Tough and durable, it features four textured ends and a savoury beef flavour.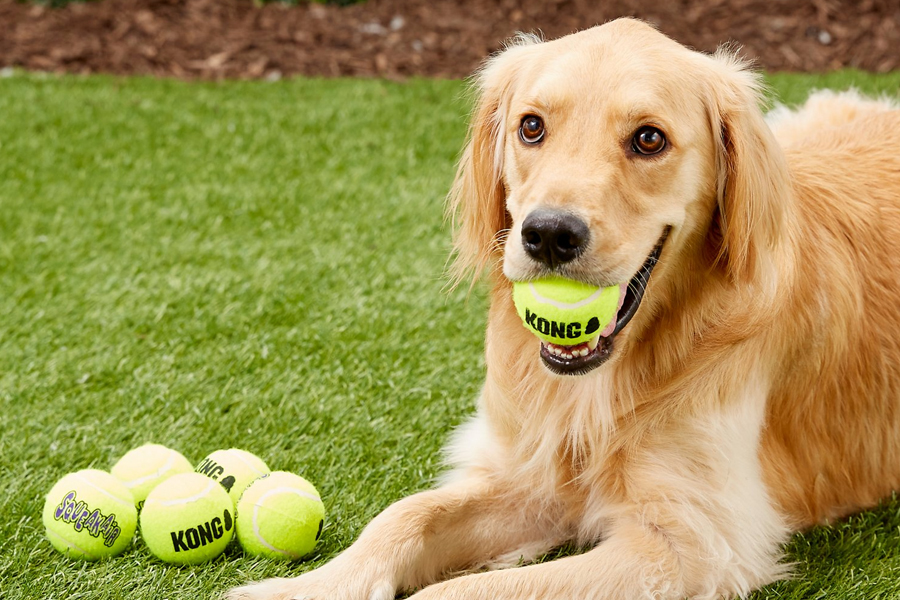 28. KONG SqueakAir Balls Packs Dog Toy
SqueakAir Balls look like tennis balls but act like squeaky dog toys, bouncing erratically while holding up to hours of play. Call it the best of two worlds.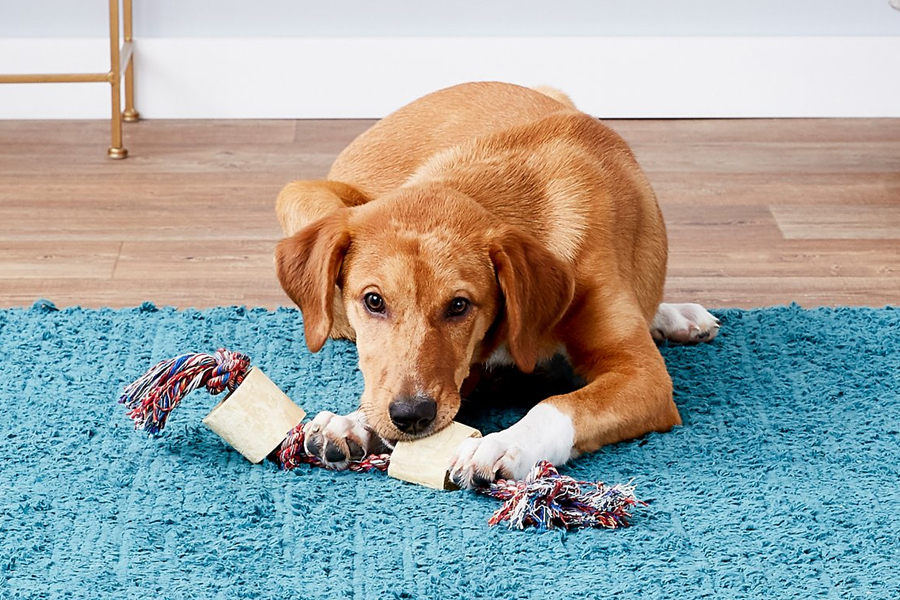 29. USA Bones & Chews Cotton Rope with Bones Dog Toy
You might not get excited when you see a cotton rope and some bones tied together, but your dog sure does. Made in the USA and free from chemicals or preservatives, this toy functions as both a healthy chewable and tugging mechanism. Colourways are selected at random.
You can find all these amazing toys and so much more over at Chewy's online store and Holiday Pet Shop. Visit the site from 10/11 to 10/14 to partake in the Blue Box Event, which offers a slew of killer deals. Accept nothing less for your loyal best friend, who brings endless amounts of joy and companionship into your life. Who's a good owner? You're a good owner!

You may also like:
Here's Why Pet Care Plans and Pet Insurance Make Purrfect Sense