Cricket Cooler is Summer Sorted
HOWZAT!
Officially, summer doesn't begin until you're playing beach cricket, bowling tennis balls in one hand while grasping tinnies in the other. To save you the hassle of dragging along the entire kit, Cricket Cooler has built-in stumps and bails. You just need to bring the ball and bat. Plus a few mates or relatives. Cricket is not much fun on your own.
Cricket Cooler is one of those inventions that forces you to ask why didn't I think of that? With its 33 Litre capacity, your drinks are taken care of. Cricket Cooler also has two deep cup holders on top for use by the batsman and wicketkeeper. There's a bottle opener on the side for when your drinks are not twist-tops, and the rubber wheels offer smooth movement. For instance, when the tide comes in.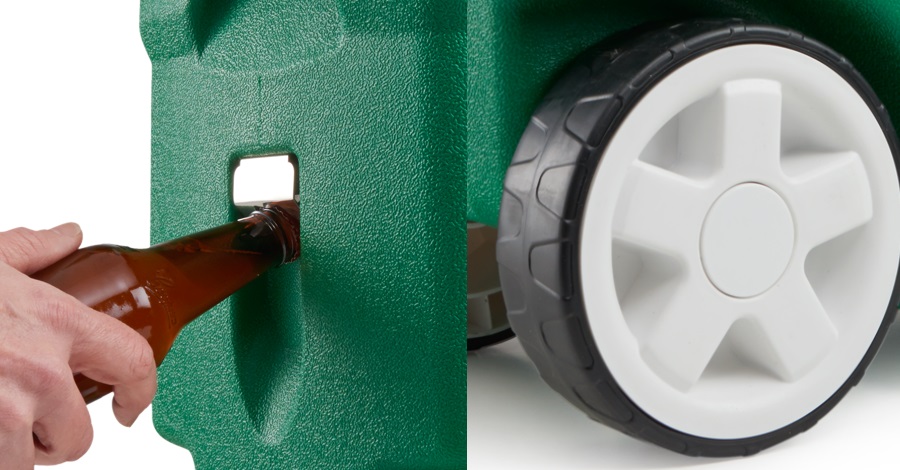 Cricket Cooler has an interesting story. It's founders Leigh Warren, and Adam Dubrich successfully funded the original order of coolers on Kickstarter back in 2014. The following year the duo appeared on Channel Ten's reality program Shark Tank where they received funding and a loan from Naomi Simson. Since then, the guys have appeared on the Today Show, been featured throughout the local press and even on Adam Gilchrist's social media. He's a proud owner of one of the coolers.
Cricket Cooler is available online right in time for Christmas and the Australian Summer. Just remember, if you're playing backyard cricket, over the fence is out.